Owning a pet brings many responsibilities for the owners that need to be fulfilled in time. All the dogs require regular grooming and care. Taking your pet for regular grooming can be expensive for you. That's why many dog owners invest in a high-quality clipper to have a well-groomed pup.
Dog hair clippers help save your time and money for vet visits while efficiently trimming your dog's hairs. Dogs with dense hair may get uncomfortable during summers, so you would like to cut their hair yourself or take them to a professional groomer.
Best Overall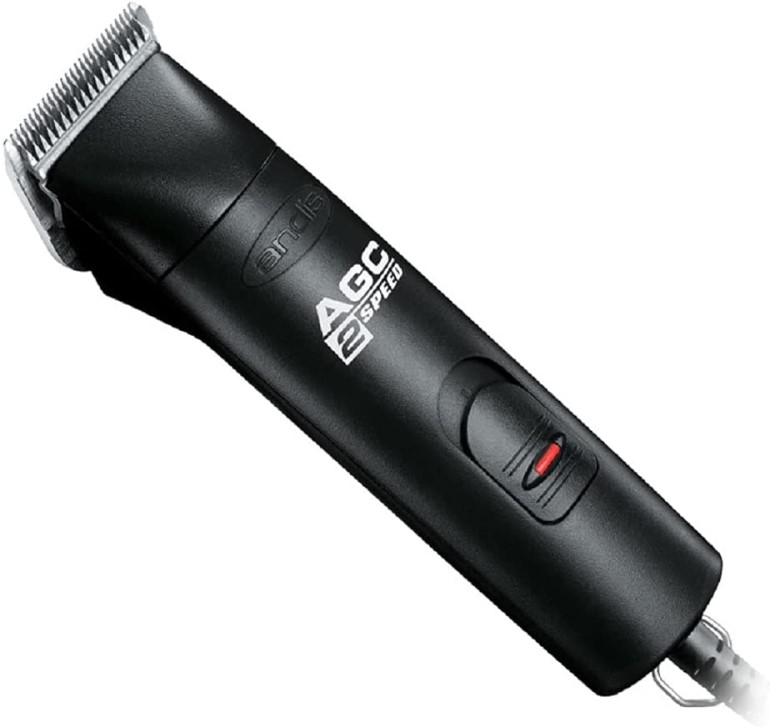 Andis 2-Speed Professional Dog Clippers
Material: Polymer
Item Weight: 1.1 Pounds
Best Cordless Dog Clippers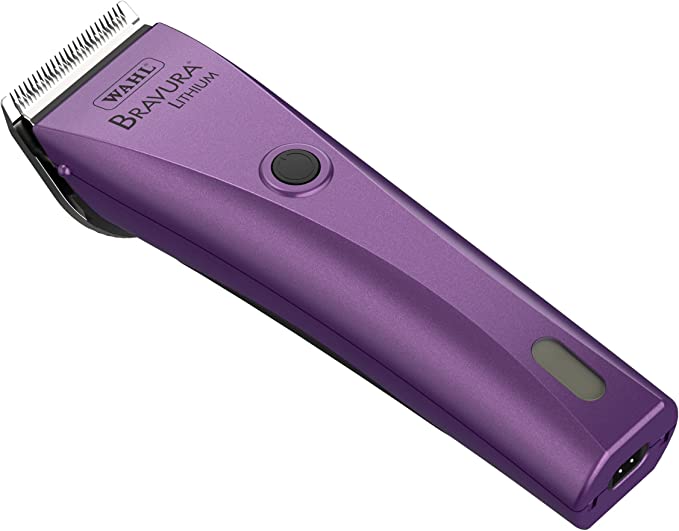 Wahl Bravura Professional Dog Clipper
Material: Stainless Steel
Item Weight: 0.55 Pounds
Best For Durability

Andis Ultra-Edge Dog Clippers
Material: Polymer
Item Weight: 1.7 Pounds
Best Value

Oster Turbo Professional Dog Clippers
Material: Plastic
Item Weight: 0.7 POUNDS
Budget-Friendly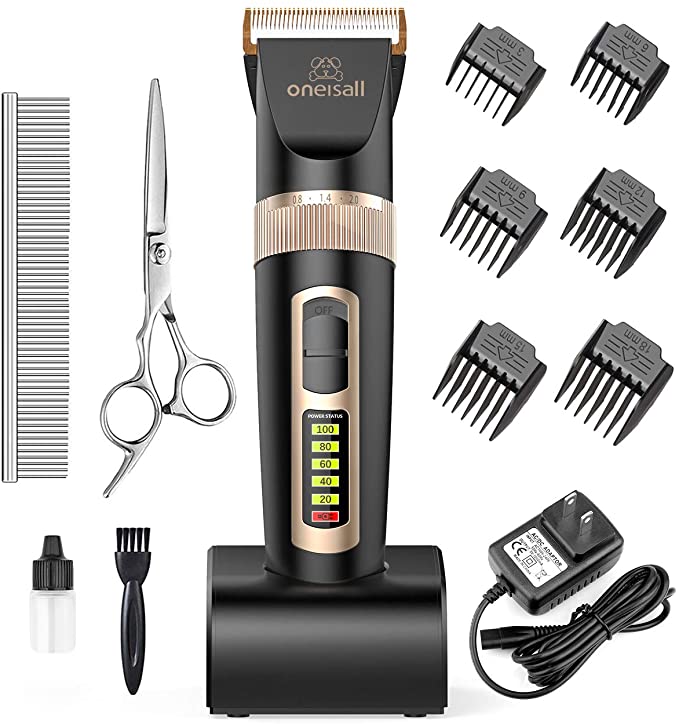 oneisall Cordless Pet Grooming Clippers
Material: Plastic
ITEM WEIGHT: 1.5 POUNDS
For Occasional Home-Use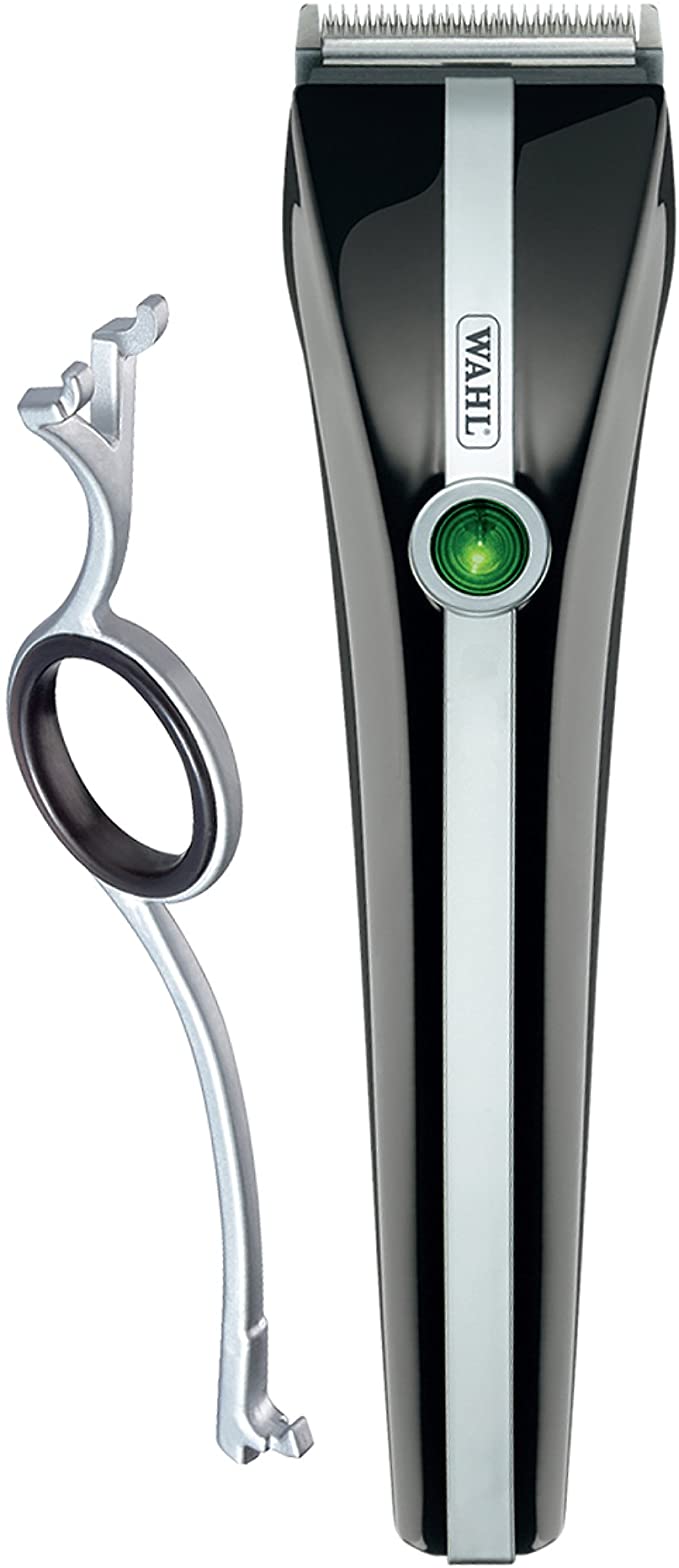 Wahl Motion Lithium-Ion
Material: Plastic
Item Weight: 0.55 Pounds
Best For Beginners

Wahl KM5 Animal Clippers
Material: Plastic
ITEM WEIGHT: 2 Pounds
This blog post will review some of the best dog hair clippers on the market and make it easy to choose the one that best suits your needs. Our buying guide will give you the points to consider what to look for when buying a good clipper. There are also some tips for the dog owners to groom their pets safely at home; either they trim their dogs or do a complete body shave.
Best Professional Dog Clippers
When the market is full of grooming tools, you may want to have the best grooming kit, including hair clippers for your fur baby. We have got you covered by enlisting our top 8 products, which are tested by professional groomers. Read the complete article to find the right clippers for the dogs to look perfect!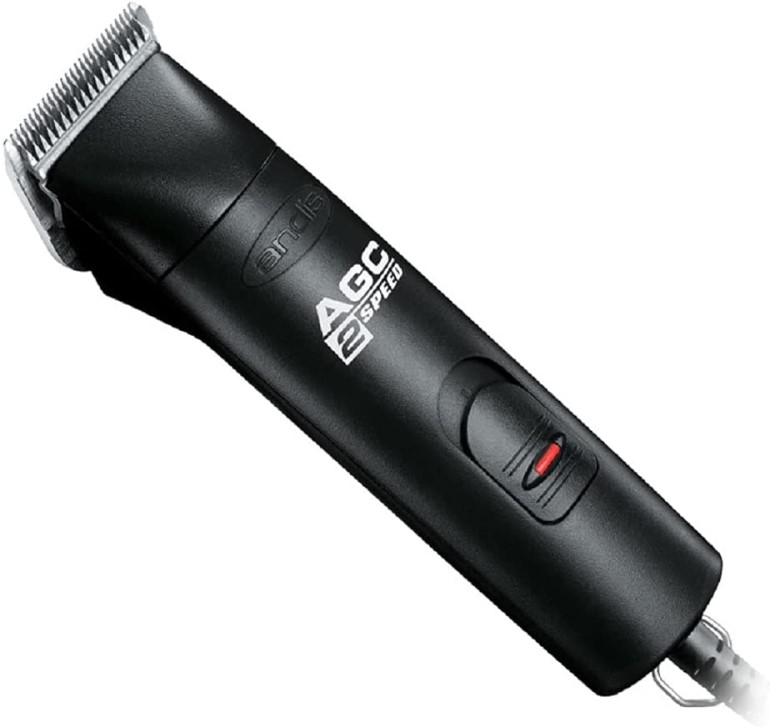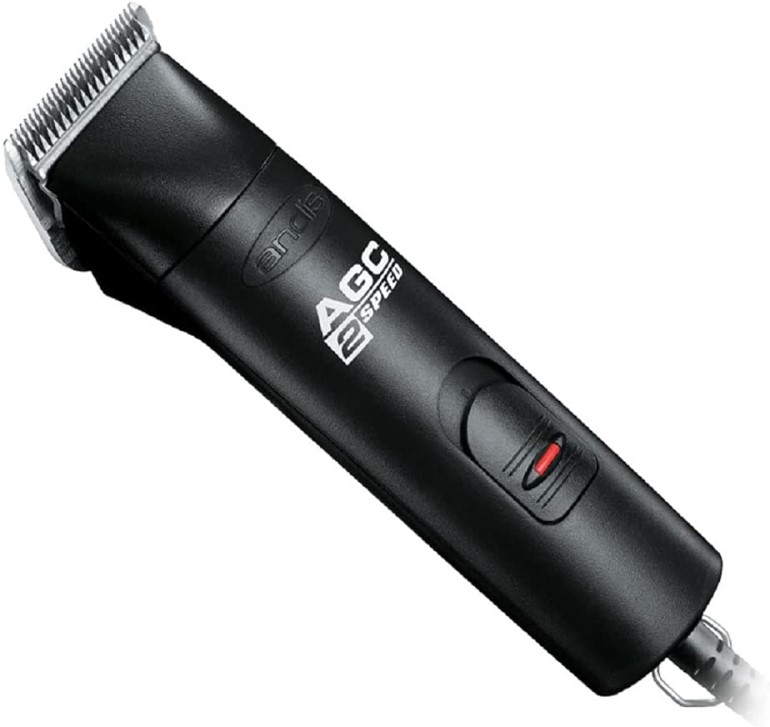 Andis 2-Speed Dog Clipper is a popular choice among professional dog groomers and owners who want quick and easy grooming of their pets. The clipper features two speeds-high and low speed, a 14-foot heavy-duty cord, a #10 blade, and a locking switch to prevent an accidental shut-off. It has a range of 2700 strokes per minute at a low speed while 3400 strokes per minute at a high speed.
This clipper is easy to clean with its removable blades and drive cap, while the locking blade hinge ensures safety. This lightweight clipper weighs only 1.10 pounds. Moreover, The Andis clipper is compatible with all Ultra edge and Ceramic blades for a smooth finish.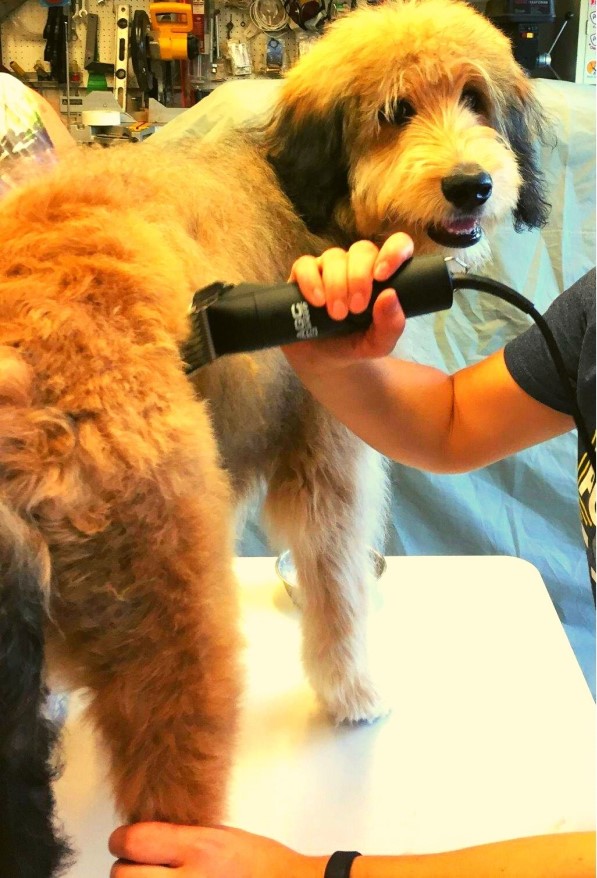 The clipper comes with a one-year warranty and is effective enough to cut through dogs' thin and thick fur. You can also use Wahl attachment combs as they perfectly fit the Andis clippers.
Best Features
Professional dog clippers
120 volts
Detachable blade design
Locking switch
2-speed rotary motor
14″ heavy-duty cord
Removable drive cap
Shatter-proof housing
Made in the USA
Pros
The motor does not make much noise to bother the owners and dogs.
Dog owners like the feasibility of not charging the clipper because it contains a heavy-duty cord.
Professional groomers are happy with this easy-to-use clipper that is powerful enough for a successful grooming session.
Cons
Few reviewers claim that the dog clipper's blade gets hot.
Some users notice that there are no blade adjustments compared to many other clippers.
This product does not have a protective guard, storage box, or attachment combs.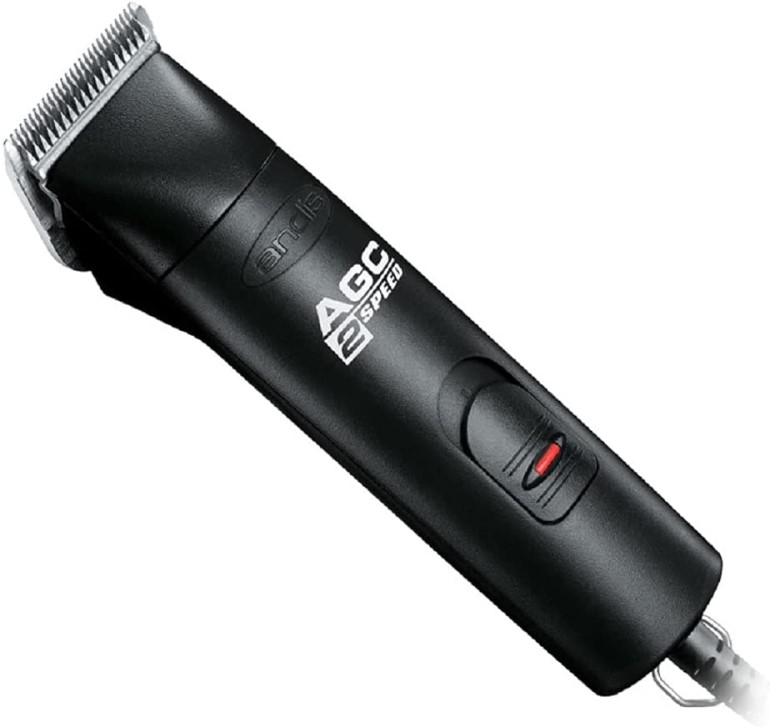 Andis 2-Speed Professional Dog Clippers
The price of "Andis 2-Speed Professional Dog Clippers" varies, so check the latest price at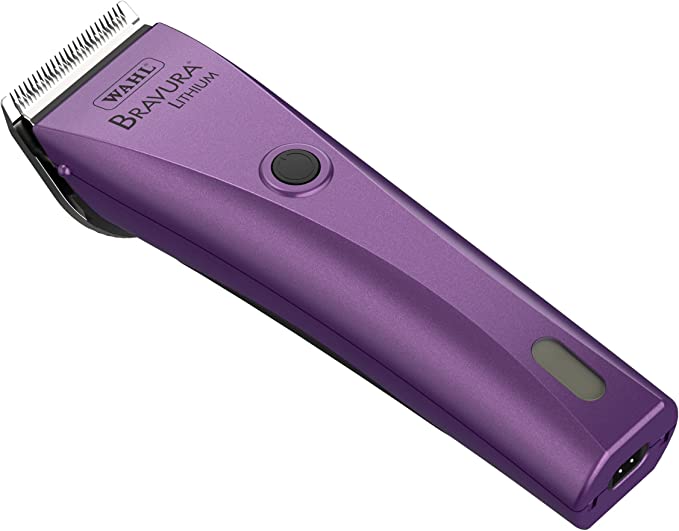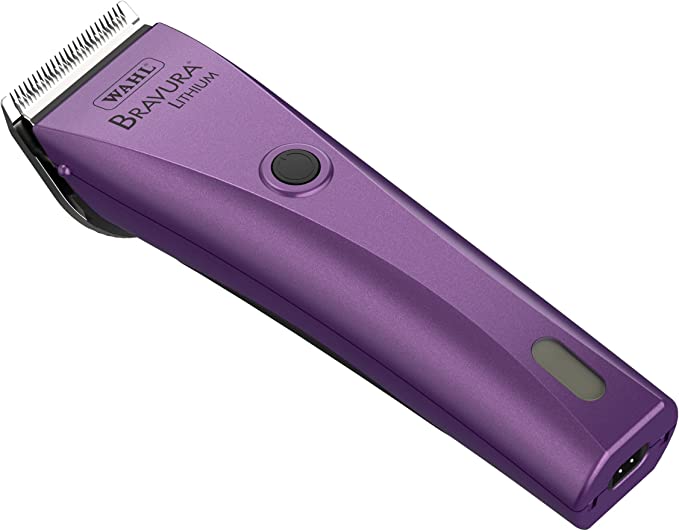 Wahl Bravura dog clipper is suitable for dogs, cats, horses bridle-path, cattle, pigs, and goats' precise trimming. Wahl's clipper offers the durability and power of lithium-ion batteries and the flexibility of an adjustable blade (5 in 1) that gives animal professionals, groomers and pet owners all they need in a cordless clipper.
All dog breeds and cats can benefit from this grooming clipper that works for small to medium dogs with light body clippings. This product features five different blade sizes #9, 10, 15, 30, and 40 that offer convenient cutting lengths.
The rechargeable clipper has an LCD battery indicator that helps you know when to charge. However, it takes 60 minutes to complete the charge and has a 90-minute run time with low vibration and quiet operation.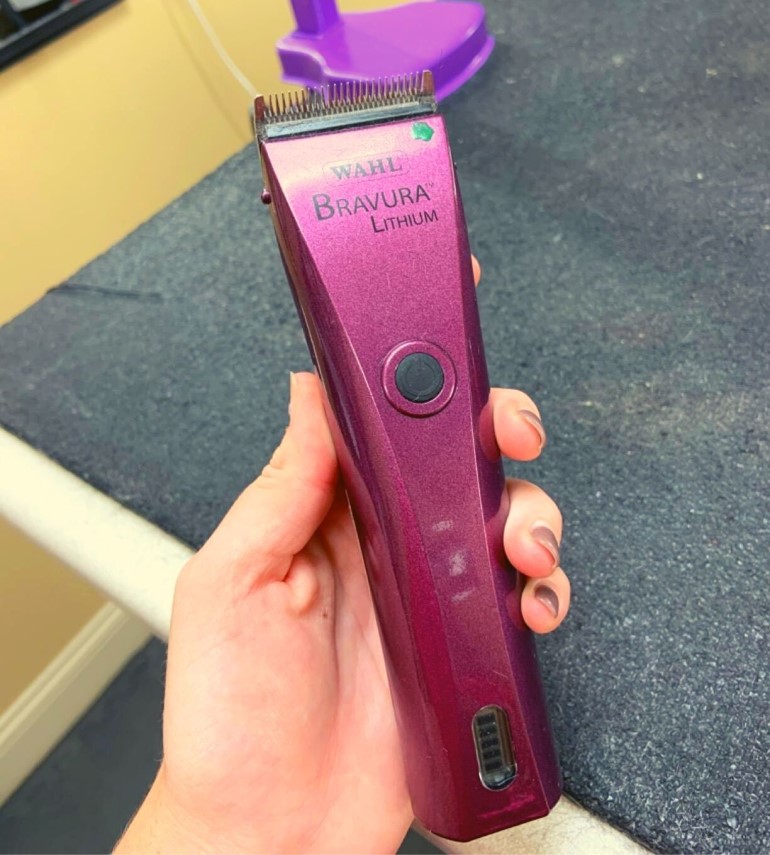 These lightweight clippers come with many accessories, including a Bravura clipper, 6 plastic attachment guide combs, 5-in-1 fine blade set, cleaning brush, instruction book, blade oil, soft storage case, charging stand, and charger. It is, therefore, important that the clipper blades are always well lubricated with clipper oil, even when they are stored between uses.
Best Features
Cordless dog clipper
Lithium-ion battery
Lightweight and compact design
5-in-1 adjustable blades
LCD battery indicator
60 minutes charge time
90 minutes run time
5500 strokes per minute
Available sizes, #9, #10, #15, #30, #40
Pros
Dog parents like the double functioning of the clipper- cord and cordless.
The majority of the users and their dogs are happy with the extremely low sound produced by the clipper.
Dog owners are satisfied with using this clipper on their dogs because it does not heat up quickly.
Cons
The downside is that the clipper is not ideal for full-body grooming or dogs having coarse hairs, such as poodles.
The clipper is made of plastic which can easily break off when falling.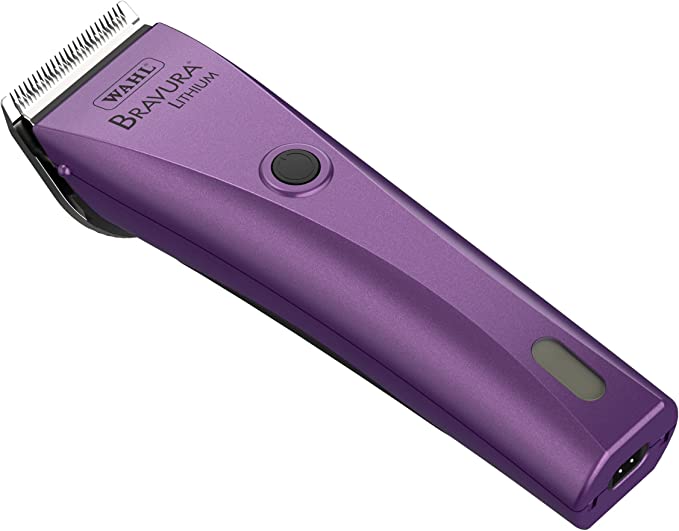 Wahl Bravura Professional Dog Clipper
The price of "Wahl Bravura Professional Dog Clipper" varies, so check the latest price at


Andis Ultra-Edge Dog clipper is a heavy-duty clipper made of polymer with carbon steel blades. Many reviewers claim that this clipper is quieter and cooler than the Oster and Wahl. It has a rounded handle for easy gripping rather than the squared corners.
The clipper features two high speeds – 3400 (SPM) and 4400 (SPM) that will ensure to cut through all types of coats. The clipper is reinforced with the locking switch to prevent accidental shut-off during the grooming session. It has a long cord that helps you easily move around the large dogs while grooming.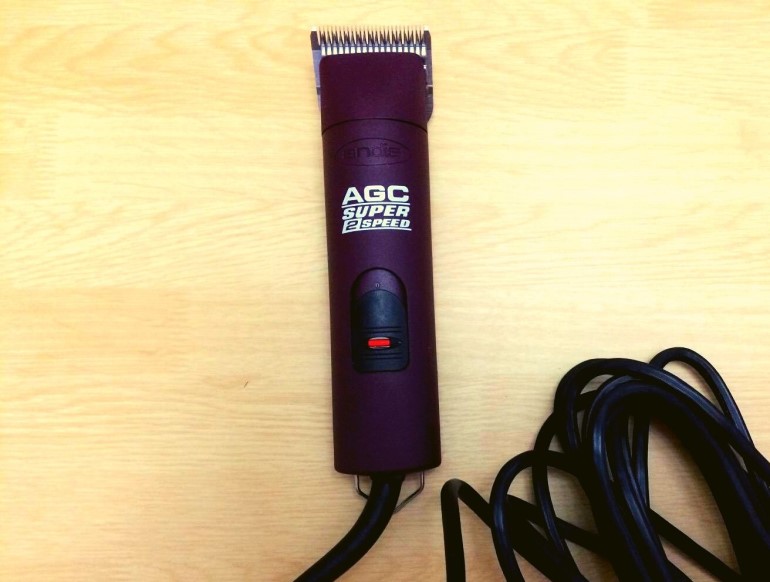 Andis Ultra-Edge has a detachable blade (#10) for easy cleaning and changing of the blade. This blade helps trim or cut short hairs, and the combs are sold separately to attach to the blade according to the coat lengths. Moreover, it contains a shatterproof exterior that minimizes the chance of breaking when it falls off accidentally.
Best Features
120 volts
Suitable for all dogs and breeds
14 ' heavy-duty cord
Two-speed rotary motor
60 Hz frequency
Detachable blade design
Made in the USA
Pros
Buyers are happy with the very long and heavy-duty cord.
Dog owners report that the clipper cut through the dog's matted fur like butter.
Cons
This product does not include grooming accessories and has a high price that annoys many buyers.
Few people complain about experiencing poor customer service, while others have no issue with the service.

Andis Ultra-Edge Dog Clippers
The price of "Andis Ultra-Edge Dog Clippers" varies, so check the latest price at


Oster Turbo Professional Dog Clippers are designed for an efficient grooming session for dogs, horses, cats, and livestock. This clipper features a powerful and universal motor to cut through easily all breeds' coats.
The clipper is packed with accessories, including a cleaning brush, detachable #10 CryogenX blade, clipper grease, blade lubricating oil, and replacement carbon brushes. The blades are cryogenically treated for performance and durability, while the wide blade sweeps for faster clipping.
The universal heavy-duty motor features a superior performance with two-speed settings with a minimum speed of 3000 Strokes Per Minute and a maximum speed of 4000 Strokes Per Minute. You can easily switch between the low-speed setting for precision grooming and the high-speed setting for full body clipping in one simple motion.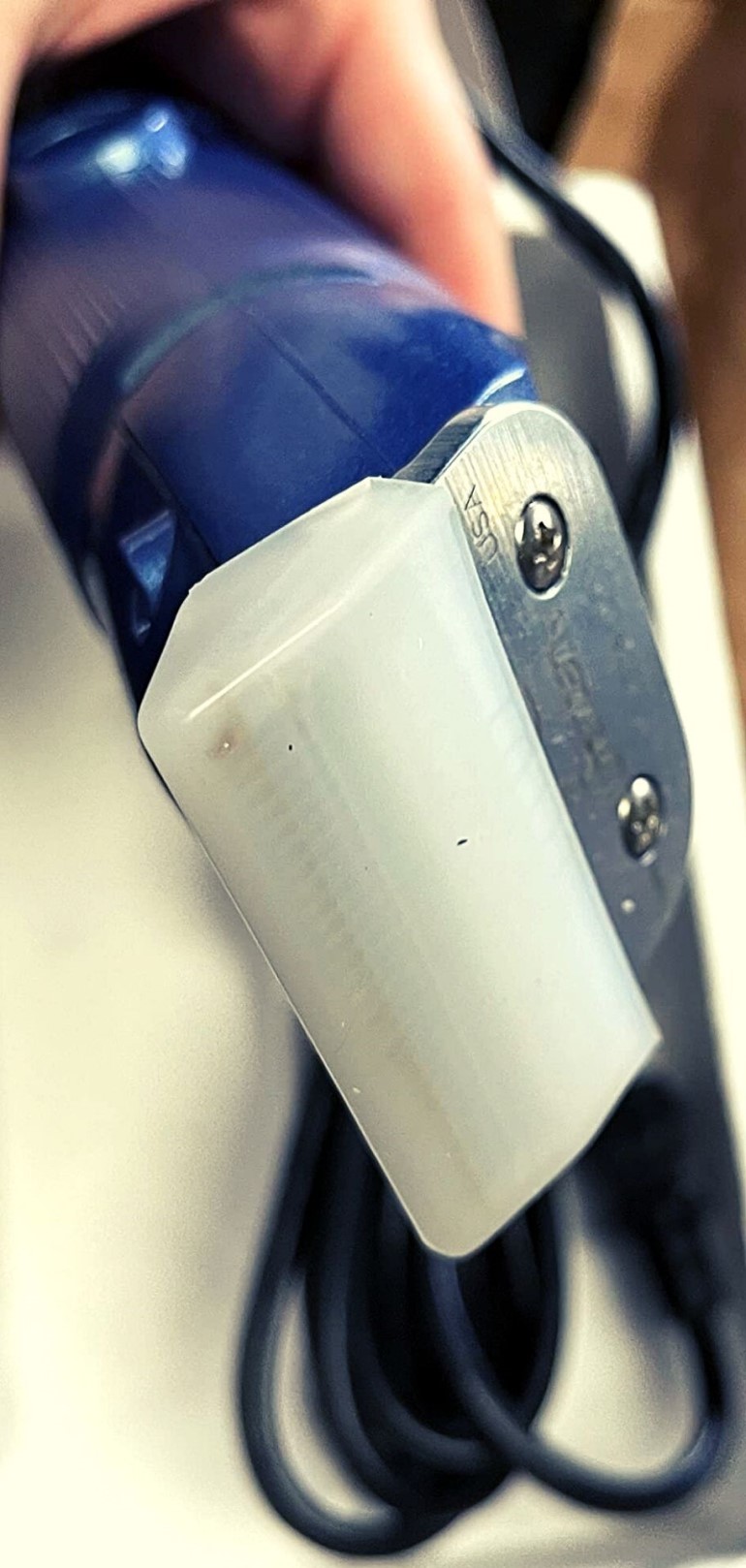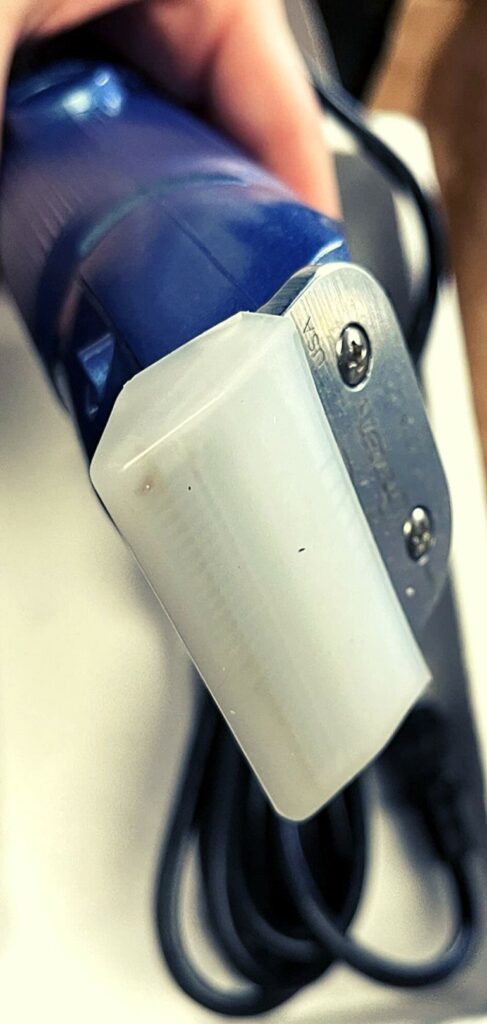 It comes with a 10-foot heavy-duty cord that helps owners quickly move around the dog when trimming hairs. Oster Turbo dog trimmers are a hassle-free and efficient solution to the grooming problems of professionals and pet owners.
Best Features
Corded clipper
Detachable CryogenX blade
Universal, powerful motor
2-speed settings include 3000 and 4000 SPM
A5 blade system
10-foot grade power cord
Ribbed body construction
Made in the USA
Pros
Many owners recommend this pet clipper and claim it works faster than any 50 $ clipper kit.
Buyers are pleased that the clipper does not disappoint them and easily cuts through the thick hair.
Pet parents find that the clipper is sharp, durable, and strong.
Cons
This product heats up quickly, which is bothersome for the users.

Oster Turbo Professional Dog Clippers
The price of "Oster Turbo Professional Dog Clippers" varies, so check the latest price at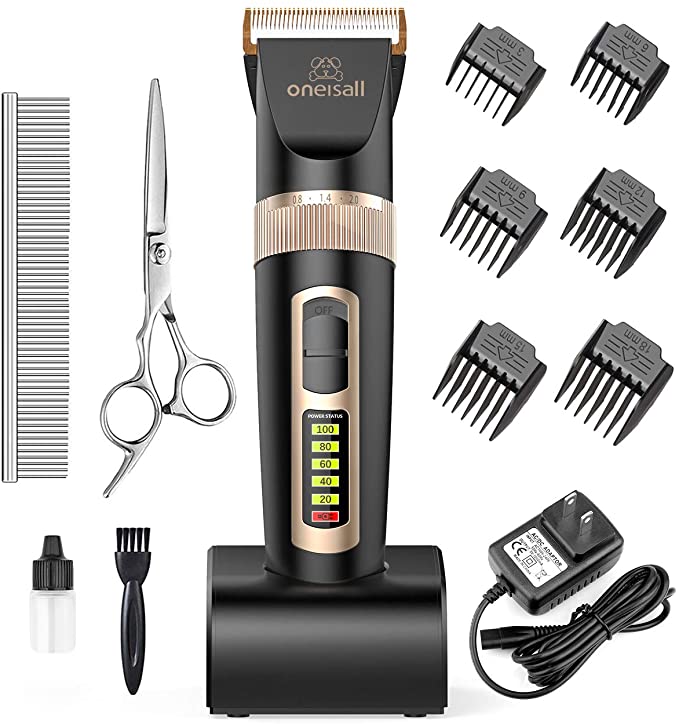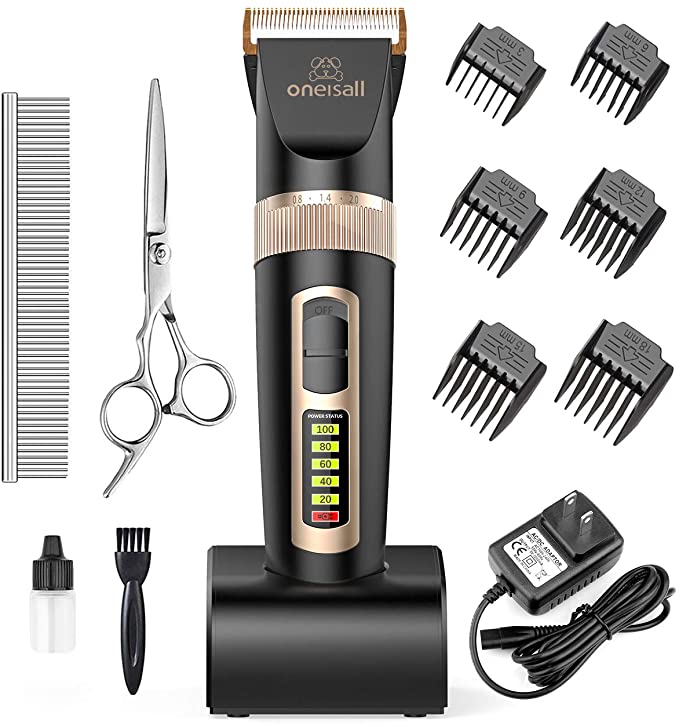 oneisall cordless clippers are specifically designed to groom small and large dogs. These lightweight clippers feature a long-lasting battery compared to other brands, with a run-time of 4 hours. It takes 3 hours to a full charge, and you do not need to buy replaceable batteries.
This cordless clipper is quite convenient for both the pet owners personally use or by the dog groomers. It helps you not be frustrated by the cord getting in the way while grooming the pet. This ergonomic design clipper works quietly without making the pet uncomfortable or scared by the loud noise.
This cordless model contains an LCD screen display that indicates the battery power and helps you remind to charge the clipper. It has a powerful motor that is efficient enough to cut through thicker coats. With the ceramic and stainless steel blades, you'll be able to clip your dog's hair with more stability and has less chance of snagging or pulling.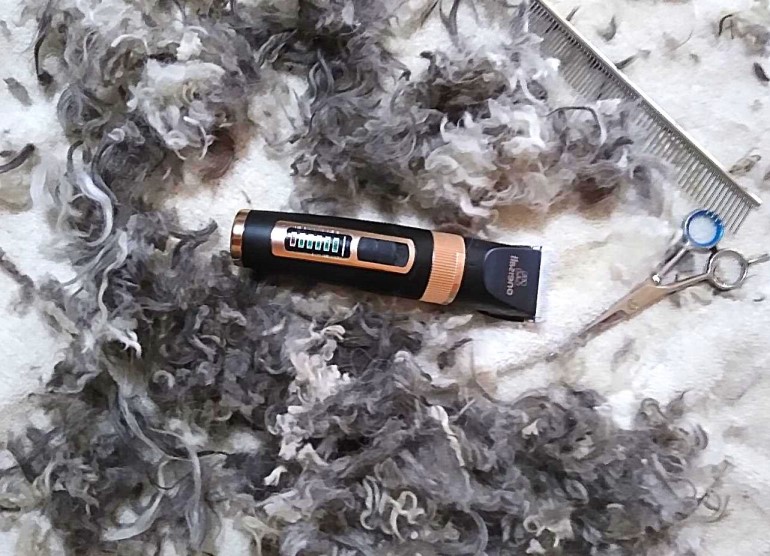 oneisall clippers offer a grooming kit that includes a clipper, 6 guide combs, scissors, a comb, a cleaning brush, and a charging stand base. With oneisall clipper, you will get many accessories with a single purchase!
Best Features
Suitable for small and large dogs
Cordless dog clipper
2-speed settings
Intelligence LCD indication
Include accessories
Easy to use
Affordable clipper
Powerful rotary motor
Rechargeable battery
Pros
Pet owners can use the guard combs for adjustable cut depths.
Dog parents are impressed with the snap on the combs that eliminate the need to buy different blade sizes.
The product is quite affordable, which is a plus point for many users.
Cons
A downfall of the product is that it does not work best for the thick matted hairs.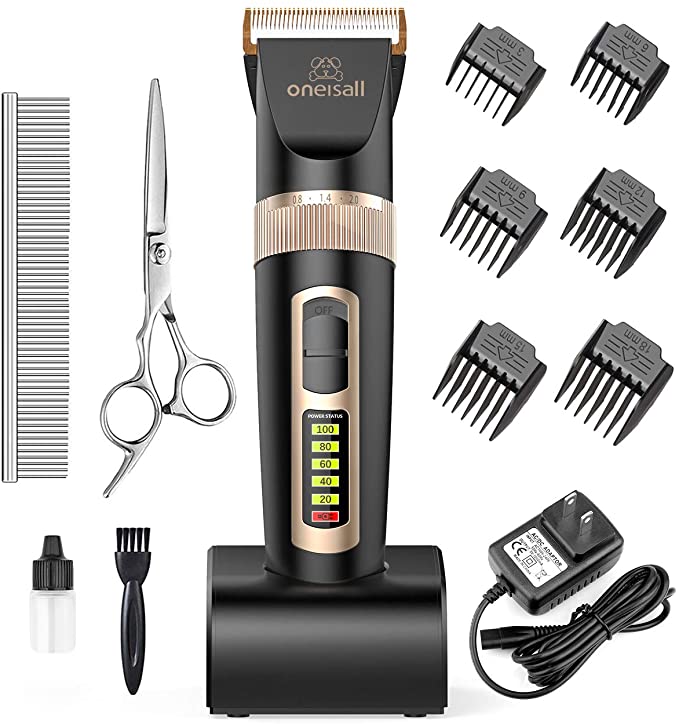 oneisall Cordless Pet Grooming Clippers
The price of "oneisall Cordless Pet Grooming Clippers" varies, so check the latest price at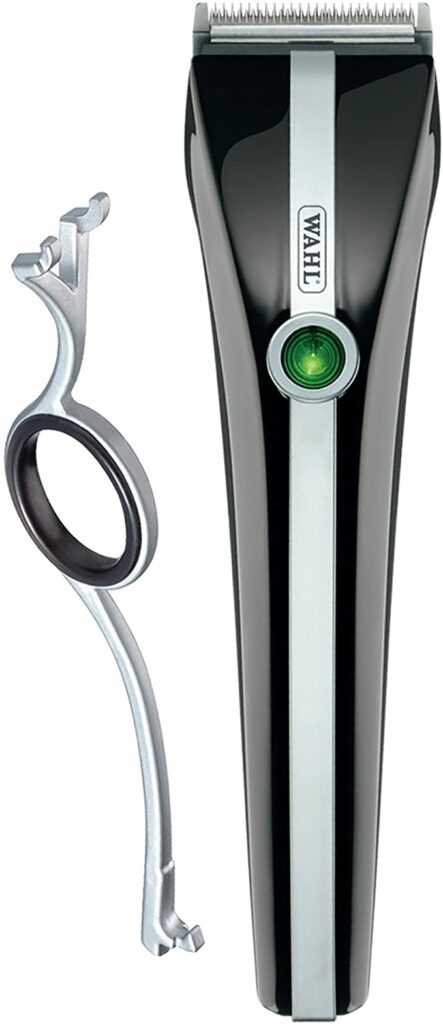 Wahl Motion clipper is ideal for trimming hairs of dogs, horses, cats, and livestock. It provides constant speed control and torque, allowing it to get through a rough spot. With a multi-level traffic light LED battery capacity display, you can see the remaining battery charge.
The clipper provides professional power of 5500 strokes per minute, while the 5-in-1 blade design allows you to get adjustable cut depths. Moreover, the scissors-style grip handle provides complete control and stability while minimizing the risk of getting the clipper damaged if dropped.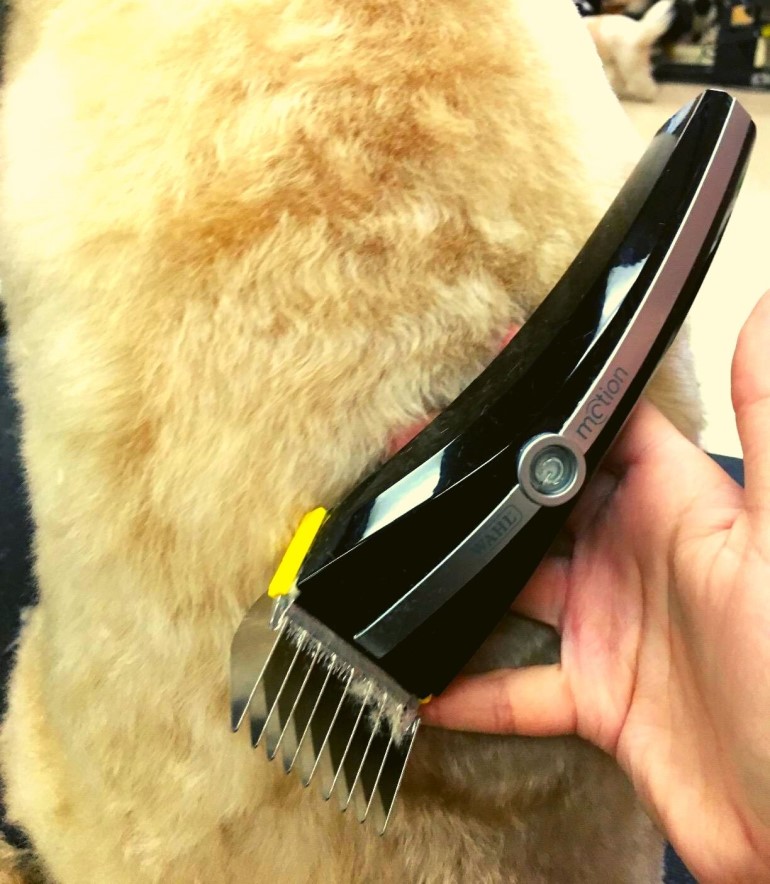 The clipper has a smooth plastic body and offers a limited warranty of a year if there is any manufactured problem.
Best Features
Lightweight clipper
5 in 1 blade
Single-speed clippers
Cord/ Cordless clipper
Lithium-ion battery
90 minutes run time
45 minutes charge time
Offers 1-year warranty
Pros
Users report that the curvy handle comfortably fits into the hands while trimming or shaving the dog's hairs.
The clipper is ideal for cats' and dogs' faces, feet, bodies, and a smooth finish.
Cons
Groomers are disappointed that the clipper is better suited for grooming sessions at home for a single dog than for use in a salon.
For some buyers, the price of the clipper is high.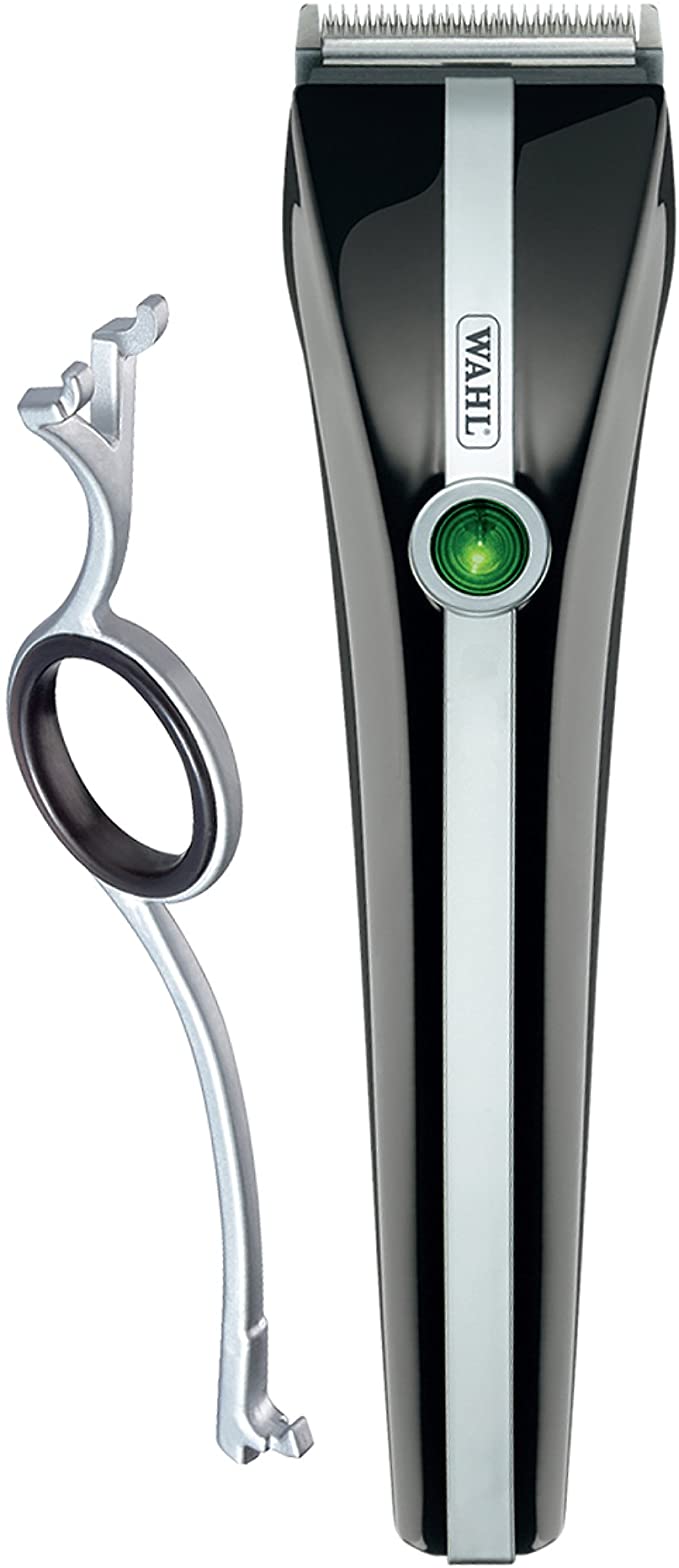 Wahl Motion Lithium-Ion
The price of "Wahl Motion Lithium-Ion" varies, so check the latest price at


Wahl KM5 Animal clippers have an outstanding feature of constant speed control that provides more torque and power when required. It is ideal for beginners who are learning to groom their pets at home.
KM5 is ideal for all-over grooming and complete shave downs because of its extended durability, control, low vibration, balance, and comfort in reducing wrist fatigue. It has two-speed settings of 3000 SPM and 3500 SPM to provide the best grooming experience.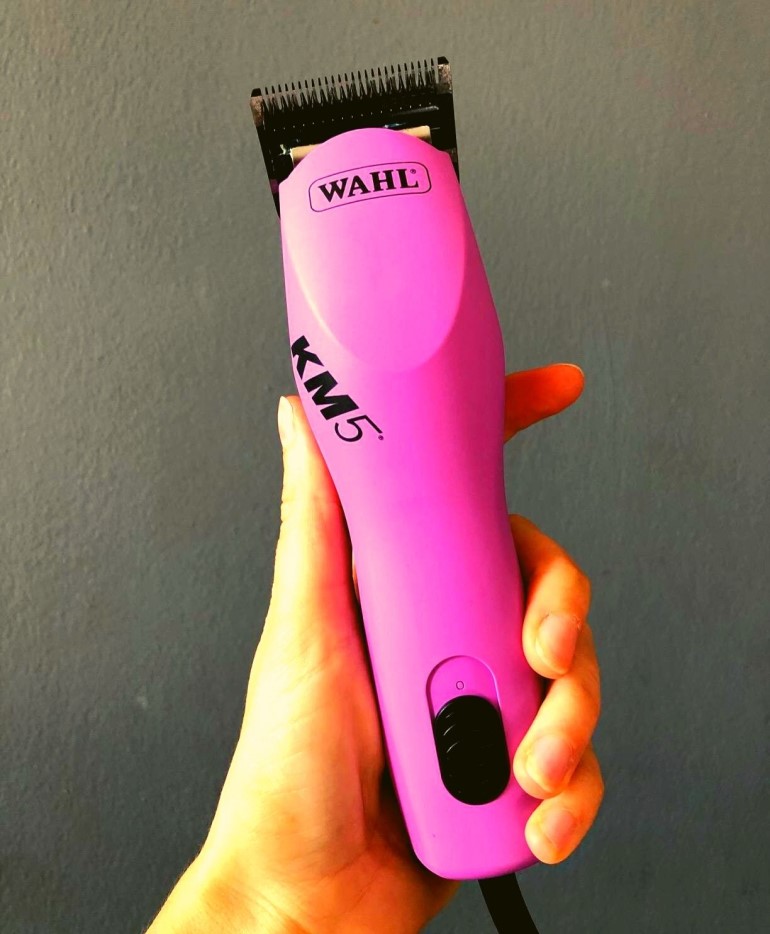 It includes Wahl's #10 Ultimate Competition Series Blades for cutting performance and smoother and faster clipping. The clipper is suitable for trimming thick coats, shaving downs, matted coats, and body clipping of cats, dogs, and horses. This clipper also comes with two years limited warranty that is only applicable in the USA.
Best Features
Corded clipper
Very durable
Constant speed control
Lightweight design
14-foot long cord
Two-year warranty
Two speeds, including 3000 and 3500 SPM
Pros
Groomers appreciate this lightweight model that does not get too hot.
The dogs well tolerate this clipper due to its low vibration and quiet functioning.
Cons
This hair clipper is extremely expensive among all the other clippers.
Few buyers complain about the fast clogging of this product and the poor packaging.

Wahl KM5 Animal Clippers
The price of "Wahl KM5 Animal Clippers" varies, so check the latest price at
Tips for Grooming the Dog with a Hair Clippers
Before clipping, prepare the pet coat by bathing, drying, removing mats, and brushing.
Read the clipping guide that comes with some dog clippers to give you all the essential information about grooming your dog by yourself at home.
Make your pet stand on a cloth or towel for easy cleaning afterward.
Ensure that the clipper does not damage the dog's skin while grooming.
Examine if there is any cut or sores on the pet's skin, and also avoid using the clipper on sensitive areas.
If the clipper blade gets hot, use a coolant spray to prevent your dog's skin from burning.
While clipping, avoid using the clipper on skin folds and pull the skin tight to make a flat surface for smooth strokes.
Remember to oil the blades before and after the grooming session to enhance the durability and effectiveness of pet clippers.
To get perfect results, always trim the dog coat in the direction of hair growth.
Never try a dog clipper on humans, as it is specifically designed to cut the dog's thick coats.
Things to Consider When Choosing the Best Dog Grooming Clippers
There are many qualities of professional clippers that you must know while purchasing one for your furry friend. These are the several considerations to keep in mind when buying the best dog clipper:
Motor's Speed and Power
The clipper motors offer multiple speed options like single-speed, two-speed, or five-speed. You can choose what looks best to you, keeping your dog's needs in mind.
There are two types of clippers motors: rotary motor and brushless motor. Groomers believe that brushless motors are more efficient, powerful, and quieter than rotary motors. But it is not a fixed rule while some companies offer more reliable and durable clippers having rotary motors.
Battery Life & Charge Time
There are many corded and cordless clippers on the market, each claiming to be the best. However, the battery life and their charge time distinguish them from each other.
Make sure to have a clipper with longer battery life and charging time. The corded clippers are considered more reliable, while the clippers work with a battery often needs to replace the battery. Some clippers can be operated while plugged into the charging cord.
Blade Speed
Blade speed refers to the number of strokes per minute (SPM) or rotations per minute (RPM).
You should consider buying a clipper with a blade speed of 3000 SPM to 5500 SPM. This is the main difference between the cheaper pet clippers and professional dog clippers.
With the high speed of the blade, it cuts through the thick hairs like butter. This is why dogs should not use a human clipper because they are not meant to cut through the thicker hair of pets.
Noise Level
The most significant feature of the hair clippers is the noise level. The clipper should not be noisy while grooming the pet as it will scare him. Always try to buy a clipper with a quiet motor ideal for the dog and the groomer.
Heat
The dog hair clippers have a higher tendency to heat up quickly. Some dog clippers feature stainless steel blades, while others have ceramic or titanium blades. The ceramic blades take longer to heat up as it is designed to remain cool for an extended period.
If your clipper gets hot so fast, no worries; there are some ways to control its heat.
You can give the used blade an iced bath while finishing your task using a spare blade.
You can use coolant sprays to cool down the heat of the clippers between use.
Make sure to use lubricating oil on the blade to improve its life after every use.
FAQs
Why Do Dog Clippers Get Hot?
Clippers get hot when you use them for an extended period, or they are not being oiled properly. It also depends on the blade type because stainless steel or titanium blade gets hot very fast while the ceramic blades take time. The high speed of the blade also makes it hot because of friction, so using a good clipper oil will reduce the friction while benefiting your clipper.
Can I Use Human Hair Clippers on My Dog?
Yes, you can, but it is not recommended because the human clippers are not that powerful to cut through the coarse hairs of the dog. Before clipping your dog's hair, always read the instructions not to harm your pet.
Final Words for the Best Dog Clippers
Andis 2-Speed Professional Dog Clipper is our top pick because of its multiple advantages and easy operation. Each product has been reviewed in the light of buyers' experience and their recommendations. That's why these all are popular for professional grooming and at-home usage.
We hope this guide has benefitted you in getting a high-quality dog clipper. If so, let us know in the comment section!
If you are looking for the best nail clippers, check our free guide here!