One common misconception about dogs is that they are either uncontrollable monsters or are being trained to attack. So, a muzzle isn't something that an average dog wears, right?
Nope! As a caring dog parent, I strongly support the use of muzzles. Because when used properly, muzzles can be a valuable training and safety tool for dogs.
Sadly, the media has primarily associated muzzles with "scary dogs," a shame. Because muzzles protect people and their pets from harm, they are widely regarded as an essential part of any dog owner's toolbox for training purposes and socializing their pets.
There are several situations when you can use a dog muzzle according to American Kennel Club:
To serve in an emergency
To avoid biting or barking history
To alleviate your anxiety while visiting the veterinarian or undergoing medical treatment
In-between grooming sessions
Soft And LightWeight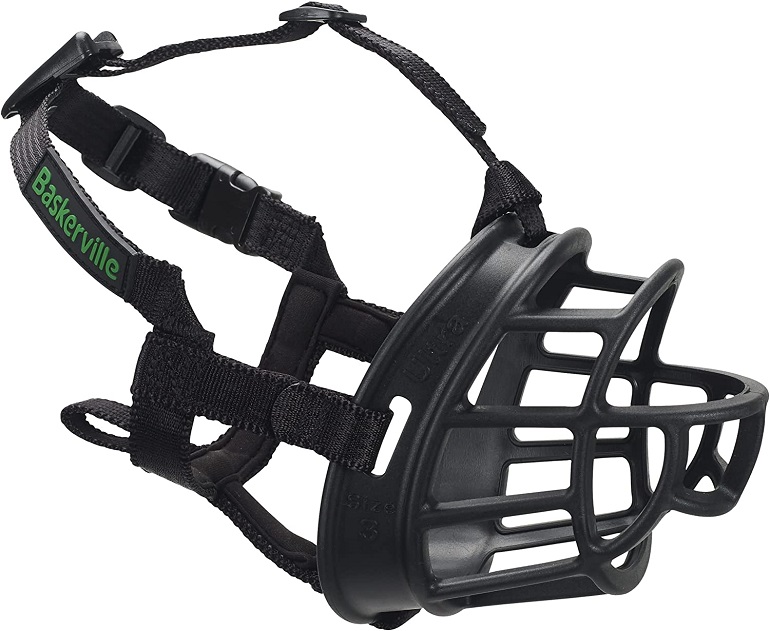 Baskerville Ultra Dog Muzzle
size:5 – Labrador
color:Black
material:Plastic
Eco-Friendly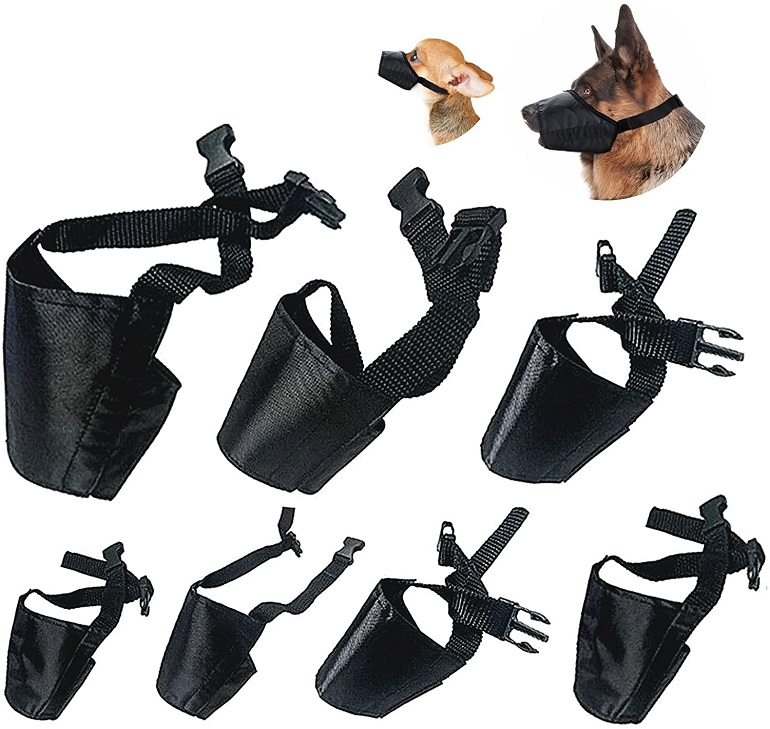 CooZero Dog Muzzles Suit
size:Pack of 7
color:Black
material:Oxford Cloth
Best For Durability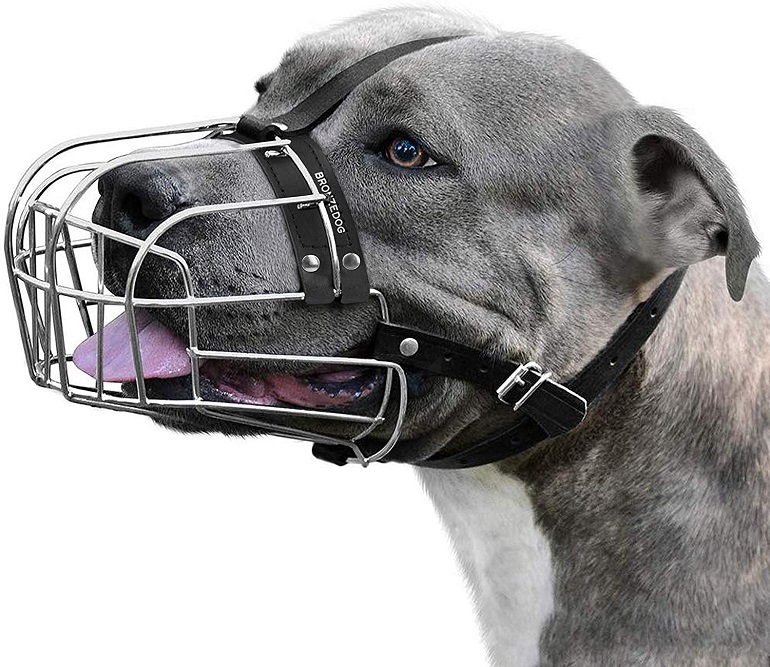 BRONZE DOG Dog Metal Mask Muzzle
size:Large
color:black
material:steel
Best For Comfort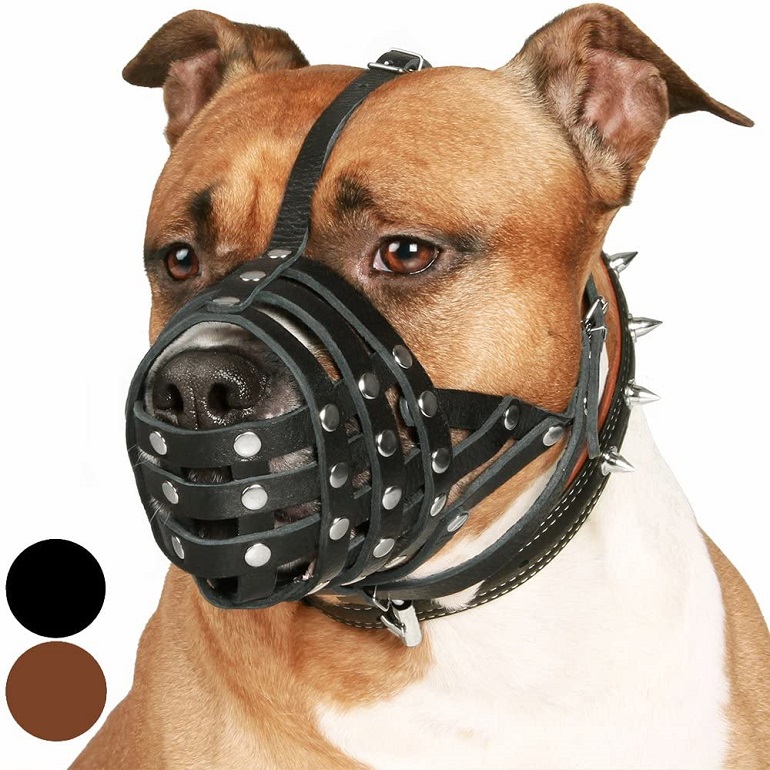 CollarDirect Leather Basket Dog Muzzle
size:Large
color:Black
material:Leather
Tough And Durable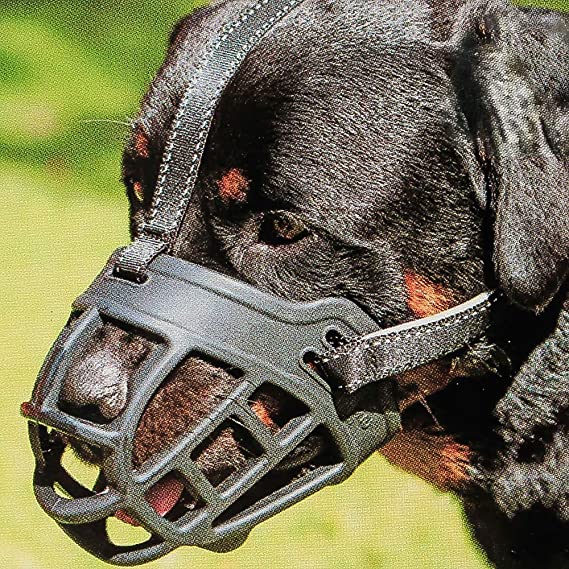 Barkless Soft Basket Silicone Muzzles For Dog
size:1(Snout7-8″)
color:Black
material:Plastic
Easy To Adjust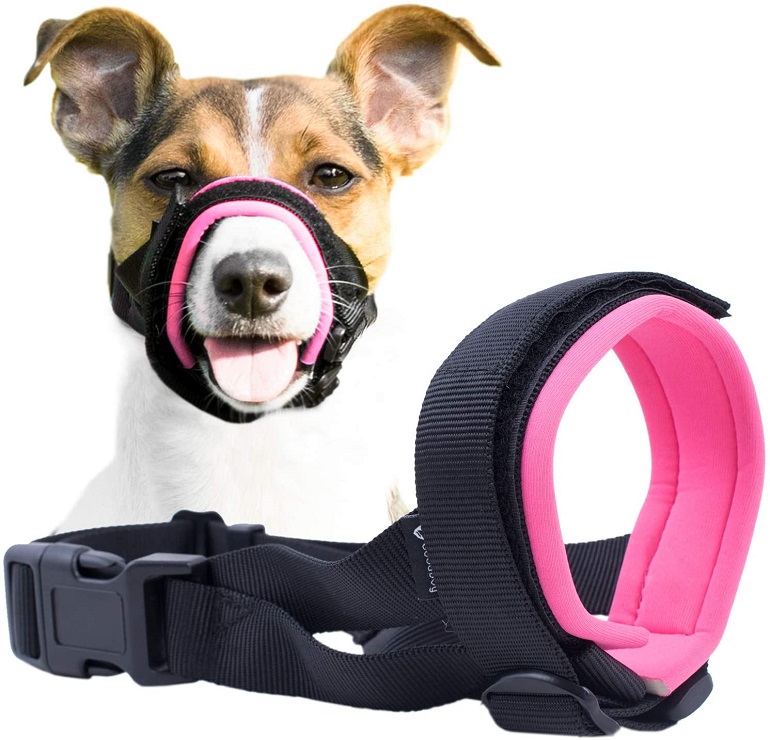 GoodBoy Gentle Muzzle Guard
size:Medium
color:pink
material:Neoprene
Easy To Clean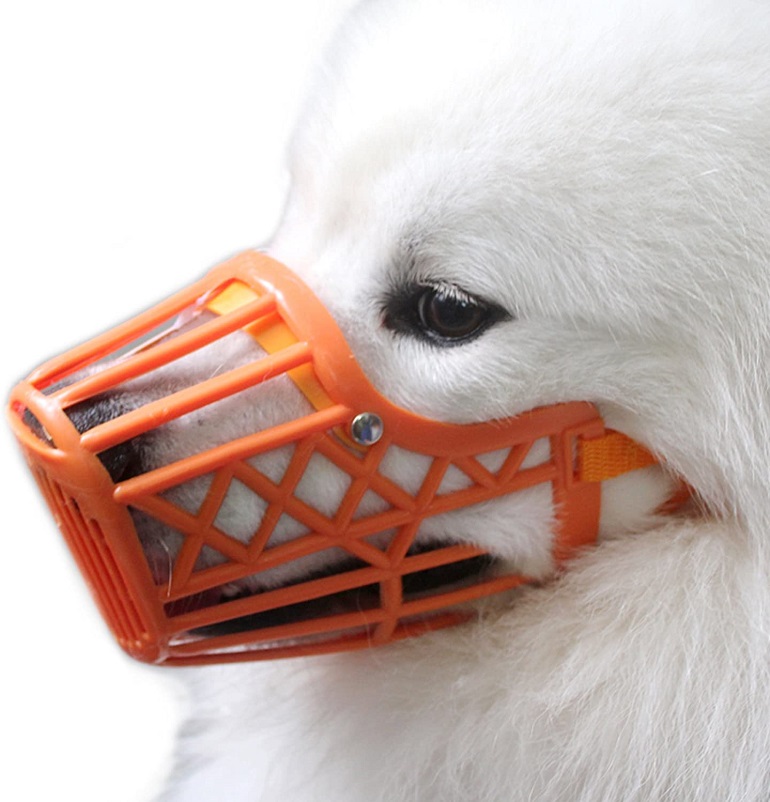 Alfie Pet Paxton Adjustable Plastic Muzzle
size:X-Small
color: Orange
material:plastic
Leight Weight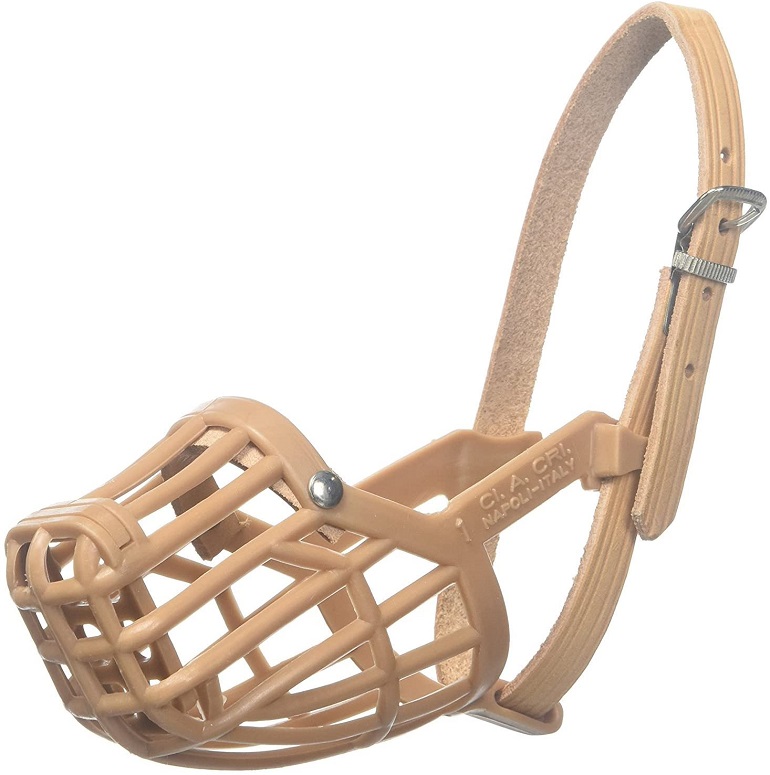 OmniPet Italian Basket Dog Muzzle
size:Size 6
color:Tan
material:Plastic
Best For Accuracy And Sturdiness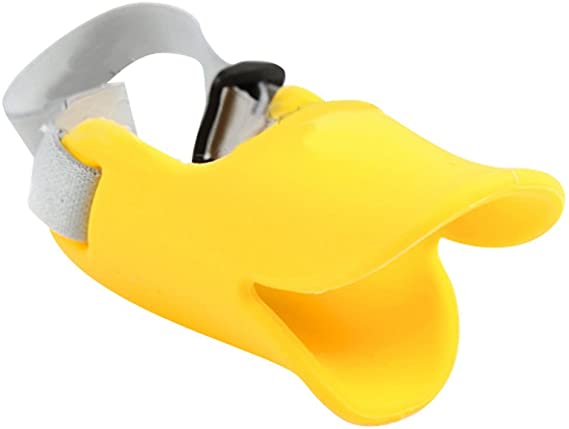 NACOCO Anti-Bite Duck Mouth Muzzle
size:small
color:Yellow
material:Silicone
Best Dog Muzzles to Avoid Dog Bites
The last thing you want to do is invest in a low-quality muzzle that makes your dog's issues worse. Various shapes and sizes of muzzles are available. The following are some of the most popular products on the market. Your dog can feed, drink, and pant with the soft muzzles on this list, so you don't have to worry.
We'll show you which muzzles are worth using in the following reviews: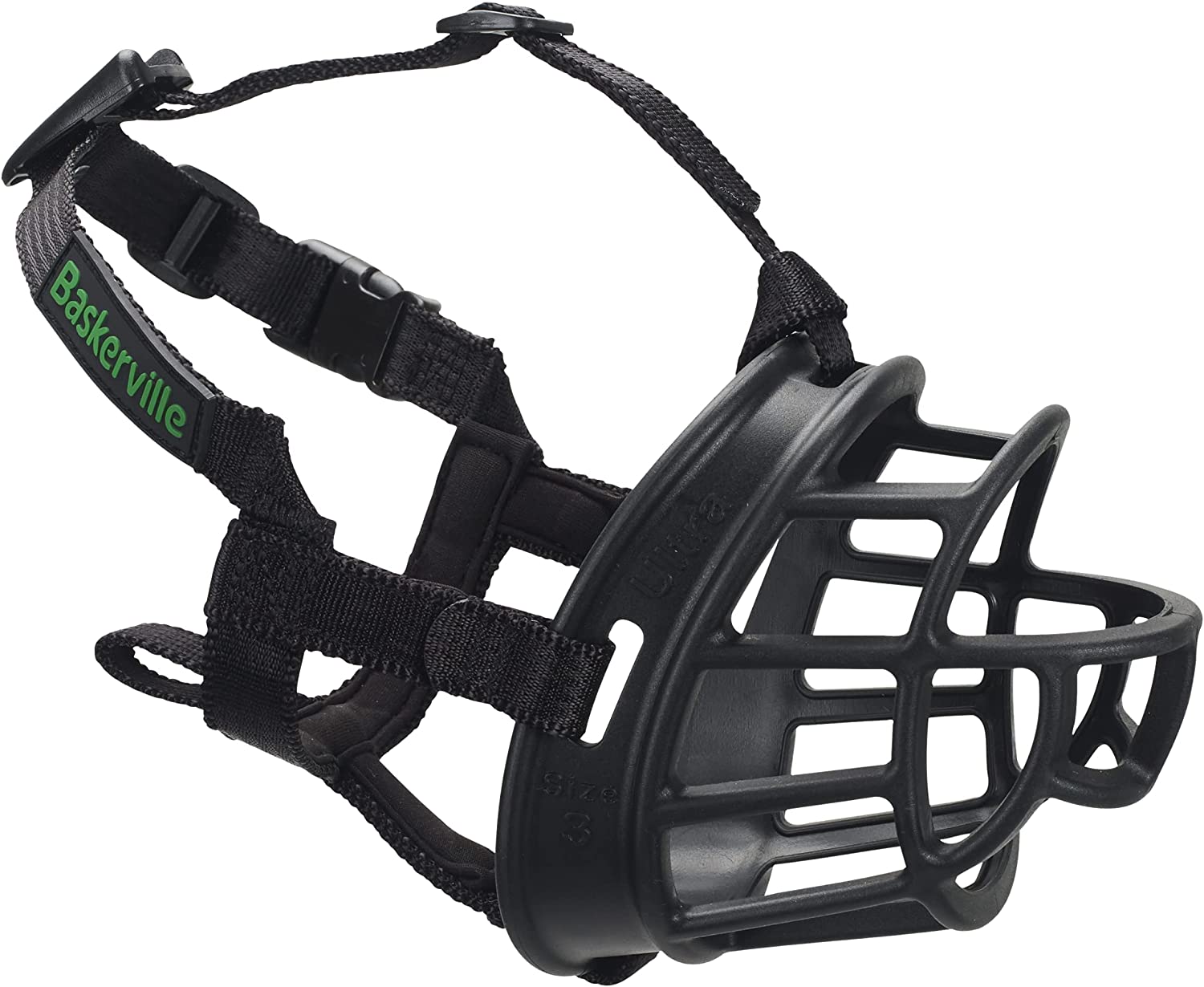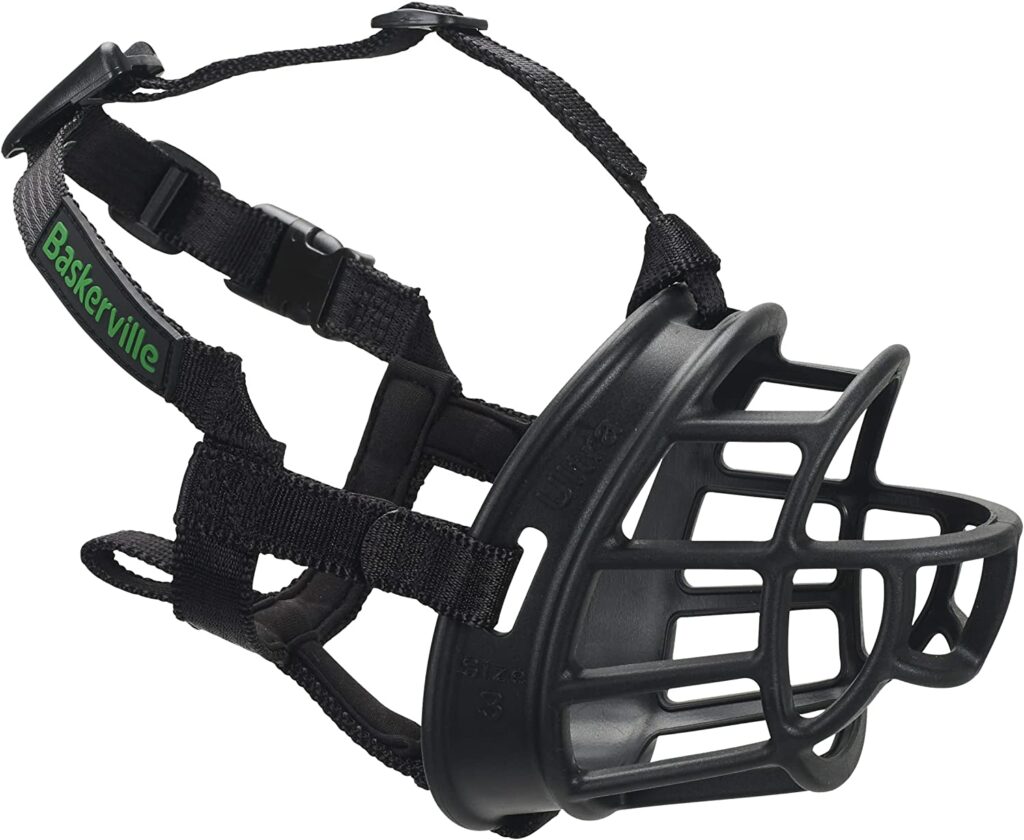 This Baskerville Ultra Muzzle – is ideal for large dogs. The soft and lightweight rubber basket design provides all-around mouth protection for canines to prevent biting. It also allows them unrestricted access to eating, drinking, and panting. In addition, dogs can be safely socialized, groomed, and transported with the help of a harness.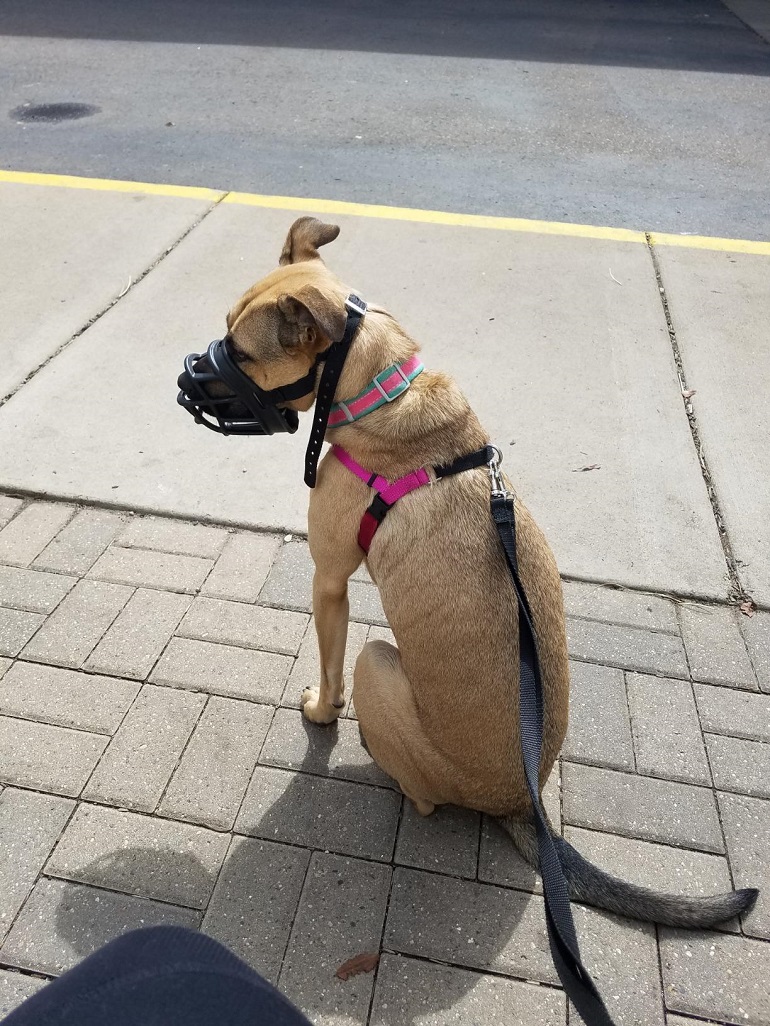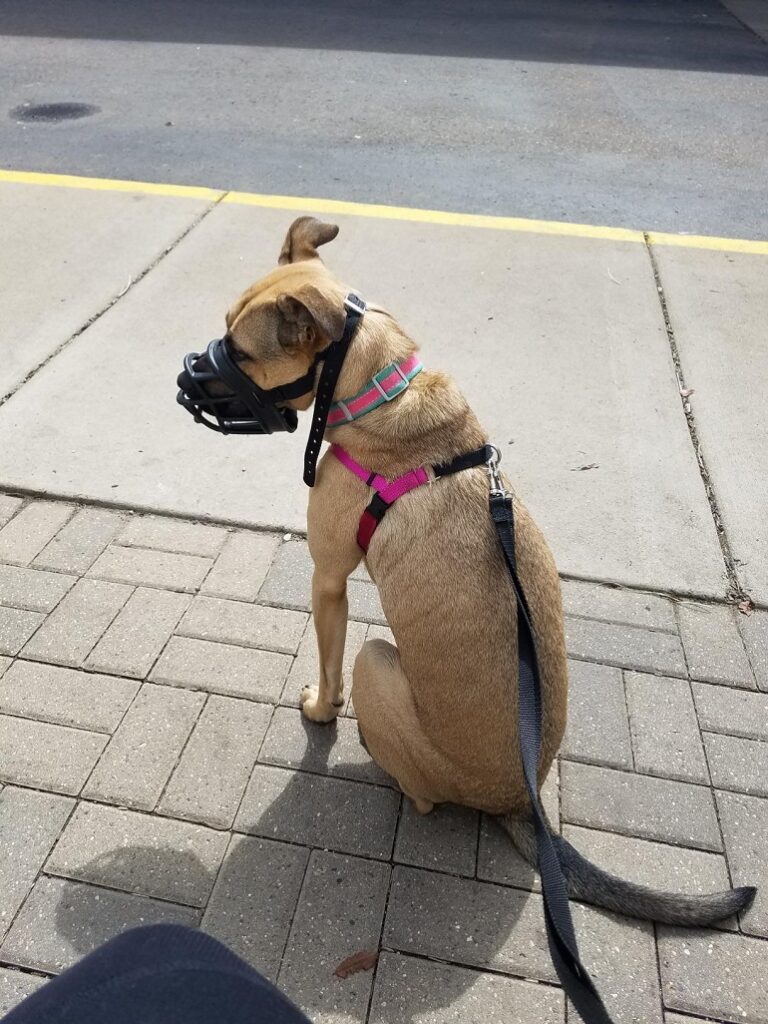 Muzzle safety strapping is ergonomically designed to keep the muzzle in place. It features two attachment points, one of which can be attached to your regular dog's collar, and the other is a removable over-head safety strap.
Thermal plastic rubber can be heated and formed into a custom fit around the dog's snout, even for broad-nosed breeds like bulldogs. Padded lining for added comfort and pre-holed webbing for an easy, secure fit for neck and head straps are included. Face straps also have a padded cushion.
Key feature
Best for large dogs
Available in black color
Size 5
Soft and lightweight rubber
Safety straps
Adjustable with dog's snout
Neoprene padded lining and cushion
9.17 ounces weight
Pros
Most dog owners liked this well-made muzzle that could be used in various situations.
Dogs were comfortable with the moldable plastic that was both durable and comfy.
Cons
There was no extra-large or extra-small size in this muzzle.
Dog parents had difficulty measuring the dog's size correctly before buying.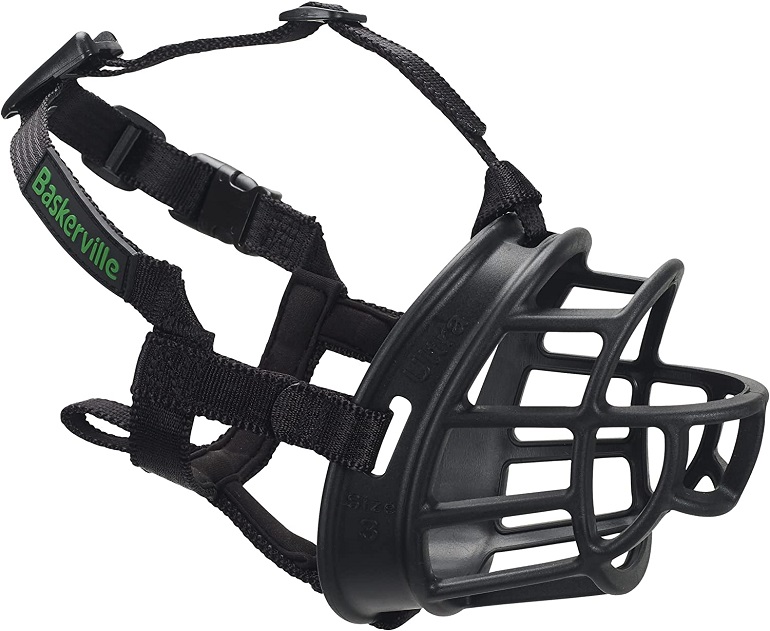 Baskerville Ultra Dog Muzzle
The price of "Baskerville Ultra Dog Muzzle" varies, so check the latest price at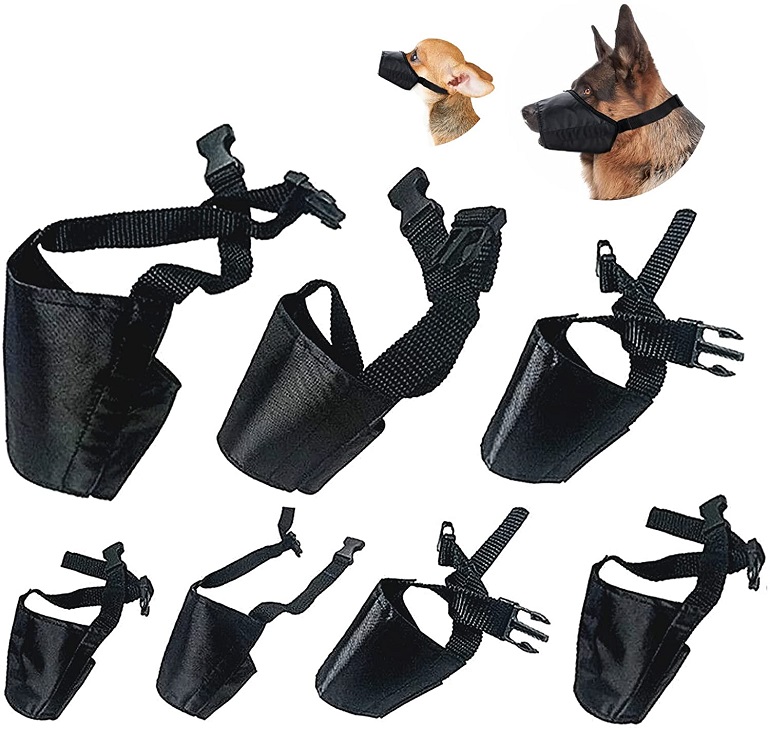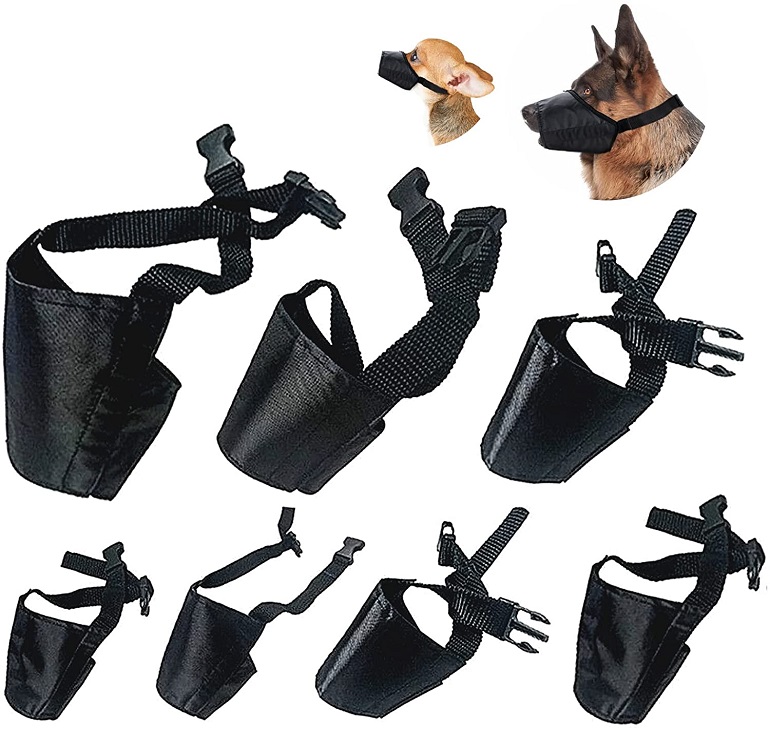 If you're looking for a one-size-fits-all solution for your dog's muzzle, look no further than the 7-in-1 Dog Muzzle Set. A fully adjustable strap and buckle make them simple to put on and take off. Regardless, if you're unsure of your dog's mouth size, this product will help.
Many options are available in this suit to prevent the dog from biting, destructive chewing, licking, or barking. Each set comes in seven different sizes, so dogs from different breeds will fit comfortably in this muzzle. It's a great help around the house, on trips, for pet training, at the pet store, and the vet's office. You don't have to be concerned about injuring your dog because of this muzzle.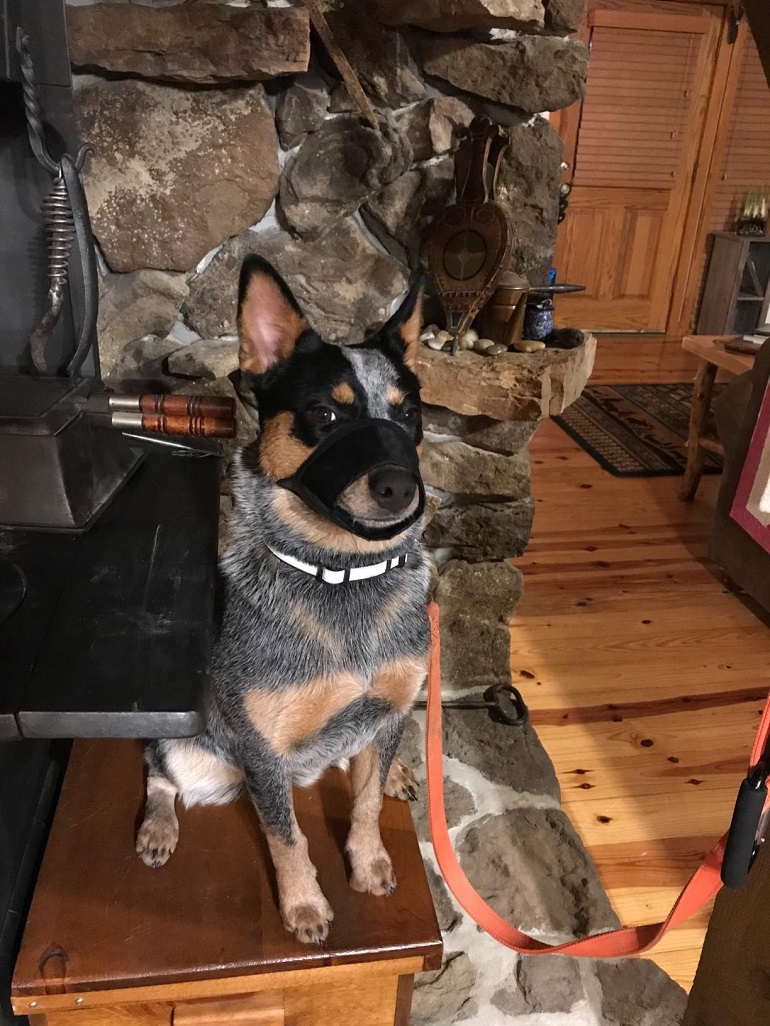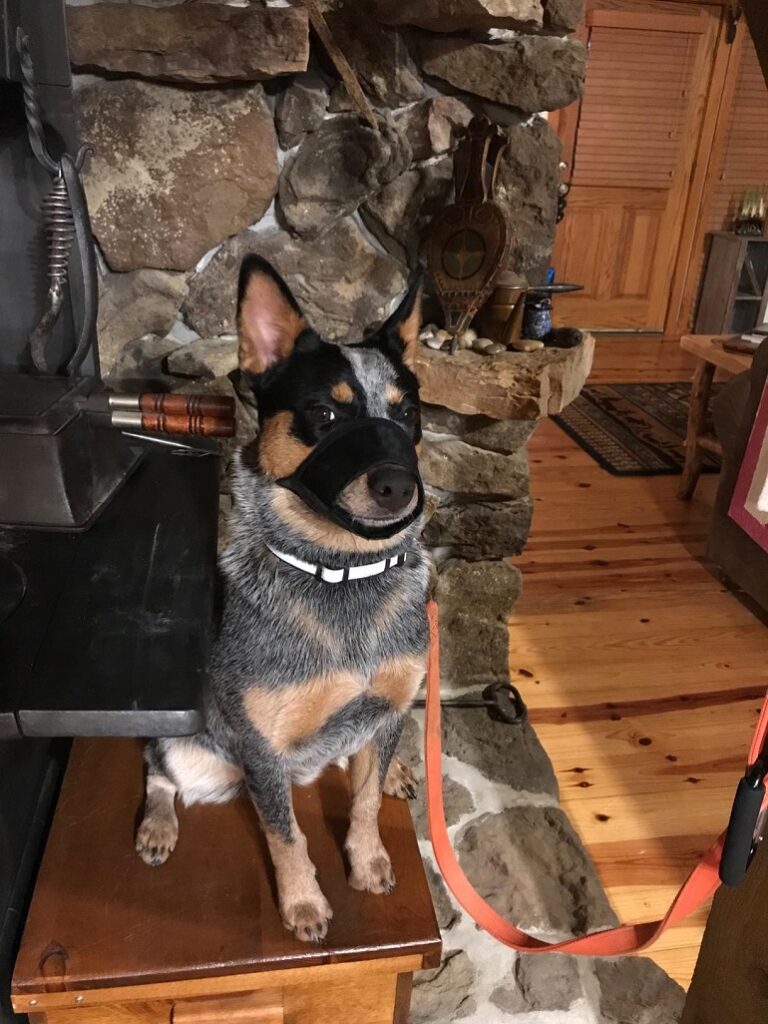 These anti-bite muzzles have an adjustable strap and buckle. You can quickly and easily adjust the size of your dog's harness with this design's quick-release buckle. In addition, the material is durable, dirt-proof, and easy to clean, allowing for multiple uses.
Key feature
7 muzzle pieces
Anti biting and barking muzzle
Made from eco-friendly material
Adjustable mouth cover
Suitable for all breeds and sizes
Includes straps and buckle
Water-resistant
Easy to use and clean
4.97 ounces weight
Pros
Parents with multiple pups loved this set as they could train them all at the same time
Caring pet lovers recommended these dog muzzles as size adjustability would be no issue.
Cons
Some dog owners mentioned that all the pieces serve a variety of same functionality and same size.
A few buyers commented about the low quality of these muzzles.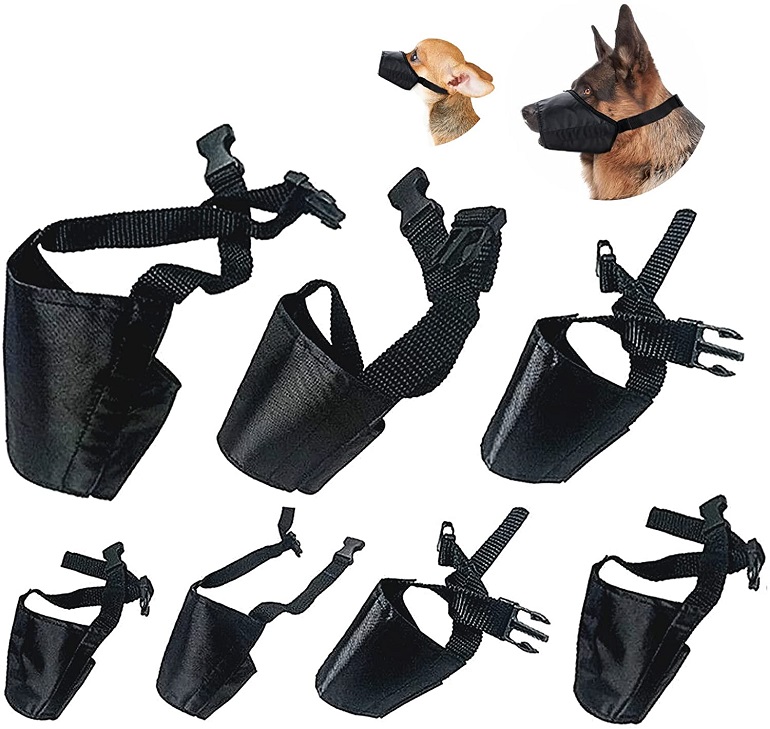 CooZero Dog Muzzles Suit
The price of "CooZero Dog Muzzles Suit" varies, so check the latest price at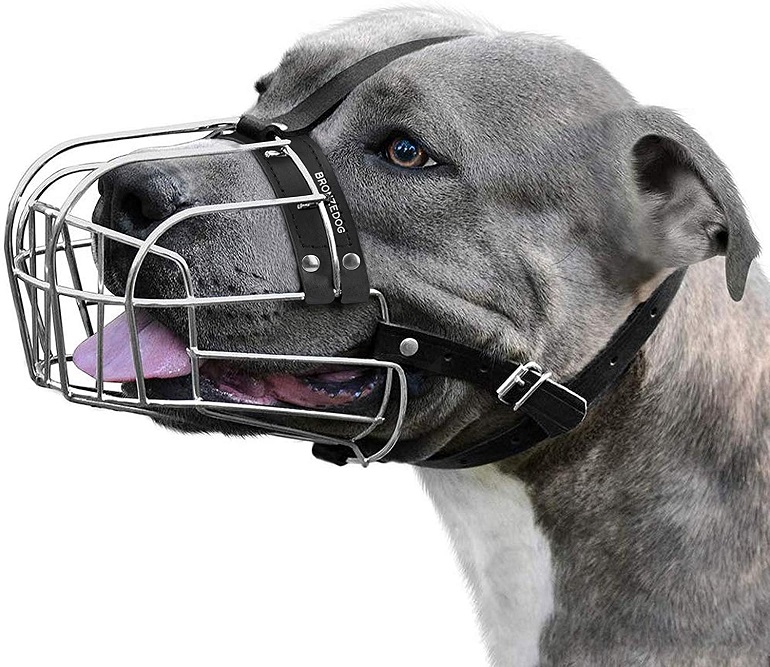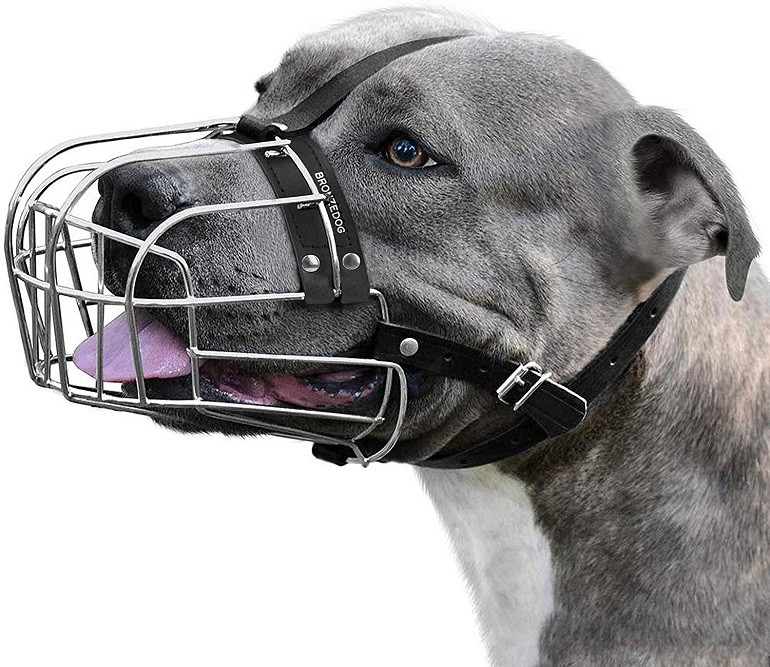 Initially designed for pit bulls, the BronzeDog Wire Muzzle will fit most dogs of a similar size. The wire is extra strong, and padding is included to ensure your dog is comfortable wearing this muzzle.
This dog muzzle allows your pet to breathe freely, essential to their health and comfort. In addition, a basket dog muzzle with a comfortable shape allows for free nose licking. When it comes to walking, training, going to the vet, and grooming a dog, this steel muzzle is ideal.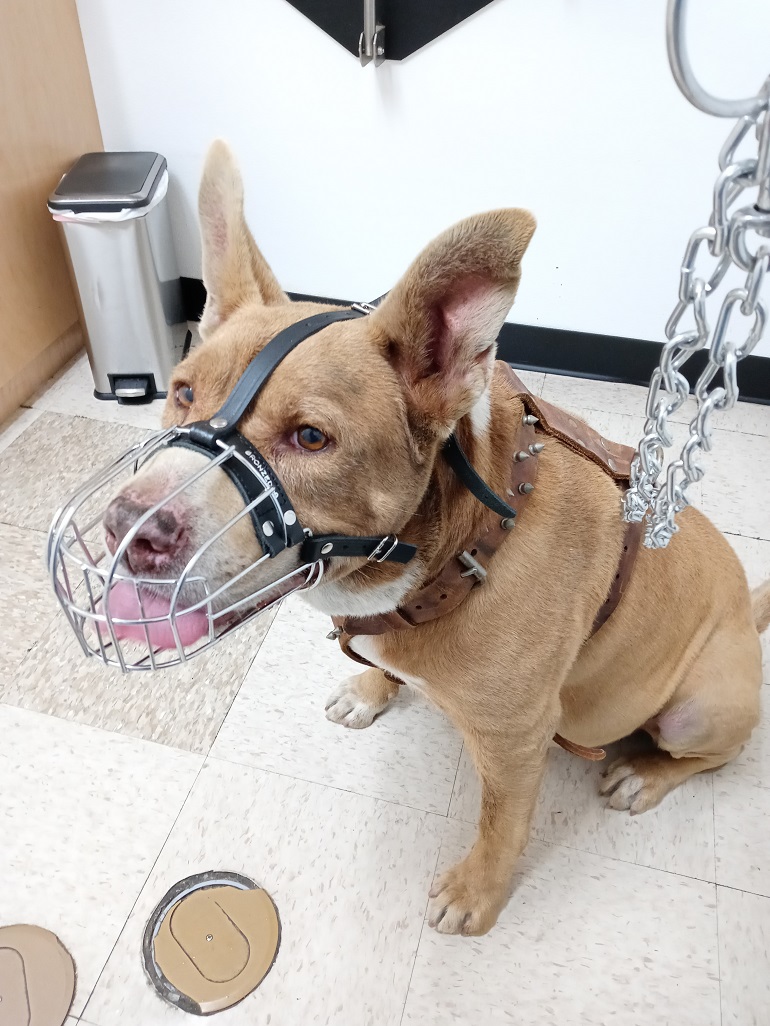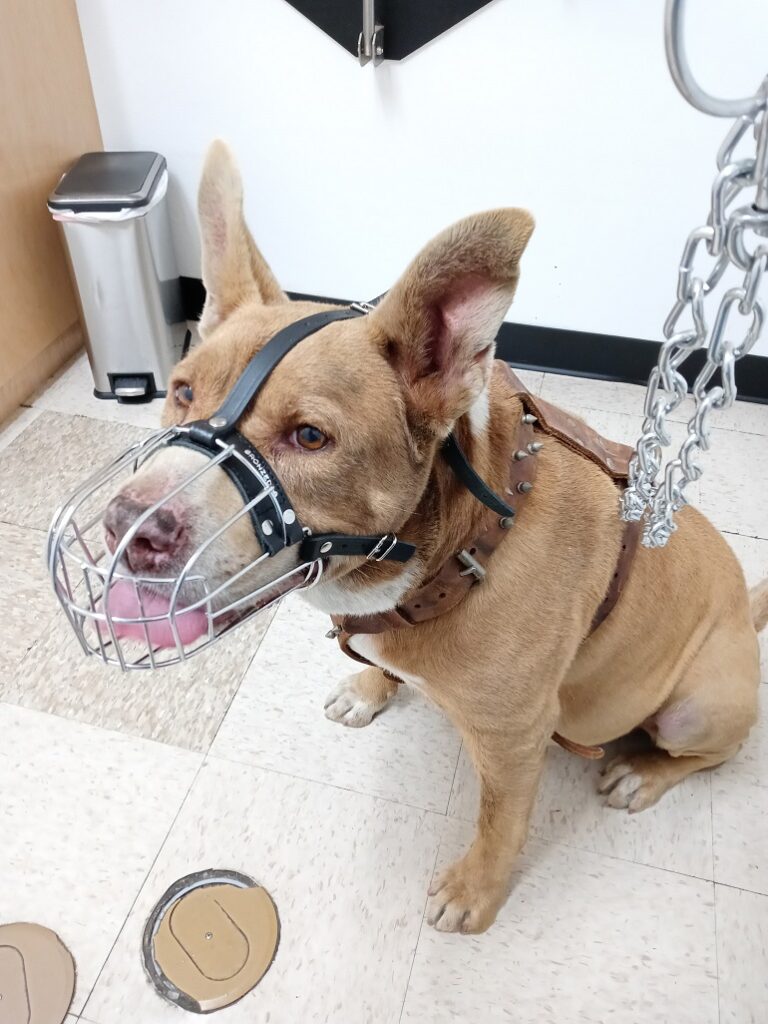 Pitbull dog snout circumference measures 12 inches, and the snout's length measures 3 1/2 inches. With soft padding and four adjustable straps, this stainless steel basket muzzle is designed to provide a comfortable fit for large dogs.
Key feature
Best for larger dogs
Made with lightweight steel
Sturdy wire
Soft and safe padding included
four adjustable leather straps
Basket shape muzzle
heavy-duty metal buckles
7.37 ounces weight
Pros
Buyers said that despite the wire's extra safety for others, the dogs were still able to smell flowers and eat treats while wearing this muzzle.
Most parents were happy with extra padding on the sides of the mouth, which was comfy for the dog's skin.
Cons
Some dog owners had to add extra holes to make it fit their dogs perfectly.
A few buyers mentioned that the rivet could be easily broken.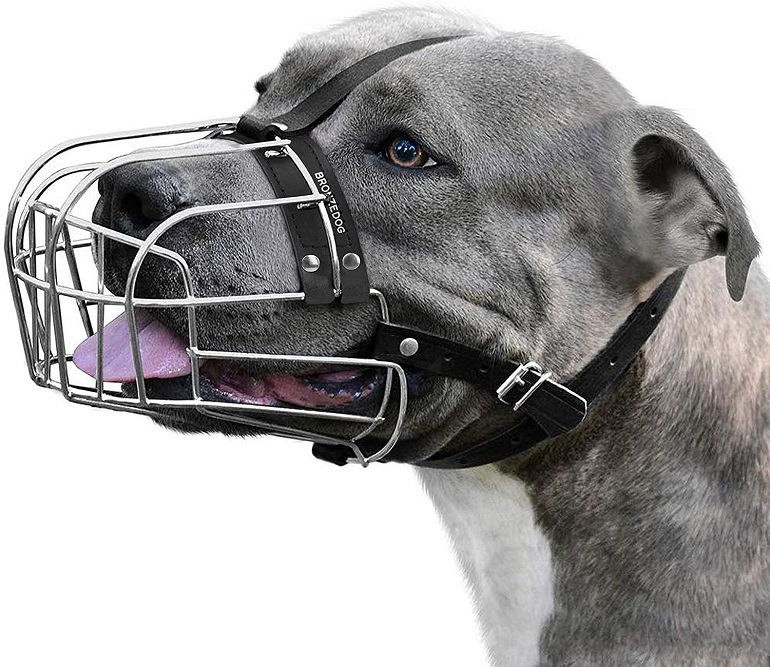 BRONZE DOG Dog Metal Mask Muzzle
The price of "BRONZE DOG Dog Metal Mask Muzzle" varies, so check the latest price at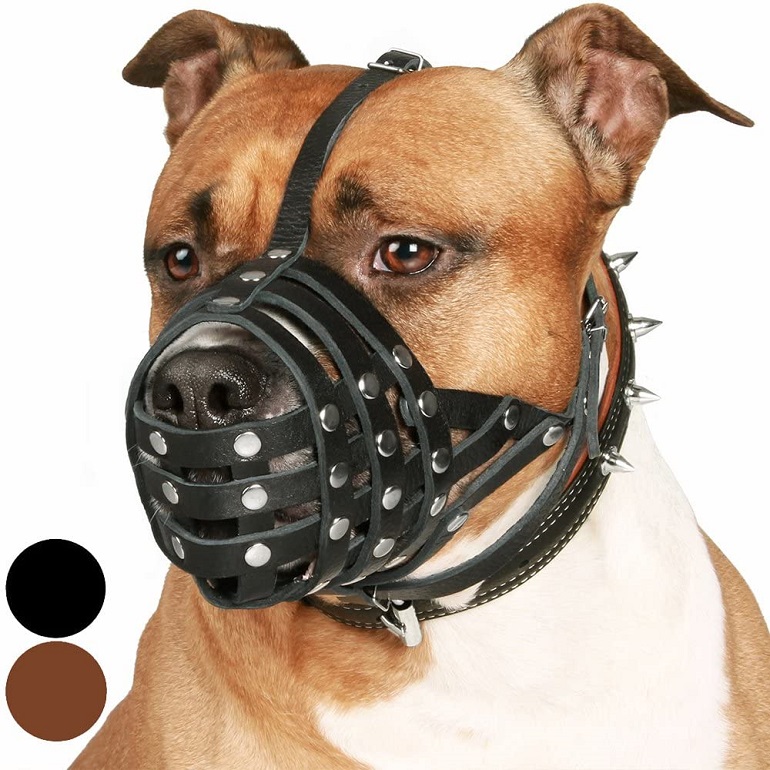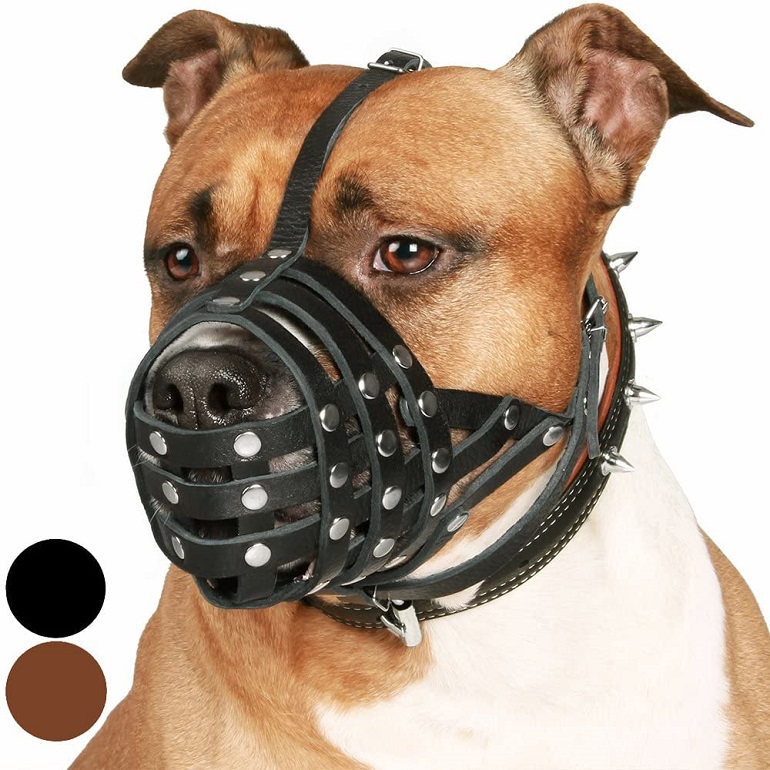 The CollarDirect Leather Basket Dog Muzzle for Pitbull is a great way to keep your dog from acting out in the face of garbage-strewn streets and unfriendly neighborhood cats. This breathable and lightweight basket design muzzle constructed of whole-grain genuine leather will help you be the best pet parent.
Metal buckles and rivets, as well as adjustable straps, complete the perfect fit. In stressful situations and training, your pet will feel safe and secure. Take an accurate snout measurement before ordering to ensure a perfect fit for your best friend. For the length, start at the point where the eyes meet, and work your way up to the tip of the dog's nose, then measure around the snout.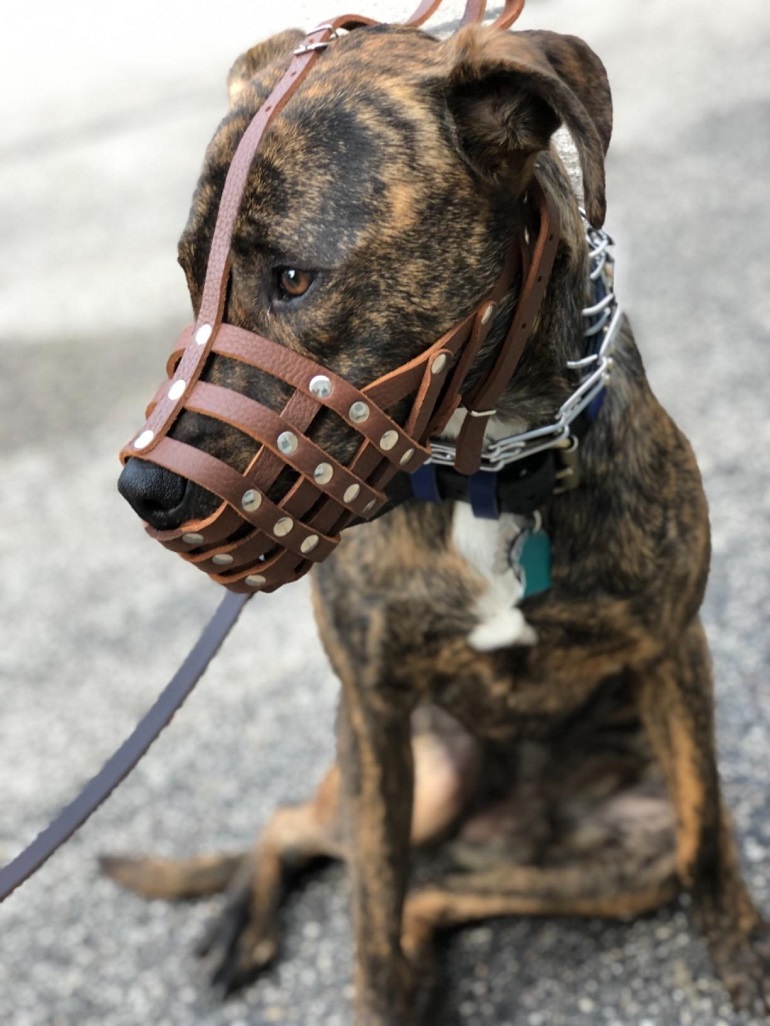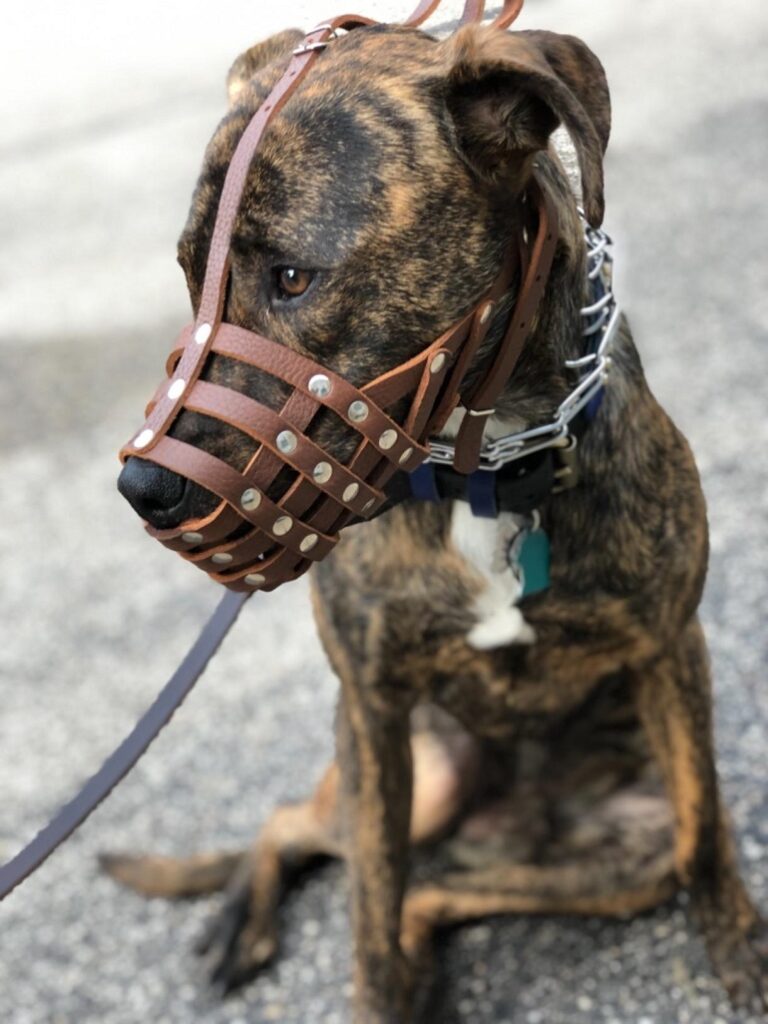 When it comes to hot dog days, the breathable design ensures enough air circulation. You can carry it around with you thanks to its compact nylon design. Anxiety is reduced because the design is flexible and lightweight, making your dog feel more at ease and less constrained.
Key feature
Basket muzzles
Made with genuine leather
Long-lasting metal rivets
Breathable mesh design
Best for larger breeds
Available in brown color
Easy to clean
5.17 ounces weight
Pros
Puppies with a similar snout shape to the Pitbull and Staffordshire Terrier have loved this collar.
Even the most aggressive dog was calm and relaxed while wearing this muzzle.
Cons
Pet parents found this as a pricey muzzle compared to other dog muzzles.
A few buyers complained about the roughness of the product that irritated the pup's sensitive skin.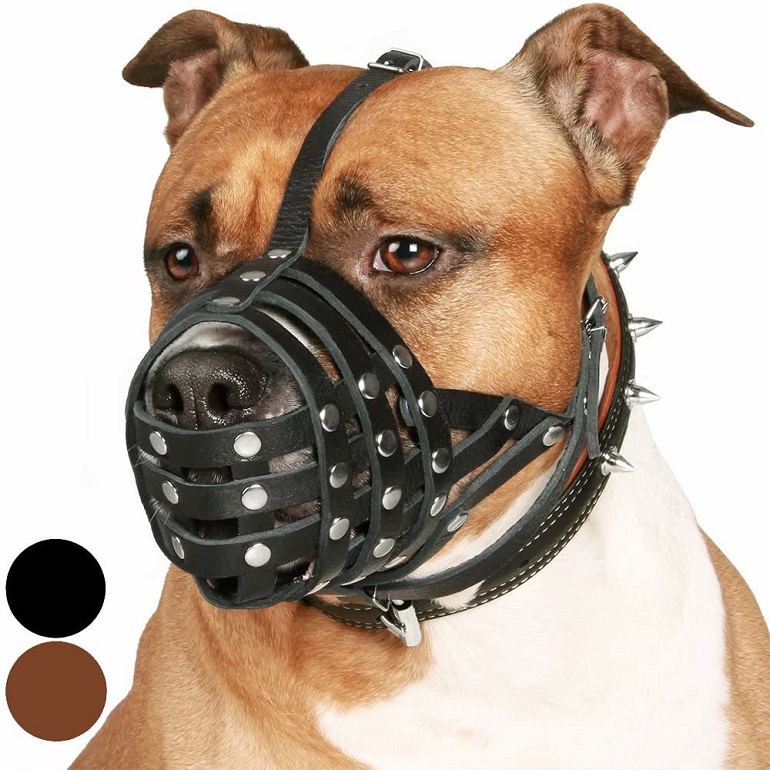 CollarDirect Leather Basket Dog Muzzle
The price of "CollarDirect Leather Basket Dog Muzzle" varies, so check the latest price at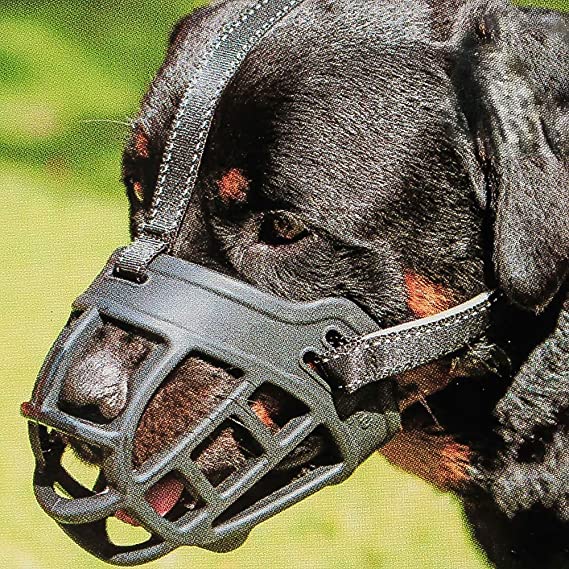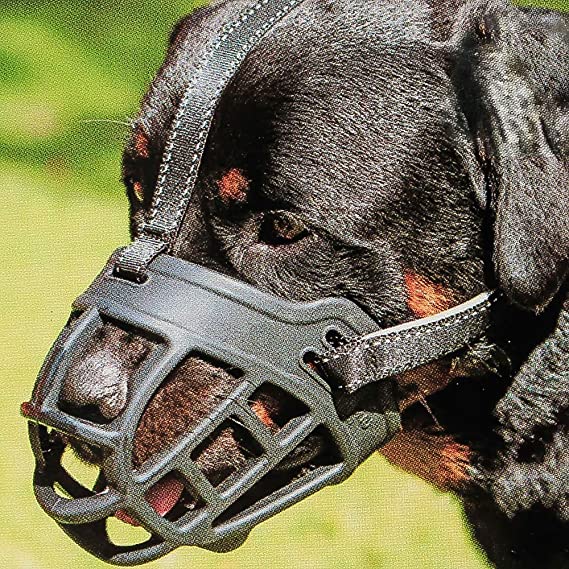 It's a flexible silicone basket that's durable and gentle on your dog's skin. In addition, the basket design provides complete protection for the dogs' mouths, preventing them from biting, yelling, or ingesting dirty food. So you don't have to put up with your dog's car seat chewing any longer.
The safety strapping provides two additional secure attachment points, which keep the muzzle firmly in place. Using the secure loop, you can attach your dog's regular pulling collar to the overhead strap. You won't have to worry about it falling off again.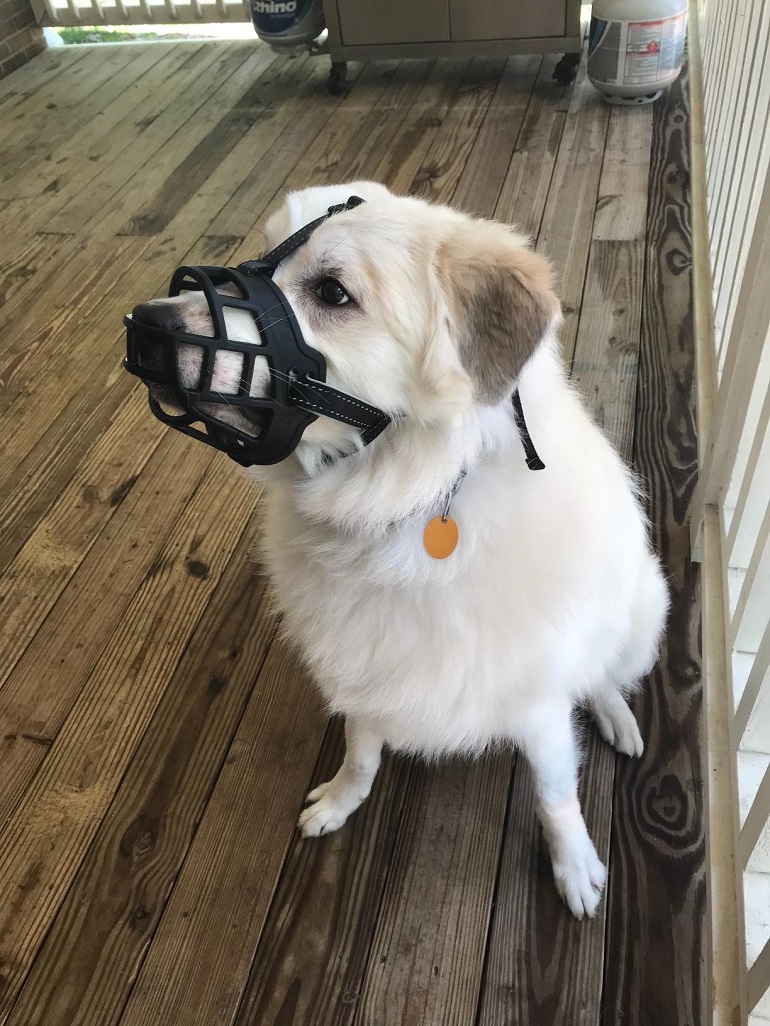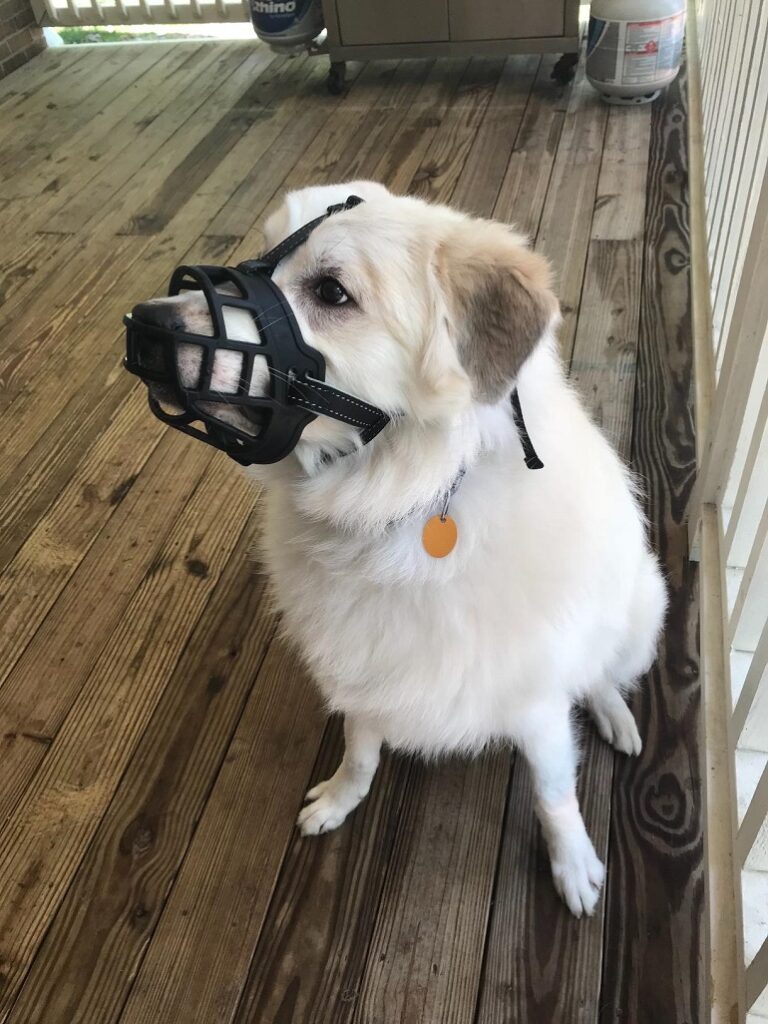 Allows the dog to drink and eat simultaneously as being lightweight and easy to put on. The size guide is listed with the product description. Make sure to measure your dog before purchasing.
Key feature
Anti-bark basket muzzle
Available in two colors and three sizes
Durable silicone muzzle
Two safety straps
It helps to prevent puling
2.4 ounces weight
Pros
Dog parents with multiple dogs loved different size options.
The safety strap helped dogs hold on to the muzzle and didn't let it fall off during a walk.
Cons
New pet parents had to face issues while setting the muzzle on their active pups.
A few buyers bought the small sizes, and it was not a good fit for their small breed dogs.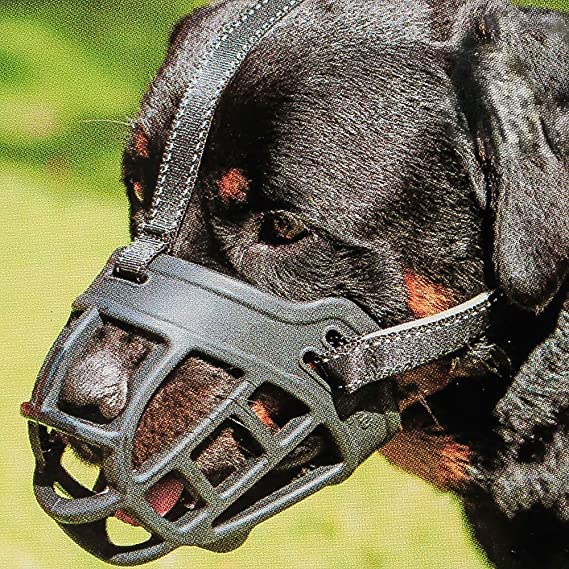 Barkless Soft Basket Silicone Muzzles For Dog
The price of "Barkless Soft Basket Silicone Muzzles For Dog" varies, so check the latest price at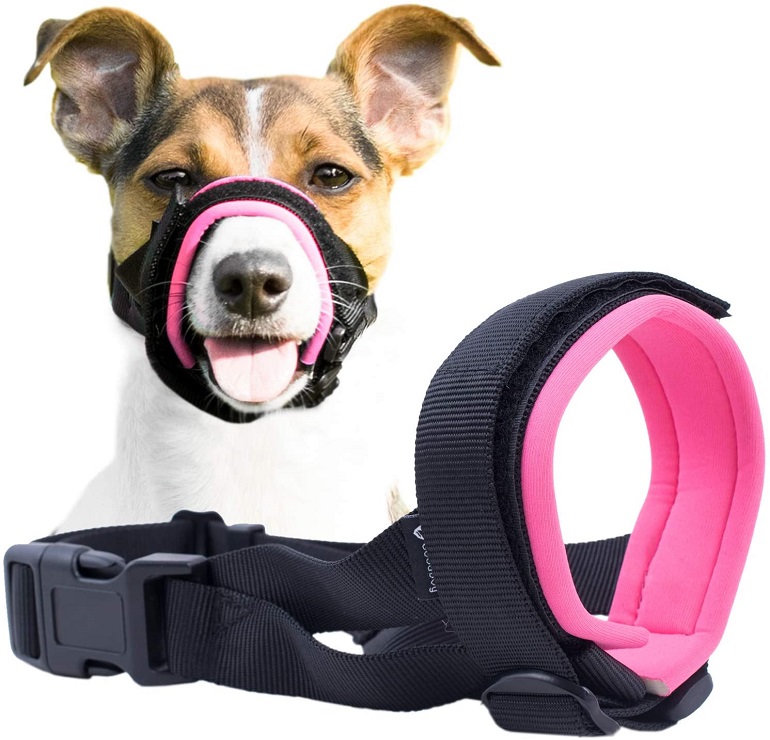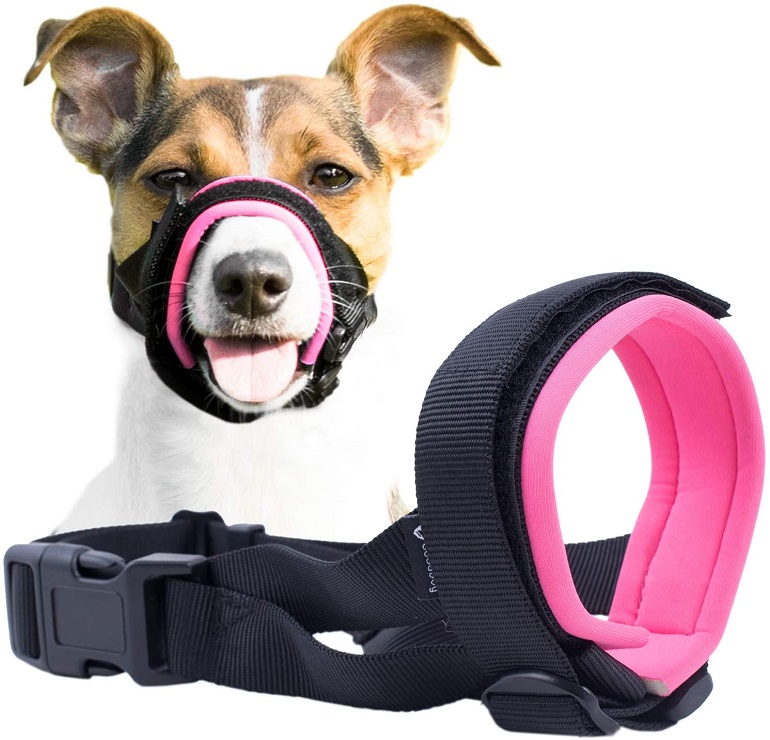 This new design minimizes chewing and shouting by dogs, cats, and other household pets. As a result, your dog's ability to bite, chew, and bark can be limited while still allowing it to breathe and drink water with this muzzle. Humanely it's the best way to stop unwanted biting or chewing of toys. As an example, check out our images.
An extra connection strap is added that goes over the dog's head for a secure fit that no dog can escape from for dogs who need more time to get used to their new muzzle. Using the adjustable strap, you can ensure that the snout and mouth of your dog are appropriately secured.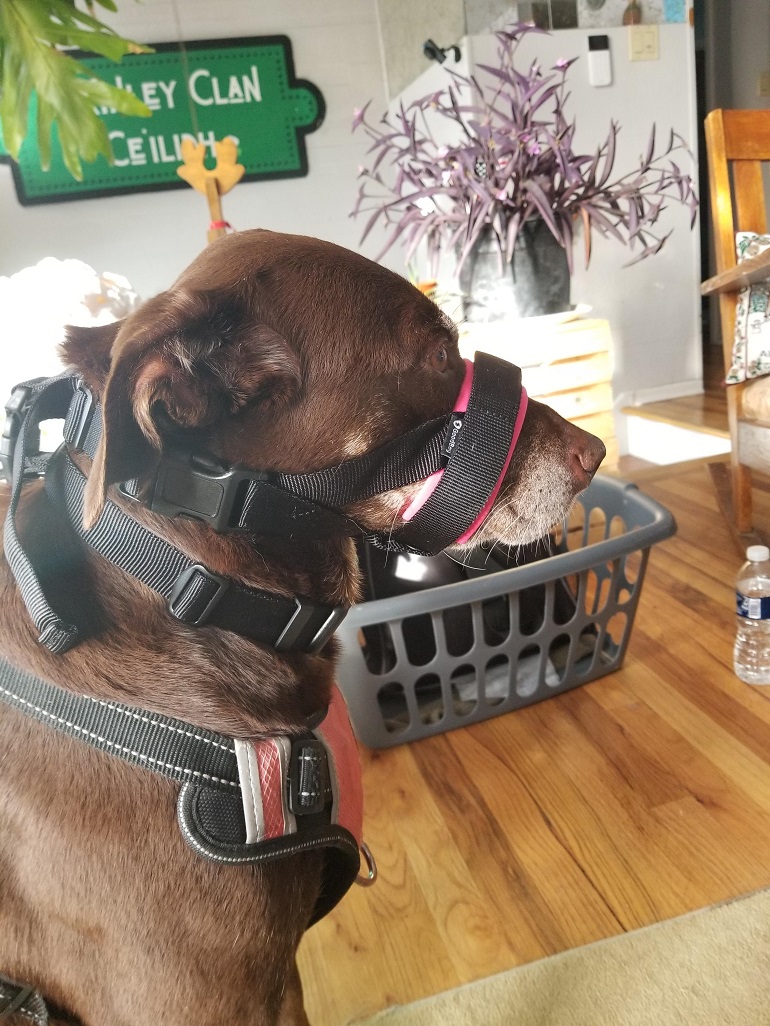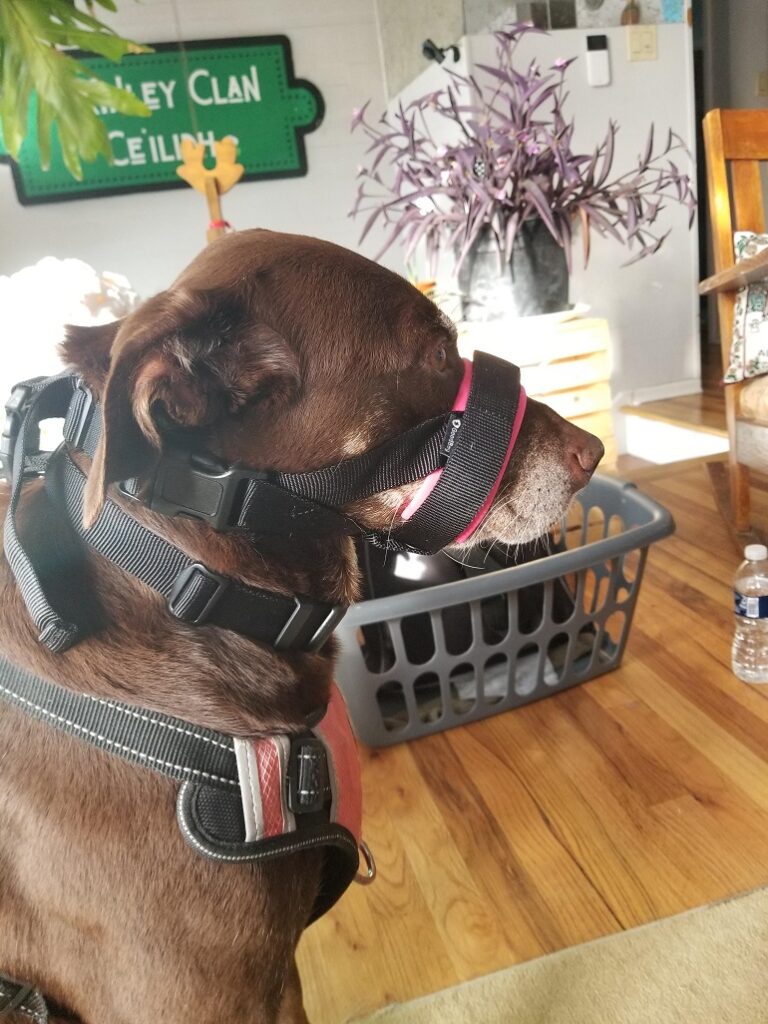 Save your dog from chafing and rough straps with zero chafing and neoprene padding that's exceptionally comfortable. Instead of using cheap buckles, the sliders keep the straps tight, so your dog can't undo your hard work. In addition, hook and loop fasteners, rather than buckles, can be used to secure loose ends.
Key feature
Gentle muzzle guard
Made with neoprene padding
Available in 3 colors and 7 sizes
Includes a connection strap
zero chafing
Sliders and fasteners
5.93 ounces weight
Pros
Even new parents liked this soft muzzle as it was fast and straightforward to put on and remove.
The most favorable feature of most dog owners was the neoprene padding that was used to create a cushioning effect.
Cons
Some parents with stubby-noses were not able to use this muzzle.
A few purchasers mentioned in reviews that it was sliding around the nostrils.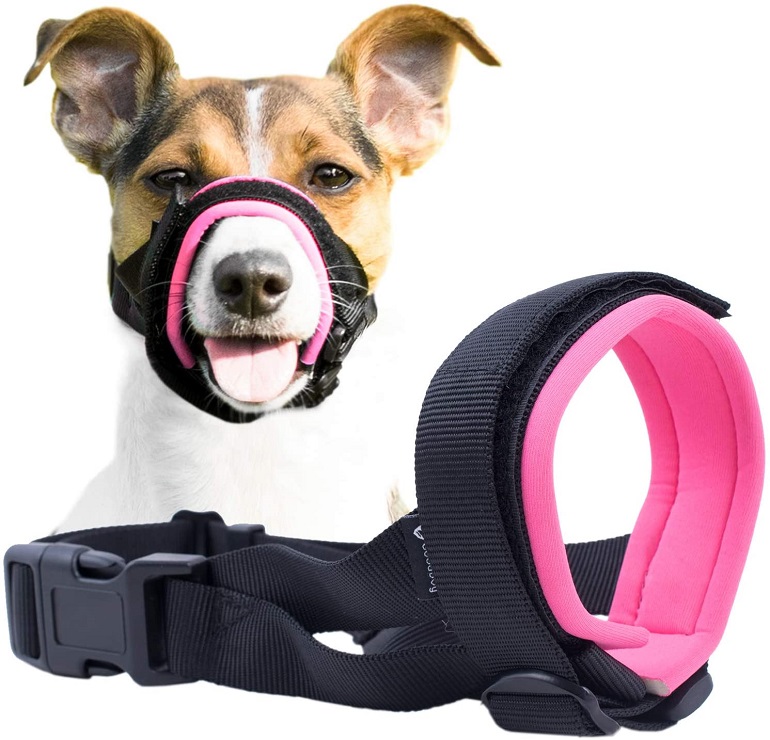 GoodBoy Gentle Muzzle Guard
The price of "GoodBoy Gentle Muzzle Guard" varies, so check the latest price at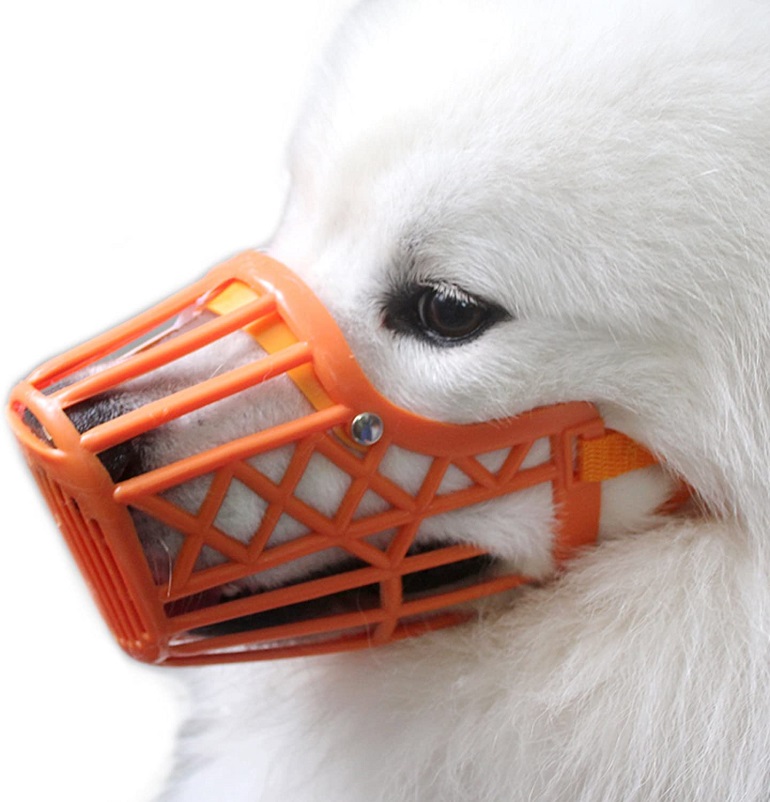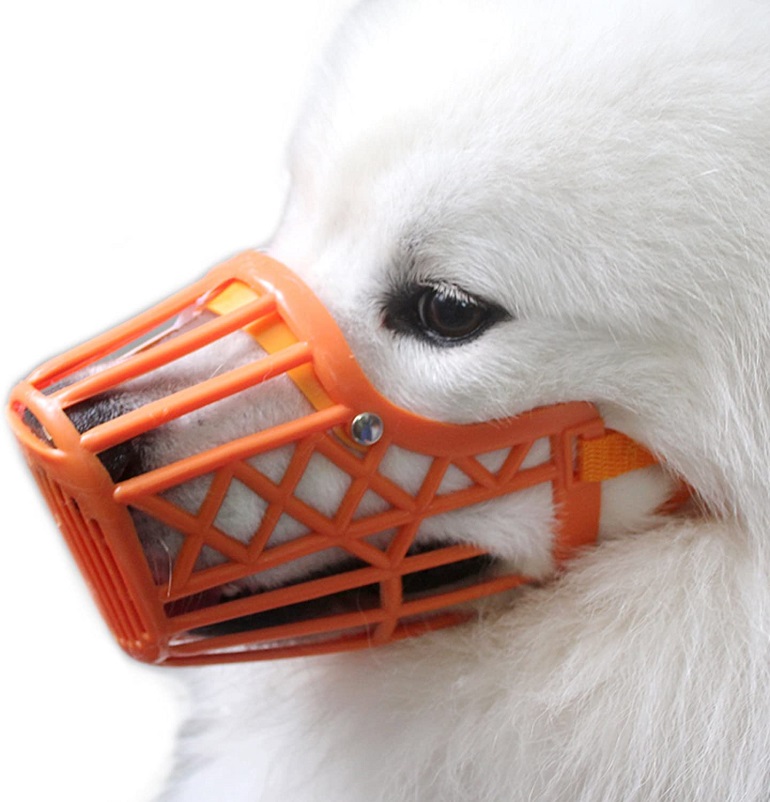 Because it is so snug, the Alfie Pet Paxton is an excellent choice for owners who want a muzzle that will prevent their dog from moving around while wearing it. However, if you don't get it right, your dog's snout will be smushed and looks awful.
This plastic muzzle is made of strong, flexible plastic that allows maximum breathability. It has an adjustable nylon strap with a quick-release buckle and a comfort strap to ensure maximum comfort for the dog's snout.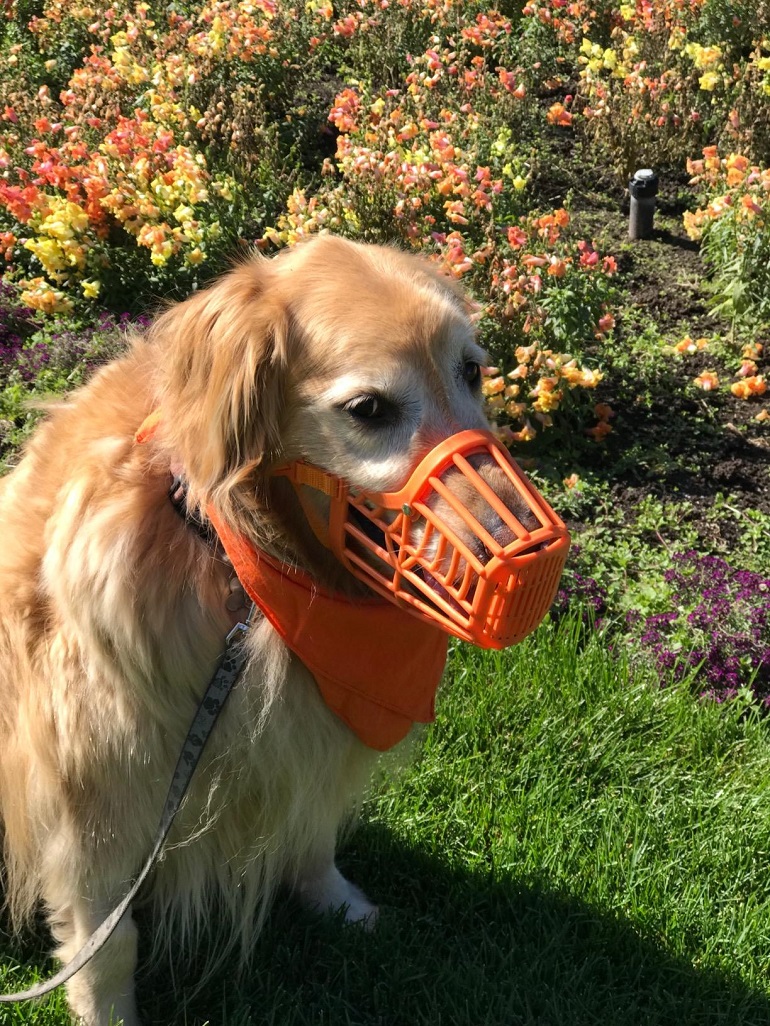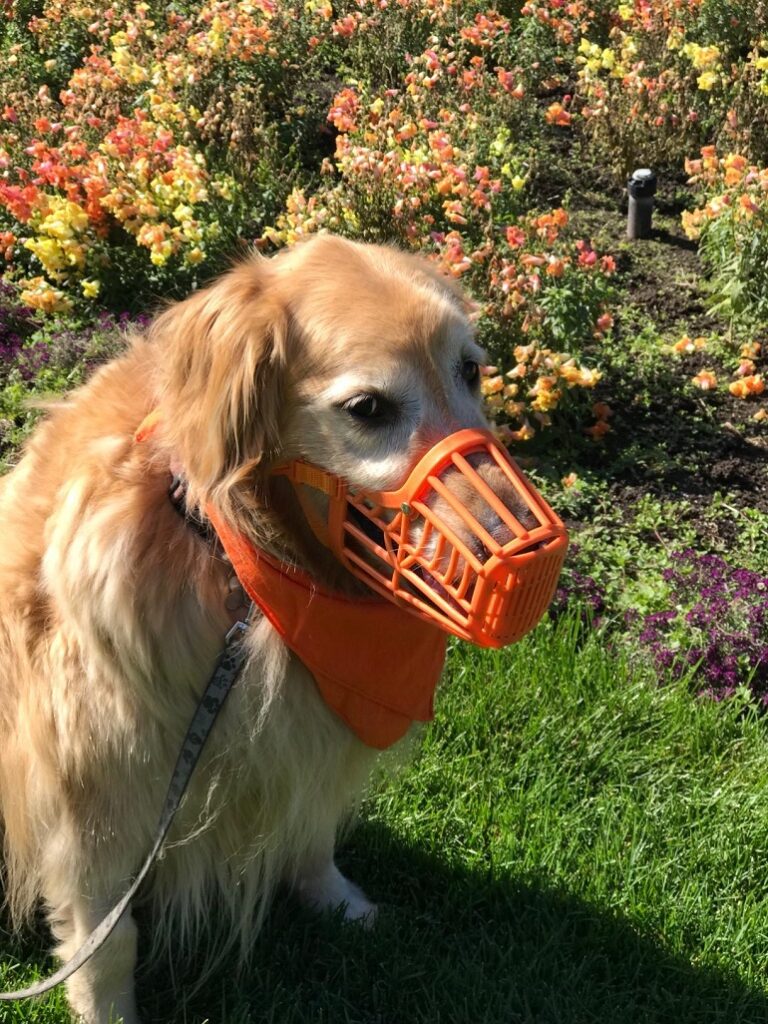 It prevents your dog from biting and growling and preventing them from chewing on your furniture. Only one strap is used, and it runs along with the pup's head.
Key feature
Best for small dogs
Plastic muzzles
Adjustable fit
Available in 5 sizes
Maximum breathability
Includes durable nylon straps
0.63 ounces weight
Pros
According to most buyers, this muzzle was an excellent choice in terms of cost and protection from dog bites.
Many owners found it appealing because of its vibrant hues.
Cons
Some comments showed that the plastic used in this muzzle wasn't very soft.
With their extremely short noses, Pugs and French Bulldogs were unable to wear this muzzle.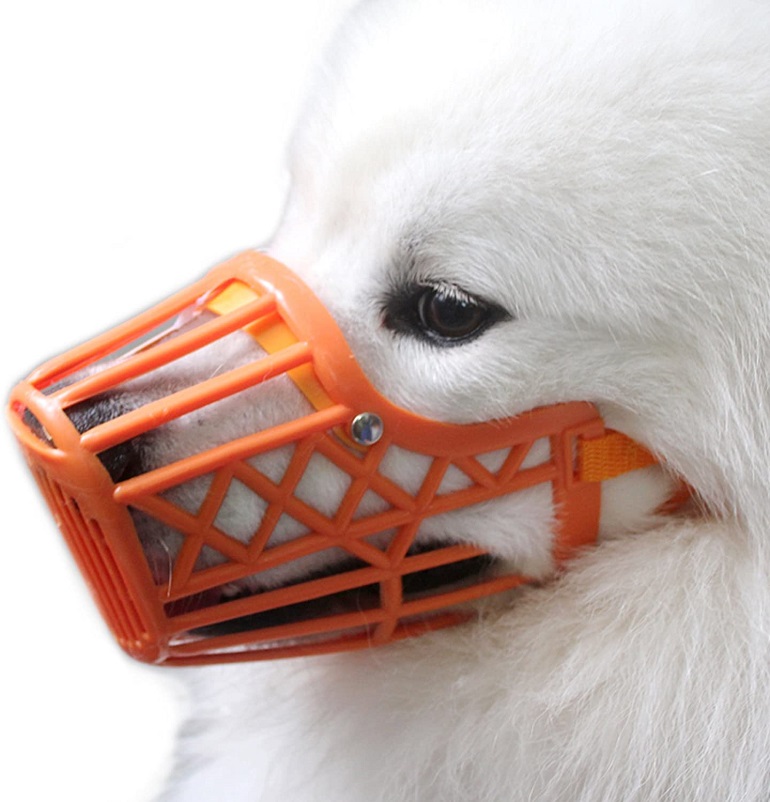 Alfie Pet Paxton Adjustable Plastic Muzzle
The price of "Alfie Pet Paxton Adjustable Plastic Muzzle" varies, so check the latest price at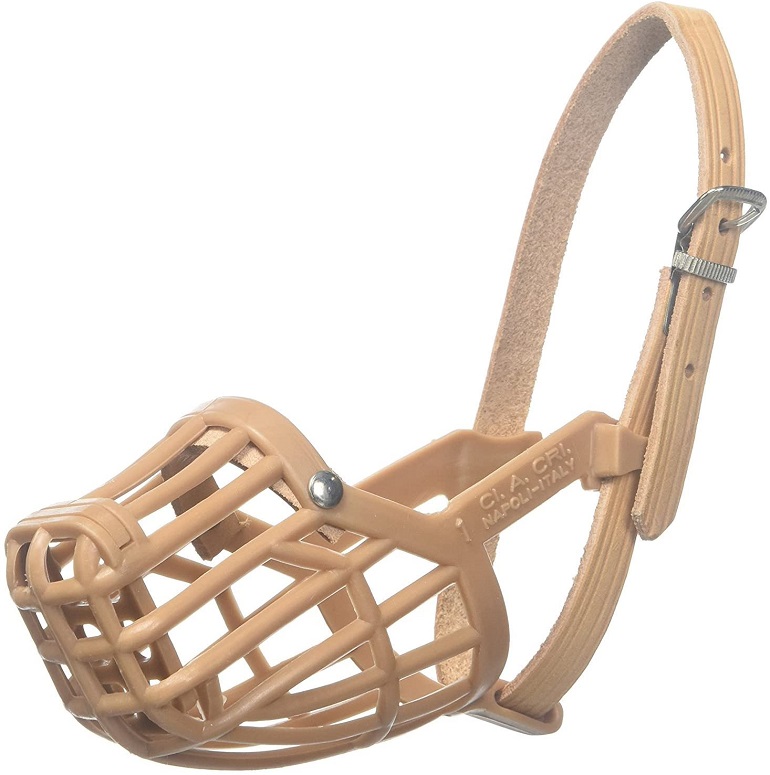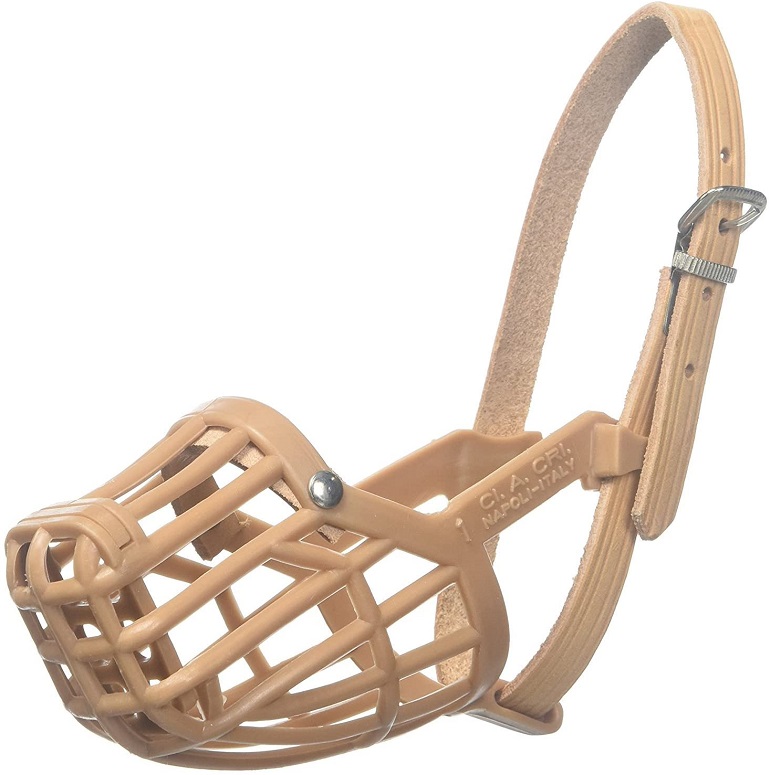 This dog muzzle, made of durable polyethylene, acts as a holding cell to keep your dog's mouth closed, preventing them from biting anyone or anything.
This muzzle has a leather strap that can be adjusted and a removable front grill that allows more comfort and access. In addition, it is intended that the muzzles can withstand extreme temperature fluctuations without breaking.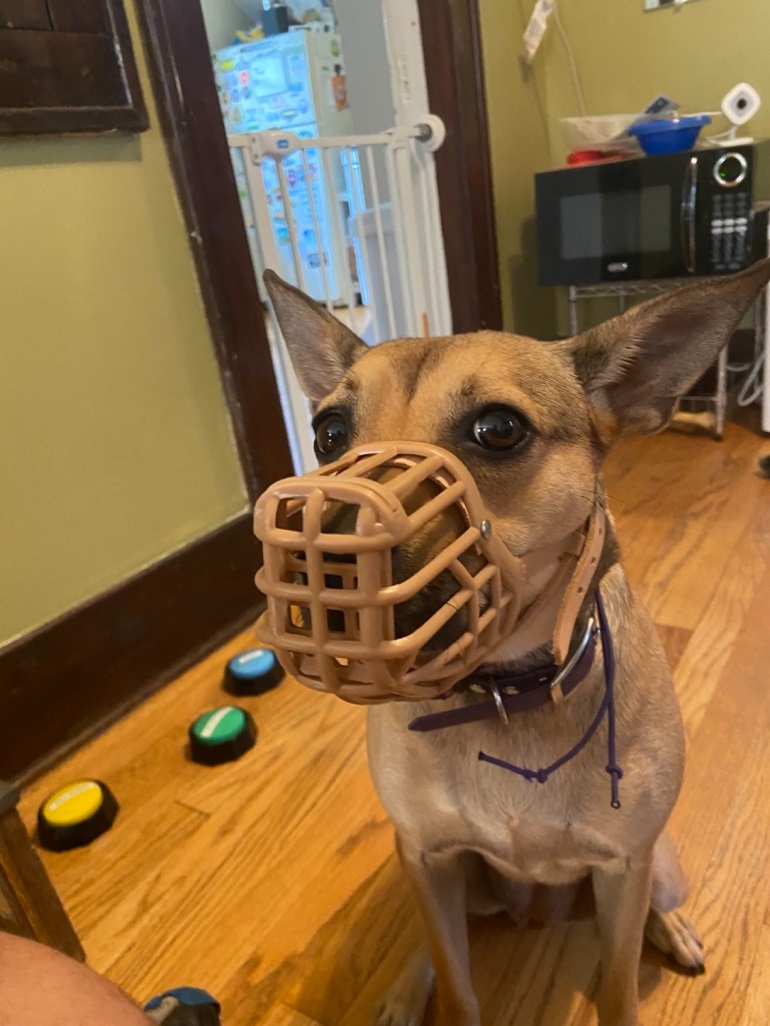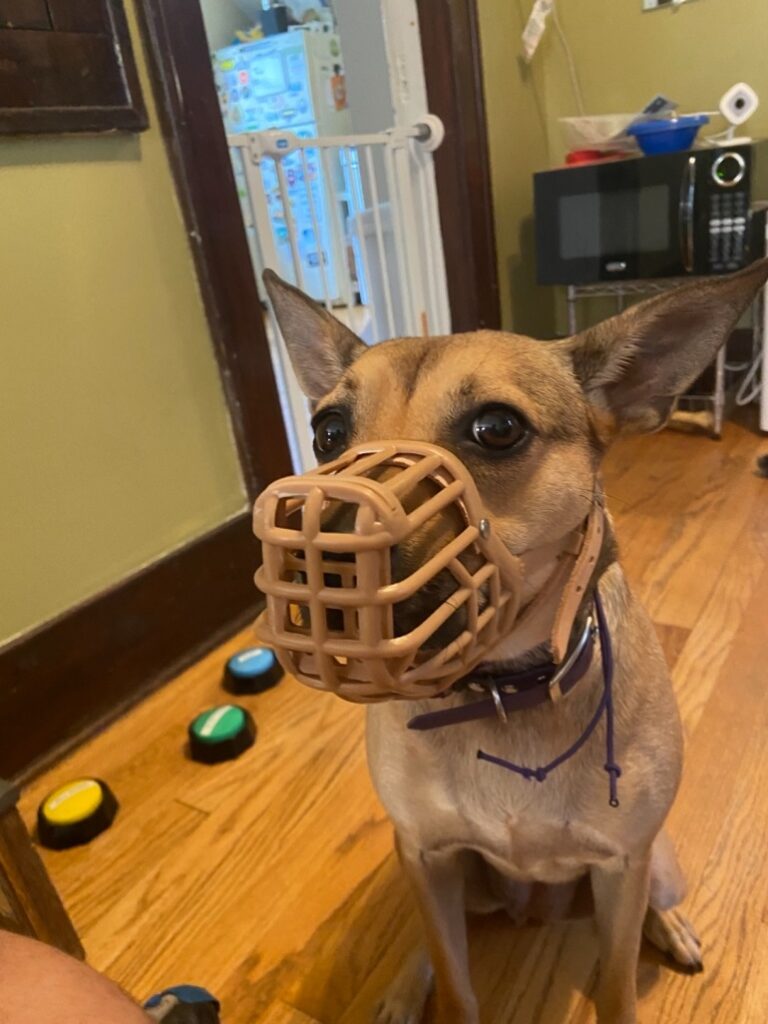 This last-resort muzzle is ideal when dealing with dogs who exhibit destructive behaviors.
Key feature
Basket muzzle
Made of polyethylene
leather straps
Good for extreme temperatures
Available in 2 colors and 10 sizes
Made in ITALY
2.4 ounces weight
Pros
Buyers recommended this product for the dog's aggressive tendencies.
According to the pet parents, it is impossible to bite anything outside of the muzzle when wearing this mask.
Cons
For small dogs, it was not the most comfortable choice.
In addition, treats were challenging to distribute because of the small openings.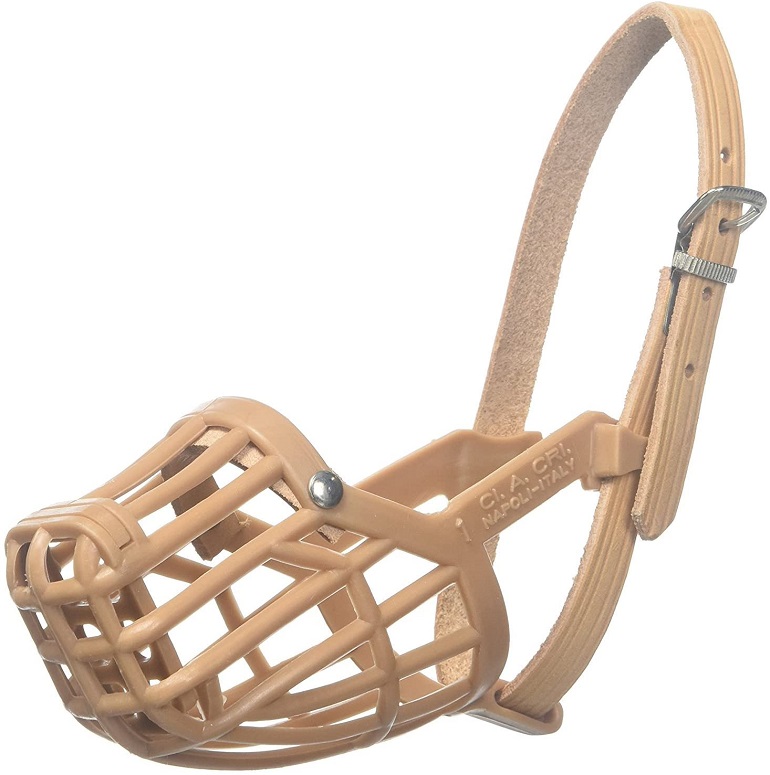 OmniPet Italian Basket Dog Muzzle
The price of "OmniPet Italian Basket Dog Muzzle" varies, so check the latest price at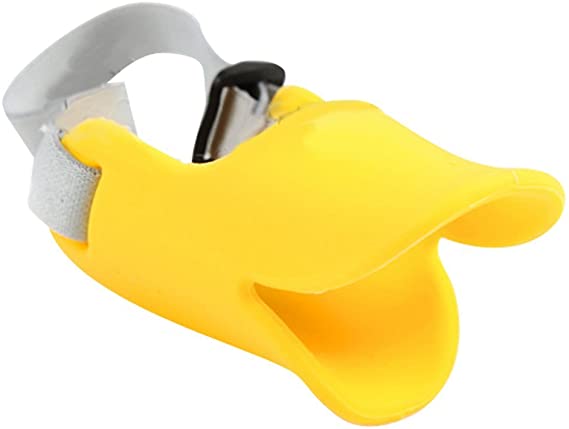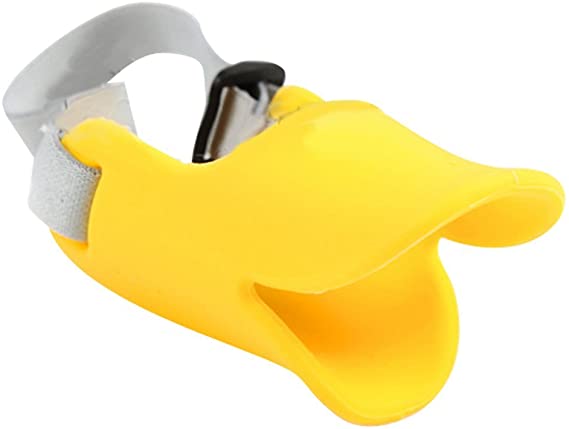 This mouth muzzle in duck shape helps protect your dog's comfort and health with an advanced silicone collar. It's light, supple, and free of plastic odor.
It's small, with a diameter of the mouth of 4.5 inches, a neck circumference of 47 to 10.0 inches, and a maximum mouth height of 1.8 inches. The strap is elastic and easily adjustable. Wearing this muzzle is highly comfortable, so there should be no reason for the dog to be bothered.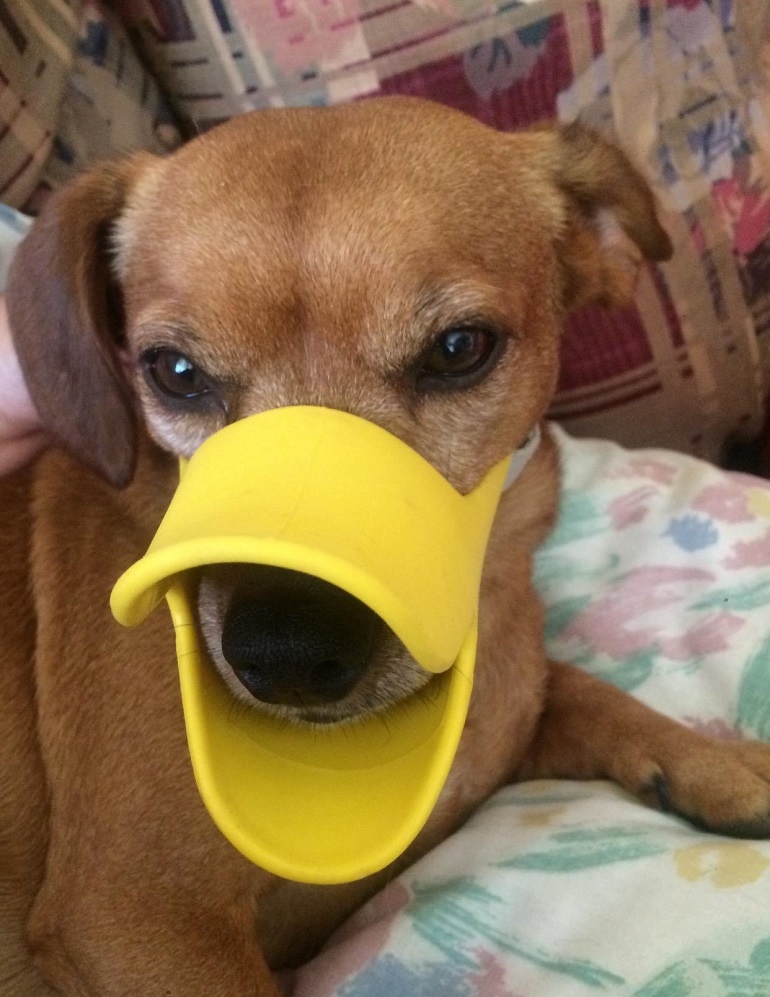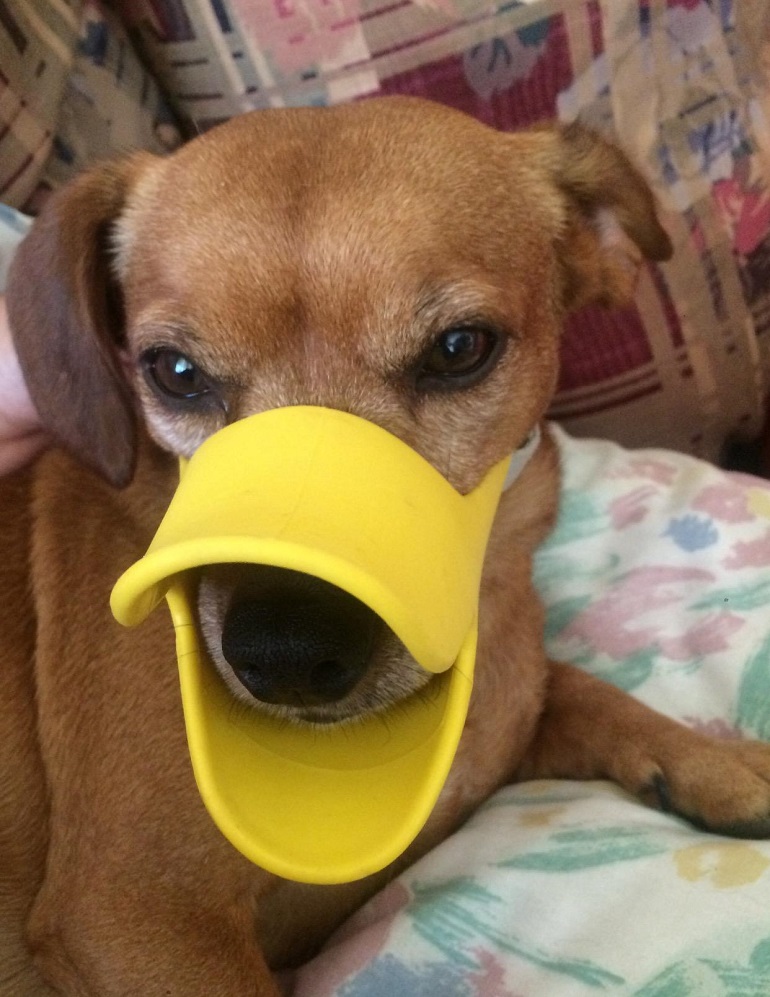 Prevent the dog from biting, gnawing on things, licking wounds, and barking.
Key feature
Duck-style muzzle
Includes a silicone collar
Elastic strap
Available in 2 colors and three sizes
No plastic smell
It prevents biting and barking
0.32 ounces weight
Pros
Some buyers loved the adorable design of this duck-shaped muzzle.
For budget-conscious pet parents, this was a great option.
Cons
Dogs got irritated with the noisy plastic.
A few users mentioned that it was quickly slipping off.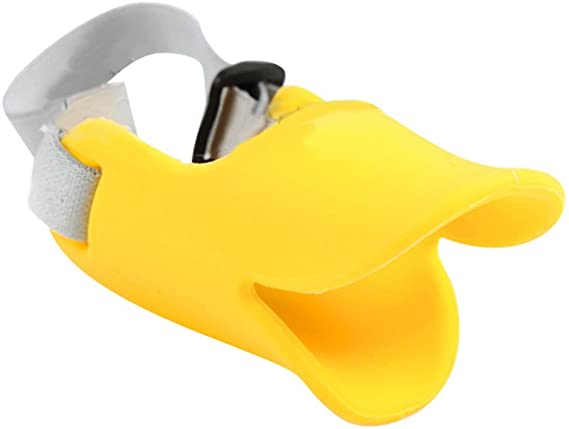 NACOCO Anti-Bite Duck Mouth Muzzle
The price of "NACOCO Anti-Bite Duck Mouth Muzzle" varies, so check the latest price at
What to Look for in the Best Dog Muzzles for Biting
As a first-time dog muzzle buyer, sorting through all of the available choices can be challenging because of the several potential choices. You don't want to put your dog at risk by purchasing a defective one (or hurting someone else).
Choosing the best muzzle for your dog requires careful consideration of several variables. For your convenience, we've compiled a list of the most important factors to keep in mind when looking for a muzzle.
Type
There are two types of dog muzzles:
Basket muzzles for dogs are typically made of durable plastic or pet-safe wire. It gets its name from the fact that it creates a basket weave pattern on dogs' muzzles, which allows them to have plenty of ventilation. To keep your dog safe, use wire baskets for big dogs and those that like to bite. Smaller dogs should not be housed in plastic baskets.
Nylon wrap or sleeve is more like a straight jacket on the dog's mouth, as the name implies, and it's designed to keep the dog from moving. The restraint is held in place by nylon strips wrapped around the dog's head. Other materials, such as mesh or leather, can be used instead of nylon in certain products. However, keep in mind that this doggie facial restraint effectively prevents your dog from moving with his mouth.
Size
The size of your dog's muzzle is essential because it directly correlates to the dog's sense of safety. So make sure to measure your dog's muzzle size before buying.
For the best results, your dog's muzzle should measure from the tip of its nose to the top of its head, about half an inch or so away from its eyes.
Take a measurement around the 'eye' end of the stick. Make sure your tape measure is positioned about half an inch from your dog's eyes and wrapped around its muzzle.
Quality
Dog muzzles made of fabric or nylon are ideal for new pet owners. Those who have never worked with a product of this type before will find it simple. Natural, biodegradable materials make leather an excellent choice for those looking for a stylish one. Leather muzzles are tough, but they require maintenance to keep their quality. Dog muzzles should also be made of mesh to allow maximum airflow and the lightest option.
FAQs
How Long Can a Dog Wear a Muzzle?
There is no doubt that muzzles are not intended for continuous use. However, in dog training, they're a helpful tool. If you don't want your dog to bark or bite for the rest of its life, you'll need to train them with muzzles but just use them for short-time spams.
Their purpose is purely transitory. There are serious health and legal consequences to long-term wear. They're designed to keep dogs from barking or biting for short periods, like when the veterinarians, groomers, or animal behavior consultants see them.
How Do I Put a Muzzle on a Dog?
It's important that you don't force your dog to wear a muzzle by fighting or wrestling him. This will cause your dog to associate the muzzle with negative, harmful associations.
Put one on your dog by showing it to him first. Straps are used to secure the opening over the snout. Always rewarding your dog for good behavior with a tasty treat is a good idea. Make sure that the straps are properly tightened and won't fall off your wrist.
Do Muzzles Work for Aggressive Dogs?
When it comes to training, muzzles are an excellent tool for dogs with aggression or other behavioral issues, especially when used in conjunction with positive reinforcement.
But for aggressive dogs, muzzles only work if they're cage or basket muzzles. In addition, dogs can still bite with their front teeth when wearing fabric or neoprene muzzles that clamp the mouth shut. So even though these muzzles can be helpful in a pinch, they should not be used as your only option.
Muzzles are only a part of the training equation for aggressive dogs, but they cannot help set your dog up for success. The dog may not bite as a result of the muzzle, but that doesn't mean the dog is any less aggressive. Many dog owners wonder if muzzles will make their dogs less destructive or more agitated.
When Should I Use a Muzzle on My Dog?
You should always use a muzzle when your dog is likely to attack. For example, when grooming them, taking them to a vet's office to stop them from biting and eating inedible stuff.
You can also use muzzles whenever you're not sure how your dog will respond, e.g., on your first outing—or meeting and playing with children for the first time.
Can I Use a Muzzle to Stop My Dog from Barking?
It's possible. However, this will not always be the case because the dog will be physically restricted from barking and moving freely.
Many dog reports show that wearing a muzzle makes them feel more relaxed and less anxious. As a result, they're less likely to bark without reason. But this cannot always be the same for every dog. If you observe severe and even worse behavioral issues from your dog while wearing the muzzle, you should not force him in the future.
Conclusion
In many cases, muzzles are used not because the dog is dangerous but to protect themselves from another dog's aggressiveness. There is no way you could take your dog hiking or on popular walks without a muzzle.
Some dog owners may choose to use a muzzle on their pets to prevent an accident or be safe. There's nothing wrong with using a muzzle to keep children and puppies safe in an unfamiliar situation, even if your dog is calm and well-trained.
As a first step, you must be aware of the circumstances in which these canine restraints are appropriate. Be aware that facial restraint should never be used as a long-term solution to canine behavioral issues like chewing, or even aggression. A wide variety of factors contribute to the occurrence of such behaviors. Muzzles may be able to stop dogs from shouting, chewing, and acting aggressively, but they don't address the underlying causes of these behaviors. Dogs restrained in this way will eventually understand that they are being punished. This is a terrible way to treat your most trusted companion.