Pets add considerable liveliness to the environment. They love playing, jumping, eating, and making the best of their time with you. What they are more into is their owner. In cartoons, we usually see happy dogs wagging tails and following their owner everywhere. The same happens in real life too.
When we say everywhere, it means everywhere. Your furry friend will wait for you outside the loo and will come up on your couch or bed to cuddle with you.
If you have a small breed dog, a new puppy, or even a senior dog, it might get difficult for the dog to come on your high bed or couch. Simply, it will be looking forward to you lifting it. 
The solution is there. Add a dog ramp on your buying list next time you go shopping, or add it to a cart on your favorite website.
Making a decision is not as easy as it appears, especially when it's your first time buying a pet ramp. But, don't worry, we have it done for you. Here are some of the best dog ramps that you can buy for your furry friend and also the reasons to buy them.
Best High Traction Dog Ramp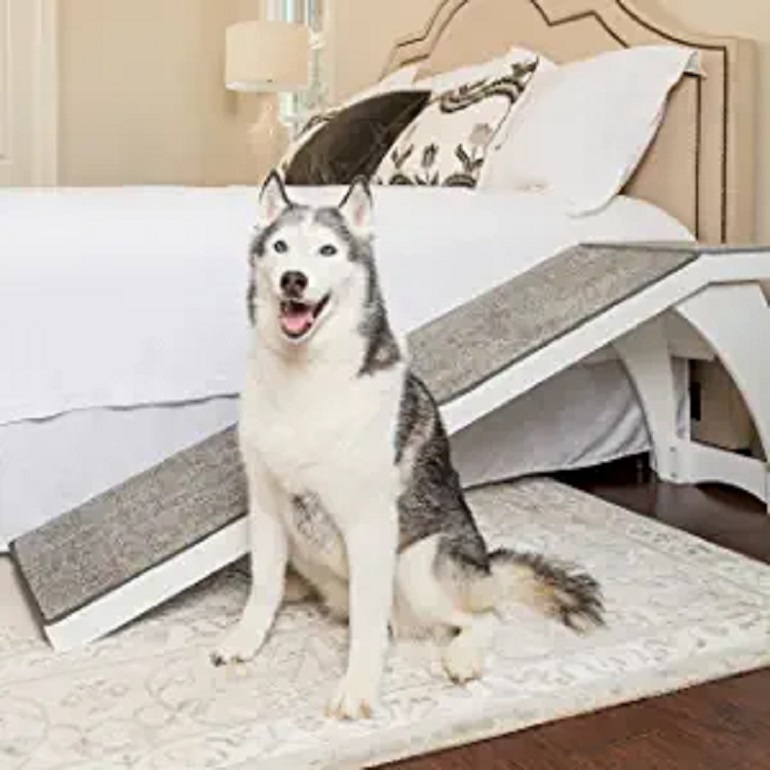 PetSafe CozyUp Bed Ramp
Material: Wood
Color: White
Best Comfortable Dog Ramp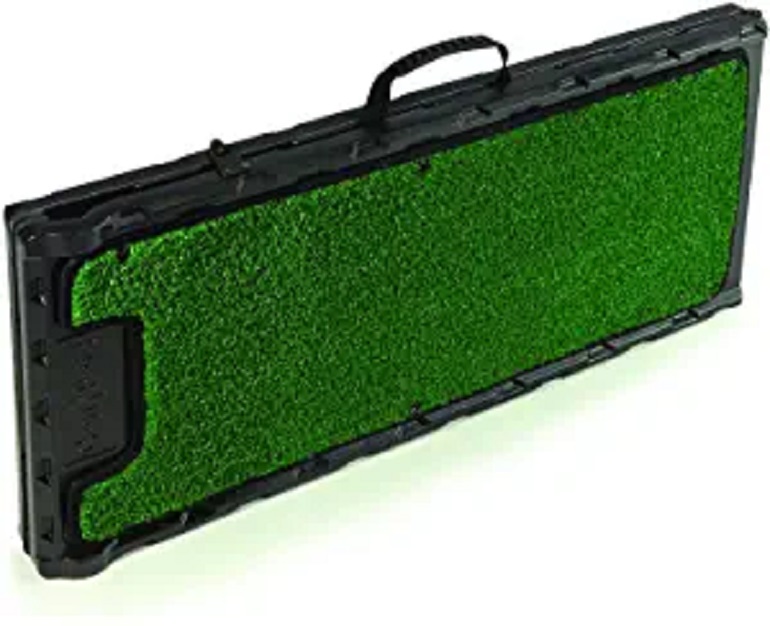 Gen7Pets Natural-Step Dog Ramp
Material: Blend
Color: Green
Best Aluminum Dog Ramp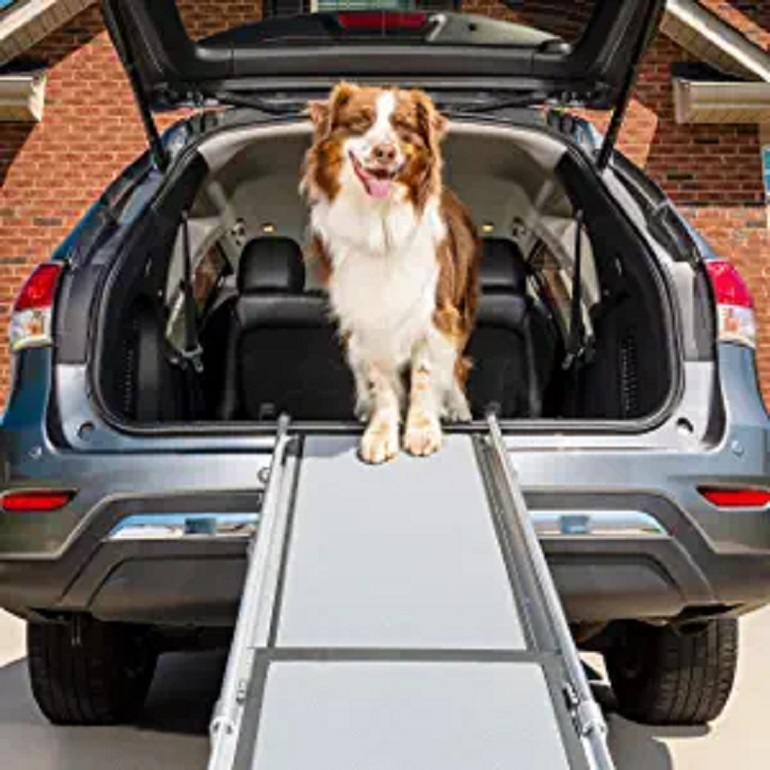 PetSafe Happy Ride Deluxe Telescoping Pet Ramp
Material: Aluminum
Color: Gray
Best Lightweight Dog Ramp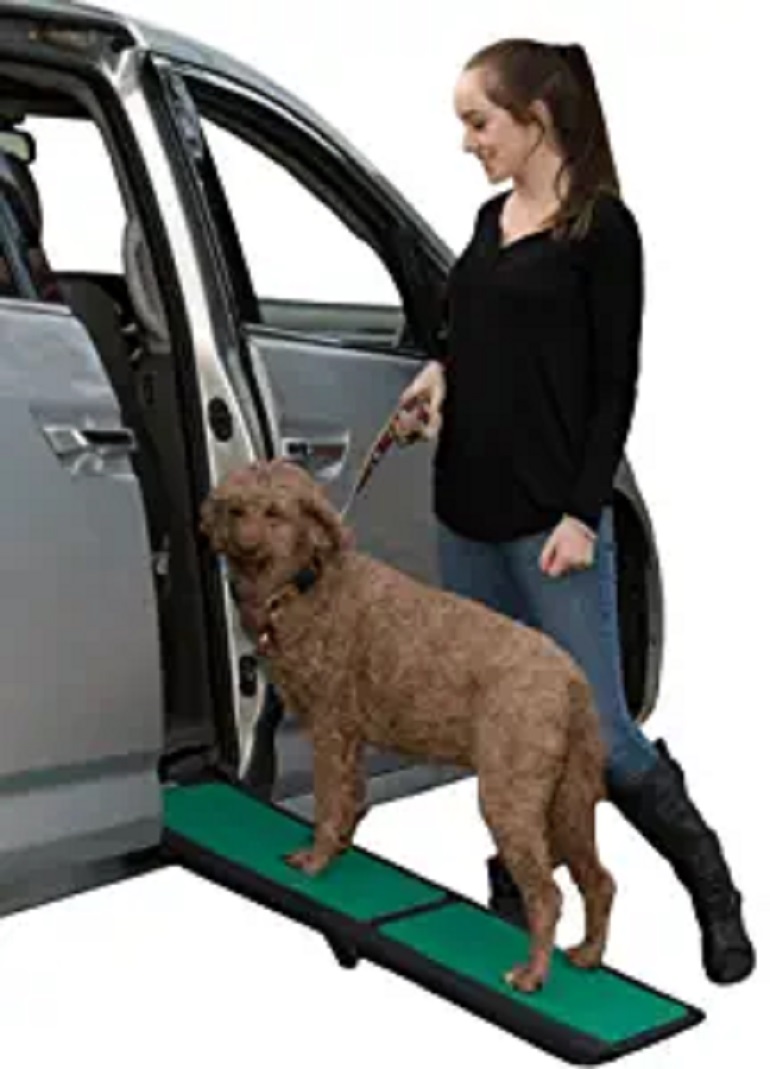 Pet Gear Travel Lite Ramp
Material: Blend
Color: Green/Black
Best Portable Dog Ramp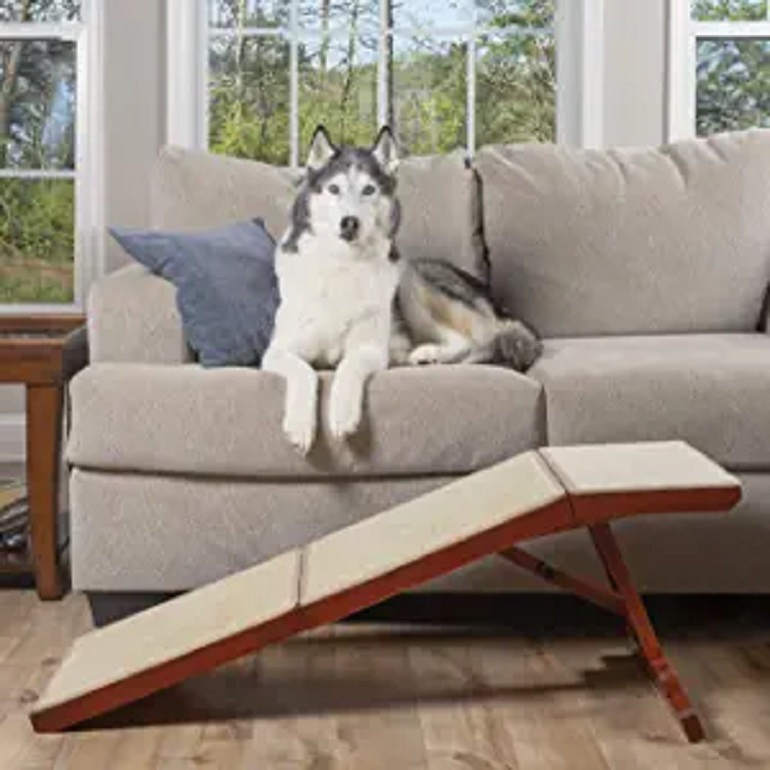 PetSafe CozyUp Dog Sofa Ramp
Material: Wood
Color: Cherry
Best Folding Dog Ramp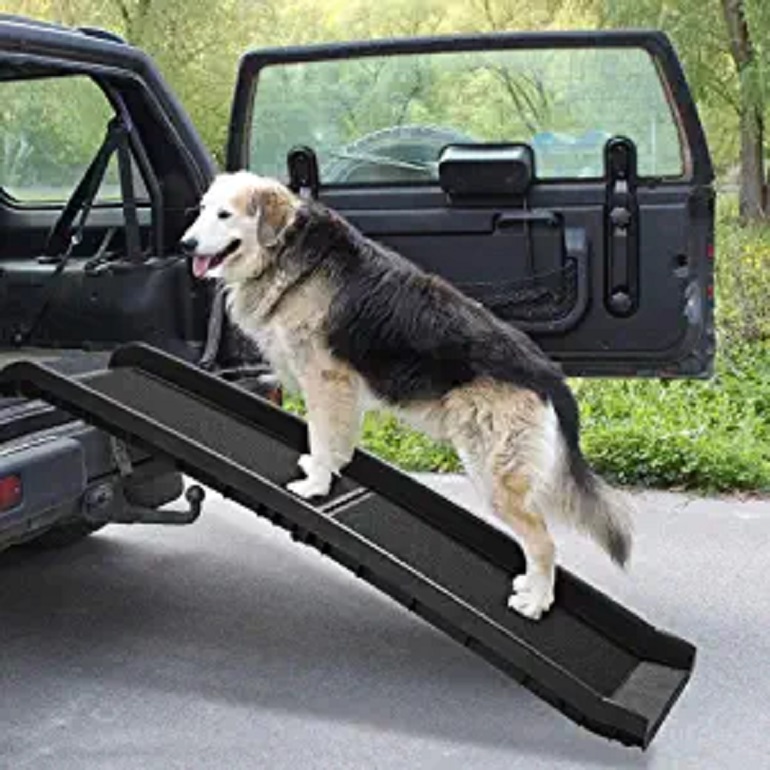 COZIWOW Portable Dog Ramp
Material: Plastic
Color: Black
Best Adjustable Dog Ramp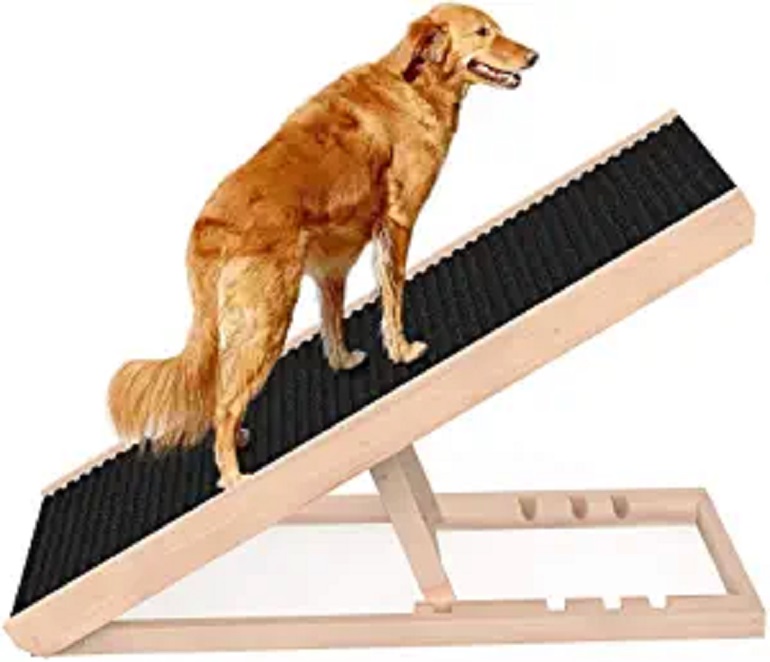 SASRL Adjustable Pet Ramp
Material: Wood
Color: Brown
Best Dog Ramps
Why should I buy a dog ramp and no stairs? What makes it a must? What makes it a must? What makes it outstanding? So, let's look at some dog ramps that will resolve your queries.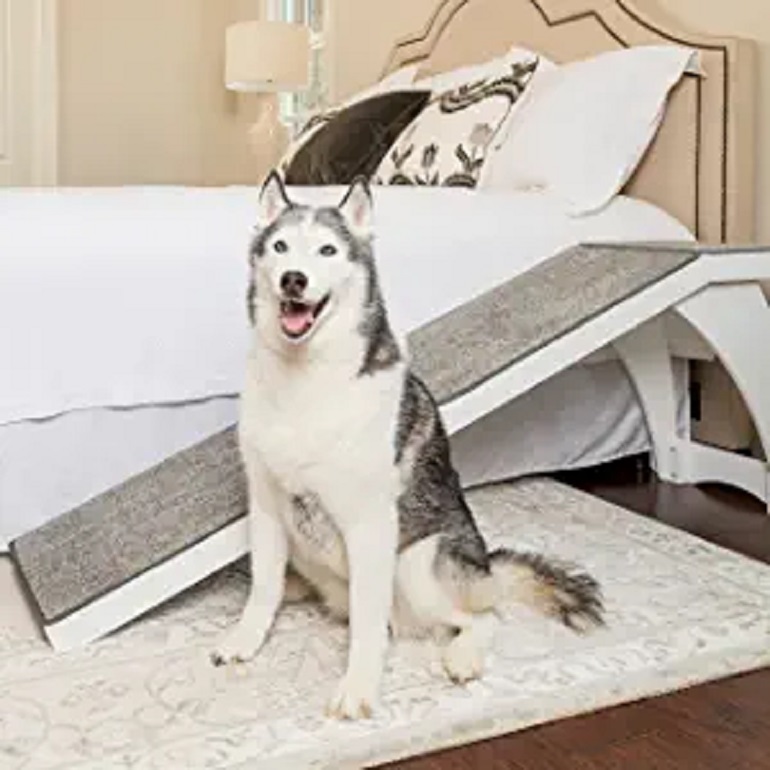 Made with natural wood, PetSafe CozyUp Bed Ramp will make your pet independent and will let them get to higher places all by themselves.
Available in white and cherry colors, its style and design will make your room look better, not a mess. Moreover, It is designed for indoor use, keeping your dog's safety and ease in view.
The 25 inches height of the ramp enables the dogs to even get on high beds and vehicles without your help. Furthermore, it has a weight-bearing capacity of 120 pounds which means a large breed dog can benefit from this ramp.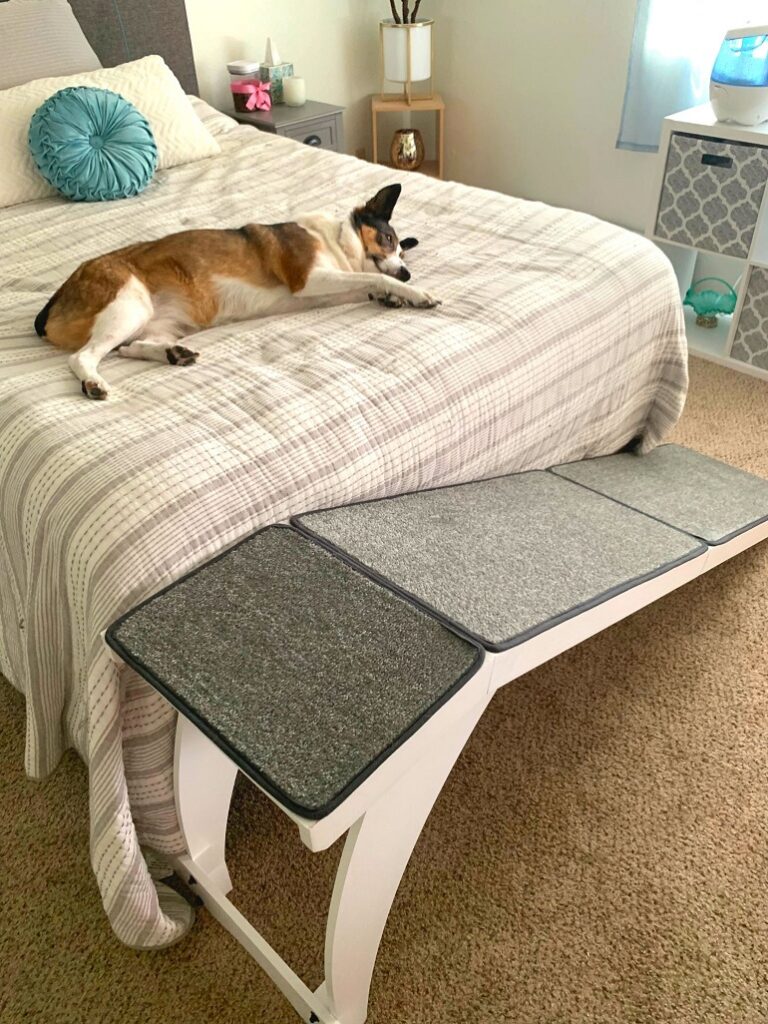 Pros
Carpet on the ramp keeps your dog's paws from slipping, giving a firm grip
A taller platform allows your pet to reach  even higher places
It is available in various colors if you are picky about your room's color scheme and combination.
It has more weight capacity.
It has a vast landing space at the top
Cons
The Carpet might be slippery sometimes and would need some additional stuff to ensure the dog doesn't slip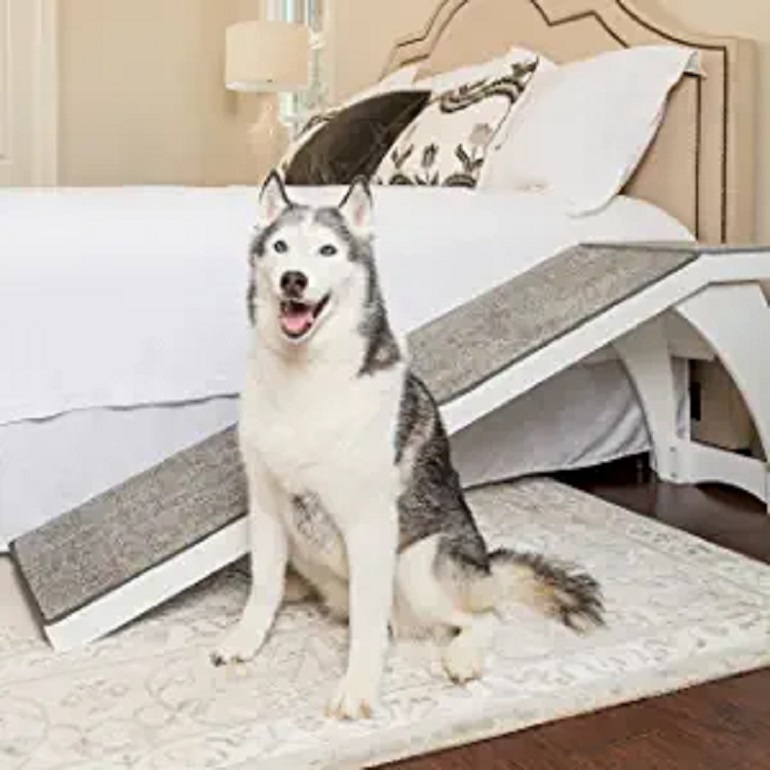 PetSafe CozyUp Bed Ramp
The price of "PetSafe CozyUp Bed Ramp" varies, so check the latest price at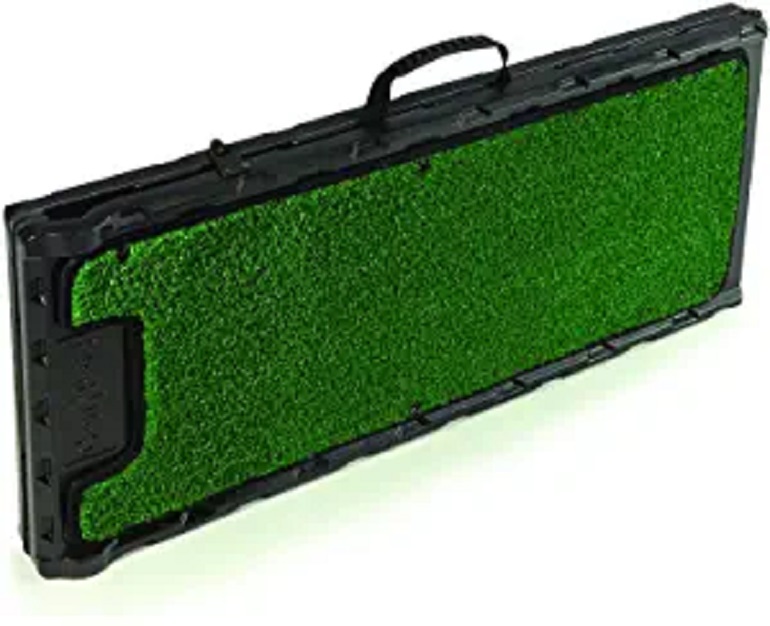 With 6 feet in length (72 inches long), Gen7Pets Natural-Set Dog Ramp is a quality, smartly designed, relatively longer ramp that can be used indoors and outdoors.
It is made to ensure that whether you have medium or smaller dogs in the house, they are no more dependent on anyone to climb up and higher.
This ramp is made with simple functionality. The 16 inches width of the ramp is covered with poly grass, which makes the grip of the walking surface more firm.
It is lightweight, and the rubber grippers are attached to make it easier to carry and transport. The regular size ramp is even suitable for trucks, jeeps, SUVs, etc.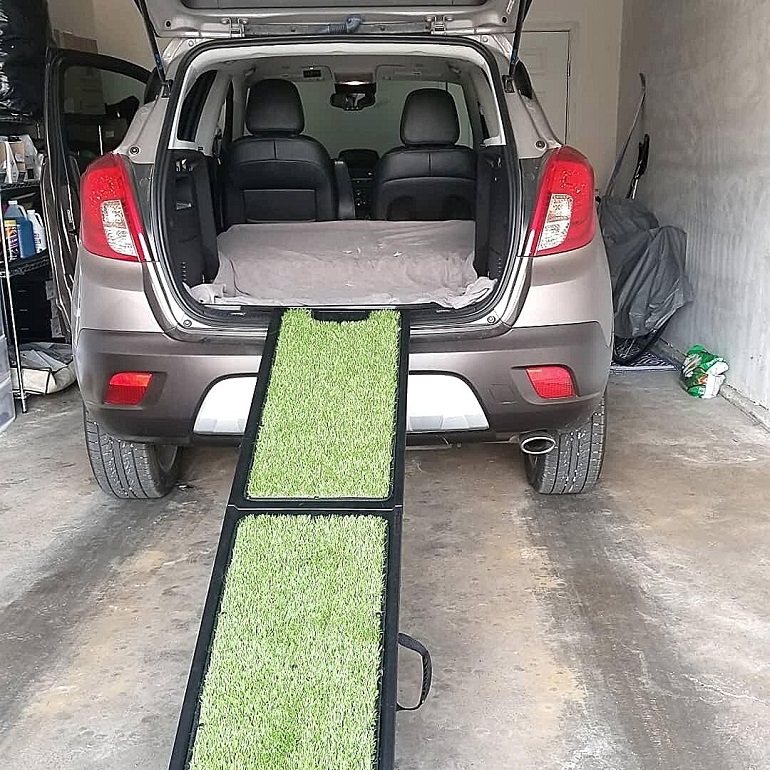 Pros
The artificial turf surface has easy cleaning.
The automatic locking clips prevent them from opening accidentally.
The lightweight design makes it easy to carry.
It is portable.
It is quick and easy to set up and takes little space because of its foldable capacity.
Cons
Sometimes it gets awkward to fold.
The width might not be perfect for a large dog.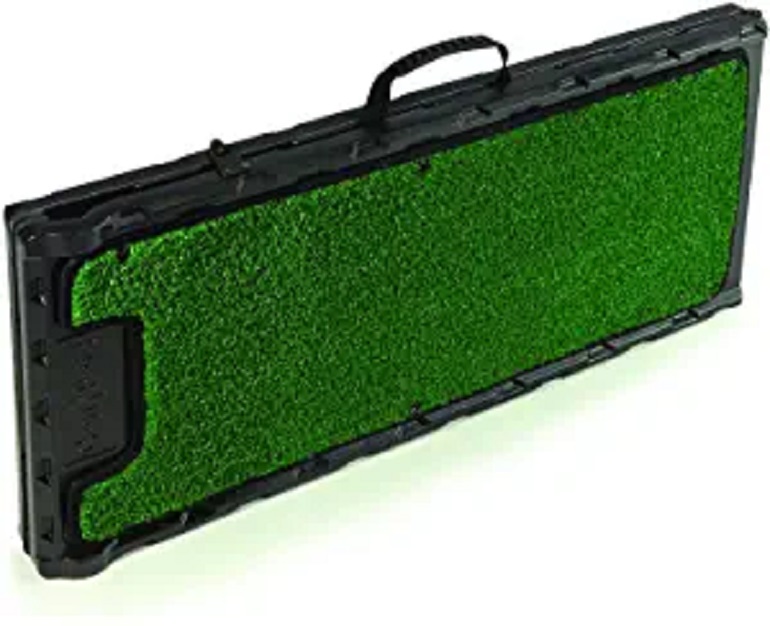 Gen7Pets Natural-Step Dog Ramp
The price of "Gen7Pets Natural-Step Dog Ramp" varies, so check the latest price at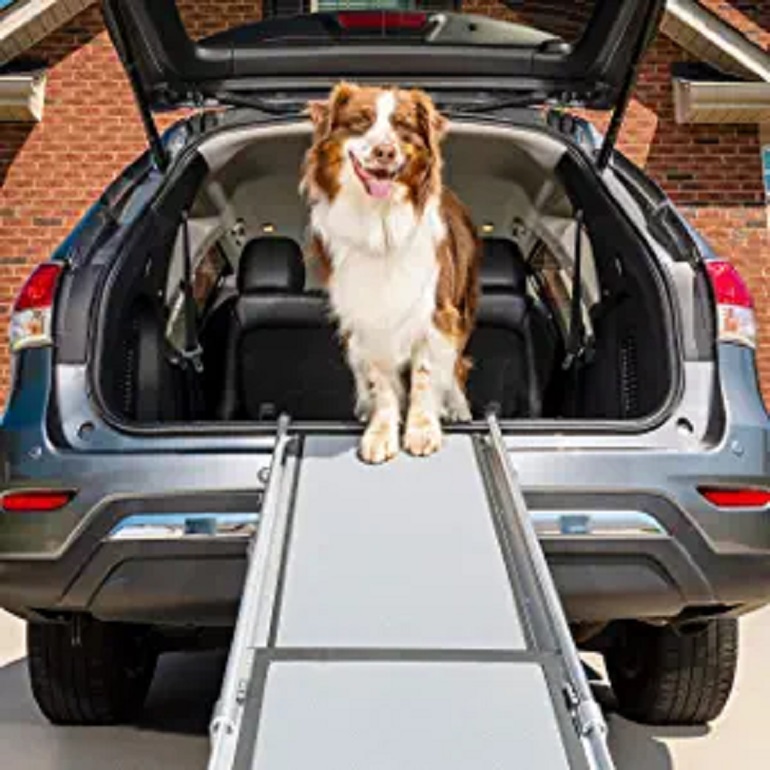 You don't want to leave your dog while going anywhere, but traveling with them is not convenient. It requires extra effort and energy. What about some dog car ramps?
PetSafe Happy Ride Deluxe Telescoping Pet Ramp is a convenient ramp made with aluminum to ensure durability and strength to avoid any risks for your dog.
Though, this ramp weighs only 13 lbs and is very lightweight. The ramp is safety tested and has a weight-bearing capacity of about 400 lbs. This increased weight limit enables your dog now safely reach up to any height.
This adjustable pet ramp also has a side and high traction surface. The ramp is adjustable and will be sliding in to make it easier to be stored.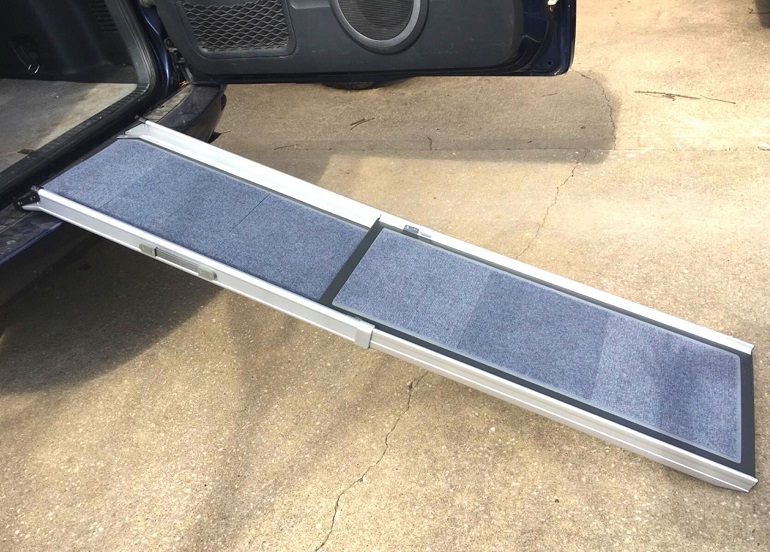 Pros
It is tested to accommodate the heavyweight.
A non-skid sandpaper-like surface makes it non-slip, compelling even when wet.
It has its carrying case.
It is adjustable enough to fit in the boot.
Cons
It is relatively more costly than other options available.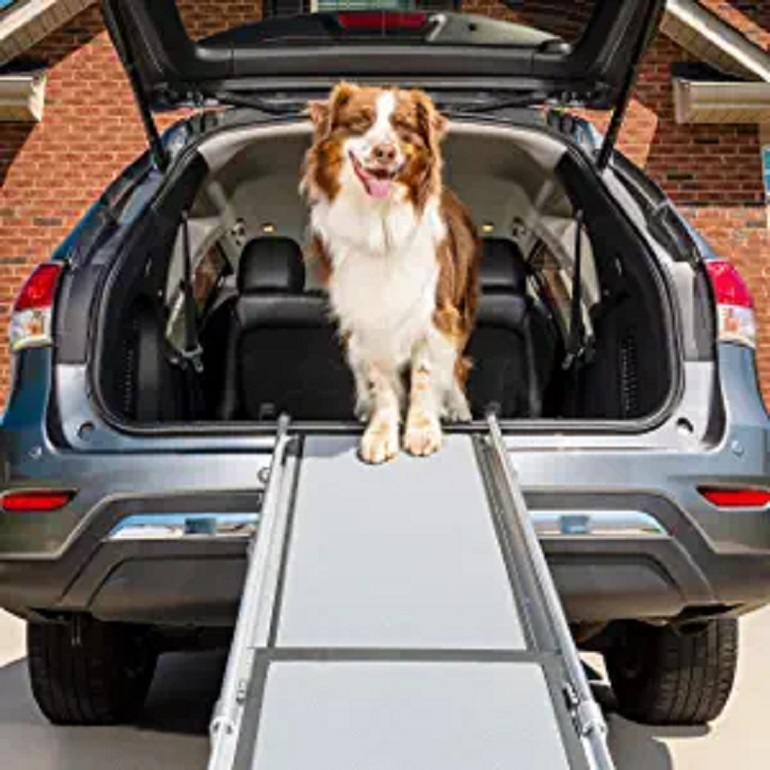 PetSafe Happy Ride Deluxe Telescoping Pet Ramp
The price of "PetSafe Happy Ride Deluxe Telescoping Pet Ramp" varies, so check the latest price at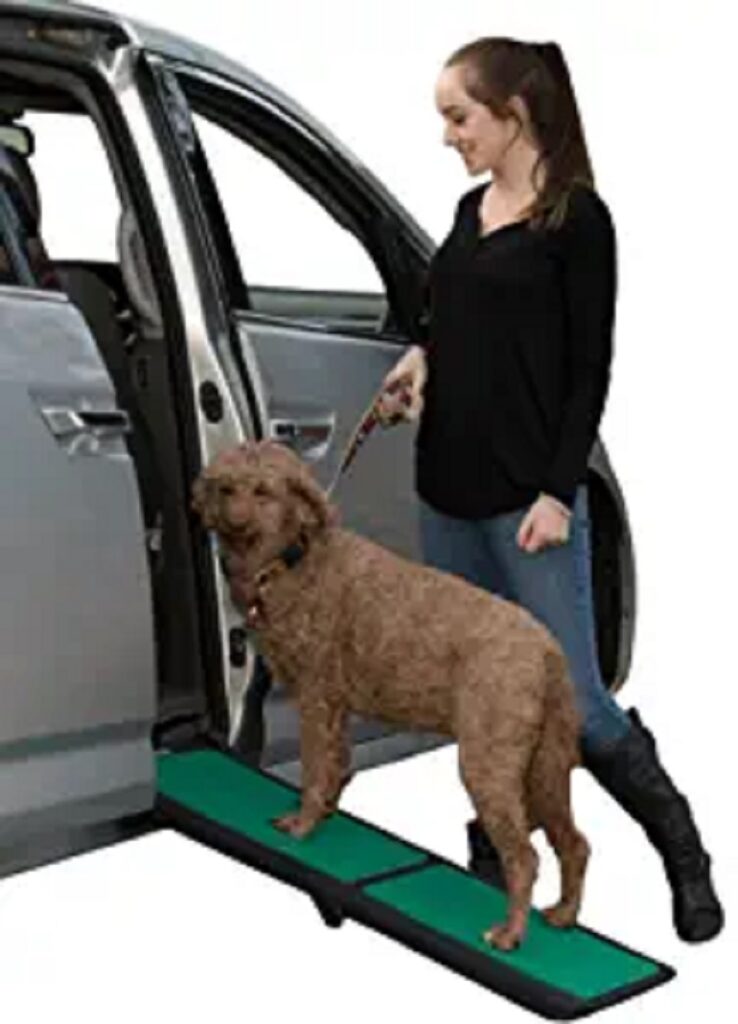 Pet Gear comes with all the essentials and accessories if you buy the dog ramp for the first time. 
This bi-fold half ramp is very lightweight, i.e., 7lbs, and has a built-in handle to ease the portability. Moreover, the SupertraX mat on the ramp is paw-friendly, enabling easy grip for your dogs. It also has safety ropes to make it easy to store in the back of your car.
Pet Gear Travel Lite Ramp comes in different sizes, colors, and lengths ranging from 31 to 72 inches which allows it to be used in any car, van, SUV, jeep, etc.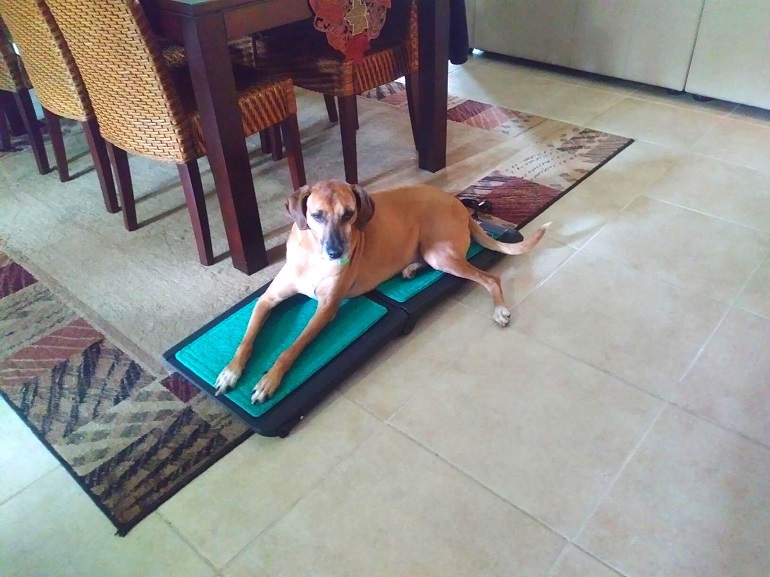 Pros
The walking surface is favorable for the dog's paws.
The pet gear ramp has a capacity of 150 pounds, making it a high-weight bearer.
Bi-fold makes it convenient to carry and transport.
Rubberized grips allow a more secure grip and make it a non-slip surface.
Cons
It needs enough flat area at the car door opening. That makes it difficult to adjust in small cars or mini SUVs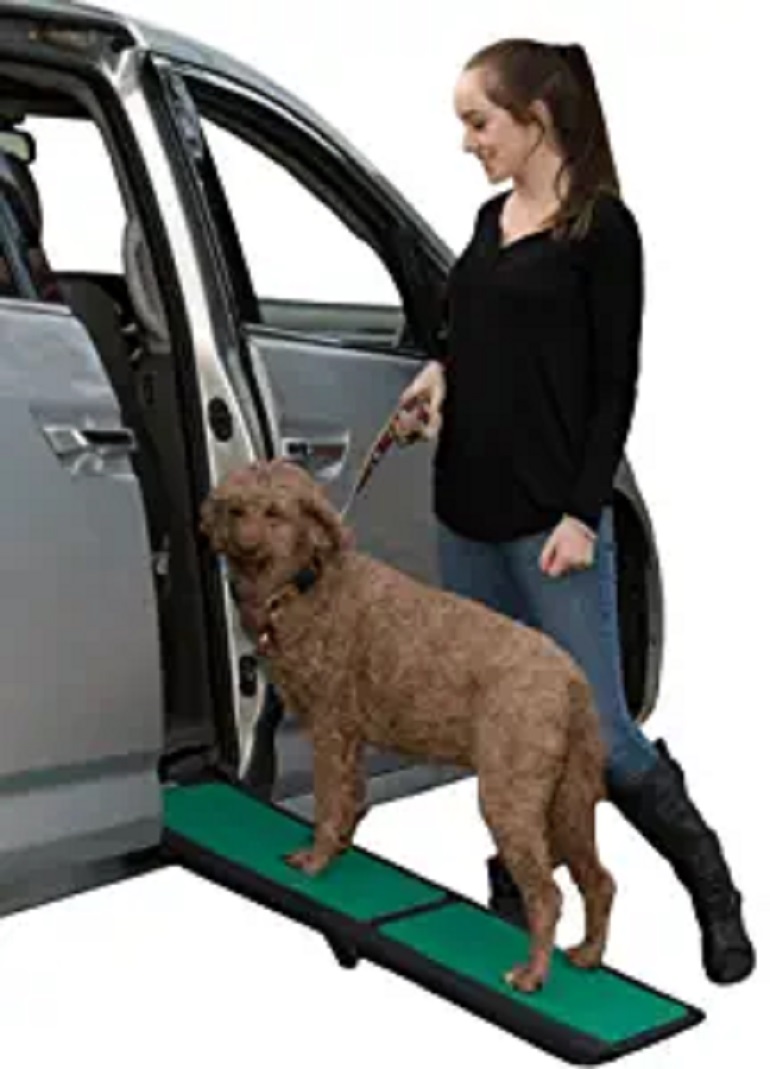 Pet Gear Travel Lite Ramp
The price of "Pet Gear Travel Lite Ramp" varies, so check the latest price at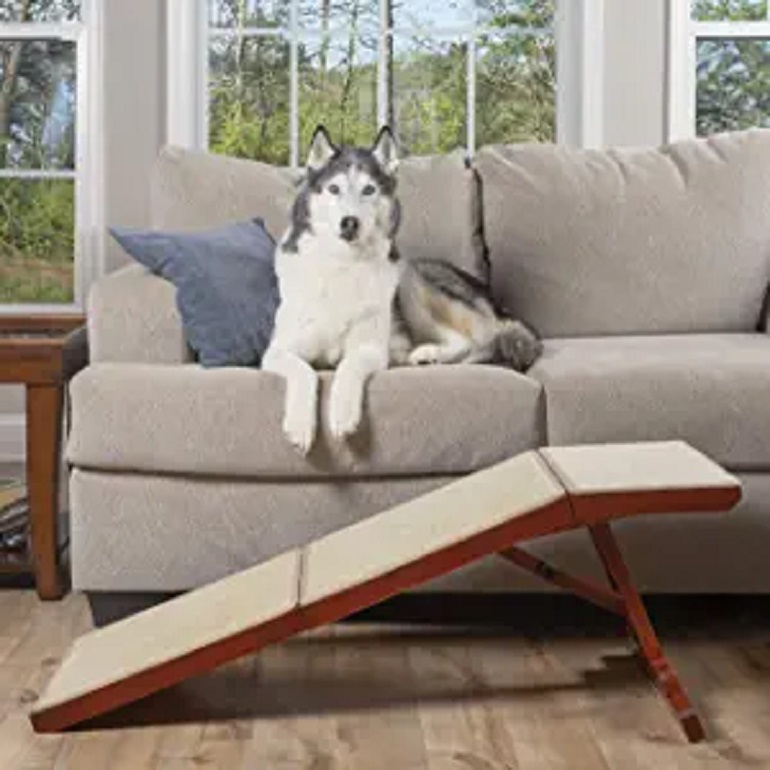 So, do you think dogs ramps are required to provide an inclined slide to walk into your car? No, it requires a ramp for every height, outdoor or indoor. To spend quality time with you, PetSafe CozyUp Dog Sofa Ramp lets your dog climb up to the sofa without any help to spend quality time with you.
The ramp folds to give ease in storage. Cherry wood appears more like a decorative entity than a dog essential.
The ramp supports a weight limit of 100lbs and has an approximate height of 14 inches. So, the issue of elevation is too much for your dog to jump on. So, these dog ramps sort this issue.
It has a smooth and carpeted walking surface, making walking a treat. In addition, a comfortable and heavy-duty carpet gives traction and ensures it remains paw-friendly.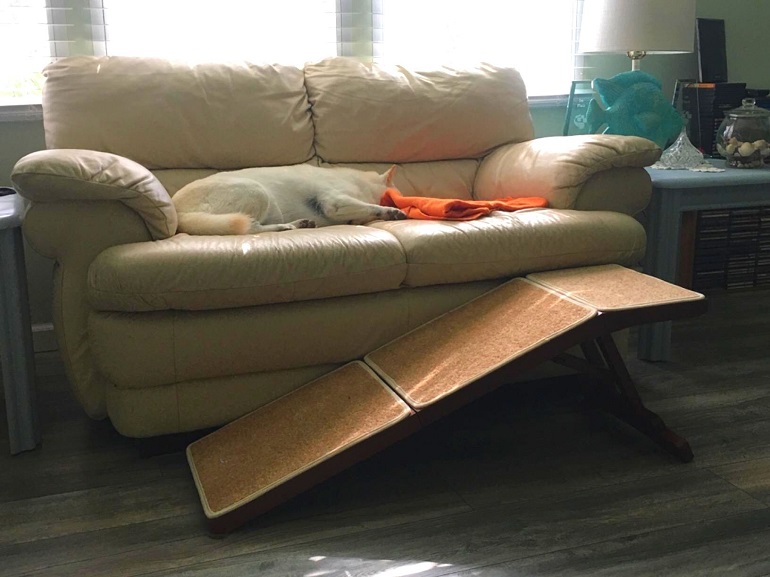 Pros
It is durable and safety tested for weight and surface
The foldable property makes it easy to store.
The non-slip carpet will help prevent any injury to your pet.
The landing surface gives your pet a good finish and time to stabilize.
Cons
It lacks rubber feet which can help keep the ramp in place.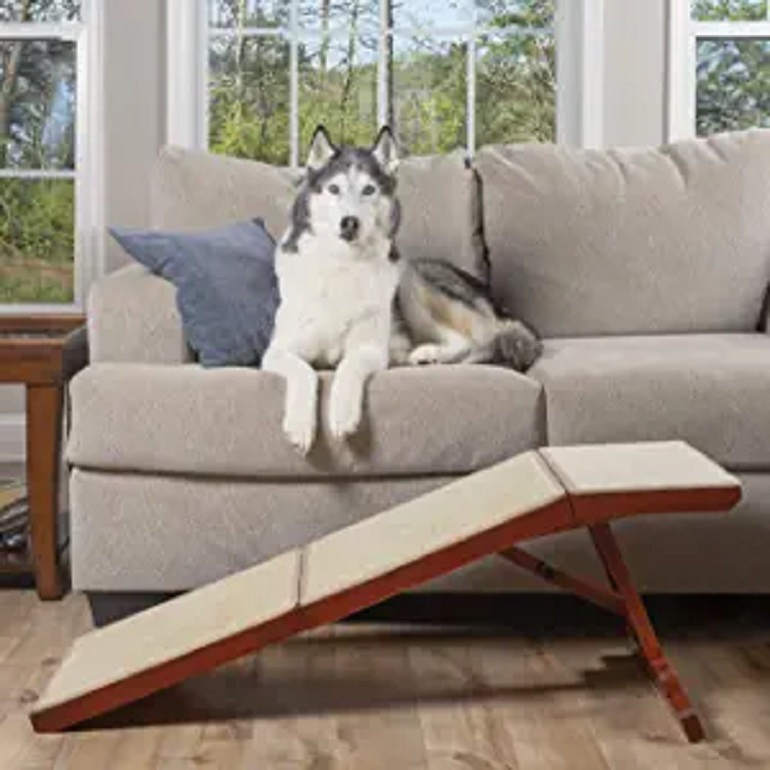 PetSafe CozyUp Dog Sofa Ramp
The price of "PetSafe CozyUp Dog Sofa Ramp" varies, so check the latest price at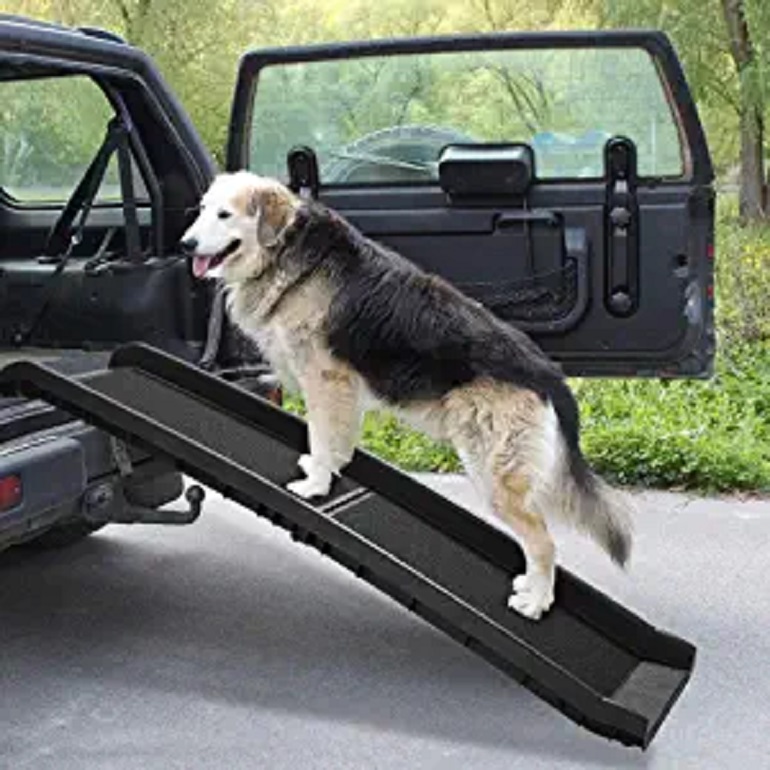 We have been looking into different options in ramp, some light-weighted, some portable, etc. What about a heavy-duty ramp with all the features, i.e., portable, foldable, and durable plastic with quality assurance? COZIWOW Heavy Duty Portable Folding Dog Ramp must be your choice.
Made with heavy-duty plastic, COZIWOW Heavy Duty Portable Folding Dog Ramp helps your dog get into a car, boat, pool, or anywhere easily, without being dependent on others.
The black color makes it appear more classy and visually appealing too. It also has non-skid feet.
The surface is non-slip with the raised side rail, giving extra protection and safety. Additional buckles prevent the ramp's sudden opening, which increases your dog's mobility and active movement.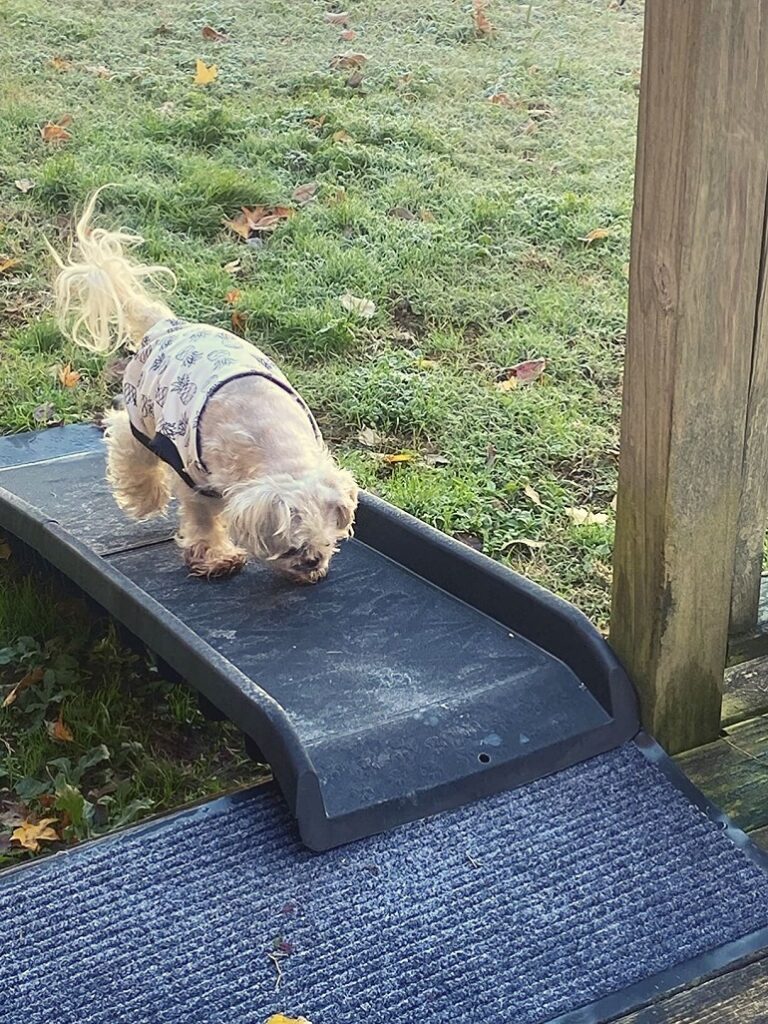 Pros
It has rubber feet which keep the ramp stable.
The ramp is scratch and wear-resistant, making it long-lasting.
High-quality traction ensures a firm grip and footing for the dog.
The waterproof material makes it non-slippery. 
It requires no assembling, comes in ready to launch ramp for your dog
Cons
The width of this ramp is narrow for large breeds and grown-up dogs.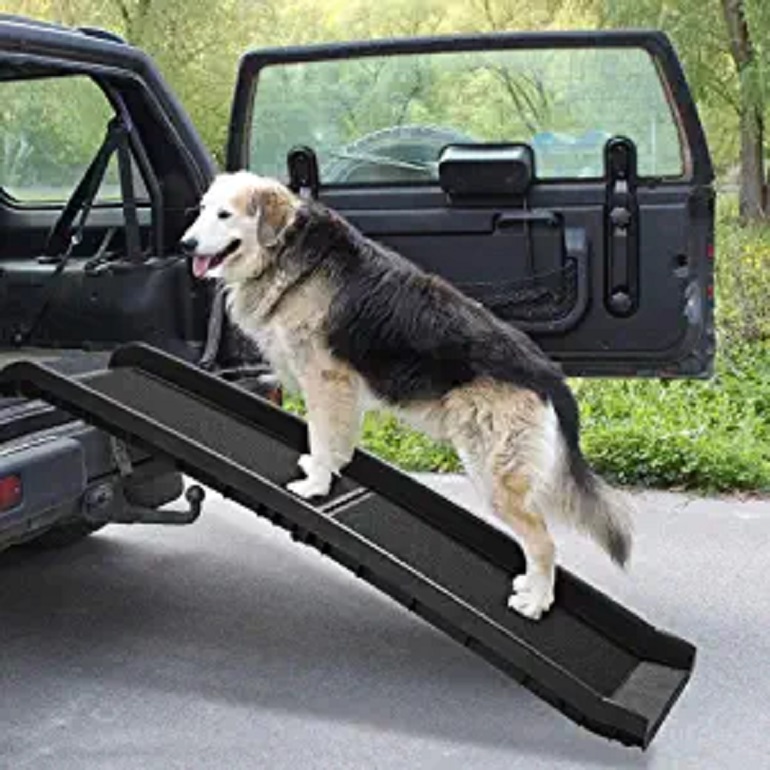 COZIWOW Heavy Duty Portable Folding Dog Ramp
The price of COZIWOW Heavy Duty Portable Folding Dog RampProduct Name" varies, so check the latest price at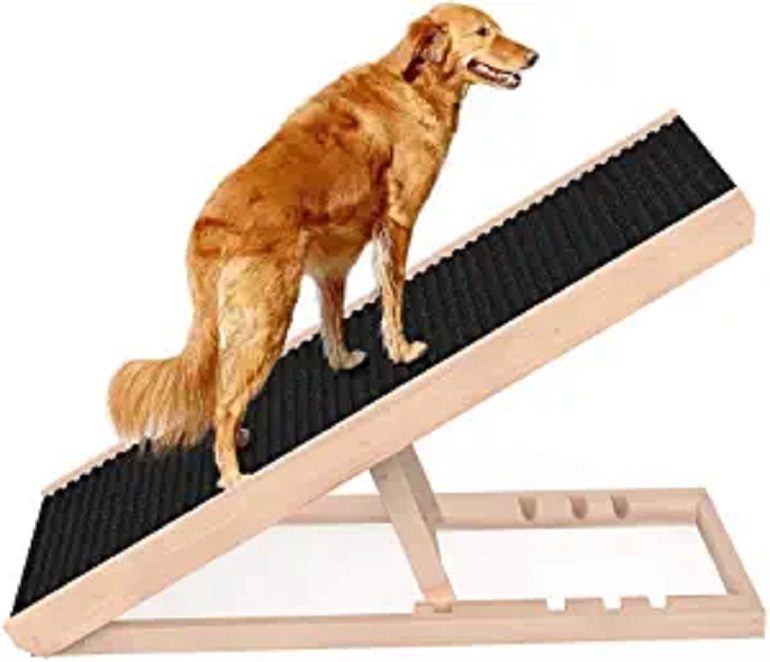 We are usually amazed if the ramp has adjustable length; it feels like an extra perk, but what about adjustable height? That will be a win-win situation as we will control all the dimensions. SASRL Adjustable Pet Ramp gives you this additional characteristic, adjustable height.
The sturdy solid wood makes it strong and durable. At the same time, it also works as a scratcher, helping avoid furniture scratching by your dog.
It does not only permit adjustable heights but collapsibility too. That means it will be easy to store because collapsing will make it take less space and easy to carry.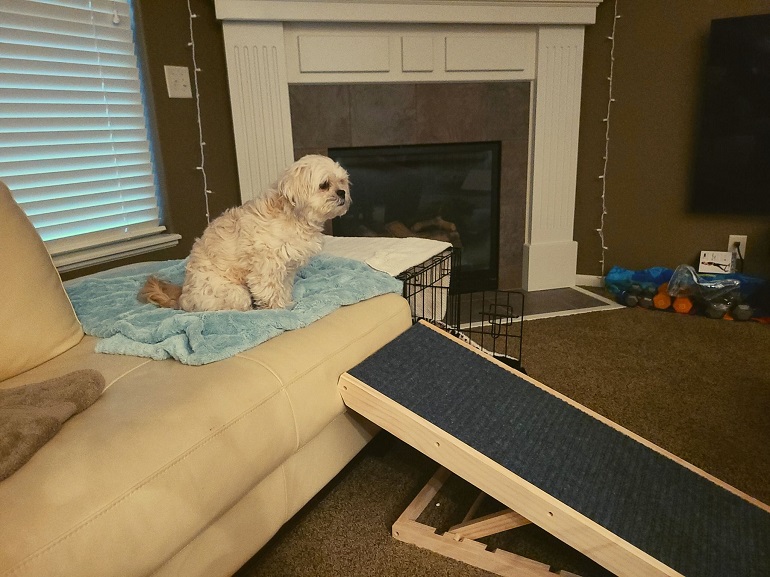 Pros
It is convenient to use as it comes assembled, unlike many others that need to be assembled.
The surface is made of scratch-resistant material, which will increase durability.
With the feature of adjustable height, you get multiple heights from which you can choose.
It has an excellent grip.
Cons
Despite all its goods, it takes a lot of room which might get inconvenient.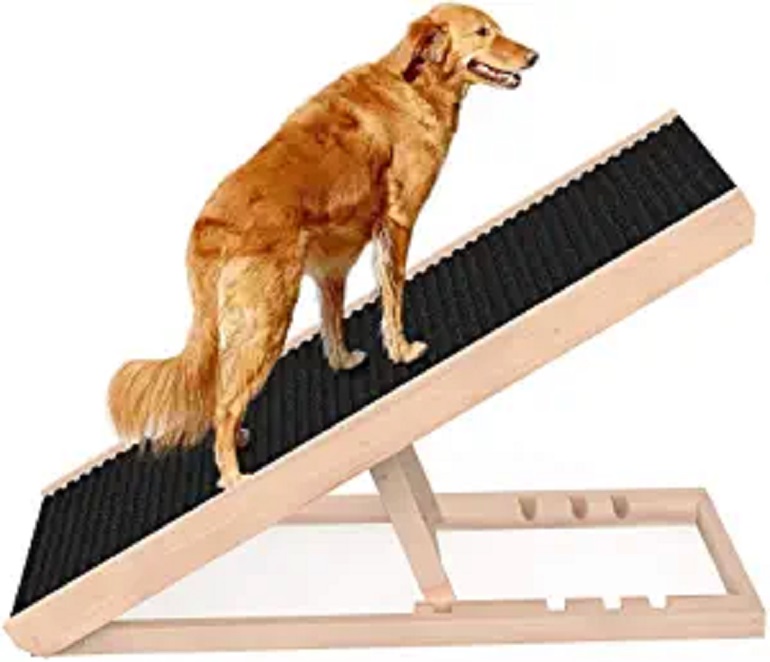 SASRL Adjustable Pet Ramp
The price of "SASRL Adjustable Pet Ramp" varies, so check the latest price at
What to Look for When Purchasing a Best Dog Ramp
Size
The ramps come in all sizes in terms of length and height. When buying a ramp, you need to consider your dog's breed and size. The requirement of a dog will help decide the size.
For small dogs or even medium ones, the narrow ramp with lesser width can work. But, if your dog is tall, it is a large breed, and adult dog, you need an enormous ramp.
Similarly, the longer ramps make gentle inclines compared to short ramps that will be steeper. But at the same time, long ramps take a lot of space.
While buying a ramp, consider all the aspects. 
Weight
The ramps have different structures, materials, and capacities. Therefore, it is pertinent to know the dimensions of your dog before knowing the key features of the ramp.
From small to large breed dogs, all have different weights and sizes.
The lightweight and smaller ramps might work for the small breed, but you need heavy-duty ones for larger dogs.
Heavier ramps are sturdy but difficult to transport. If you plan to use the ramp at different locations, go for a portable one. Then, buy the ramp which supports all your requirements.
Safety
Dog's comfort and safety should be the priority for a pet parent. You should address this concern while selecting food for your dog and other accessories that you may buy for your pet friend.
Many ramps are built for your dog's safety assurances and come with railings, padded foam, and non-slippery surfaces.
Avoid anything that can cause injury. Buy quality ramps, they might be a bit expensive, but they will be durable and ensure safety.
Grips
If you have decided to buy a luxurious, lightweight, durable ramp, it is useless to buy it if it does not provide the firm grip or traction that your dog requires.
Choose a ramp with a firm grip. In this case, carpeted surfaces or non-slip surfaces fulfill your dog's needs. Don't choose the one that provides easy access only, but also look for safety and a firm grip.
The traction in the ramp is essential. For instance, if the paws are wet, muddy, or anything that may lower the grip on a bare surface, here you need traction.
In case of low traction and grip, there is the possibility of slip which may lead to injury. Similarly, shorter ramps and steep slides may also influence easy grip.
FAQs
What is the Best Dog Ramp?
There are many dog ramps, but few specifications can make the best dog ramps. These can be the size, weight, traction, portability, easy storage, and the list.
If we elaborate on the best dog ramps, they are usually larger, long enough to make less steep inclines. In addition, they are durable and heavier enough to sustain their quality and have more weight capacity.
Moreover, they provide a good grip and more traction as the ramp is specifically designed to support your dog is moving and climbing without any help.
PetSafe CozyUp Bed Ramp, SASRL Adjustable Pet Ramp, PetSafe Happy Ride Deluxe Telescoping Pet Ramp, and a few more are the perfect and reliable options.
Are Dog Ramps Worth it?
Ramps are designed while keeping in view your pet's comfort. We usually look for something to assist us because living with a pet is similar to living with a kid and raising them. They need you to care and help in every other instance.
If your pet is too young, old, sick, or couldn't get to the top of anything, it will need your assistance. Large breed dogs get arthritis or other issues.
You know you might not be available all the time. You might be busy, or there can be anything that ultimately will make your pet do things independently. There is a probability they may get injured or get hurt.
A ramp will make dogs independent and move on their own, jump up to cuddle with you, or just feel accomplished to stand at the top.
Are Ramps Better than Stairs for Old Dogs?
An older dog has less energy for physical activities, and its health deteriorates with each passing day. Its bones or joints can be weak for bumps and jerks. As it grows old, it can have issues like hip dysplasia, weak muscles, or weak bones. Climbing upstairs can cause knocking, collapsing while jumping, or needing more energy from the feeble old canine.
Many dogs get less active with age, so get them a ramp that will require less work from their joints and muscles.
Conclusion
While providing every facility to your dog, provide them with ease for walking up instead of jumping to the high places, beds, or taller vehicles.
Get them a ramp with a gentle incline, easy storage, an appropriate weight limit, side rails for dog's safety, rubber grippers to give a firm standing, and traction to ensure stable footing.
We hope this guide will help you decide, but whatever you choose,  do proper research on features that suit your dog.