Having a dog comes with lots of new duties. You don't have to only take care of it and give them food, rather you have to give them company, play with them and provide them with toys to play with when you are not there.
Having an American pit bull terrier at home or any pit bull is a bit different to handle. Pit bulls are known for being a bully and aggressive. They are mostly involved in biting cases and give severe injuries at times.
Dog owners are concerned about this habit of their pets. The good part is they can be trained, the better part is you can divert their aggressive chewing habit to other things. For this purpose, you can get them dog toys, and canine education in a different way.
The chew toys are a good choice not to help a dog that is growing new teeth but also to neutralize your dog's chewing and biting habits.
How can you choose the perfect chew toy with so many options available in the market for dog toys for pit bulls? We have this confusion sorted for you. We have reviewed some of the best chew toys for pit bulls that can be your go-to choice when getting a new toy.
Best Rubber Dog Bone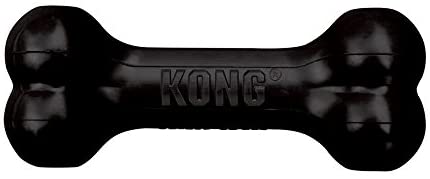 KONG Extreme Goodie Bone
Color: Black
Size: Medium
Best Durable Dog Bone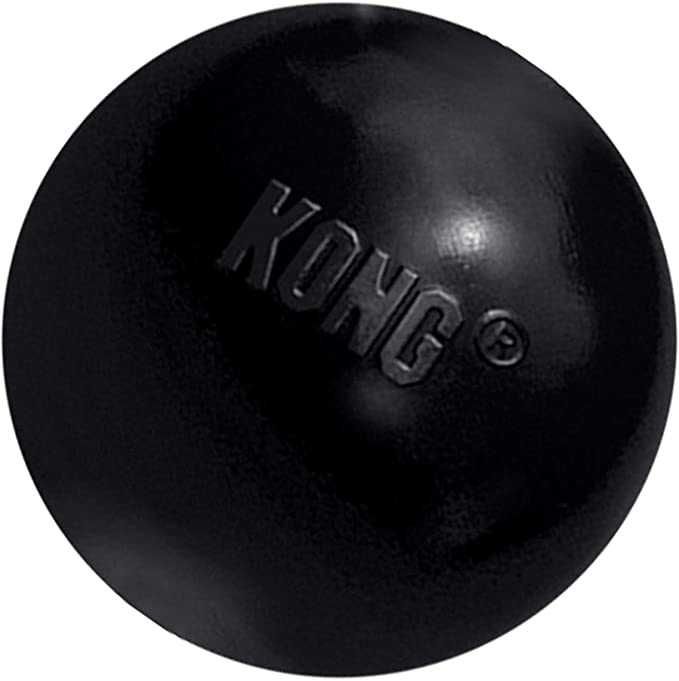 Best Indestructible Dog Bone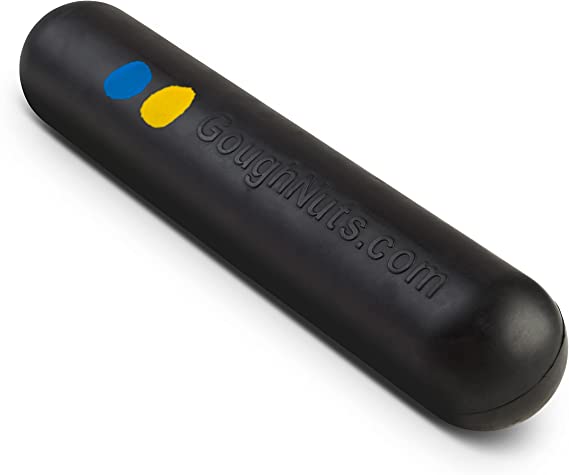 Best Aggressive Dog Ramp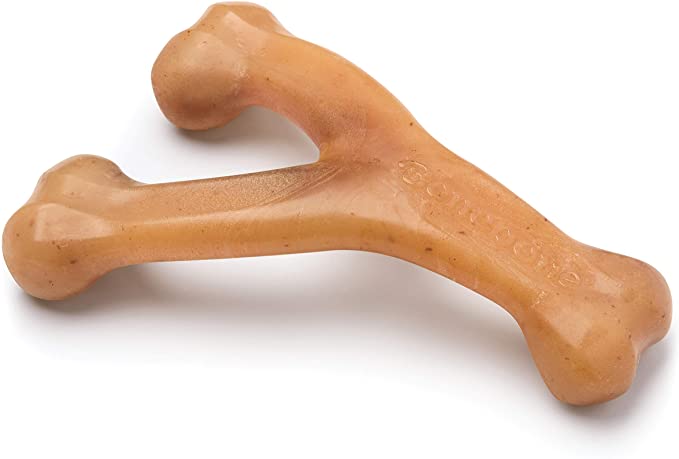 Benebone Rotisserie Chicken Flavored Wishbone
Color: Yellow
Size: Medium
Best For Chewing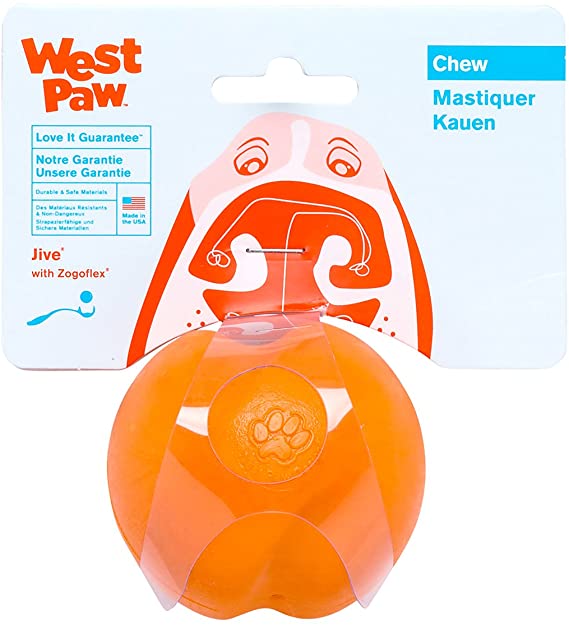 WestPaw Zogoflex Jive Ball
Color: Orange
Size: Small
Best Durable Dog Toy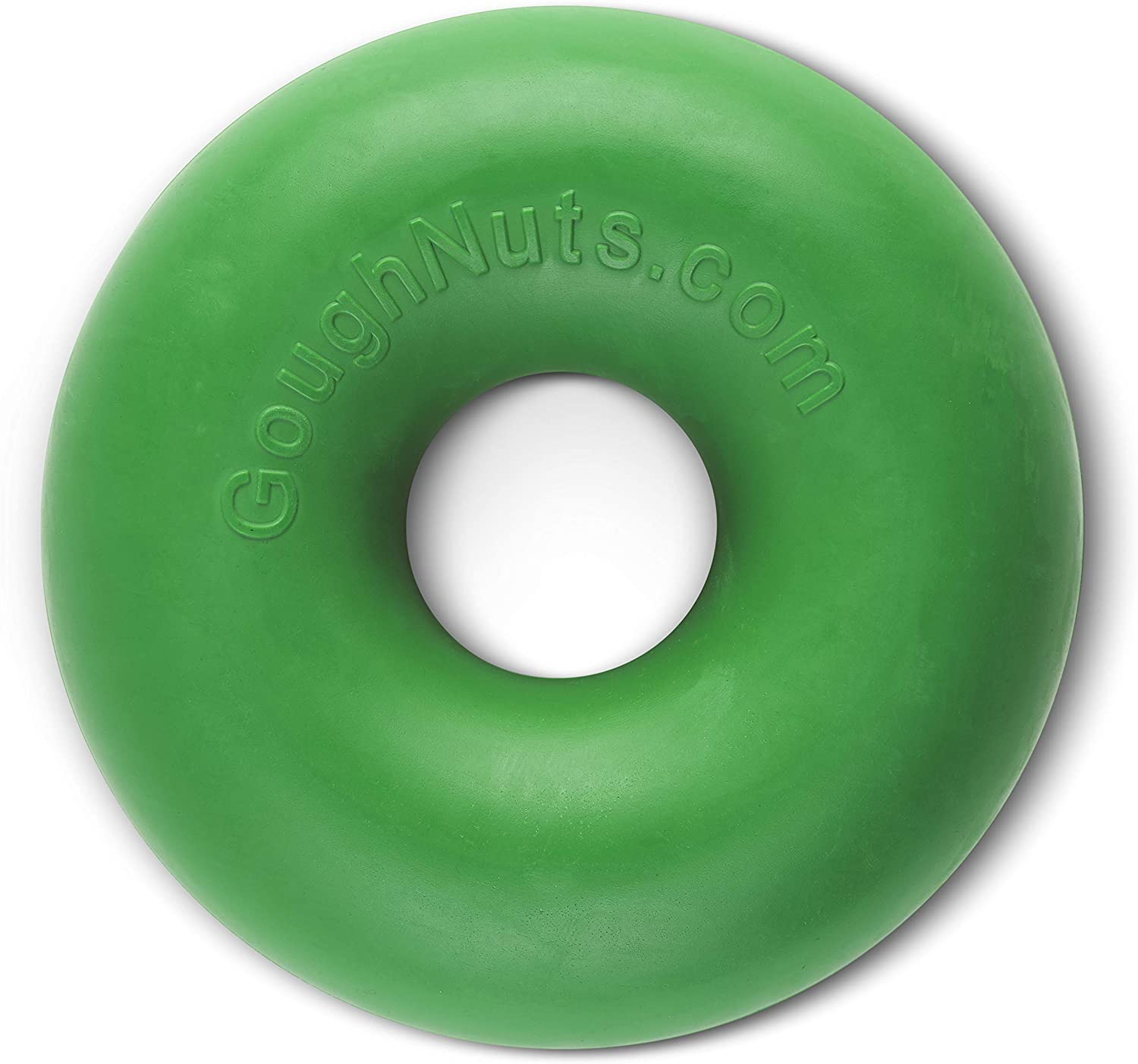 GoughNuts Original Ring Dog Toy
Color: Green
Size: Medium
Best Ultra Durable Toy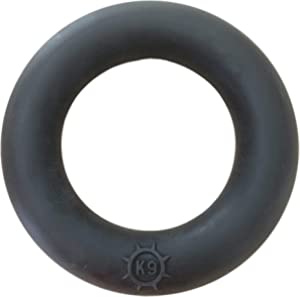 Best Safe Toy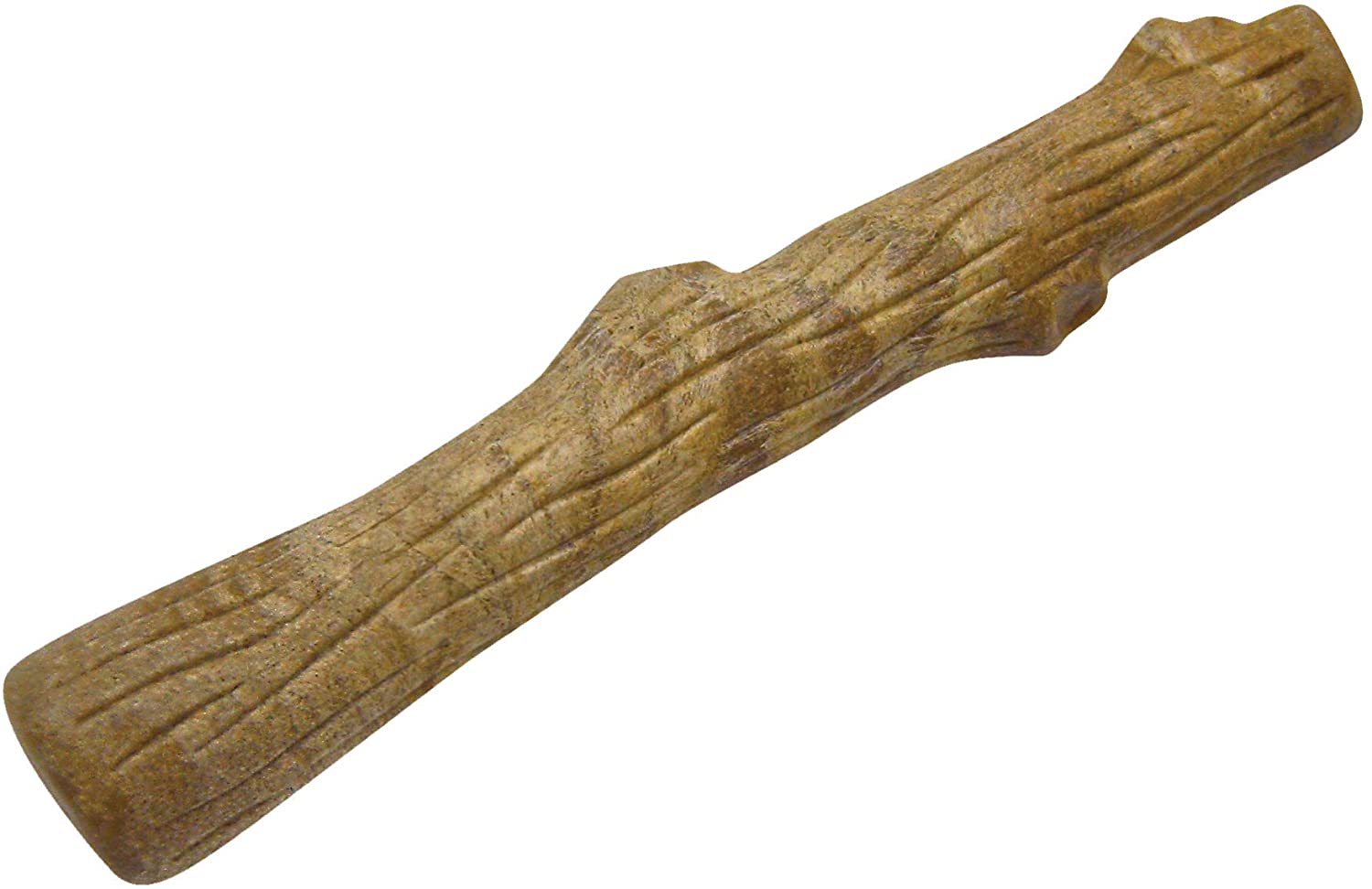 Petstages Alternative Dog Chew Toy
Top 8 Picks: Best Chew Toys for Pit Bulls
Standing next to the shelf in the mart with so many options available for toys like yours it will be so confusing? What are the features to look for in the best dog toys, or is the toy you choose is even safe, sound, and dog friendly? Let's visit the features of some best options that will help you decide for your dog.
Dogs have a special affiliation with the shape of bones, their true love perhaps. If you are looking forward to training or introducing something new to your Pitbull, the bone shape will be perfect to go for. for shew toys, Kong Extreme Goodie Bone has sorted this for you.
Made with high-quality durable rubber, this Kong Extreme Goodie Bone has a lot to offer as a toy to your Pitbull. If your Pit Bull is a tough chewer and you want to train it, Kong can help you with this.
It has vacant open spaces or holes, you may put some treats to get your pit bull used to it or avoid the rubbery smell.
This toy comes in different sizes based on the requirement of your dog's breed and size. Choose which suits your dog best.
The buyers highlighted that the gripping ability lets you have a little tug of war, making a little game with your Pit bull.
Pros
The extreme rubber structure goes best for tough chewers
Goodie grippers let you stuff treats and sneak in some surprise goodies for your pit bull
Favorable for teething in a Pitbull puppy
Cons
In some cases, it turns out not to be durable as specific
It is a bit low in sturdiness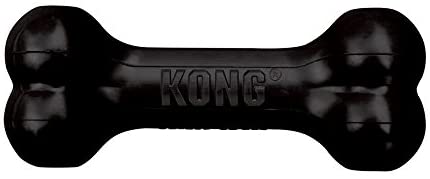 KONG Extreme Goodie Bone
The price of "KONG Extreme Goodie Bone" varies, so check the latest price at
If you are looking for value and your pit bull loves bouncy toys, Kong Extreme Rubber Ball should be your first choice.
Though it has a rubbery smell it is still one of the trusted choices by pet owners. It is very bouncy making a good play fetch scenario for you and your Pit bulls. Being a heavier ball, it can survive longer if your Pit bull loves to play a lot
Specially designed for strong chewers, the Kong ball is structured to last longer because we know how aggressive chewers pit bulls are.
The Kong Extreme Rubber Ball is chew proof and easy to clean. Highly recommended by buyers, Kong toys have high sturdiness and longevity.
The Kong is a brand known for manufacturing good toys, so why miss their products.
Pros
It is very affordable
This dog toy is puncture-resistant which makes it extremely durable toy
Lasts longer for enthusiastic chewers.
Cons
The hole in the ball makes a structure fail because pit bull can rip the balls from there.
It is heavier in weight as compared to other options available in the market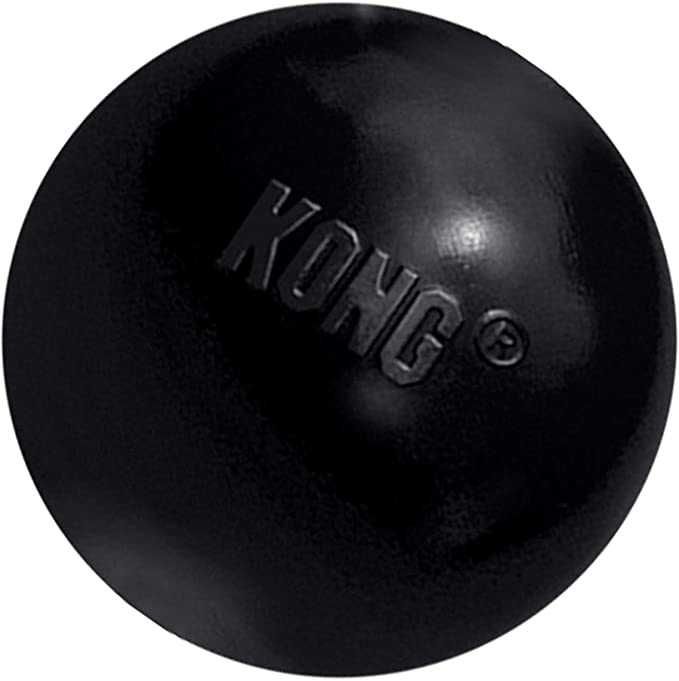 Kong Extreme Rubber Ball
The price of "Kong Extreme Rubber Ball" varies, so check the latest price at
Love giving your dog special, royal treatment? If you are looking for some chew toys for pit bulls, Goughnuts Maxx 50 stick are premium quality dog chew toys that are virtually indestructible dog toys.
This dog toy has everything a pet owner can ask for. From its large size to toughness, durability to value for money, the Goughnuts Maxx 50 Stick outshines among other toys.
What makes Maxx Stick premium is its material. It uses the same rubber that is used in space crafts, making it extremely durable. Pet parents opt for this dog toy even if it costs higher than many options, is the quality and value it guarantees.
The Pit bull owners and the regular customer of Maxx Stick recommended it for dogs weighing more and also told that it lasted longer without even a dent.
Pros
When dogs have chewed it enough, visual indicators show it
This dog toy is floatable making it pool friendly.
This indestructible has a heavy-duty construction that maximizes durability.
Cons
It has a rubbery smell which refrains dogs from using it
Most dogs didn't like the taste of this toy
It costs higher than other options available in the market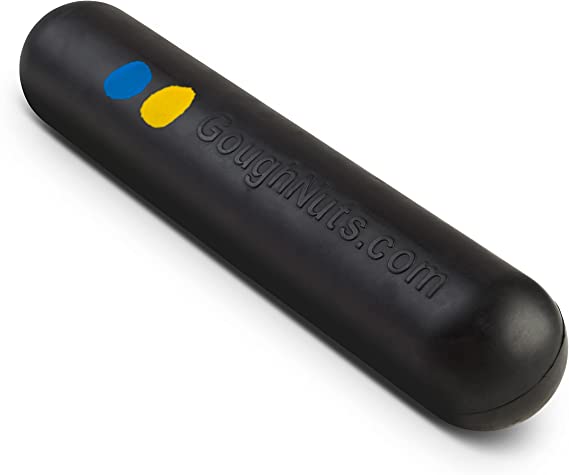 Goughnuts Maxx 50 Stick
The price of "Goughnuts Maxx 50 Stick" varies, so check the latest price at
We would preferably choose a dog toy with some extra perks, like flavor, different shape, and the one that keeps the dog's teeth clean, Benebone Rotisserie Chicken Flavored Wishbone is best for you.
Having chicken flavor and wishbone shape, dogs enjoy this chew toy. Infused with real chicken flavor, the dog chews it with all passion.
The grooved surface lets dog's teeth make contact. Made with nylon bristles, the chew toy keeps the pit bull's teeth clean.
This indestructible dog toy is made for aggressive chewers like your Pit bull. The shape is made a curve to make it an easy grip for pit bulls.
Benebone's dog toy comes in different sizes, choose the appropriate size depending upon if you have small, medium-sized, or large dogs.
Pros
These wishbones are durable and tough toys for power chewers
It is perfect for teething
This wishbone-shaped dog toy ensures the dental health of your dog
This indestructible toy is sturdy and is value for money
These chew toys for pit bulls are longevity
Cons
This chew toy can be harder for your pit bull sometimes.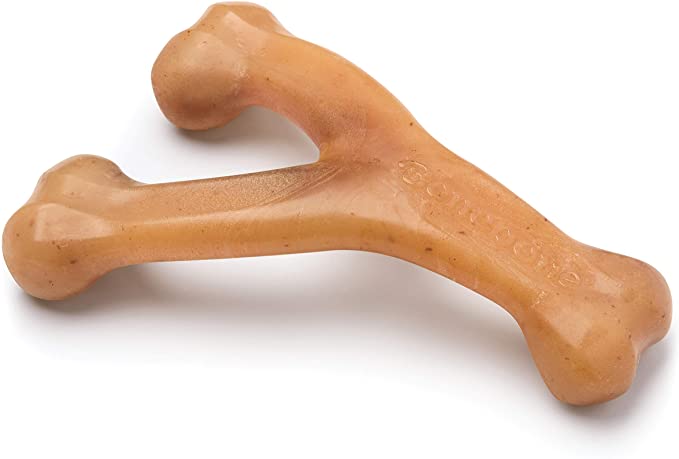 Benebone Rotisserie Chicken Flavored Wishbone
The price of "Benebone Rotisserie Chicken Flavored Wishbone" varies, so check the latest price at
As pet owners, we all know that our dogs love playing with chew toys of different shapes and orientations. No matter what, the balls are the favorite dog toy of our canine. West Paw Zogoflex Jive Ball is not to miss chew toy option.
Being one of the best chew toys, West paw Zogoflex is designed if your dog is a tough chewer. Though it is a ball it has a relatively different shape than the usual ball making it a more bouncy chew toy that your Pitbull cannot resist. No room for the usual tennis ball now.
The dog keeps bouncing the ball and it might get dirty so this chew toy is designed to be dishwasher safe to ensure hygiene, making it one of the best toys.
The pet parents mention that even the dogs who chew down every chew toy tend to make this ball last longer. Though higher in price but it ensures value and turns out to be a good toy.
Pros
This chew ball is dishwasher safe
It is reported to be chew proof
It is made from recyclable material
It provides a variety of sizes for all life stages
This chew toy is made from latex-free material and it comes it the manufacturer's guarantee.
Cons
This chew toy is destructible if your dog is an aggressive chewer
It is heavier than what pet owners expect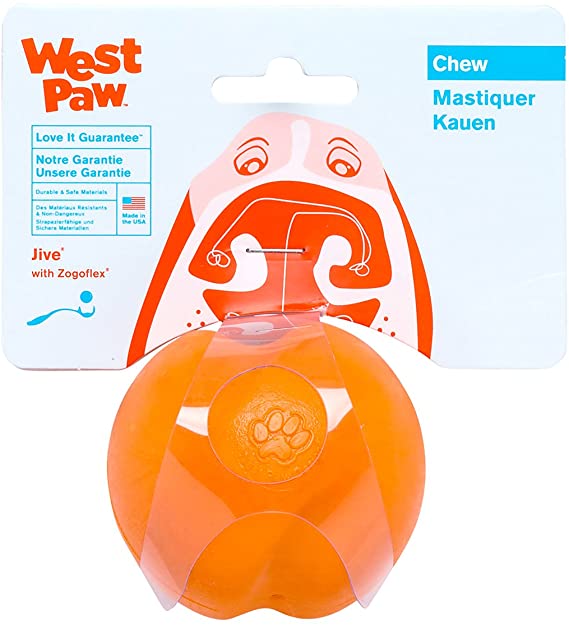 WestPaw Zogoflex Jive Ball
The price of "WestPaw Zogoflex Jive Ball" varies, so check the latest price at
Buying new toys for pit bulls who are extreme chewers is challenging. Pet lovers are very nervous about this decision, The chew toy is most loved essential by the dog so Goughnuts Original Ring Dog Toy is for your Pit bull.
Of all the toys, this is not only among the durable toys as it will sustain any dog damage. It is one of the best dog toys with a different and unique shape.
It's not only the shape, this dog toy comes in different sizes for your power chewers. The large dogs rip apart the toys, but Goughnuts has a range of toys fulfilling every dog's need.
It is engineered with the best rubber and polymer, the same the astronauts use. You will have to wait a long to witness if dogs chew it down or not.
You can play tug of war, fetch games, and other games with your dog with this new toy.
So, you have to just sit back and see the dog entertained by this toy.
Pros
Dog toys from Goughnuts are guaranteed, you get a replacement if damaged
It is easy to clean, ensuring hygiene.
This toy is durable, which helps avoid the hazard of a broken toy.
Cons
Tends to be heavier which means it won't be floatable at all times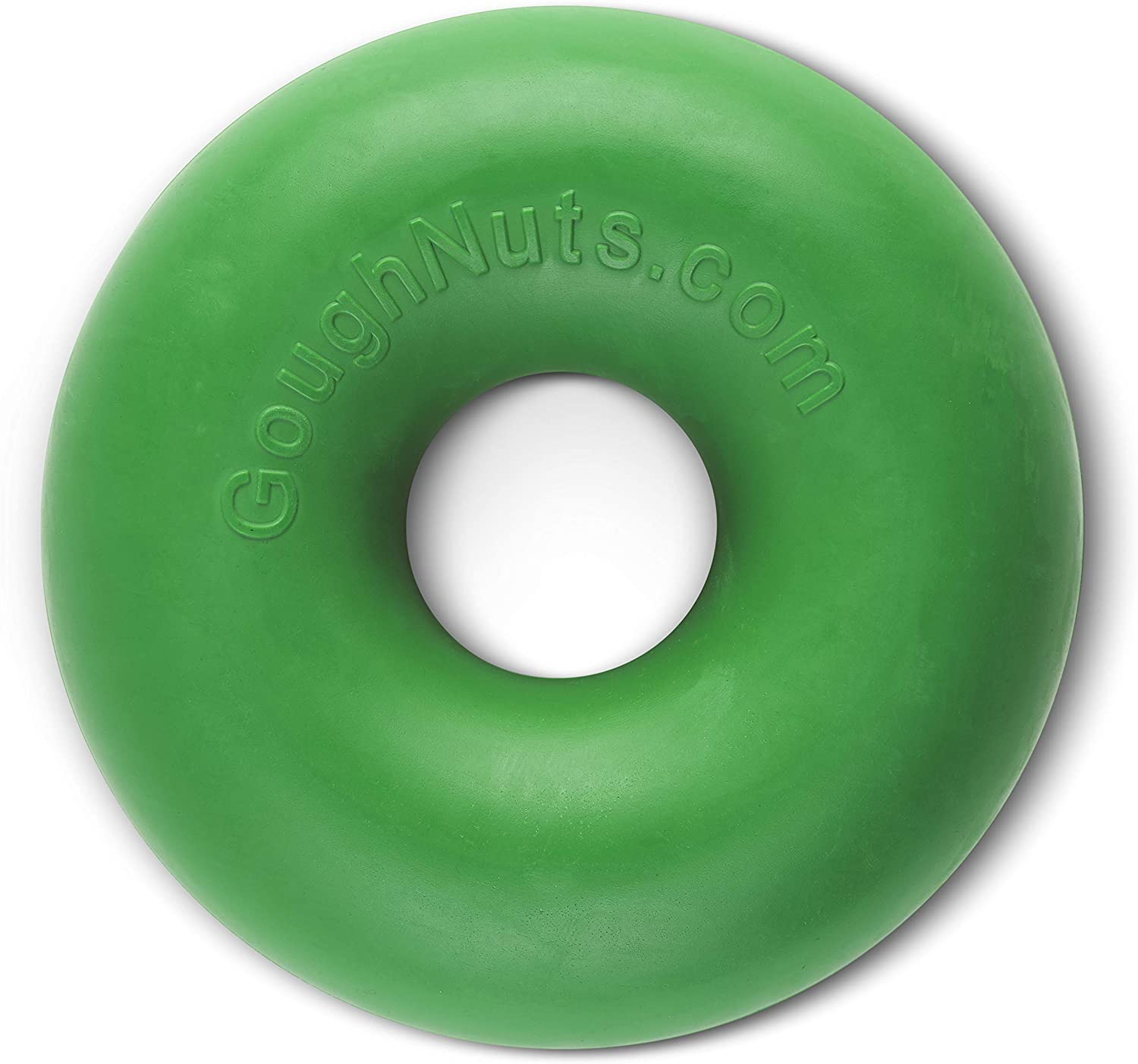 GoughNuts Original Ring Dog Toy
The price of "GoughNuts Original Ring Dog Toy" varies, so check the latest price at
Dog toys for pits are one difficult decision to make, power chewers won't satisfy with dog food only. This heavy chewing has to be stopped with a chew toy. Monster k9 dog toys provide you with the solution.
This dog toy is a different design if your dog is done with bones or a dog ball. They are made semi-rigid, strong and durable. So, Monster k9 Dog Toy provides a lifetime guarantee. It is especially recommended for large dogs
Made from natural rubber and food-based material, you see your dog entertained for hours without any danger of intestinal blockage or toxic substances. It won't harm their dental health too.
The majority of the buyers recommend this toy because it provides value for money and lasts longer than other toys for their tough chewer.
Pros
The toy is durable, a replacement or refund is offered if damaged
Takes all safety precautions by bringing a nontoxic material based toy
Made with extra strong material, making it durable
Cons
The rubber smell makes it unappealing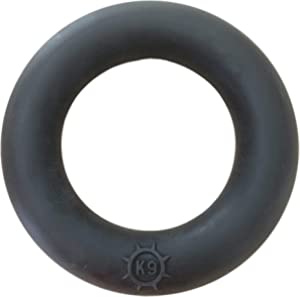 Monster K9 Dog Toys
The price of "Monster K9 Dog Toys" varies, so check the latest price at
We all know that playing with sticks, throwing, and fetching is the favorite activity of any dog. When dogs are teething or they are heavily chewing everything, you would look forward to giving them toys that ensure safety too.
Petstages Alternative Dog chew toys are for sure your dog or pup's favorite treats among all the other options of toys.
We are not even sure whether the wooden sticks our dog is playing with are even safe or not. This Petstages Dog toy provides a natural, safe, and non-toxic wooden stick-like chew toy that will ensure that your dog remains safe.
Bringing both indoor and outdoor fun-based activities, this toy comes in several sizes and shapes. Even though it is quite safe but never leave your Pitbull unattended while playing, you never know when the little furry dog turns ferocious and rip the toy down.
It is recommended to get veterinary advice before you choose to give it to your dog.
Pros
It is safe and more durable than the actual wooden stick
The different sizes and shapes enable you to gratify your dog's needs.
Cons
If chewed down it can be hazardous.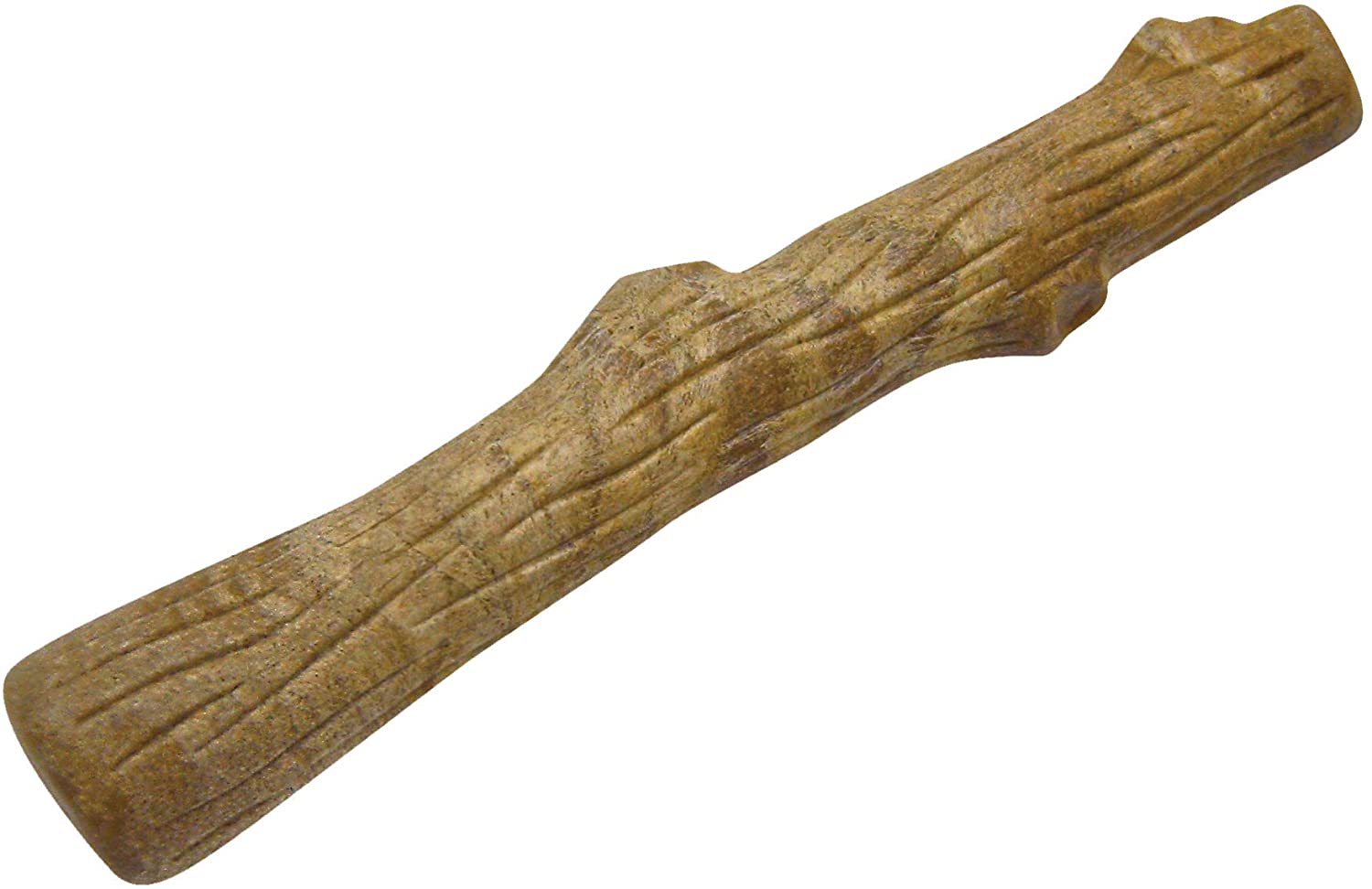 Petstages Alternative Dog Chew Toy
The price of "Petstages Alternative Dog Chew Toy" varies, so check the latest price at
FAQs
What Can I Give My Pit Bull to Chew On?
The dogs are known as power chewers, they will chew down whatever they would be playing with or they come across (don't be afraid, they won't rip you down at all). It is also necessary if your puppy is getting new teeth, it will help lessen the pain too.
The toys for pit bulls are a supporting choice if you look forward to giving something safe to chew after dog food.
Stuff toys won't help for Pits, their chewing capability should not be underestimated. There are many high reviewed chew toys available in the market. Kong Extreme Goodie Bone, Goughnuts Maxx 50 stick, West paw Zogoflex, Monster k9 toys, etc. are a few of the best-known chew toys.
You can give them anything, that ensures durability, and sustainability, it is non-toxic and dental safe. The major decision depends upon your dog, what he approves and likes will become a part of his play routine.
A side note, avoid anything that can be hard on the jaw and teeth, causes an intestinal blockage, or has toxic containments.
If you are looking to buy food for your pitbull, Check out our detailed guide.
At What Age Do Pit Bulls Stop Chewing Everything?
Before knowing when a Pitbull should stop chewing, we need to look into the matter that what causes major chewing habits or an increased inclination towards chewing.
When new teeth are growing up, it causes pain and unease. To lessen the pain or provide themselves with relief, Pits will chew.
Usually, it is till the age of five to six months when teeth are growing that they will chew. After the teeth grow, they will cease chewing.
Do Pit Bulls Ever Stop Chewing?
When we said that they will cease chewing, it refers to chewing to teethe only. Chewing is a natural habit in dogs, so in your pit bulls too.
The Pits will not stop chewing and neither you should have the urge to stop them from chewing until they start doing damage.
Get them a dog ball instead of the usual tennis balls, or a rubber bone. A stick will work too.
The point of all this explanation is that there is no need for them to stop chewing neither you should stop them. Just give them the necessary training and it will let you live happily after
Are you looking to buy a treat-dispensing toy for your Pitbull? Check out our detailed guide to find the best one for your dog
Conclusions
This elaborates the recommended options of dog toys for pits. Living with a dog gives pleasure, and releases stress but it has a high cost when we try to ensure a quality and luxurious life for them.
It's not always the case that whatever is written or said, will be the final word. As a matter of fact, the words are flexible to change, and dog-related choice especially is very normative. Every dog has a unique and distinct nature, so will be their choice.
Training a dog regarding their chewing habits is as mandatory as food for them to avoid them becoming a danger to other people or furry buddies.
For this purpose chew toys can be best buddies but make sure they are phthalate-free materials, more durable, and eco-friendly too. Want to prevent a choking hazard from a dog's toy, choose an appropriate size.
Ensure that whatever you choose, suits your dog best. We hope this blog post helped you a lot in jumping to a decision that always made you anxious. Do tell us what your dog loved among the choices we give or was there any other thing you found better, we will love to hear from you.