Temptation is the strongest urge found in this tough world. How would it let us go if it did not even reprieve Eve and Adam in paradise? No living creature is spared from it, not even dogs.
You can use the best fences in your home that claim to keep your dog safely contained, but if our adored dogs want to escape because they have seen a squirrel or any ice cream cart outside, no fence is mighty enough to stop them. They will jump through the shield like a jaguar and dig it like a badger. They may also pick up fence fighting with other dogs if your existing fence allows them to view the outside world.
This is not a demerit of fences; it is just the extra efficiency of our naughty pants. But we know the pain when your mate breaks out even after the fencing. So, we are presenting this article to tell you how to dog-proof a fence and provide them with an extra shield.
What is Dog Fencing?
Dog fencing is the approach in which the user modifies the existing fence to make it difficult for the dogs to escape it. It is a helpful technique to prevent your beloved dogs from threats while accidentally jumping on a busy road. It also prevents your well-behaved pup from the bad influence of the street dogs or maybe the neighboring dog. Moreover, you can secure your yard from other animals. 
Moreover, it helps secure your or anyone else's property from your dog when he has just watched kung fu panda and wants to try karate.
Some Best Ways To Dog Proof a Fence Approved by the Dog Owners
If your dog is a master escape artist, he can make his way through any fence until it is further secured. Dog proofing your fence is not very tough. We have summarized some best fencing options to dog-proof your fence to keep your dog safe from breaching the fence.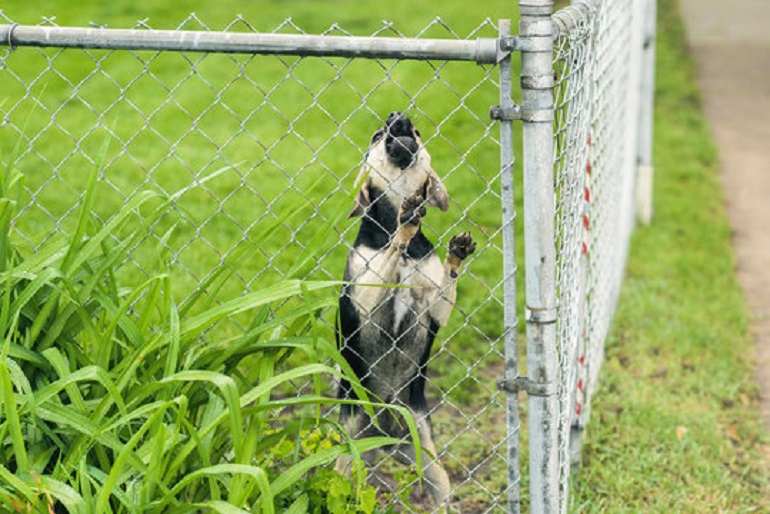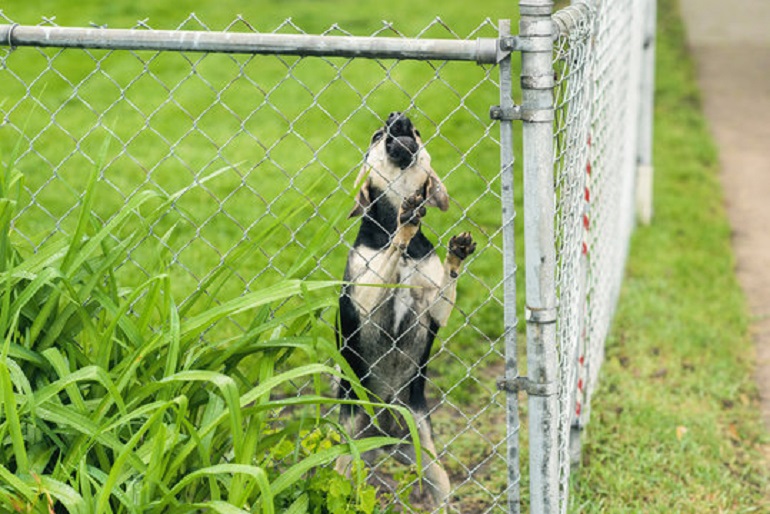 Moreover, it would be best to choose a fence according to your dog's size and activity. Otherwise, it would still manage to escape. So gear up, and let's read.
L-Footing
You need to cover the base of your fences if your dog loves to become a Nile crocodile and make his way out by digging through the fence. L-footing is a wire fencing and one of the extremely effective ways to dog-proof the bottom of the fence line.
This wire fence is bent perpendicular on the ground to the standing fence making an L-shape. When your dog is all set to dig, TA-DA! he will have to face more fences. This will make it difficult to reach his discovered tunnel to the wonderland and meet dangers.
Some people prefer burying it, but it is not necessary. You can simply place it on the ground at the fence's bottom.
Albeit it is a fruitful dog-proofing method, it can hinder the growth of the grass beneath it. So, consider this factor while laying it down.
Landscaping
Landscaping means ornamenting an existing piece of land by beautifying its design or planting dense shrubs. So landscaping a fence line means planting dense shrubs by it.
The best perk you can achieve by this dog proofing technique is that it blocks the dog's view of the outside world so he would not even see anything to arouse his desire to cross the fence.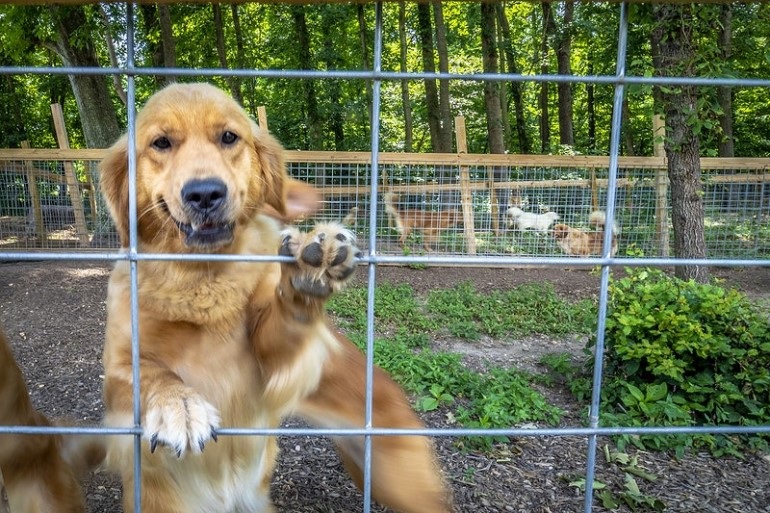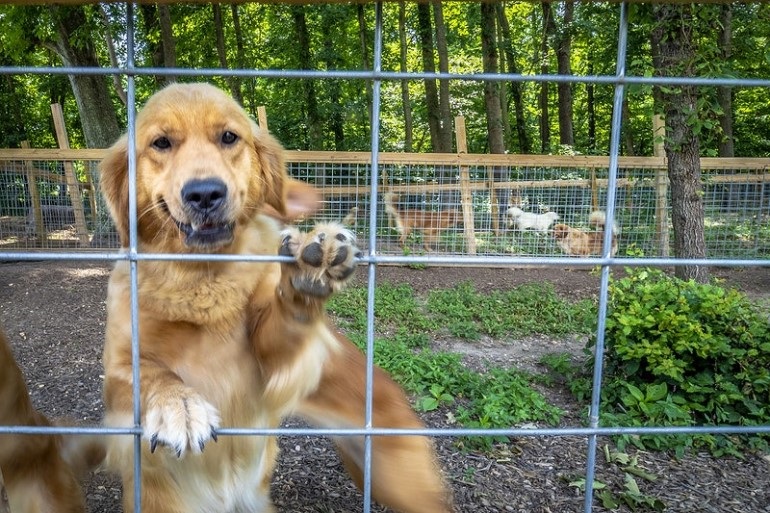 The dense structures along the primary fence would not give the dog access to the fence, and breaching the fence is out of thought. You can also grow plants like Curry plants, Lavender, Rue, Marigold, etc. This will give you further satisfaction that your dog would not think of climbing over the plants or trees.
Picket Fence
Visuals are the basic reason many dogs become climbers or diggers and run out of the fence line. If you have a chain-link fence with gaps, try covering these with pickets. It is also an easy and affordable option.
You can also opt for the fencing options of bamboo rolls or reed fencing for covering chain link fence lines. Bamboos are lightweight and look beautiful.
But the Picket fence has one disadvantage. It is best for small dogs because strong dogs find their way out by damaging them.
Picket fences are also known as privacy fences because they do not leave any gap for visuals. Besides protecting the dog, they also give you the privacy to roam in your garden without your neighbors watching you with interfering looks.
Redundant Fences
 As the name suggests, a redundant fence means setting up another fence at a small distance from the existing fence. This dog proofing provides more barriers and secures your dog's view to pick up fence fighting with the other dogs because of the extra shield.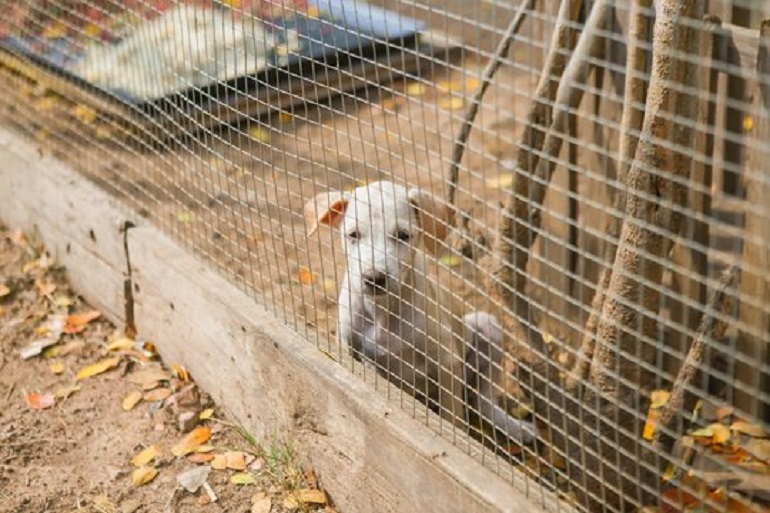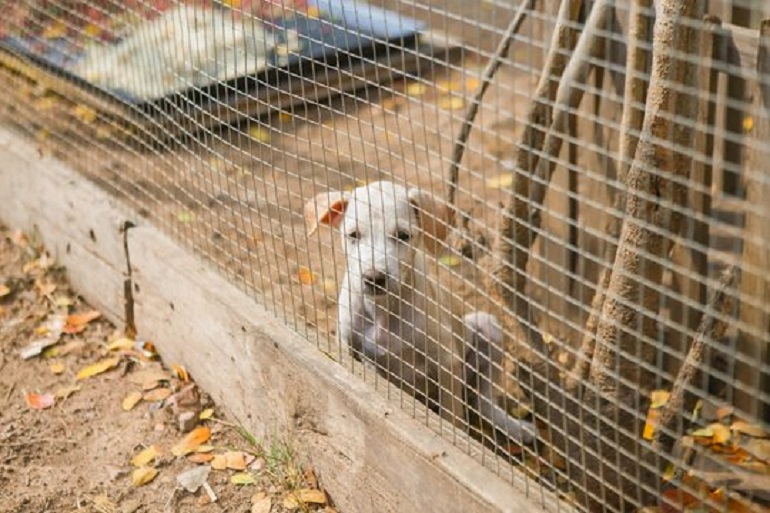 Two fences seem awkward, but the redundant fence is best if your old fence is not good-looking or you and your pet dislike the neighboring dogs.
You can also add a second fence in an affordable range not to burden your pocket, i.e., wood fences or PVC Netting. But if your budget is not a problem, we recommend going for metal fences, aluminum fences, or wrought iron because they are extremely durable in terms of protection.
Lean-Ins
If your dog is a big fan of Harley queen or spiderman and tries to escape by long jumps over the fences, you should consider dog proofing through lean-ins fencing options.
It is a method to heighten up the primary fence using chain-link fences like chicken wire and long metal bars. The extra fencing is then bent towards the garden, so when your hyperactive dog dashes to jump, he will have to step back due to the sturdy security.
Before lean- ins fencing, you should remove every support that the dog can get from beneath to help him climb. Also, this fencing would not be helpful if you have a digger pup.
Coyote Rollers
Coyotes may or may not attack your dog, but they unleash a hell of diseases and parasites, including distemper, rabies, hepatitis, parvovirus, fleas, mange, ticks, and worms.
Coyote rollers are rolling metal bars that cover the top of your fence not to give climbers the space to set footing as the surface spins. So, coyote rollers are the best to avoid coyotes entering your fenced-in yard and keep your dog safely contained.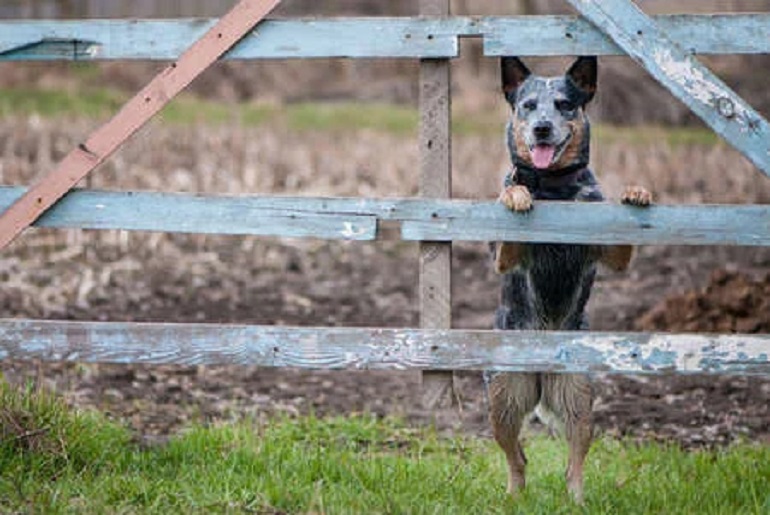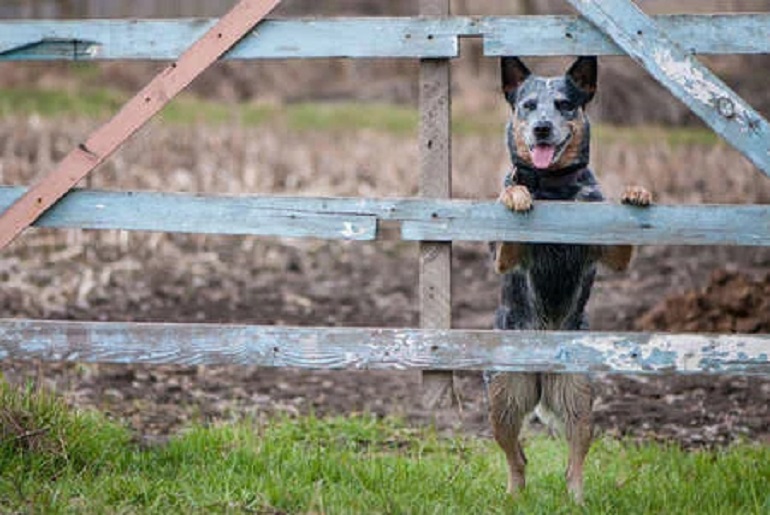 These rollers are specially designed for fences with flat surfaces like wooden or bar fences, but these can be used on any fence.
The dog parents can make these rollers at home by using pvc pipe, and they are a very affordable solution.
Concrete Footer
Digger friends are a real problem because they will dig their way out no matter how tall your fence is. The pet carers can pour concrete where they want to lay the fence through the concrete footer technique. Then, they can bury the bottom of the fence in that concrete before the concrete dries out.
If your digger dog tries to dig through the fence, he would have to cross a handful of concrete enough to alter his plan.
Not only will this technique helps you keep your dog safe in the house, but it also makes your fence sturdier and long-lasting.
But the concrete footer method can be a highly time-consuming, struggling, yet extremely effective solution.
Airlocks
Airlocks are extra doors besides your fence so that your dog meets with two gates when he tries to escape. A dog cannot open an airlock door because it is locked by pressure difference and requires a specific time and technique for opening.
Airlocks can be seen at the local dog park because these are a harmless and quick way to contain your dog. In addition, they help in securing your dog and keeping him in sight if he ever runs away from you in the dog parks.
These are also beneficial in the scenarios when you want to do some work in the yard without your dog being around. You can put him in the airlock for some time and finish your job.
Canine Education
You may install fences and dog-proof them the best way, but if your dog is not trained to stay in the fence, he will keep trying to run through it. In addition, he may harm himself if he rubs himself with any metal object or gets entangled in any shrub.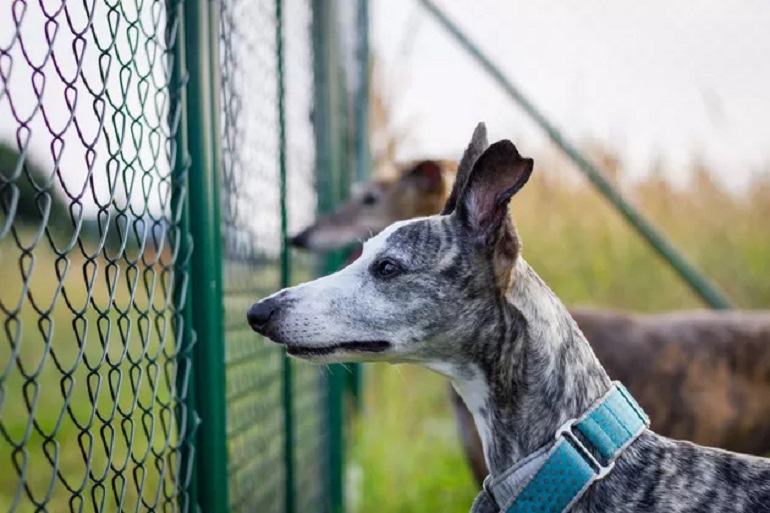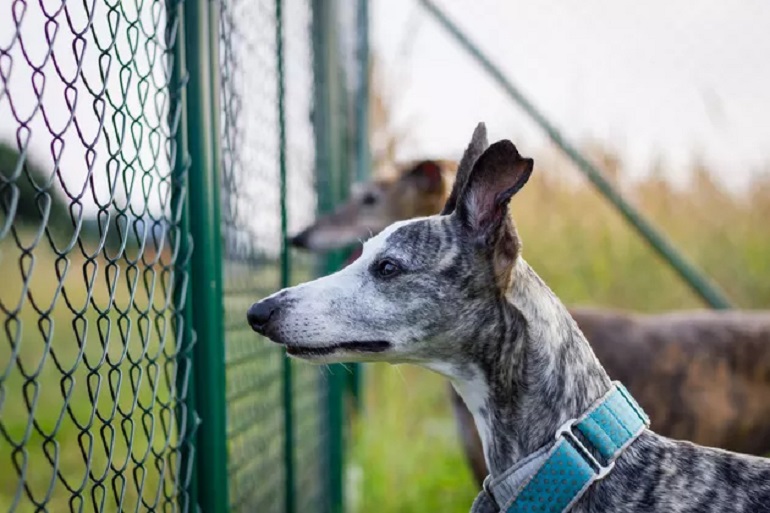 So, you should do fencing for security, but you should also teach your canine that staying within the fence is best for him.
Moreover, you should know that a dog tries to escape the fence when he gets bored, or you never take him out for a walk. So, take out time for your pup because they need you more than their defense systems.
Conclusion
Fences are the best option for keeping your pet secure from dangers lingering in the outside world and other wild animals out of your yard. But what if your dog's adventurous soul is vigorous and learns to breach the fence? You should go for dog-proofing the fences for extra security in such a case.
Dog-proofing is like putting guards on your fence. We have jotted down some of the best ways to dog-proof your fence in this article. You can find all the listed materials in your local hardware store and easily do the work.
Let us know if you have any queries regarding the discussed methods. Also, we would be glad if you update us about the technique that suits you most. Good luck keeping your naughtiest companion in check.