In the 2021-2022 APPA National Pet Owners Survey, 70% of US households own a pet, which means there are 90.5 million pet owners in the country.
New pets are exciting, and only a few things in life can compare to this excitement. But of course, the panic of discovering that your new pet is destroying everything in your house is equally powerful.
Some dogs can be difficult during dog crate training, but it is essential to help your pet adjust to its new surroundings. Eventually, the dog will develop a den mentality and adore its crate, constantly sitting in it to relax.
Easy To Clean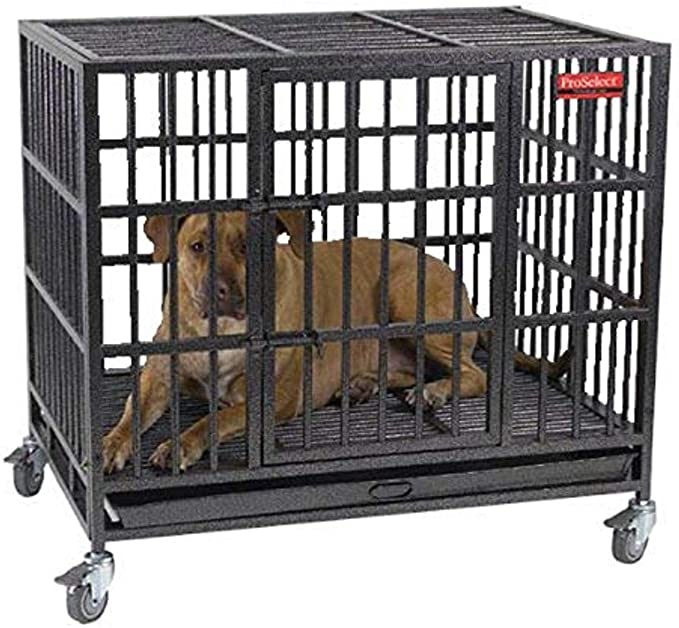 ProSelect Empire Dog Cage
Color:

Black

Item Weight: 99.2 Pounds
Easy To Fold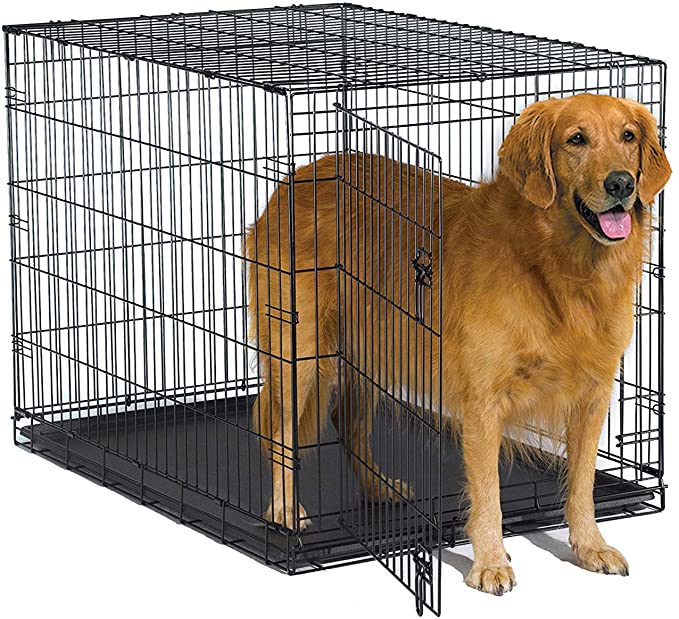 New World Pet Dog Crate
Color: Black
Item Weight: 30 pound
Best For Travelling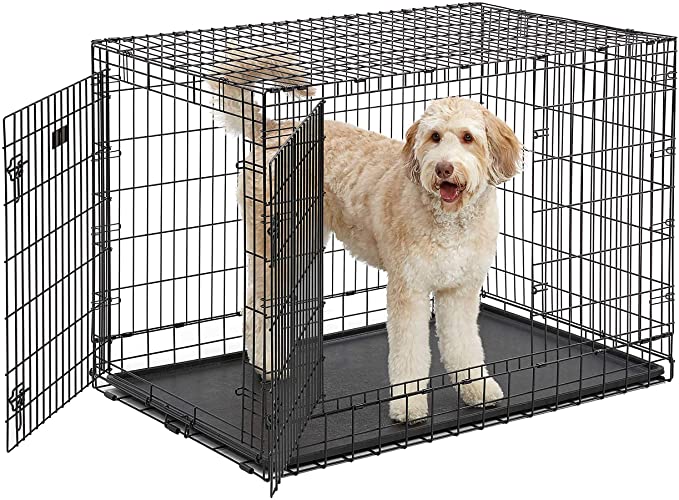 MidWest Dog Crate
Color: Satin Black E-Coat
Item Weight: 56.9 pounds
Most Stylish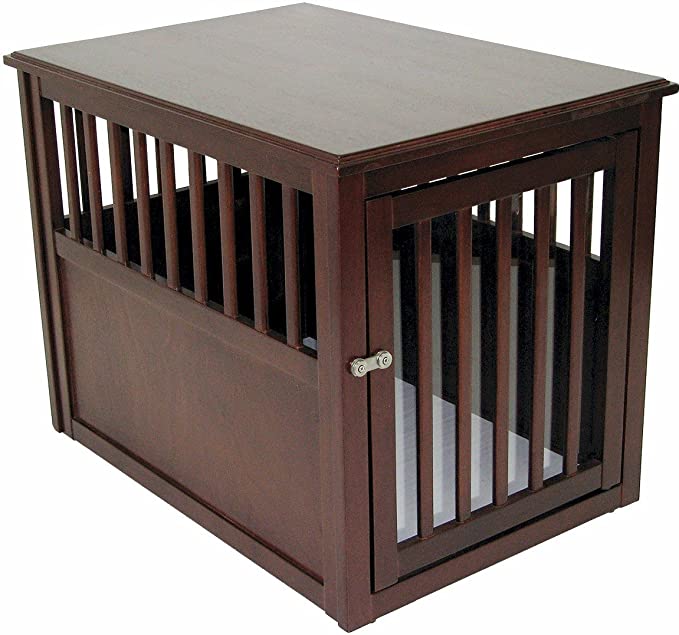 Crown Pet Products Wood Pet Crate End Table
Color: Espresso
Item Weight: 46 pounds
Easy To Assemble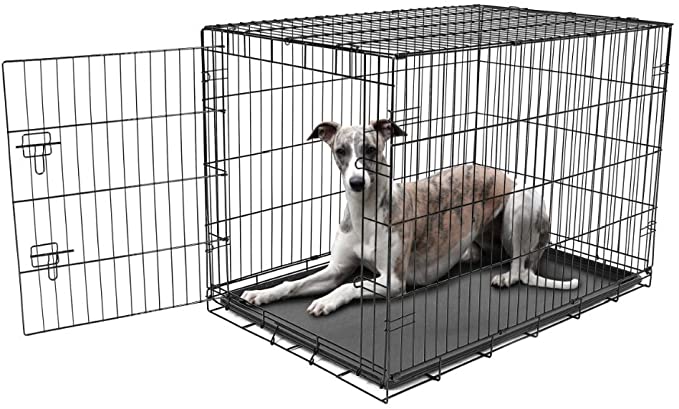 Carlson Pet Products Single Door Crate
Color: Black
Item Weight: 14 pounds
Travel Friendly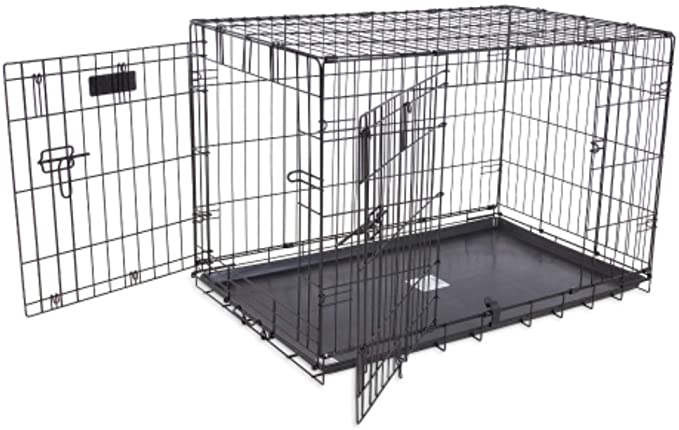 Precision Pet Wire Dog Crate
Color: Black
Item Weight: 31.75 pounds
Easy To Install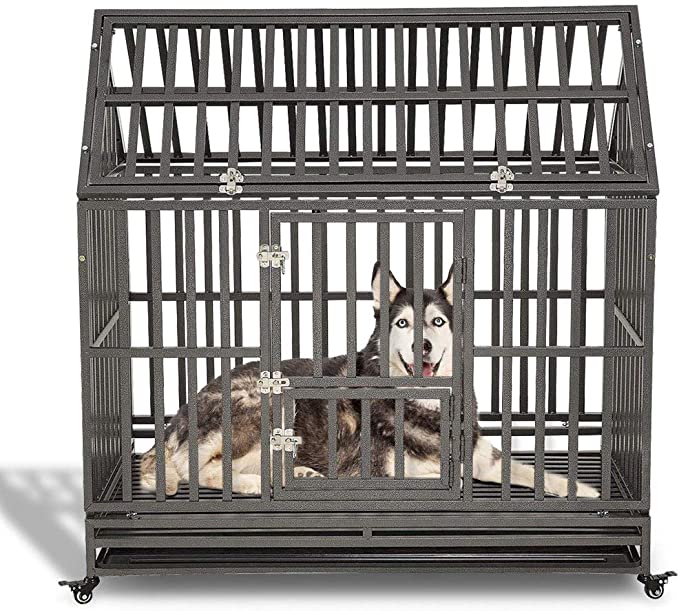 LUCKUP Heavy Duty Dog Cage
Color: Black
Item Weight: 79 pounds
7 Best Large Dog Crates For Your Dog
People who have chosen to train their dogs in crates will have to be patient and mentally challenging. But, even though some dogs find it hard to adapt, they will eventually think of their crates as a place of comfort and relaxation, not a sad and lonely place. We have looked at the most popular dog crates for large dogs sold this year. We found the most durable ones by looking at what people say about them.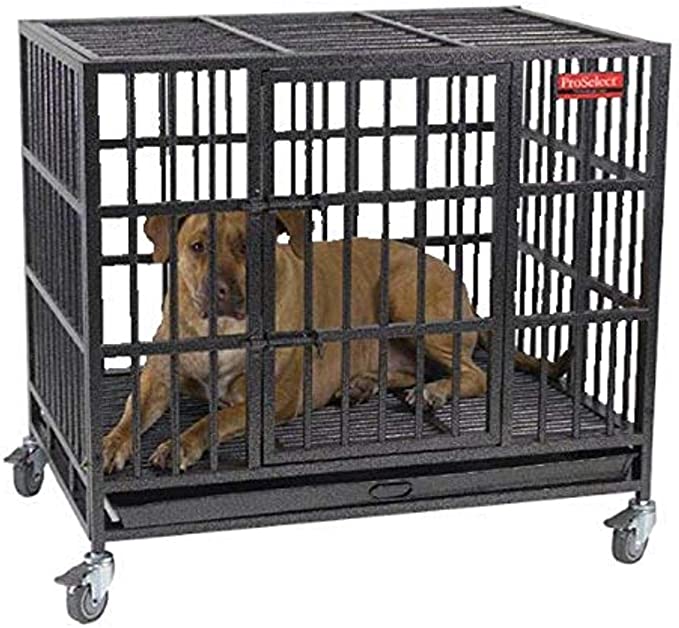 ProSelect dog crate is made of 20-gauge steel and is heavy-duty for maximum security. Pulling out the bottom tray makes cleanup quick and simple, and the rollers make moving this large crate effortless.
The reinforced 0.5-inch diameter steel tubes and steel make it incredibly strong! This cage is available in a Large Size for 41 – 70 lbs dogs. If you want to move the cage around, you can attach casters to the bottom of the cage or leave the casters off for additional stability.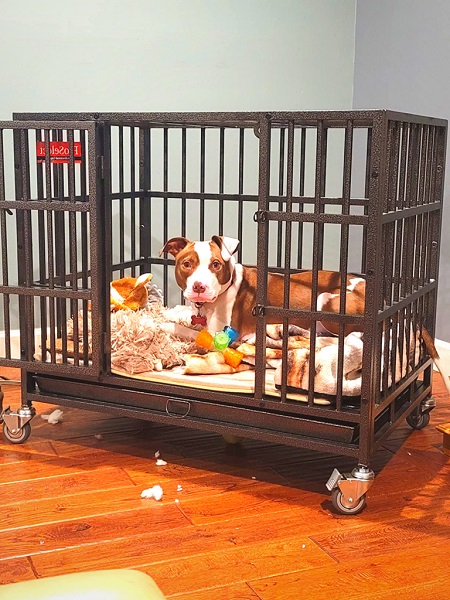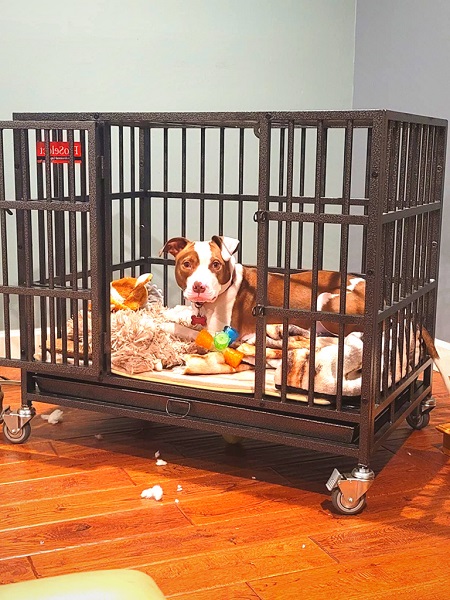 Strong latches and thick steel construction make the Empire dog cage durable, even when subjected to harsh abuse and destruction from the largest dogs.
Key Features
Made with 20 gauge steel
Removable bottom tray
Rollers for easy movement
0.5-inch steel tubes
Best for dogs from 41 to 70 lbs
99.2 pounds
Pros
As the crate was durable and sturdy, maximum buyers with large and aggressive dogs loved it.
Many purchasers also liked the removable tray because it helped them clean up the crate quickly.
Cons
A few dog parents found this crate an expensive one.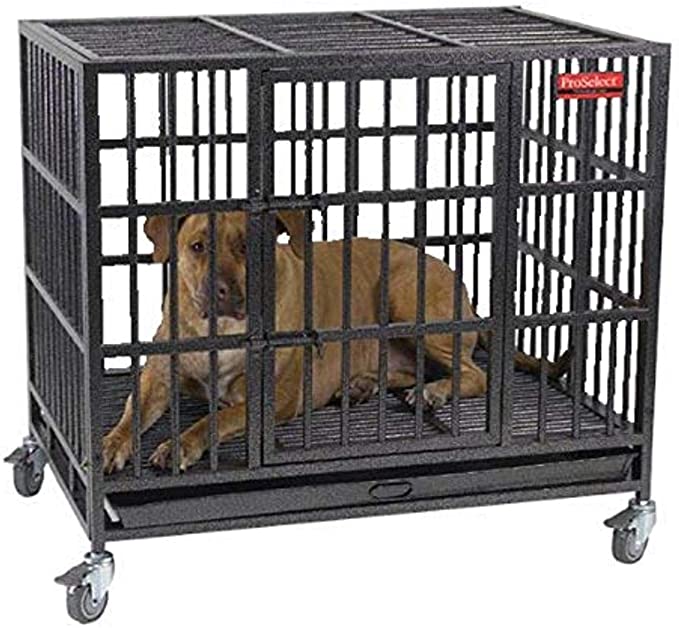 ProSelect Empire Dog Cage
The price of "ProSelect Empire Dog Cage" varies, so check the latest price at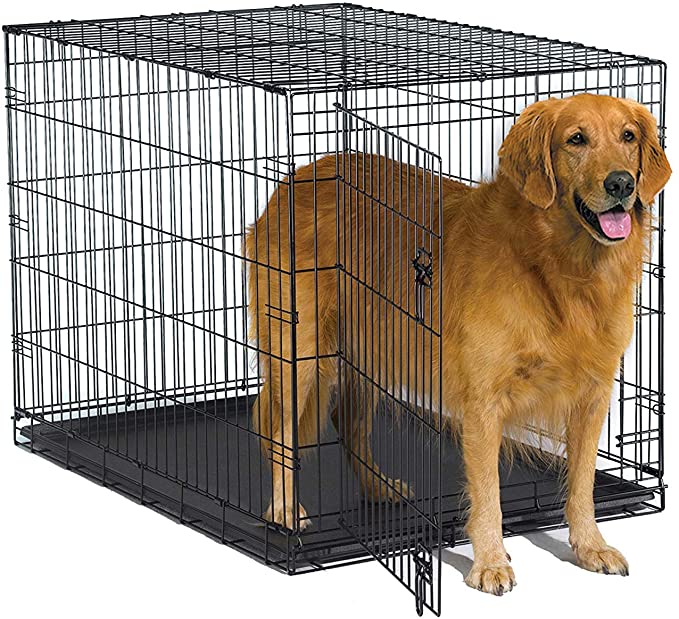 The New World dog crate is a single door folding metal dog crate suitable for large dog breeds between 71 – 90 pounds with 42L x 28W x 30H inch dimensions. It comes with a leak-proof plastic pan and a one-year warranty from the manufacturer.
Slide-bolt latches of the highest quality keep your dog in their crate by locking the door shut and securing it with a padlock. A metal dog kennel folds flat for easy storage, travel, and portability both inside and outside your home w/out the need for tools.
This sturdy metal dog crate provides a safe space for your pet while away from home and satisfies your dog's instinctual "den" instincts.
Key Features
Foldable design
Best for 71 to 90 pounds
leak-proof tray
one year manufacturer's warranty
Two latches for locking
33.05 pounds weight
Pros
The foldable design helped many dog parents on road trips or traveling.
It proved to be a good choice overall because it is budget-friendly.
Cons
Some dog parents faced the issue with the folding feature.
A few intelligent dogs were able to escape from the crate easily.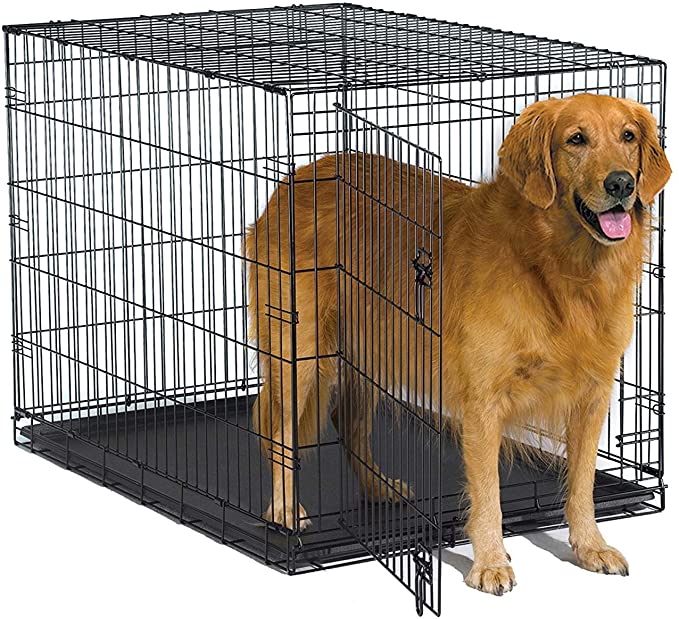 New World Dog Crates
The price of "New World Dog Crates" varies, so check the latest price at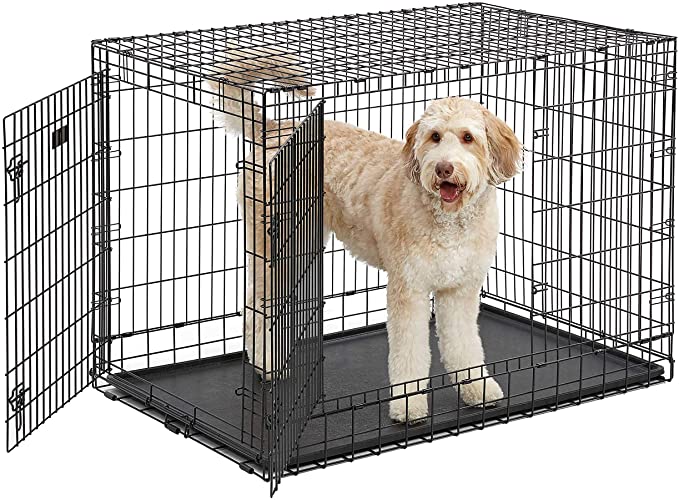 MidWest dog crate is a high-quality folding metal dog crate with two doors. It features a solid carrying handle, rubber feet to protect floors, a leak-proof plastic pan, a free divider panel, one year manufacturer's warranty.
Dimensions of this crate are 49″ long, 30.5″ wide, and 34.25″ high, with a mesh size of 1.5″x5″, and the wire gauges of 3, 7, 9, and 11. Double doors (front and right side) can be securely closed with two slide-bolt latches in this dog crate configuration.
The Ultima Pro is the most durable, strongest metal dog crate with the thickest wire gauge. This dog crate is ideal for show dogs, strong dogs, and pet parents who frequently travel in cars with their dogs and use their dog crates.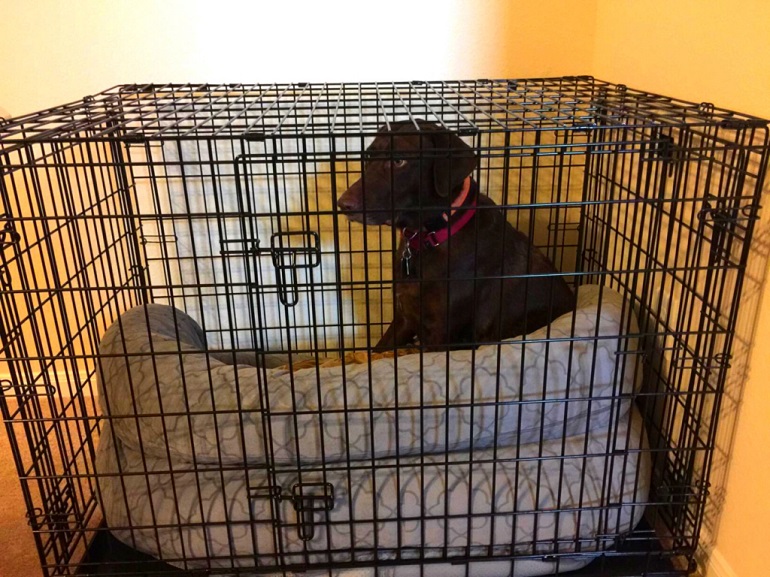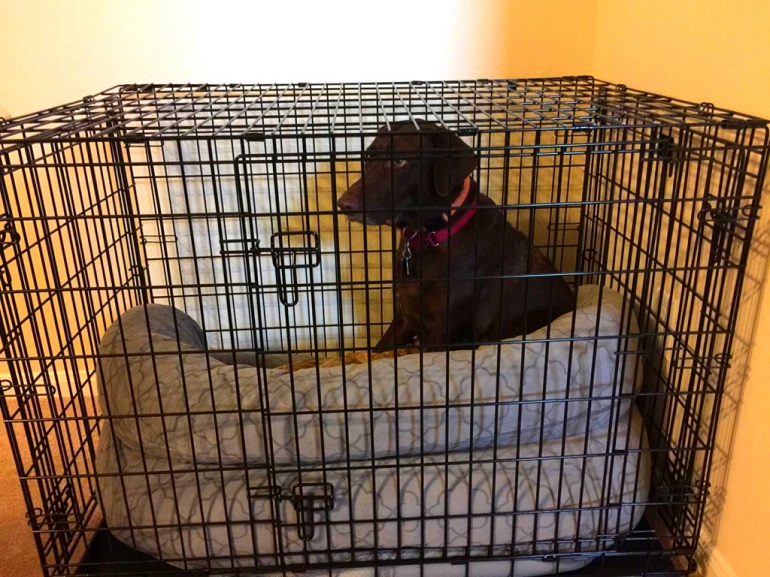 Moving it around is made simple by the integration of four bottom-mounted rollers. In addition, there are two doors. Unfortunately, the metal wire is also very sharp on the ends and edges because of its strength. As a result, the locks aren't particularly secure, and some dogs have been able to move their way out of them.
Key Features
Double doors
A free divider panel included
Carrying handle
Rubber bottom
One year warranty
Foldable for easy storage
56.9 pounds weight
Pros
Most dog owners commented that this crate was suitable for their heavy dogs up to 90 pounds.
Dividers in this dog crate allowed the growing dogs to stay comfortable and easy.
Cons
There were a few complaints about the sharp edges of this crate.
Active dogs were able to escape because the locks were not tight.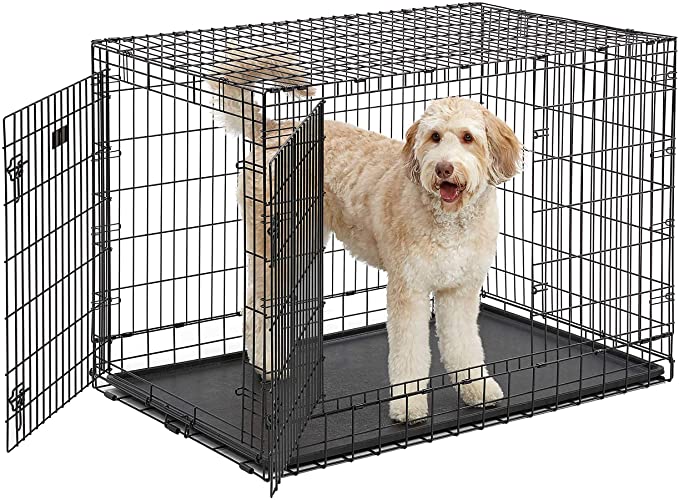 MidWest Dog Crate
The price of "MidWest Dog Crate" varies, so check the latest price at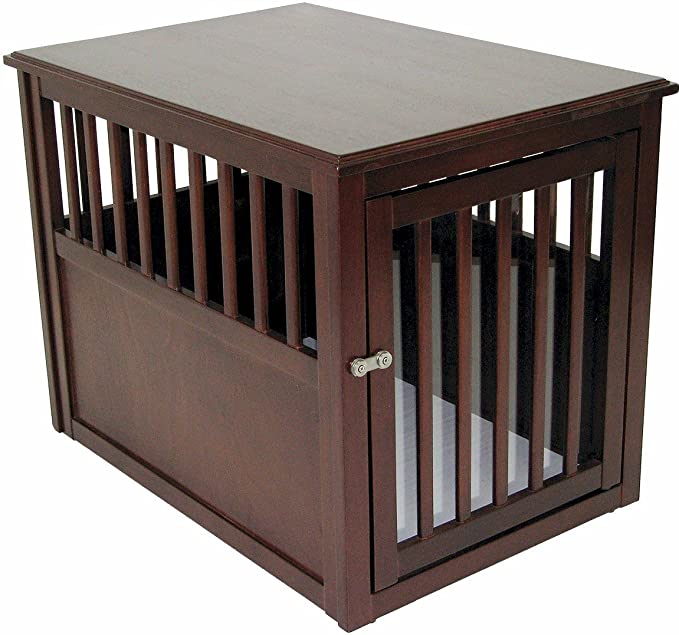 The best feature of this wooden cage from Crown Pet Products is that it doubles as a dog crate end table. This crate is constructed from hardwood and has a classic appearance. However, because it has a water-resistant bottom, you don't have to worry about messes.
It has high-quality drawer fronts and mortise construction with a beautiful colored and decorated finish. Swing-through doors can be used in various ways, and this one is no exception.
In addition to a 360-degree view, multiple vents ensure that the pet's environment is well-ventilated. MDF floors covered in waterproof melamine are easy to clean and do not absorb liquids or odors, essential for your home and your pet's safety.
It comes in two sizes: medium for pets sized up to 45 pounds and large for pets weighing up to 80 pounds. In addition, there are two different colors available to choose from, so you can match them to the rest of your house.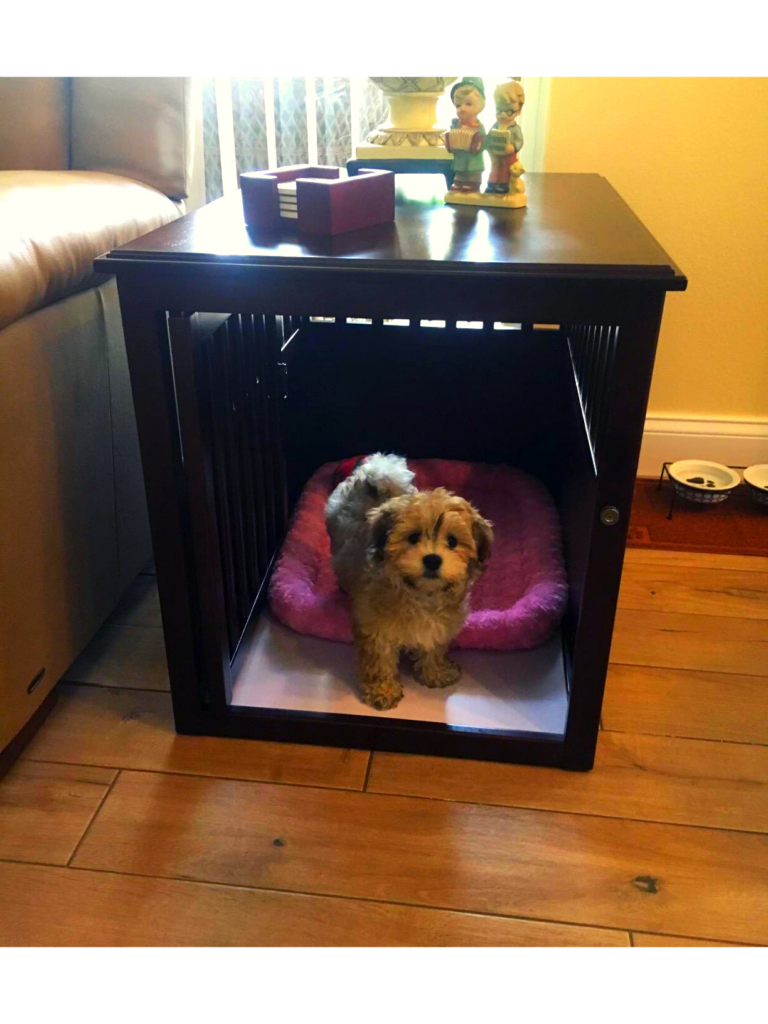 Key Features
Made of durable hardwood
Two-in-one functionality
Teak-like appearance
Classic design features
Swing-through door
360-degree ventilation
MDF floor
Best for dogs up to 80 pounds
46 pounds weight
Pros
Most dog parents loved the fantastic design of this crate and its security features.
Buyers were also happy with the easy-to-install instructions and set-up procedure.
Cons
The only issue some dog owners faced was that it was not so easy to clean up.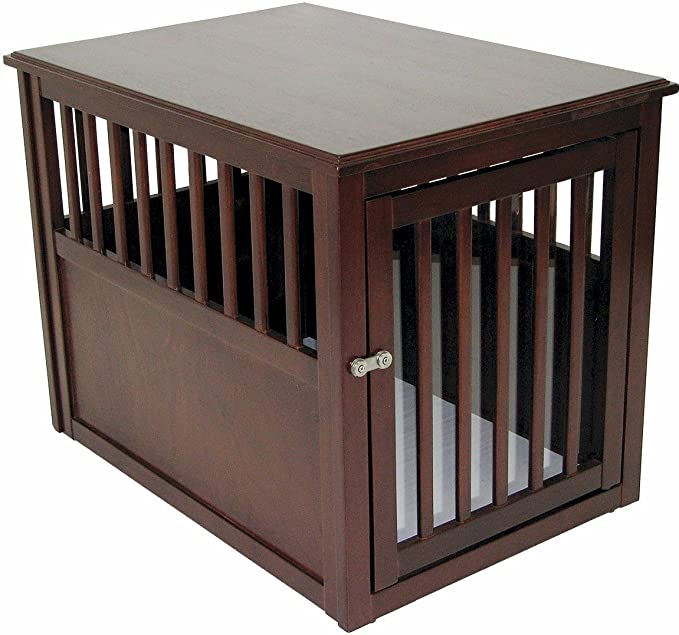 Crown Pet Products Wood Crates
The price of "Crown Pet Products Wood Crates" varies, so check the latest price at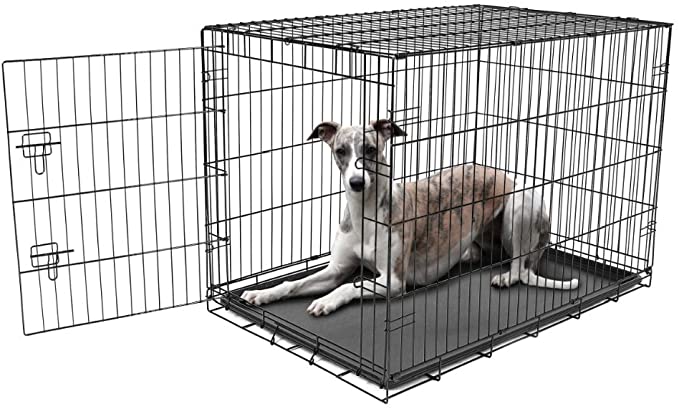 Carlson Metal Dog crate has a foldable design and comes with a black, easily-washable pan. It has dimensions of 42-inches wide x 28-inches long x 30-inches high.
This sophisticated design with a safe locking mechanism for your pet's protection. A foldable system that can be stored easily and transported in a car.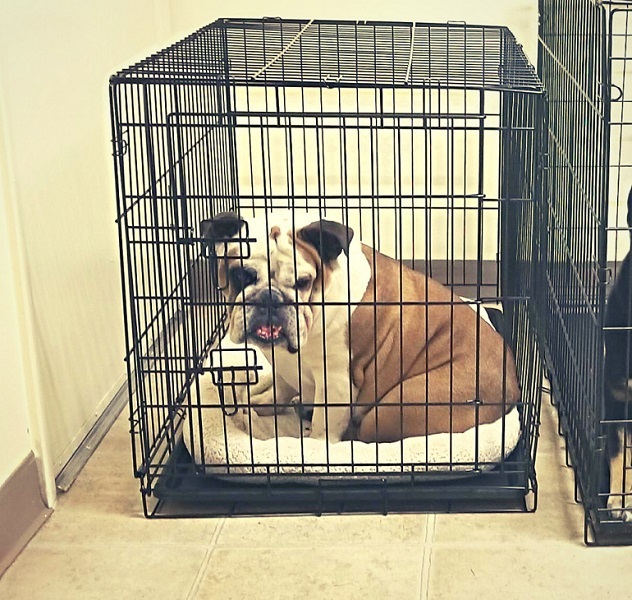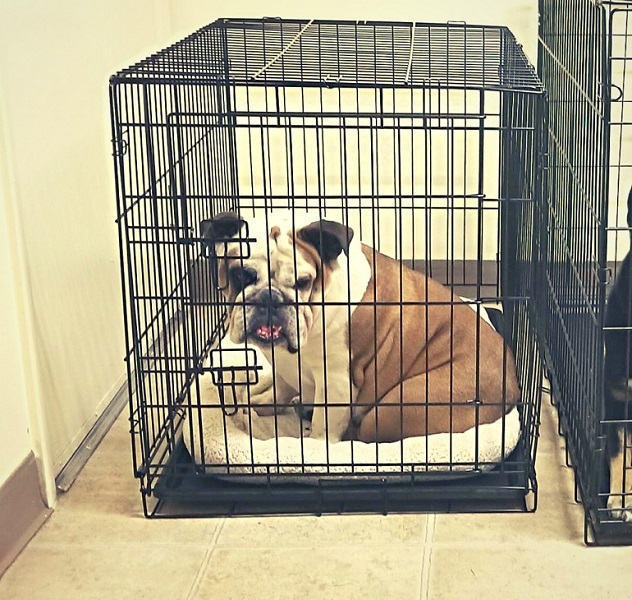 Because it is made of steel, this crate is tough enough for dogs and long-lasting and secure. To ensure your pet's safety, the Compact crate has a single door with a double-bolt secured locking system. A black composite pan that can be removed and washed is also included. This dog crate is best for larger breeds, up to 95 pounds in weight.
Key Features
Foldable design
Washable tray
Safe locking feature
Easily portable
Best for dogs up to 95 pounds
14 pounds weight
Pros
This crate had a foldable design with an affordable price range.
Buyers were happy to take it while on the go.
Cons
Some owners with smart dogs said the bottom tray was flimsy.
A few buyers also acknowledged that the latches easily fall off.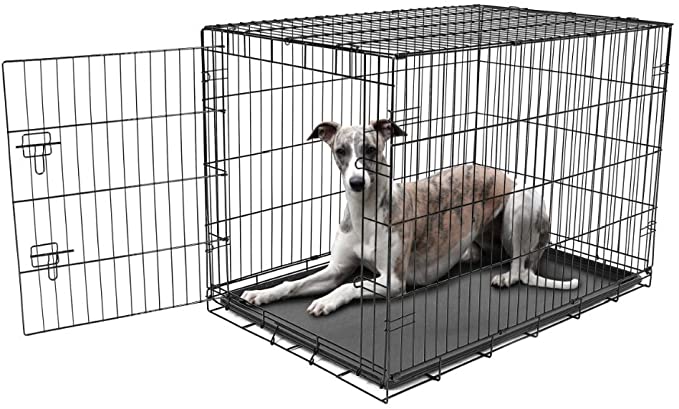 Carlson Pet Products Metal Dog Crate
The price of "Carlson Pet Products Metal Dog Crate" varies, so check the latest price at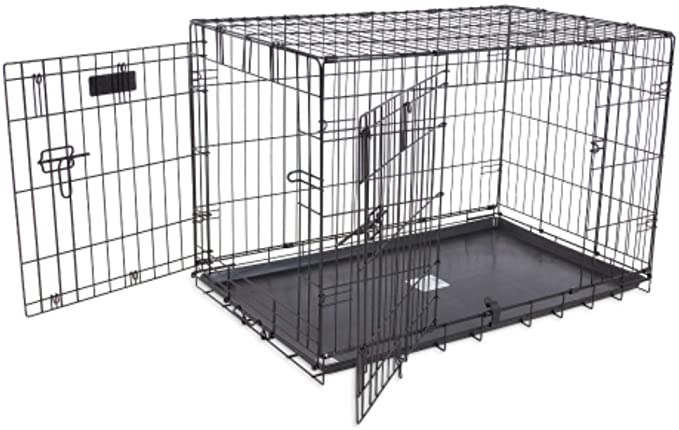 For more than half a century, Petmate has been devoted to all things canine and feline. To begin with, they have made many eco-friendly products for pets that they'll enjoy.
With a 5-point precision lock system and two doors on each side, this wire kennel from Petmate for medium dogs provides maximum security and access. The portable kennel's rounded corners also prevent snags. Using a pan made of polypropylene makes cleaning quick and straightforward. There are six different sizes to choose from.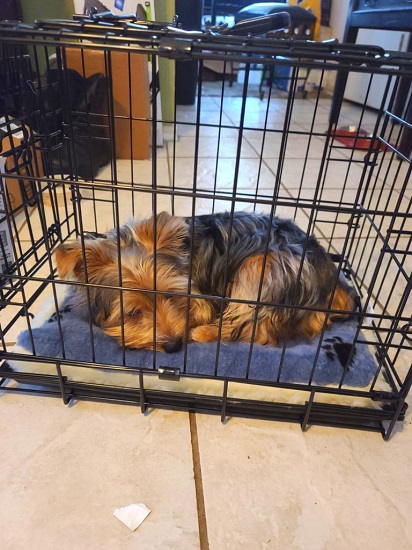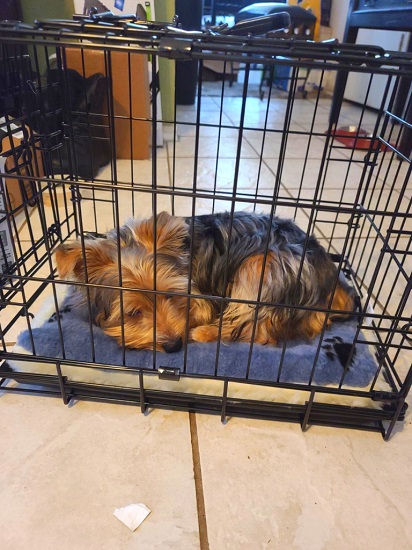 An adjustable divider panel in the durable dog training kennel allows it to grow with your dog as they mature. For outdoor use, it has a rust-resistant finish. In addition, this 30-inch-x-19-inch-x-21-inch crate can be collapsed for easy transportation and storage.
Key Features
Precision lock system
Rounded corners
polypropylene tray
Six sizes available
Divider panel included
31.75 pounds weight
Pros
Dog owners loved this easy-to-use and affordable design.
Double doors were also a plus point for many buyers.
Cons
Dogs with more than 70 pounds were not comfortable in this crate.
Some dog parents said the wires bend.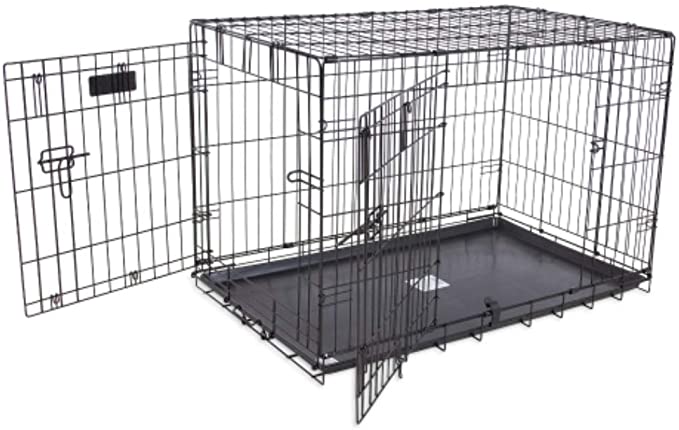 PRECISION PET ProValu Wire Dog Crate
The price of "PRECISION PET ProValu Wire Dog Crate" varies, so check the latest price at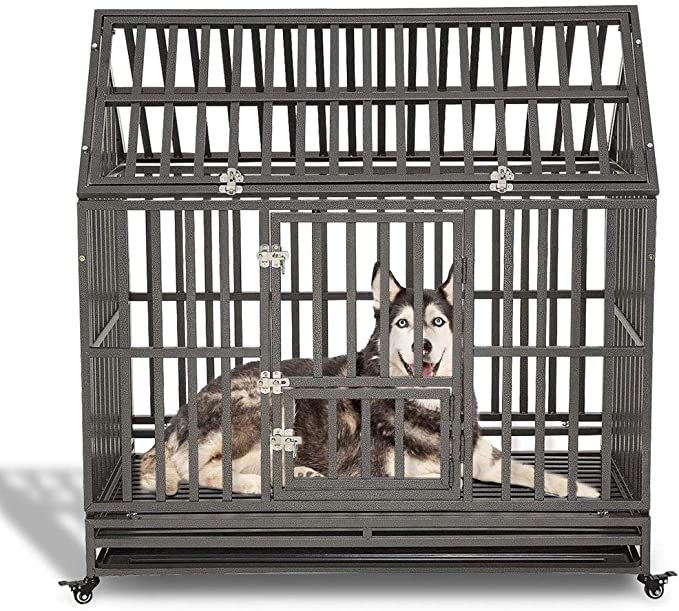 A dog with powerful jaws may attempt to pull the door of a crate off its hinges if he is left alone for too long. This means that it would be better to choose a metal crate like this one from Luckup, which is more difficult for dogs to chew through or break off.
Anxious dogs can't open the door because it's made of industrial corrosion-resistant steel that's hard to break, and it's nontoxic to keep your dog's health in check.
The cage's interior is made more spacious with the spire-triangle roof. It's a double door: Pets can enter and exit through the large front door, and you can also interact with your dog through the top door. Locking casters with a 360-degree rotation make it simple to move the crate and keep it firmly in place.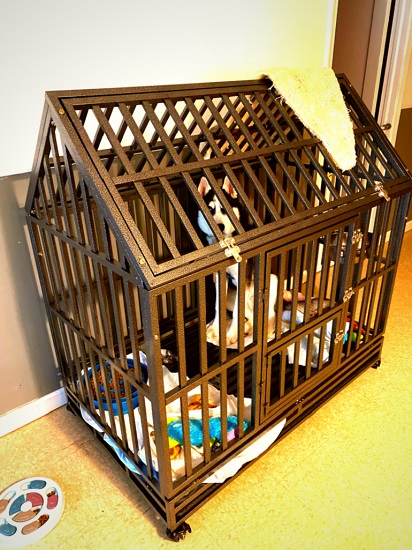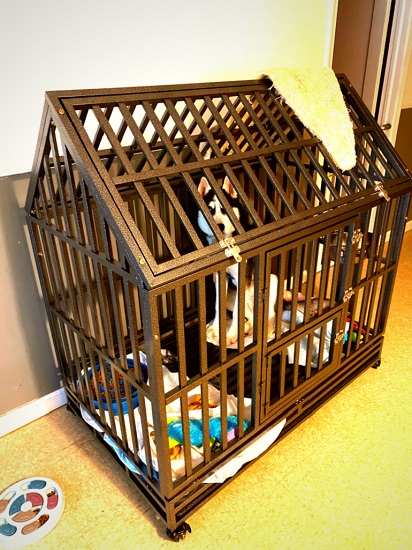 It only requires the addition of four wheels and a total of twelve screws; the rest of the locks are already installed, so assembly should only take 3-5 minutes. It helps you catch the dog food and excrement that falls and makes it easy to clean up with a slide-out plastic tray.
Key Features
Corrosion-resistant steel
Two locks with safety buckles
Spire triangle roof
Double door
360-degree locking caster
Removable tray
Four wheels
75 pounds weight
Pros
Dog parents with large, aggressive dogs found this crate helpful because of its strong construction.
Dogs were also happy to be in this crate as it was wide and well-ventilated.
Cons
A few buyers mentioned that the wheels were not durable enough.
Some heavy dogs tried and were successful in breaking out of the kennel.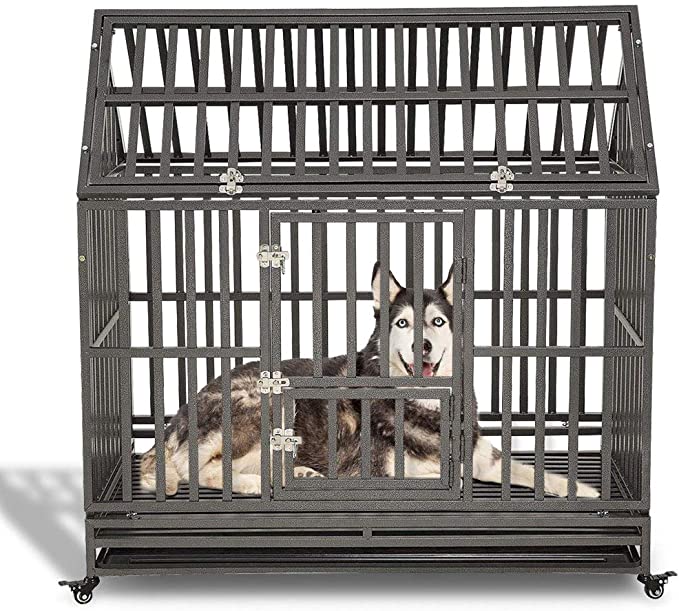 LUCKUP Heavy Duty Dog Cage
The price of "LUCKUP Heavy Duty Dog Cage" varies, so check the latest price at
Things to Consider When Choosing the Best Dog Crates
When looking for a large dog crate, you need to look for something to keep your large dog breed from escaping and getting into trouble. Here are a few things to keep in mind when making your decision:
Materials
A dog crate's primary function is to restrict the dog within its four walls. Be prepared for your destructive dog to get out if you buy a dog crate with cheap, flimsy materials. Crates should be strong enough that even the clever and most energetic dogs cannot find any creative way to escape.
Design
When it comes to your dog's crate design, a large pup's crate should be tall, comprehensive, and long enough to accommodate your dog's needs. If you find that your dog requires a "large" kennel in one product, don't assume that the same is true for another. Instead, check out the product size chart with dimensions before you buy.
Safety
The most important thing to consider for anything that involves your pet is their safety first. You might encounter a few dangers with any crate, but it's still a good idea to do some additional research. Also, make sure that your expectations are reasonable. For example, when your pet is aware that it is dinner time, there isn't a crate in the world strong enough to stop them. This means that you should double-check warranties and return policies, among other things.
Easy To Clean
When shopping for a dog crate, make sure to choose one that is easy to clean. There is a lot of slobber and hair on dogs, which doesn't even include the times when they're messing with their food or got in an accident. Make sure you pick an easily washable material.
FAQs
What Are the Best Heavy-duty Dog Crates?
It is important to remember that dogs who are unable to remain calm when their owners are away may engage in self-injurious behaviors, so you must be careful when buying a crate for them and also during training. So, if your dog has separation anxiety or aggressive behavior issues, you need a dog crate that can handle your dog's daily pounding. There should be no loose openings in the best dog crate that your dog can use to escape.
Anxiety-ridden dogs can also be calmed by using a heavy-duty dog crate in conjunction with other measures, such as keeping your dog occupied and making the crate more comfortable.
Can a Dog Crate Be Too Big?
It's best not to overcrowd your dog's crate, but an overly spacious crate can also be an issue for your pet. For example, when a dog's crate is too big, he may decide to use one corner as a bathroom. In addition, too much space in the crate can make it difficult for your dog to stay upright while being transported, which is especially true if you plan to use it on a bumpy road or track.
Conclusion
Crates come in a limited number of varieties, but each has its own unique set of advantages and disadvantages. Even though it may not seem like it at first, the crate could end up being one of the most significant purchases you ever make for your pet. That's why long-term use and appropriateness are essential considerations when buying the best crate for your large dog.