Imagine planning a tour with your pet to Mabali, Hawaii, or any other fun site in the summer vacations. Your adventurous soul is alive. Everything is ready, your bags, passports, and hotel bookings. Then, you go to the airport, but unfortunately, the airline says they cannot allow your dog to travel with you because its pet carrier is not from any airline-approved dog crates.
Well, I can feel the pain you would suffer but relax! We are here to help. Welcome on board! International Air Travel Association (IATA) approves some travel dog crates for international flights. We have summarized the top 6 best airline-approved dog crates so that not a single holiday plan of you both gets canceled anymore.
We will also inform you about the factors you should consider before choosing the best airline-approved dog crate for your cutie pie. Of course, we will also answer your concerns at the end of the article.
Top-rated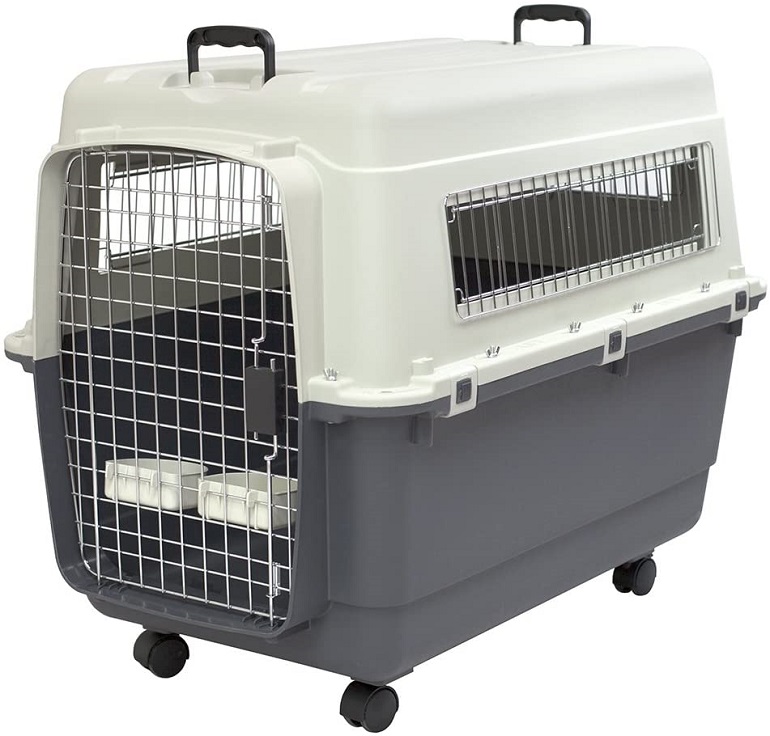 SportPet Designs Plastic Kennels
Length:35.5in
Material:Plastic
Ideal Choice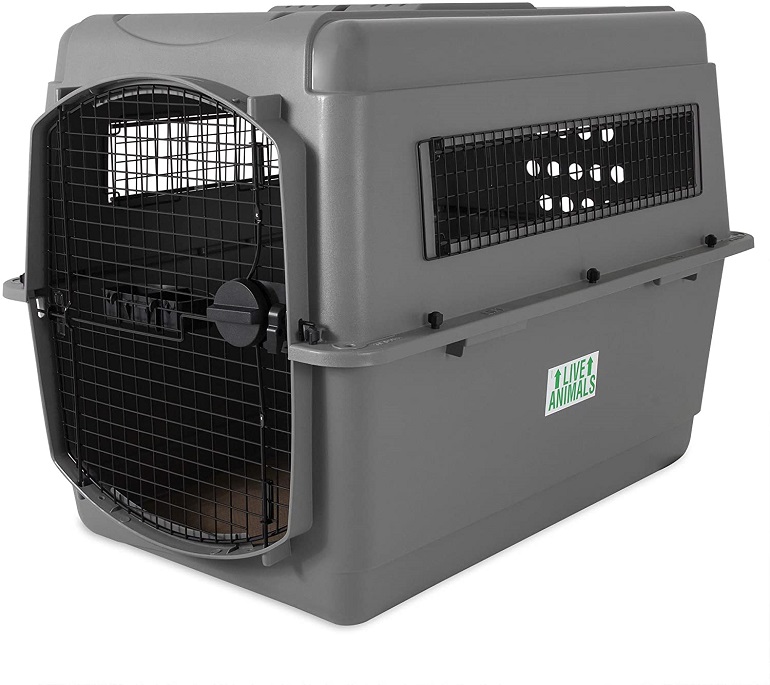 Petmate Sky Kennel Pet Carrier
Length:40in
material:blend
For Larger Dogs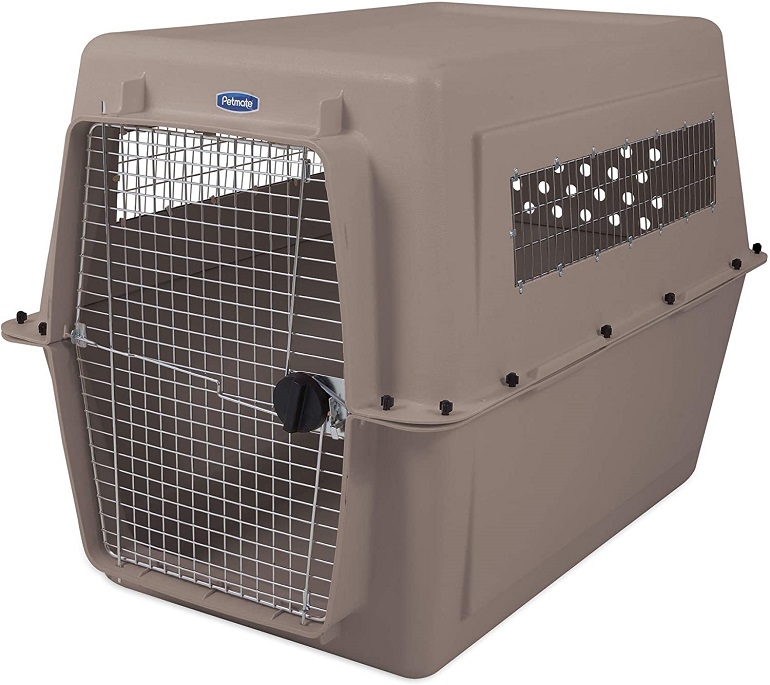 Petmate Ultra Vari Kennel
length:48in
material:plastic
Slide And Snap Design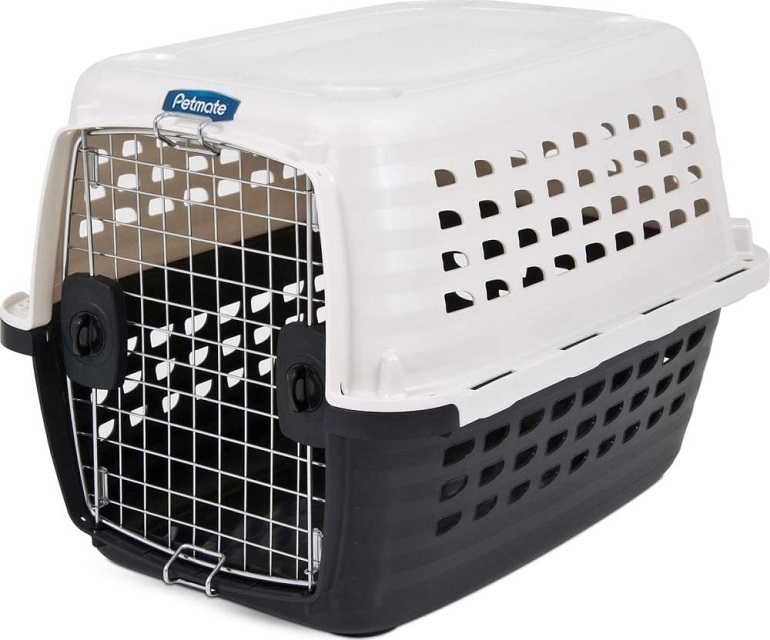 Petmate Compass Plastic Pets Kennel
LENGTH:28in
material:blend
Affordable Choice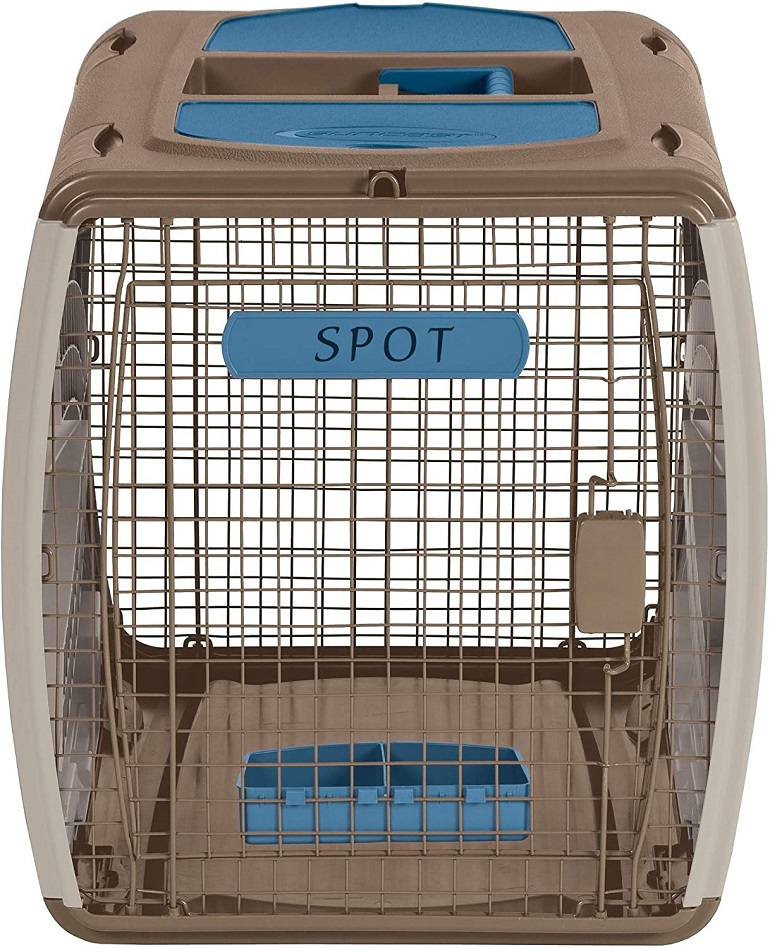 Suncast Deluxe Pet Carrier
length:28in
material:RESIN
Best for Medium-sized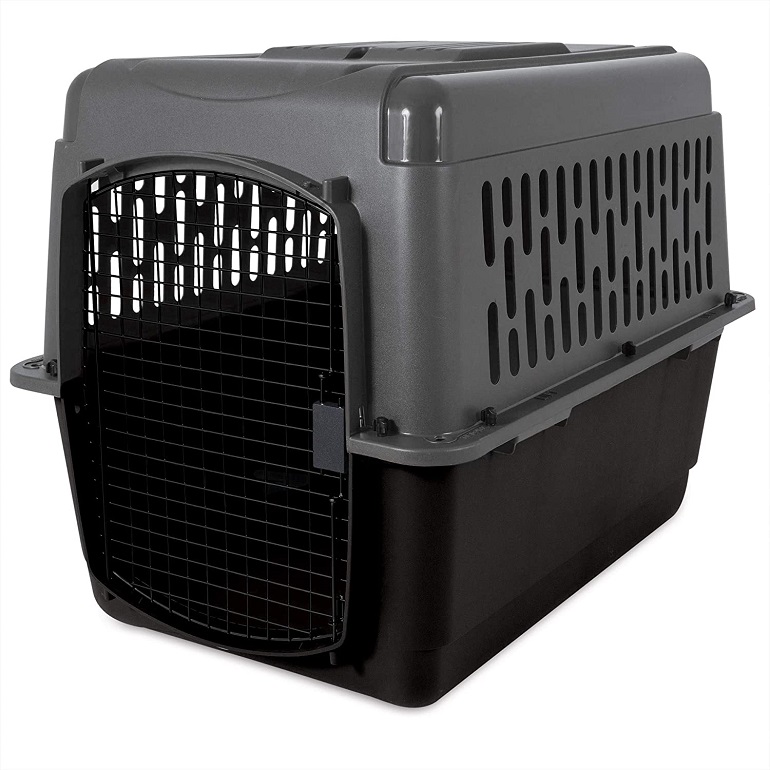 Aspen Pet Porter Kennel
Length:36in
material:blend
Top Best Airline Approved Dog Crates
Selecting a pet crate approved by the International Air Transport Association is necessary if you want to take your pup on an international tour. However, the same issue can also happen on domestic flights, so you should never compromise on buying the best airline-approved crates for your furry friend.
Let us give you some best options from which you can choose the best for your travel mate. But still, ask your airline prior to the flight for any sudden policy change because most airlines have specific demands which you can find in these products.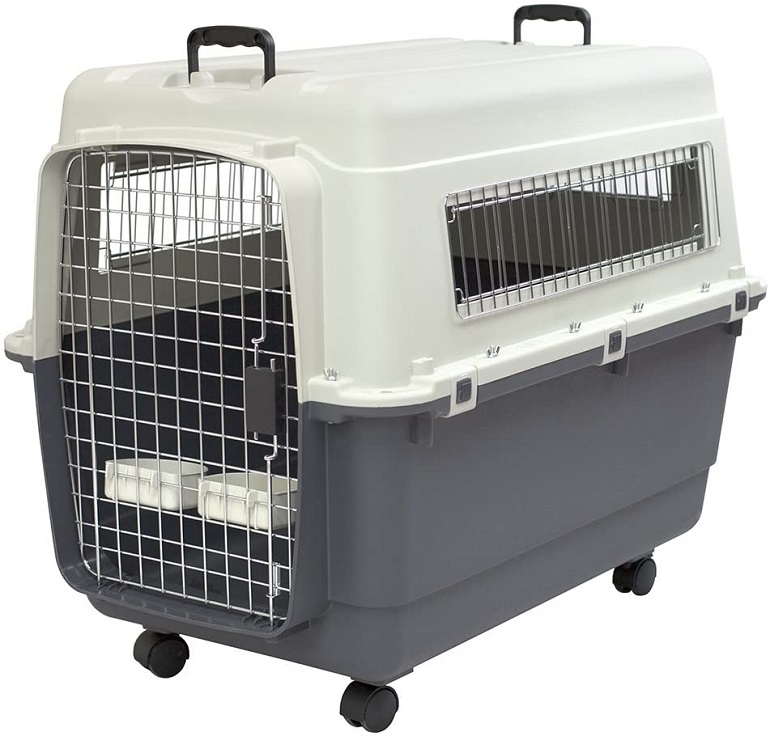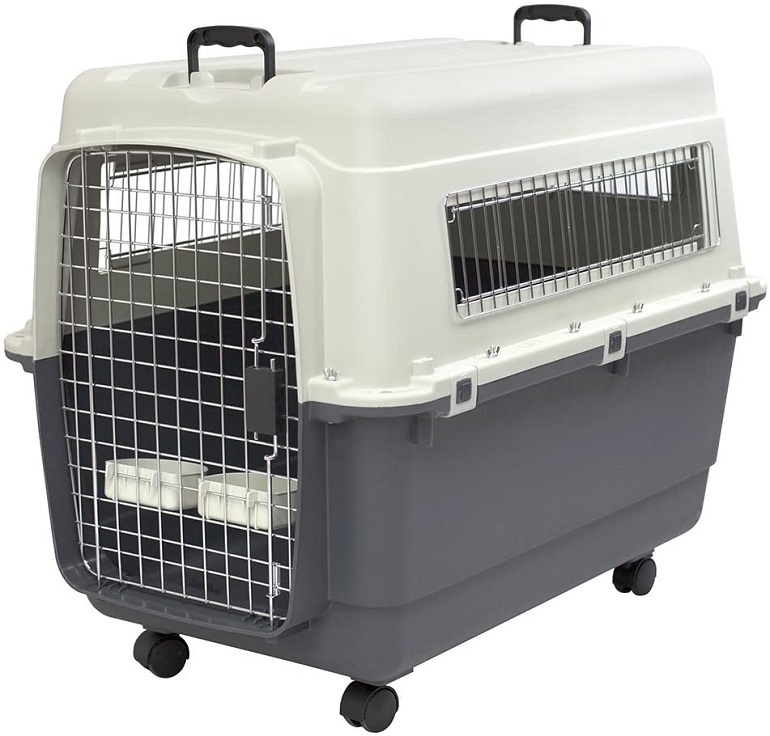 Are you looking for a pet kennel that meets all the airline requirements? Congratulations! Your quest ends here.
This airline dog crate carrier features the best specifications. It is available in 5 sizes for dogs up to 27 inches. The kennel is made with a strong plastic with a rigid steel door and squeeze pins for easy opening and closing. The door can be zip-tightened according to the airline's requirements. It is an overall bounty package with portable wheels, handles, bowls, nuts, and stickers.
The small size kennel has 1 handle and 2 bowls. The medium-sized kennel includes 1 handle, 4 wheels, and 2 bowls for water and food separately. While the large, extra-large, and largest kennel have 2 handles, 4 wheels, and 2 bowls. The wheels are detachable so that you can detach them while placing them in the plane. Otherwise, the crate would keep sliding.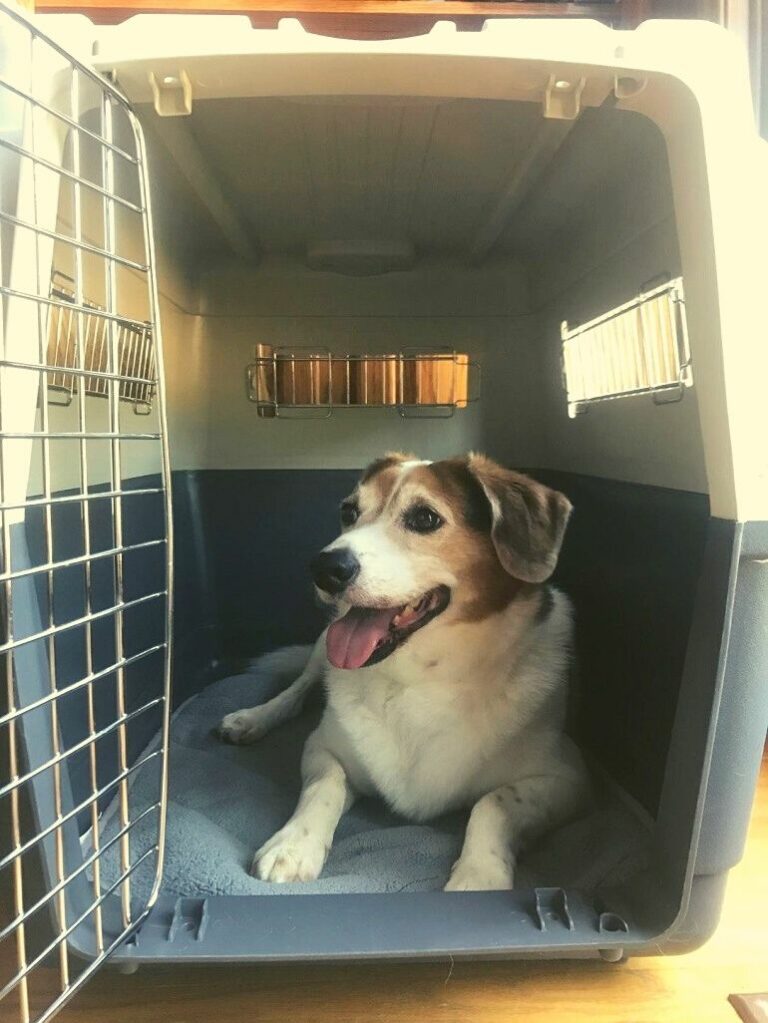 For easy assembling, 4 nuts and 4 bolts are given. The tie-down holes are an additional feature thatprovides extra grip to the kennel.
Hinges are present on the sides for locking the upper part with the lower one. The floor has a removable gutter for convenient cleaning. The ventilation system is excellent.
Last but not the least, the company also provides travel stickers.
Specifications
5 sizes
Squeeze pins on the door
Zip-tightened door
Holes for tie-down
Portable wheels
Handles
Meal bowls
Nuts and bolts
Travel stickers
Gutter floor
Pros
The buyers were so happy to have the feature of a removable gutter because they could easily clean the crate. 
The users were glad over the portable wheels because they did not have to carry the crate in their hands.
Cons
Some pet owners claimed that it was too expensive for everyone to buy.
Testers Verdict
Our team was readily excited to take an international tour with their canine partner when they found such an astonishing dog crate for flying with their beloved. They called this kennel a premium package with such luxurious and comfy specifications.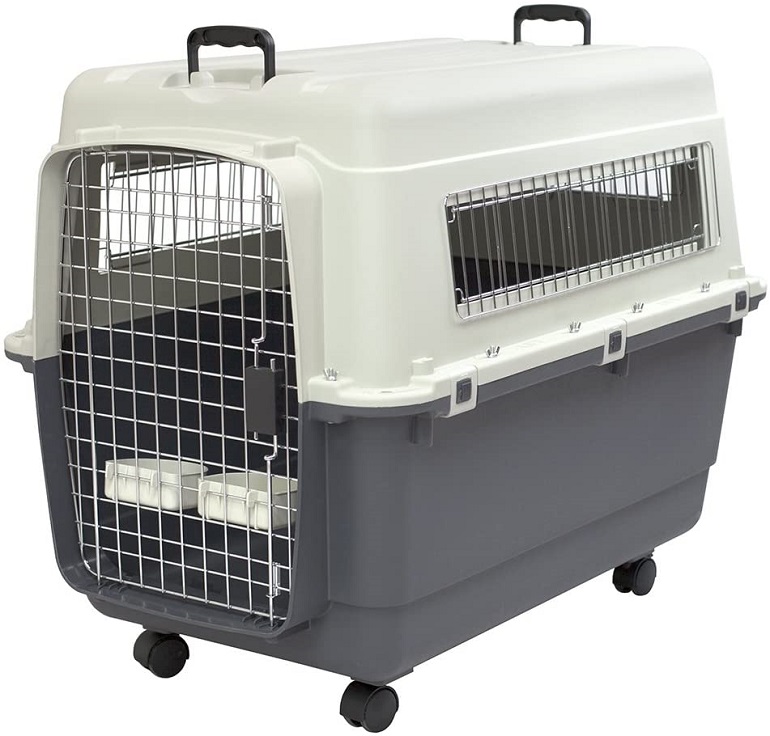 SportPet Designs Plastic Kennels
The price of " SportPet Designs Plastic Kennels" varies, so check the latest price at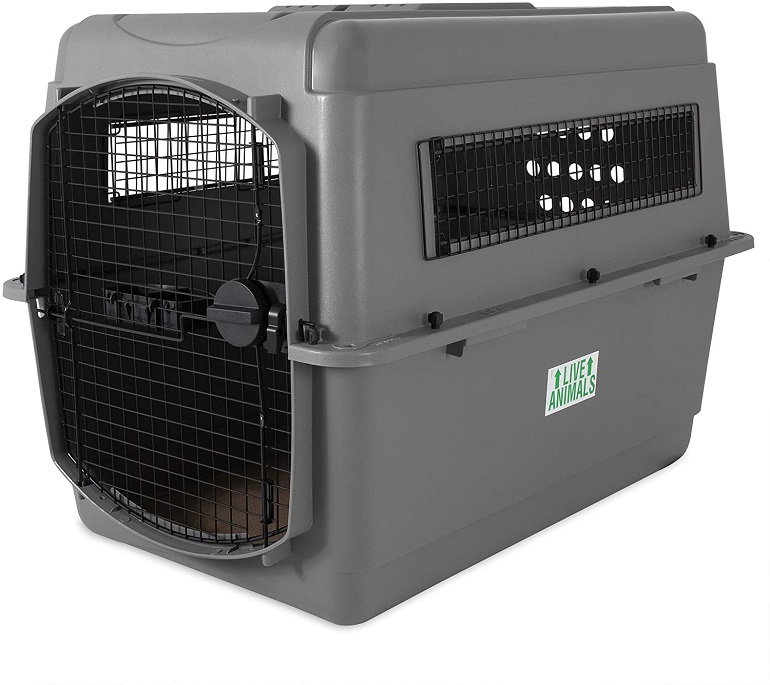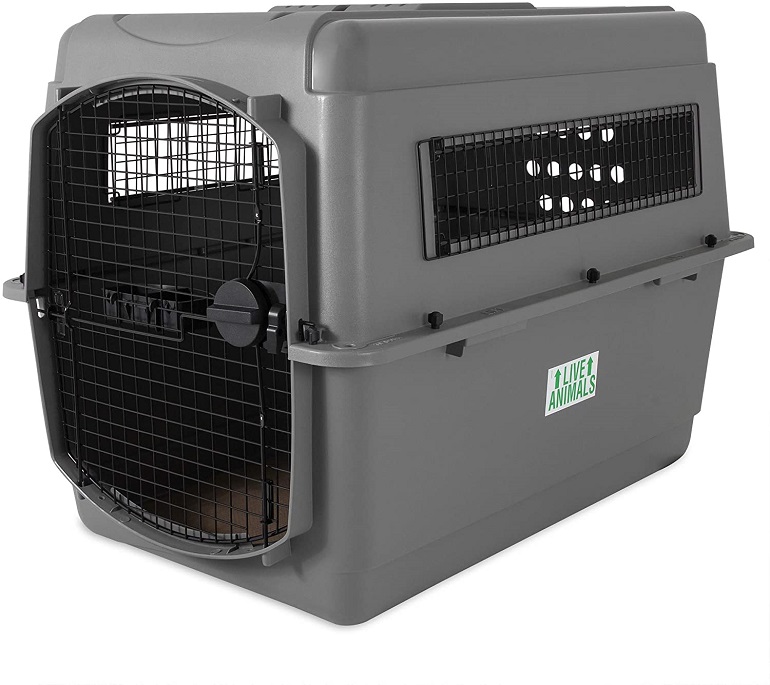 Petmate is as famous as Grandmother's love tales that she improvises according to every child. In the same way, Petmate has announced crates of 6 varying sizes suiting dog breeds of different sizes. Also, it meets all of the IATA airline requirements.
The Petmate Sky Kennel Pet Carrier is eco-friendly. It is made of a heavy-duty plastic shell. The wire door is sturdy with a dial latch system for quick opening and shutting. In addition, the 4-way locking vault door makes it easy for the users to handle it.
The kennel is robust enough to keep your dog safe during a long journey because of the steady metal bolts, wing nut design, and extra strong steel wire. Moreover, the 360-degree ventilation and metallic side openings ensure your pooch's comfort. The interior moat never lets your pet stay wet due to any reason.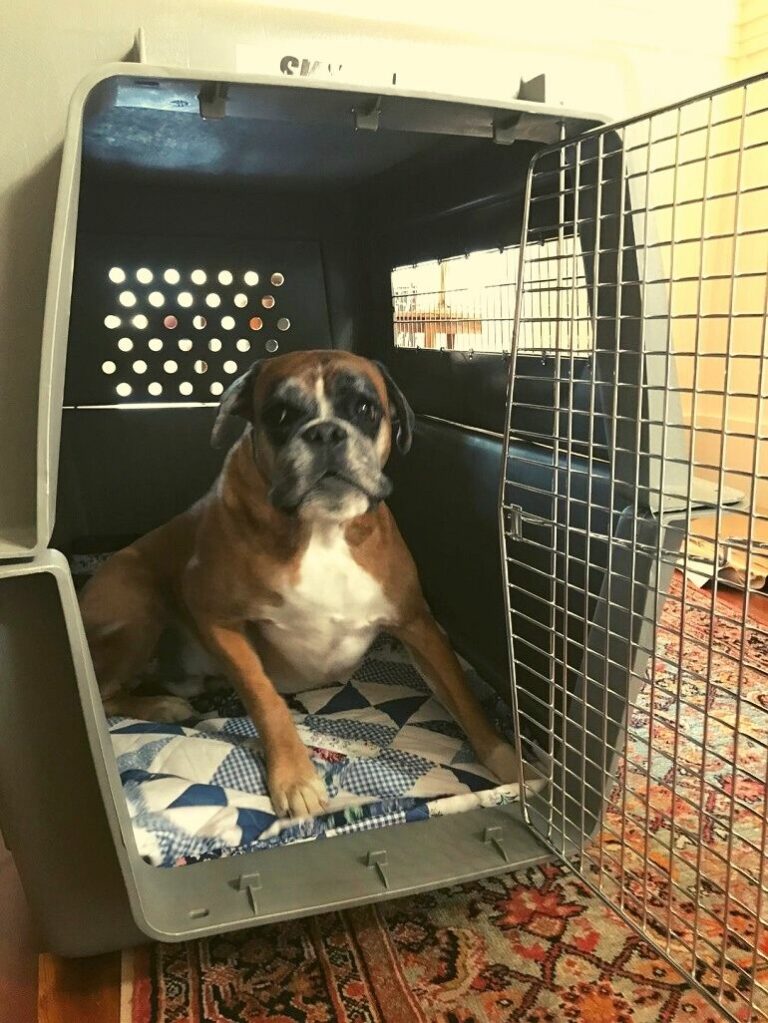 This best dog travel crate's handle and tie-down strap make the travel kennel suitable to carry. The two "live animals" stickers, a water and food bowl, an absorbent paper pad, and ID stickers are icings on the cake. 
You can carry cats in the same crates.
Honestly! What is not there to fall in love with Petmate Sky Kennel?
Specifications
6 varying sizes
Suitable for all breeds
Eco-friendly
Plastic shell
Wire door
The convenient dial latch system
4-way locking vault crate door
Bolts and wing nut
360-degree ventilation openings
Metallic side openings
Interior moat
Handle and tie-down strap
Additional items, water bowl, paper pad, and ID stickers
Pros
The pet parents were happy over the easy assembling of the Petmate Sky Kennel Pet Carrier.
The dog owners said that their dog stayed comfortable in this travel crate.
Cons
Many customers were unhappy because the handle came in only two sizes; 21″ and 28″.
Testers Verdict
Our testers found this dog crate an awesome travel crate. It had ample space for all-sized dogs. It was easy to assemble and carry. Also, the door and food tray system made it easier for the airplane management to take care of your beloved.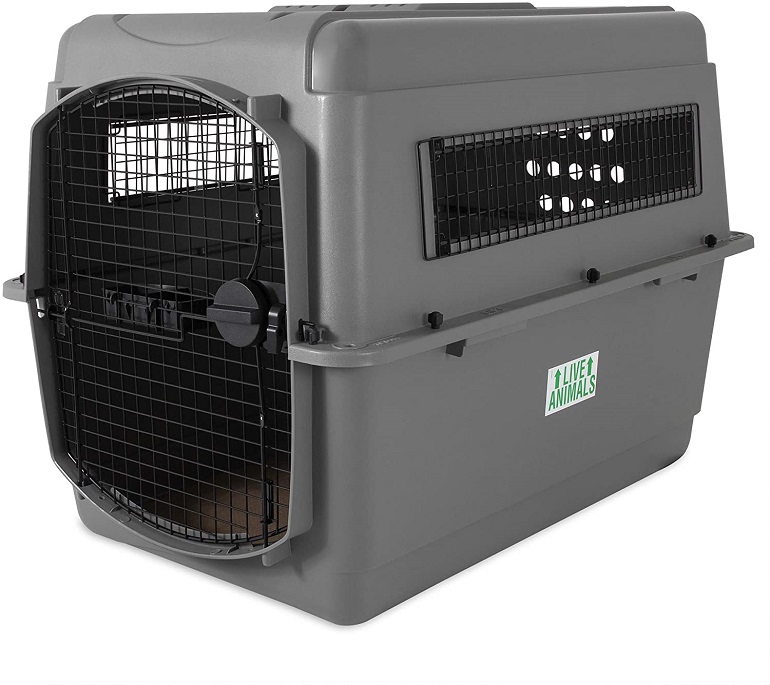 Petmate Sky Kennel Pet Carrier
The price of " Petmate Sky Kennel Pet Carrier" varies, so check the latest price at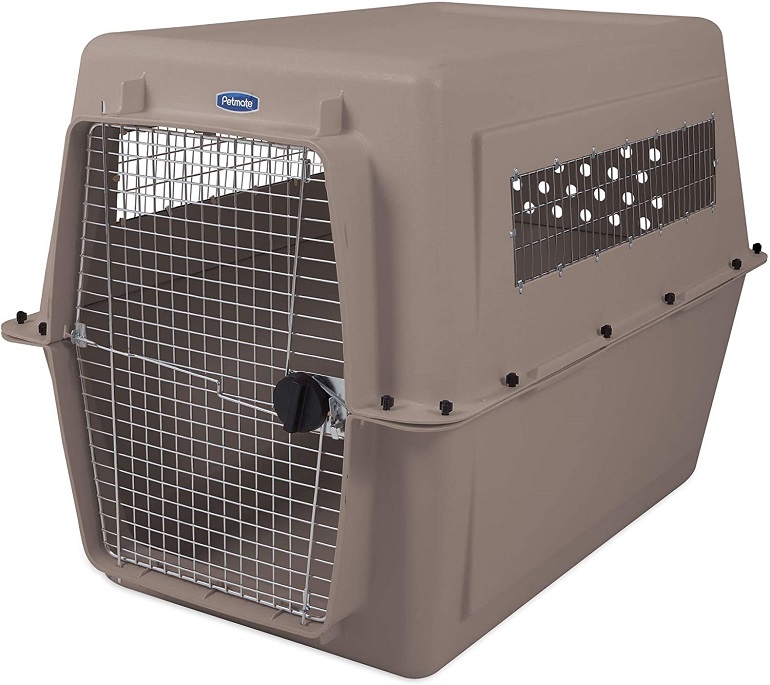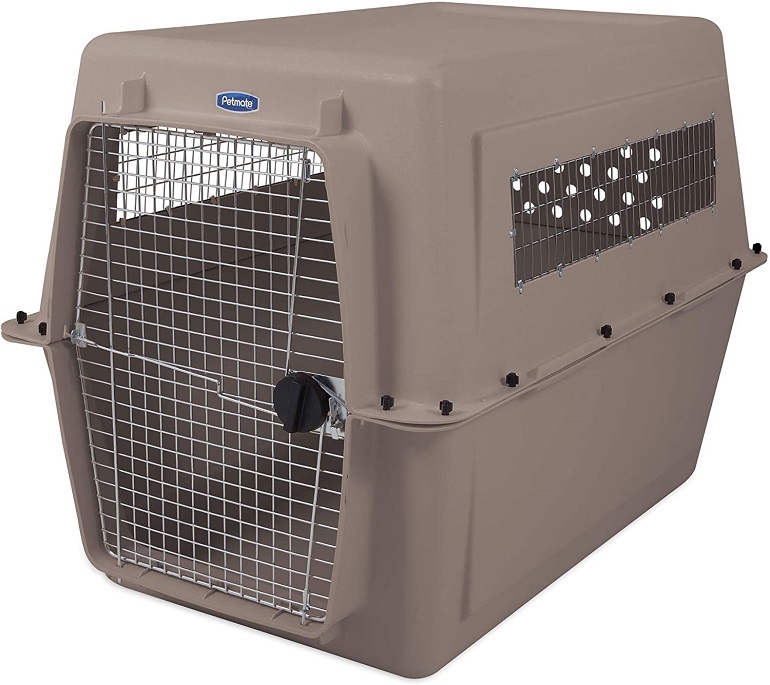 Petmate Ultra Vari Kennel is the largest airline approved dog carrier from the petmate brand. This airline-approved pet carrier lets your furry friend enjoy world tours. It is specifically designed for big dogs weighing 90 lbs or more.
This airline dog crate is made up of durable and sturdy recycled plastic, and hence it is eco-friendly. Its unique feature is the ultra-solid side steel meshes to ensure your dog's safety. Moreover, this travel crate provides 360-degree upper surround ventilation.
This airline approved pet carrier for large dogs has easy assemblage because of the tie-down strap holes for fixing the zip-tie. It makes the latching mechanism convenient. The crate performs dual functions as it can be used for air travel as well as in homes when you are going out and your furry friend is in JODO karate mode.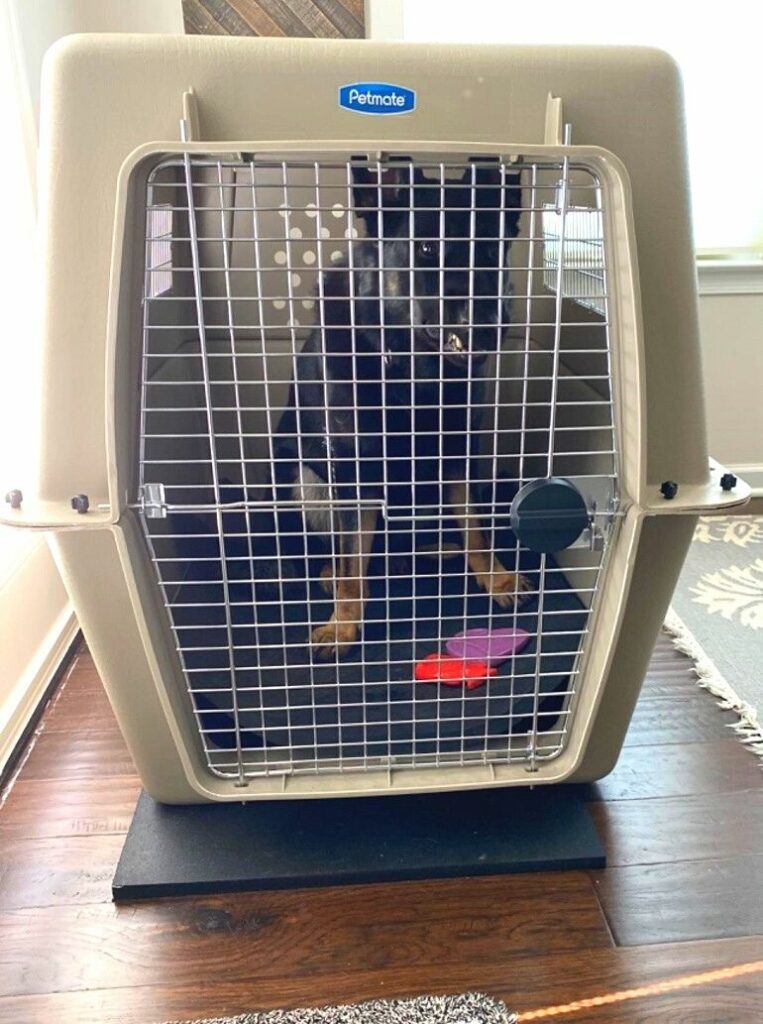 The kennel door is made of strong steel to keep your pet unharmed if your pup ever tries to pull the door inwards experimentally. In addition, the metal nuts provide extra security.
The travel crate only lacks in having good water and food trays, causing trouble for the staff when they have to open the door to feed the pet. Also, it does have a top opening door which would be reachable by the large dogs, and they can damage it.
Specifications
For dogs weighing 90 lbs or more
Durable and sturdy recycled plastic
Side steel meshes
Maximum ventilation
Tie-down strap holes
Zip-tie
Used for car and air travel 
Pros
The buyers were happy because the material of this airline compliant pet carrier was secure and reliable for air travel.
The users were satisfied with the easy latch mechanism because they didn't have to struggle every time while taking their dog in or out.
Cons
The clients were not satisfied with the top opening doors as the large dogs could reach them easily.
Testers Verdict
Our team checked this portable pet carrier for durability, and they found it highly reliable for airline travel. In addition, they only needed to include food and water trays because they are essential additions.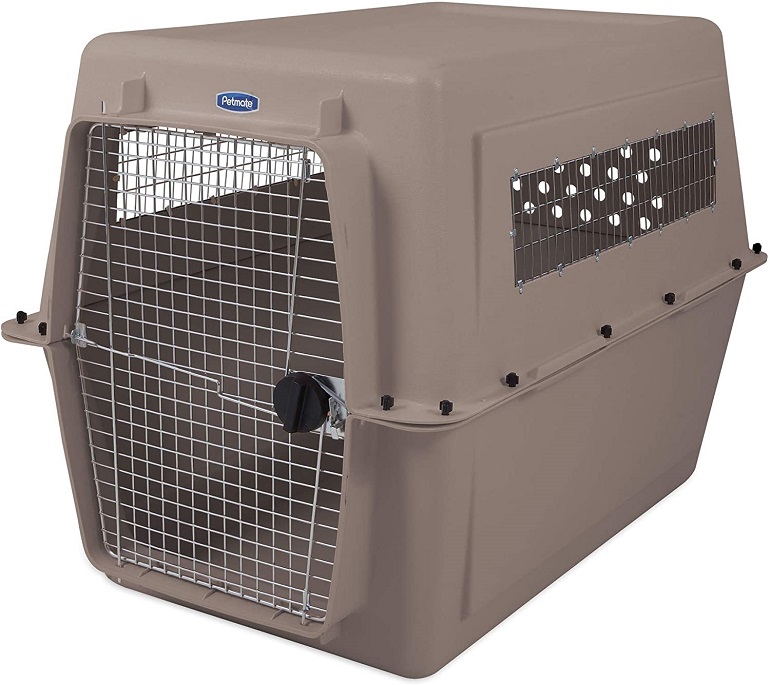 Petmate Ultra Vari Kennel
The price of "Petmate Ultra Vari Kennel" varies, so check the latest price at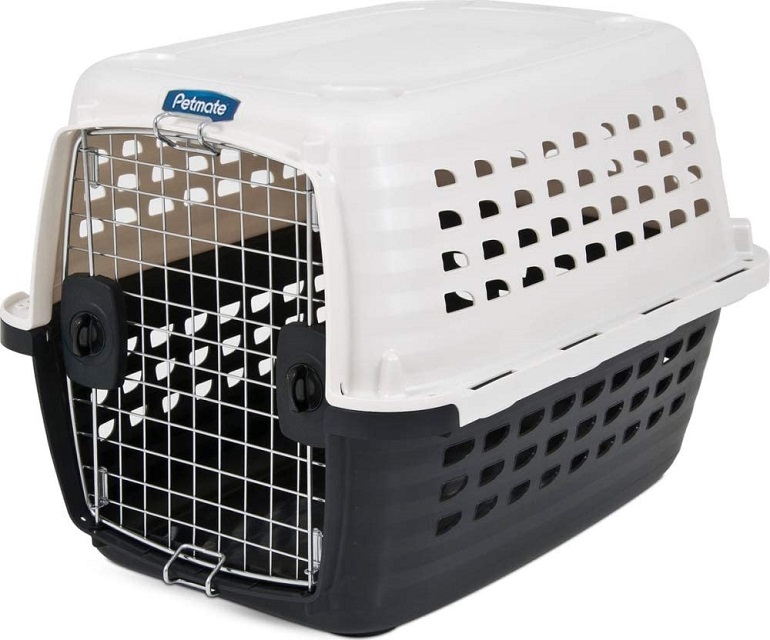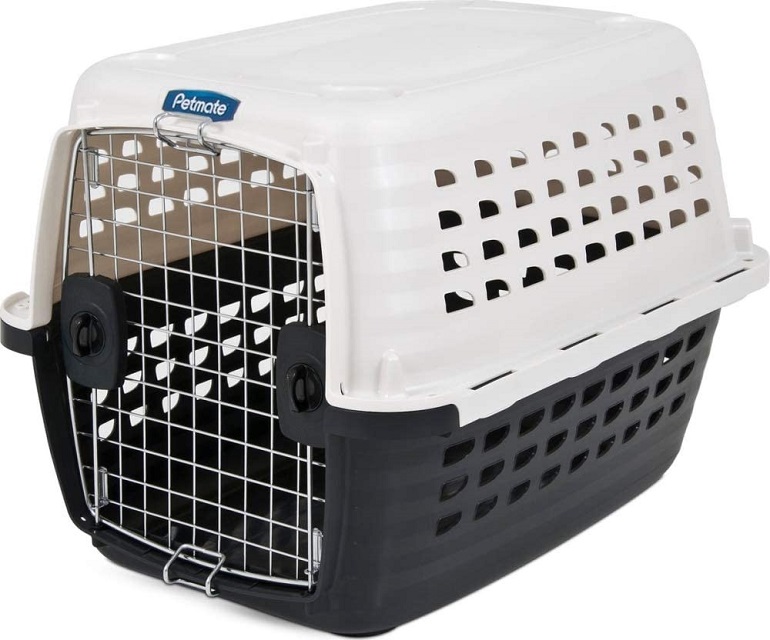 Petmate brand has fifty years of crate experience to announce the best airline-approved dog crate features.
Its unique feature is the slide and snap design that makes it easy to be assembled and use without using any tools. Another special feature of this dog travel carrier is the two-way lockable door system with a dual turn-dial door fastening system with 4 metal nuts.
Like the other Petmate products, the Petmate Compass Plastic Pet Kennel is made up of rigid plastic to make it eco-friendly. This travel crate is specifically designed for small dogs from 10-20 lbs.
It has an excellent ventilation system to make it roomy for your pooch. And the meshes provide enhanced visibility so that your dog can enjoy the scenes of the air travel. The crate also has a handle for convenience.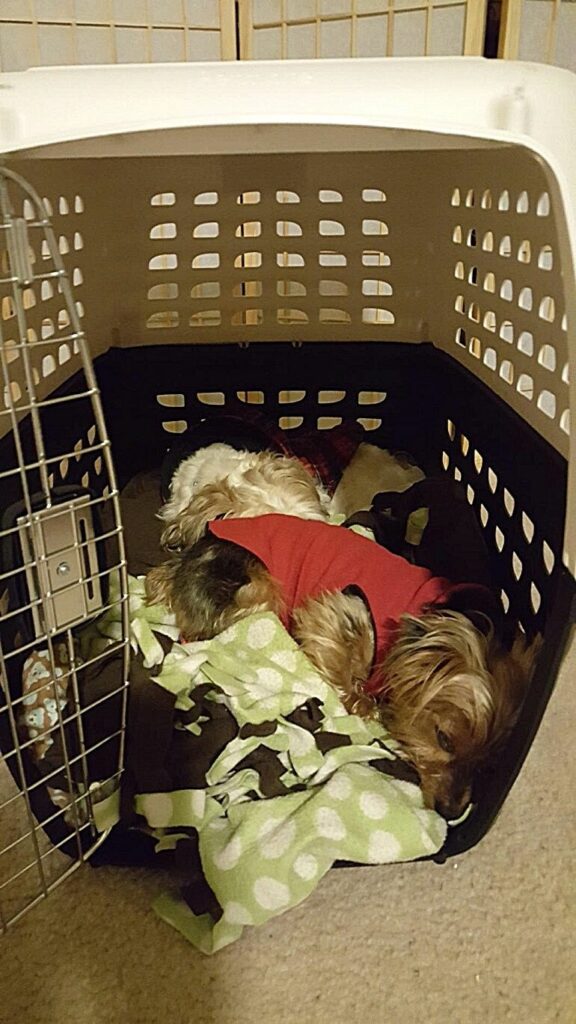 It does not have food or water bowls, but you must purchase them separately. Yet, this travel crate meets most airlines' requirements. In addition, the company provides a 1-year warranty in case the buyer is not satisfied.
Specifications
Eco-friendly
Slide and snap latching mechanism
Excellent ventilation
Visibility system
Two-way door
Dual turn-dial door fastening system
Carrying handle
For cats and dogs
Pros
The pet carers appreciated its slide and snap design.
The parents exclaimed that the two-way door was a desirable addition.
Cons
The clients were unhappy because the crate did not have food and water trays.
Testers Verdict
Our team tested this product, and they found the slide and snap design exciting. However, testers were not happy with the fastening system that only had 4 nuts. In addition, though the ventilation and visibility were excellent, it lacked meal trays.
Overall, this product was good for dogs but not much for the dog carers.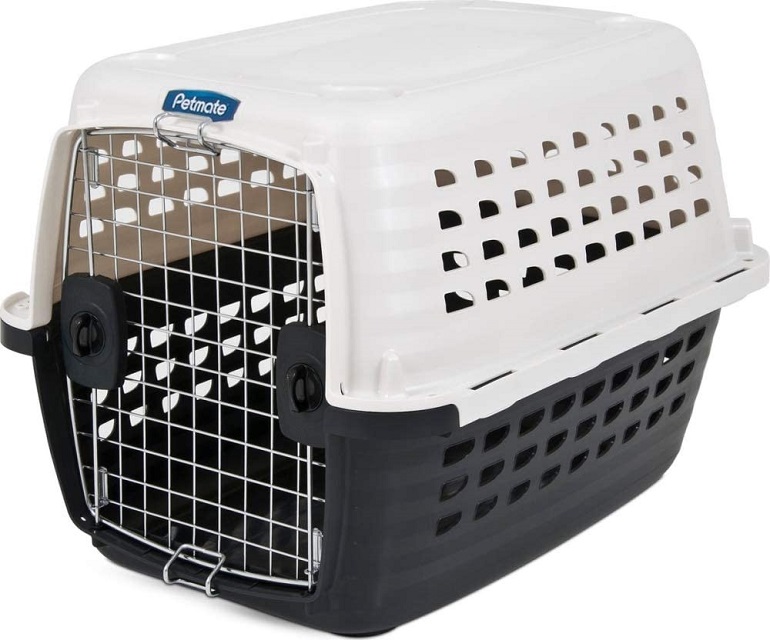 Petmate Compass Plastic Pets Kennel
The price of "Petmate Compass Plastic Pets Kennel" varies, so check the latest price at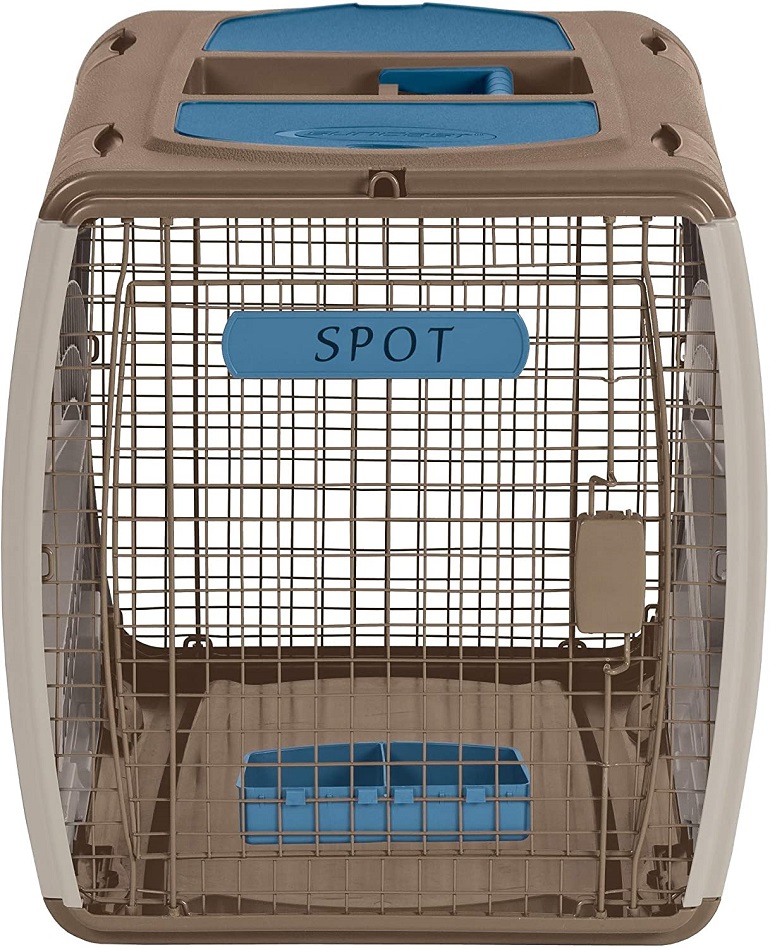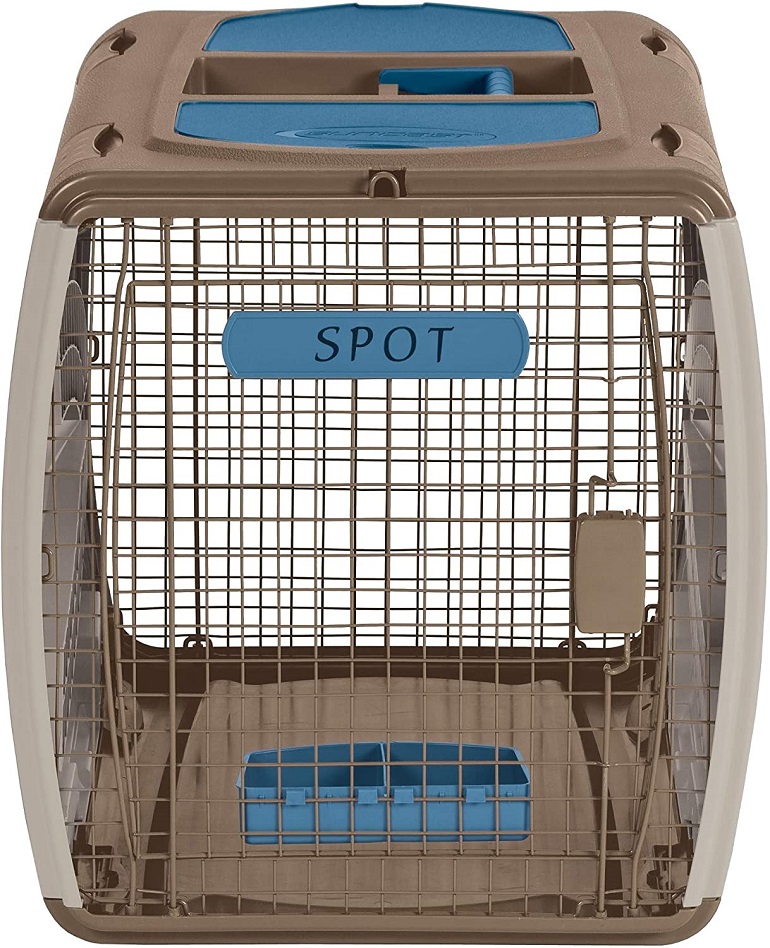 Suncast Deluxe Pet Carrier is the best pet carrier for flying as it is an affordable product with the required important features of an airline-approved crate.
The crate features two separate compartments on the upper side for putting treats or your pup's favorite toys and items. It also has separate food and water bowls attached to the door. Your beloved feels royalty having everything in its hand, and trust me, our pets deserve it.
The Suncast Deluxe Pet Carrier also offers a personalized name sticker. This pet carrier comprises high-quality plastic and a wire resin kennel door. The company does not compromise on the product's quality because that would equal risking pet safety over a few bucks.
The pups' habit of wandering in the house and staying in the kennel can be difficult. However, the wire door is mighty enough to handle the continuous blows of your smaller pup when he starts bouncing on the doors to let him out. Only the plastic clamps are a problem because certain airlines disapprove of using them in travel crates.
It offers an amazing air crossing to make your pet feel like flying in the air. In addition, the hard-sided crates offer you and your dog more satisfaction and security.
Specifications
Affordable product
Personalized name sticker
High-quality plastic
A wire resin door
Two separate compartments on the upper side
Attached food and water bowls
Amazing air crossing
Hard-sided crate
Pros
The buyers were happy to get a personalized name sticker so that the specific pups crate doesn't mix with any others. 
The upper compartments were the best feature because the pet parents could put all the necessary items in one place.
Cons
The customers were unhappy about the plastic braces. 
Testers Verdict
Our testers specified this brand as the best one for airline travel. They agreed that this dog crate for airplane does not come with accessories like the Petmate Sky Kennel, but it stands out best in the cluster of other products available in the market because of its affordable range and special features.
Only the plastic clamps are an issue, but the users can fix this issue.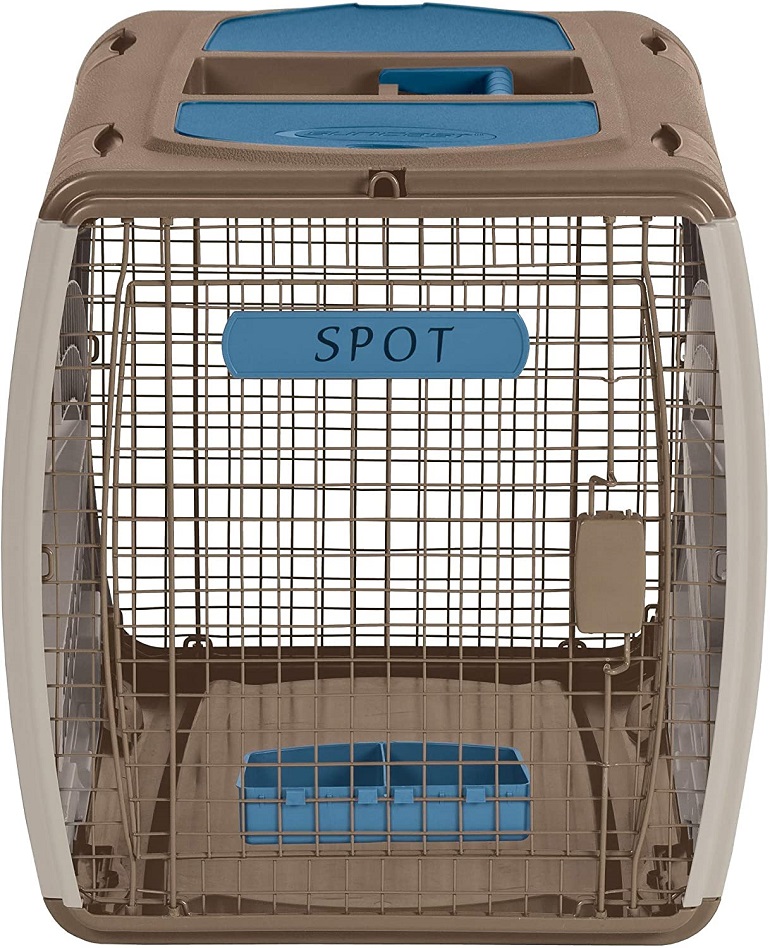 Suncast Deluxe Pet Carrier
The price of "Suncast Deluxe Pet Carrier" varies, so check the latest price at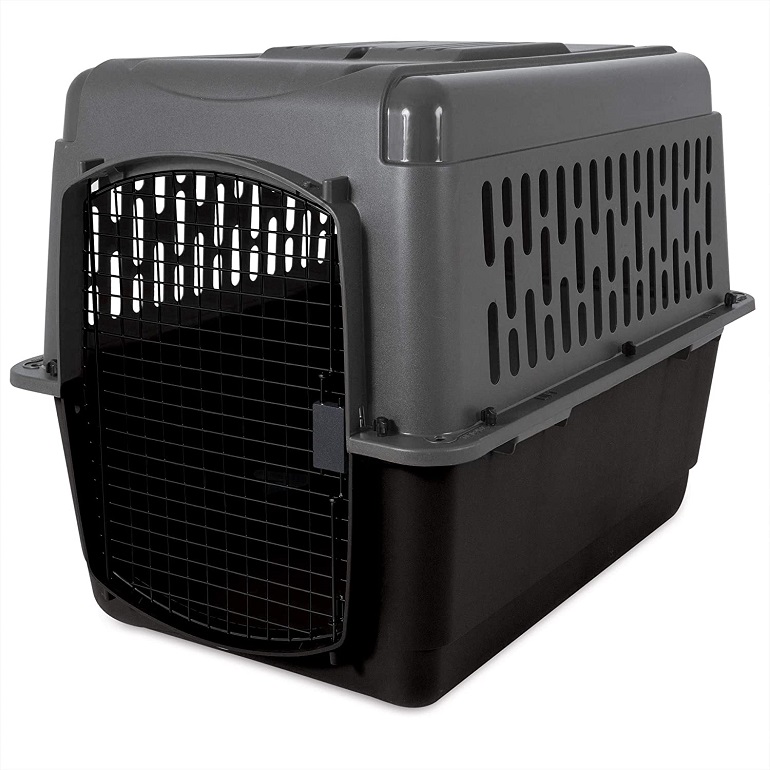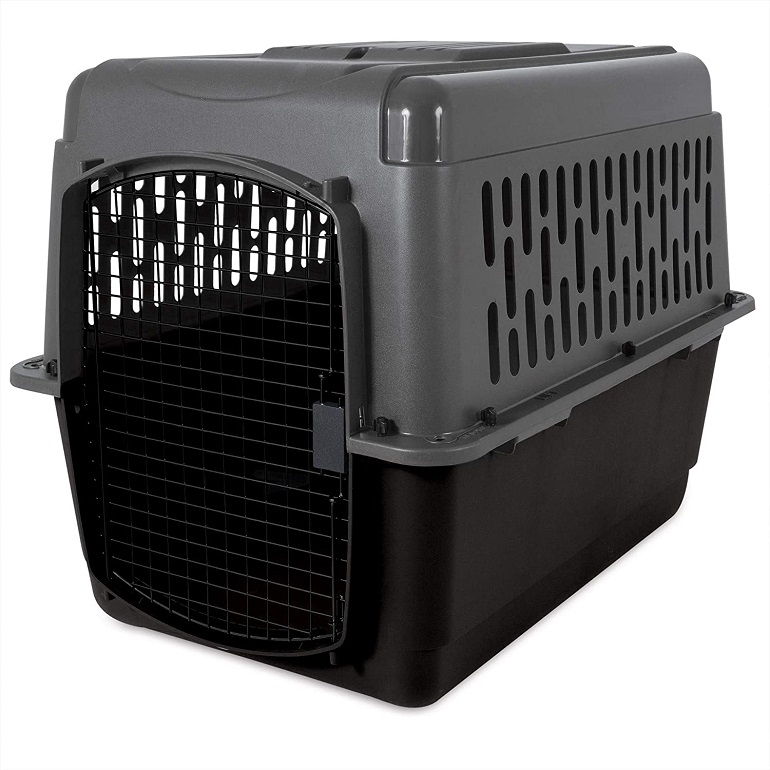 Aspen Pet Porter Kennel is another wonder by Petmate store. This airline-approved dog crate has a durable plastic body with a strong metal door. It is best for medium-sized dogs.
It has an easy latch system and a handle. The 3-side ventilation is admirable to make your pup's travel as soothing as yours. The metal bolts give toughness to the crate to make sure that your pet would safely land.
This crate is lightweight to be carried easily but does not compromise on the sturdiness in terms of the dog's security. Its assembly is quick, and it is easily cleanable.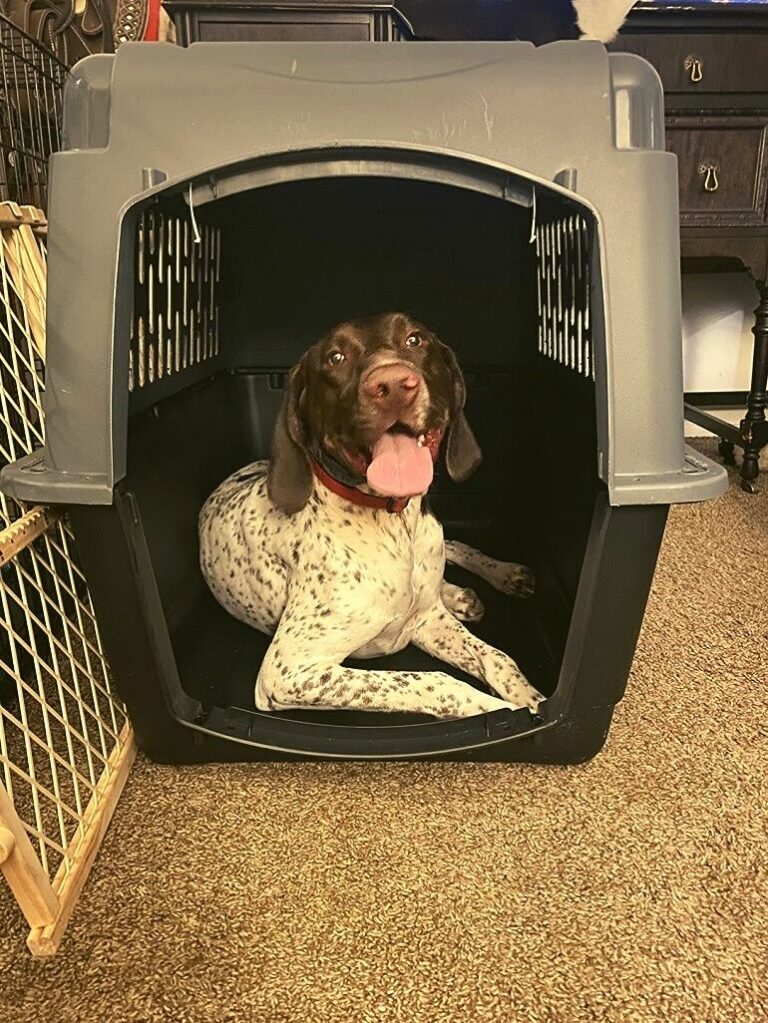 It meets almost all the necessary airline standards as the product claims. A surprising feature is that the buyers can also use it for cats. Its plastic is made in the USA, and other components, including the handle, are imported.
However, it does not have meal dishes that most buyers mostly require.
Specifications
Best for medium-sized dogs
Lightweight
Durable plastic body
3-side ventilation
Metal bolts
Easy assemblage
Handle
1-year warranty 
Pros
The buyers were happy to have a product best designed for medium-sized dogs.
The clients were glad to find an easily portable lightweight crate.
Cons
Some customers claimed that the plastic body is not durable enough for long-term use.
Testers Verdict
Our testers checked this product on medium breeds, and the results were good. The crate was safe and comfortable. It was lightweight so that the owner could easily carry it. However, it was durable for heavy or large dogs.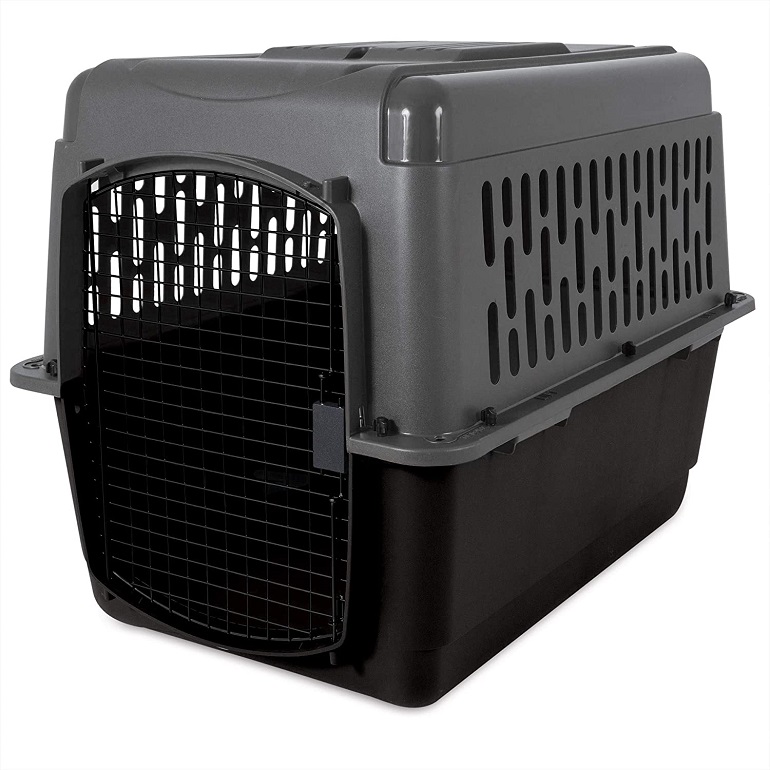 Aspen Pet Porter Kennel
The price of "Aspen Pet Porter Kennel" varies, so check the latest price at
Features of an IATA Compliant Dog Crate
There are plenty of dog crates available but choosing the best travel dog crate is always a concern. We have enlisted the important IATA-compliant features that should be present in a crate.
Before buying a dog crate for your canine make sure that your pup's crate is airline approved to avoid any kind of mess prior to the flight and make your journey hassle free. The following must be the considered features before buying IATA approved dog crates. 
Size
The pup will be uncomfortable if the travel kennels are smaller than the dog's size. And, if it is larger, the dog will hit the walls when the crate is mistakenly handled forcefully.
According to the standards of most airlines, a travel kennel should be higher than the dog's ear when he stands. It should be 1.5 times longer than your pet's length. It must have enough room for the dog to turn sides, stand, sit and lay down. Just make sure not to buy such a bigger travel dog crate that your pup starts practicing for a marathon in it.
Material
A portable dog kennel must be made of rigid materials like plastic, solid wood, plywood, fiberglass, and a wire mesh. Plastic nuts are not advised; however, metal nuts with plastic caps are preferred. In addition, it should have a zip-tight single metal door because plastic doors are not very sturdy.
Also, the pet crates should never have top-opening doors. The soft-sided carrier is never suitable for travel because the dog will be able to break them easily.
Ventilation
The airline-approved dog crates must have ventilation on the 4 sides of the crate to bless the pets with fresh air. The ventilation area should be 16% of the total space according to the guidelines of IATA. The ventilation mesh panels must be welded and tight fit so that the dog does not damage them. In addition, the meshes should be soft and plane so that they might not hurt the paws and nose of your little pup.
A solid and absorbable floor is preferred.
Stickers
The best airline-approved dog crate should have the "Live Animals," "Laboratory Animals," or "This Way Up" labeling. Moreover, an ID sticker is more beneficial.
Handles
It will help if you buy travel crates with carrying handles. You do not have to carry the crate in your hands. Also, the airline staff would easily move the crate because of the handle.  
Wheels
As per official international guidelines, the travel crates must have detachable wheels. Otherwise, they will keep rolling in the airplane, making it unsafe for the pet.
Separate Food and Water Dishes
The airline-approved crates must have food and water dishes attached with the lockable doors for the convenience of airline staff. So, they don't have to open the crate every time to feed the dog.
FAQS
Do Airlines Provide Crates?
No, the airlines do not provide crates. Instead, you have to buy one airline-approved dog crate yourself for your beloved.
Most airlines have different crate requirements, so confirm those before buying one.
Can I Bring a Dog Crate on a Plane?
Carrying regular dog crates on a plane is never allowed, but you can take an airline-approved dog crate. The airlines have specific demands for pet carriers, and if your crate meets all the demands, congratulations! You are all set to go.
What Size Crate Do I Need for My Dog to Fly?
The airplane crates must be 1.5 times higher than your dog's length, and the dog's ears must never touch the roof.
It should have enough space for your dog to change sides, lay down, sit or stand.
What Are the Necessary Things Except the Crate to Be Brought While an International Travel?
According to the airline standards, except for the crate, you should take your pet documents with you; its vaccination certificates, medical certificates, prescriptions, feeding instructions, health certificate, and passport.
What Are the Safety Measures to Be Taken Before an Air Travel?
Buy airline-approved dog crates and never choose soft crates for airline travel because they are not durable.
Some owners sedate their dogs so that they may not have to take care of them. But, according to airline regulations, you should never sedate your dog before flying because the airline looks after them responsibly.
Train your dog to stay in the crate because the anxious pets may get panicked if they are not already trained. Also, you should always inform the staff if your dog is allergic to any food or following some diet.
Always embellish your crate lining with a soft bed and cushions to save your sweetie pie from potential accidents.
Moreover, avoid long-haul flights because your dog may suffer from breathing problems if the temperature gets too hot or cold.
Tell the staff about your pet's feeding instructions so that they do not have to face any issues dealing with your canine.
Conclusion
Human lovers demand stars and moons and many things to prove your love to them. But, on the other hand, your dog is humble and just wants to go with you when you are flying to another country. Therefore, you can fulfill its demand by buying an appropriate travel carrier approved for an international journey.
We have jotted down the top 6 best dog crates that you can opt for international or domestic tours, and the criteria for IATA accepted dog crates.
In the end, we wish you and your love to reach your final destination safely.