There are many aspects to pet care, and when you have a dog, one of the most important things you can do for their health is to protect them against fleas, ticks, and other pests that can cause illness. With my black lab Ranger, I often use topical solutions or sometimes oral treatments as flea treatment, but at the beginning of a season, I will use a flea collar to help jumpstart his care. 
Some people rely on essential oils to help deter fleas and ticks, but these need to be used in a very specific way; otherwise, they can cause more harm than good. Rather than use those, I recommend sticking with flea collars for dogs or well-known topical treatments. Some even contain cedar and peppermint oils.
As pet parents, protecting your dog against fleas and ticks through the use of a collar for dogs is one of the best things you can do. If you're not sure what kind of flea collar to use to kill fleas, even for cats, speak with your veterinarian, as they can offer insight into what type of protection is needed where you live.
Longest Lasting Protection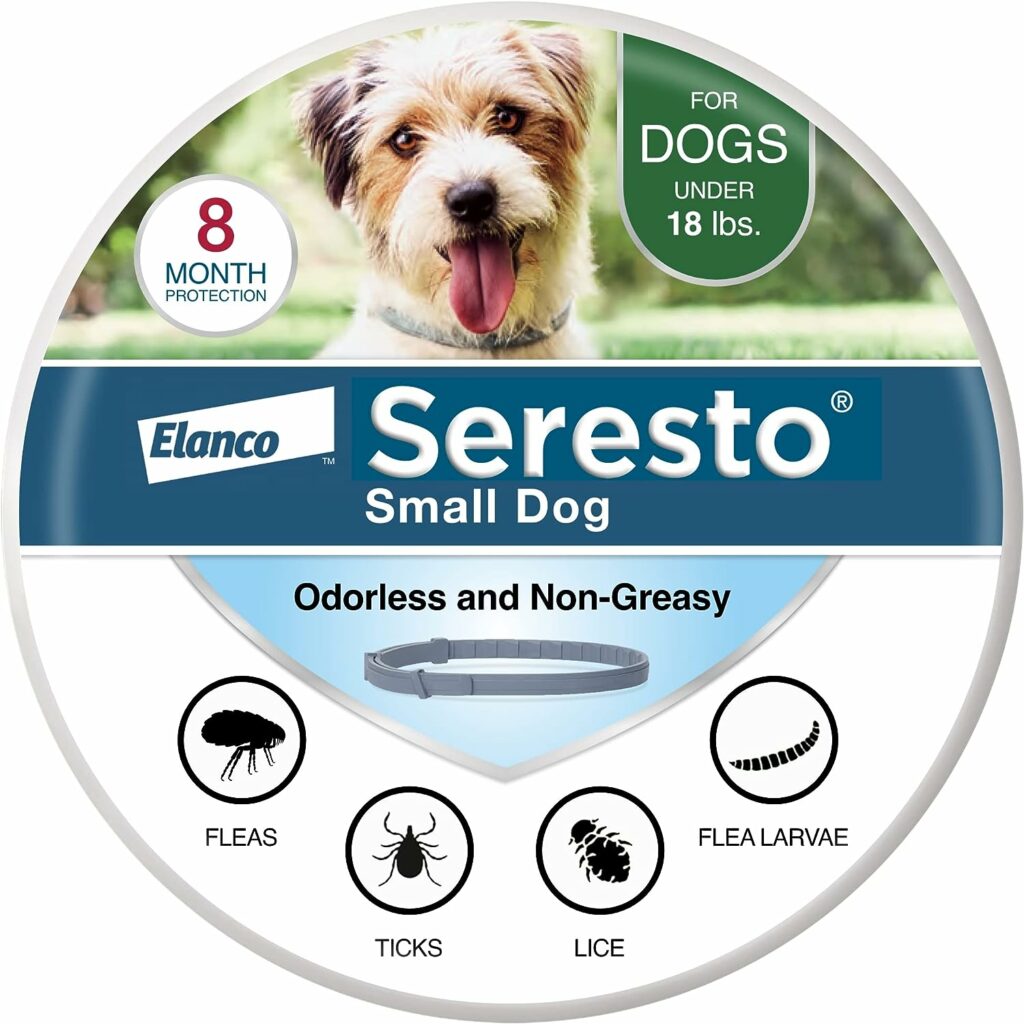 Seresto Flea & Tick Prevention Collar
Age Range: All Life Stages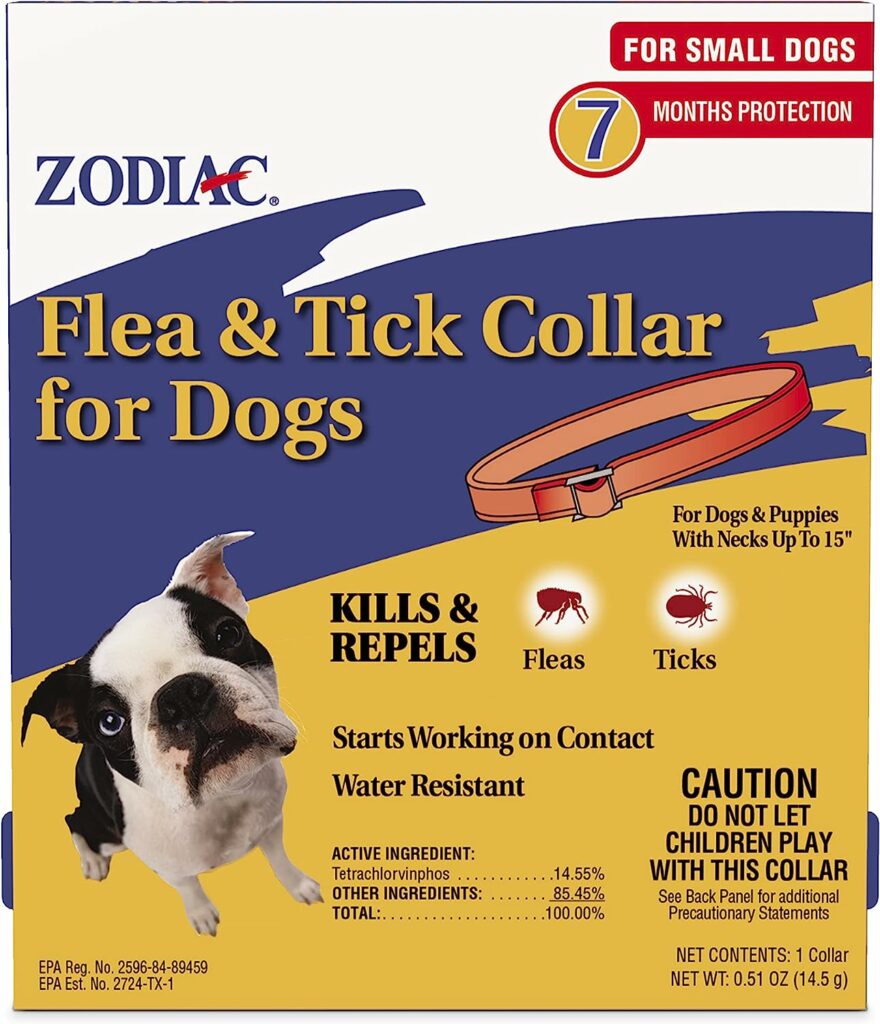 Zodiac Flea and Tick Collar for Small Dogs
Age Range: Small Breeds, Medium Breeds
Full Body Protection Against Multiple Pests
Adams Flea and Tick Collar For Dogs
Built-In Nighttime Safety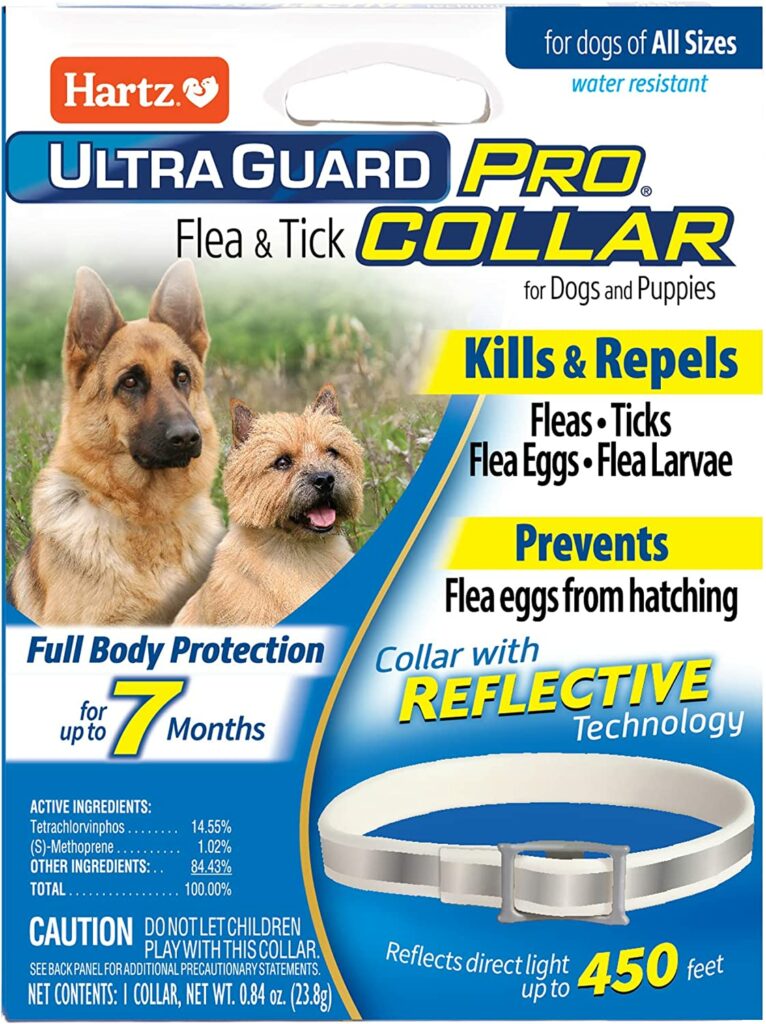 Hartz UltraGuard Pro Flea & Tick Collar for Dogs and Puppies
Age Range: All Life Stages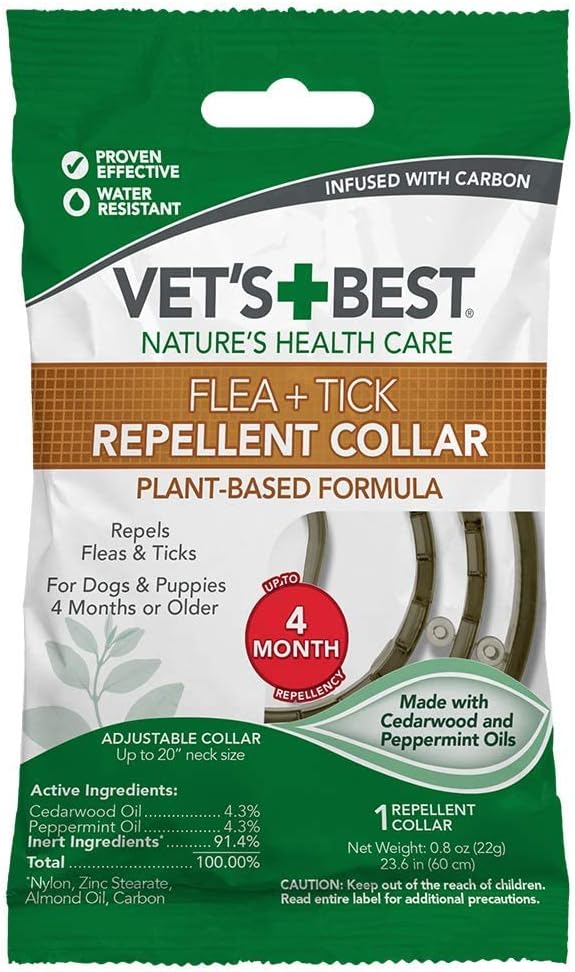 Vet's Best Flea and Tick Repellent Dog Collar
Full Protection from Three Pests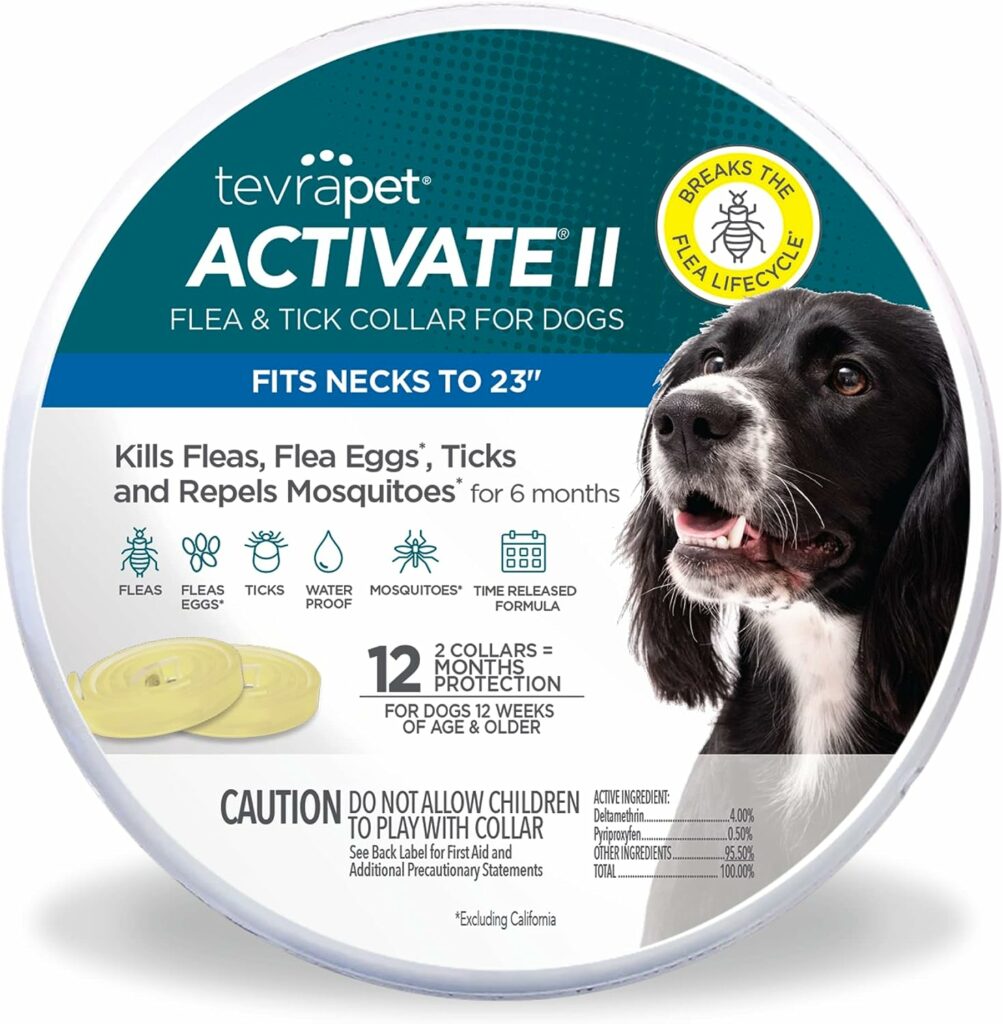 TevraPet Activate II Flea and Tick Collar for Dogs
Best Flea Collars for Dogs
If you're wondering are flea collars safe, they can be safe when used correctly and with the guidance of a veterinarian. However, it's essential to choose a high-quality collar, ensure it fits properly, and monitor your dog for any adverse reactions. Always consult with your veterinarian to select the safest flea collar option for your specific pet.
Flea collars contain insecticides that mix with your dog's natural oils and spread to provide full body protection. The active ingredients may differ from brand to brand, but they all serve the same purpose. Best of all, they fit seamlessly with other collars, even the best bark dog collar for small dogs or the best smart dog collar on the market. 
Fleas can cause severe health issues, such as skin irritation, which can lead to constant itching. Skin irritations can also lead to loss of fur, which isn't good. Ticks can carry a variety of diseases and can cause other health concerns, though the most common one they infect pets with is Lyme disease. 
There are a number of flea collars on the market, and it can be time-consuming to go through the different brands. We've done all the legwork, looking at the various options and the most popular flea and tick collars on the market. Here are the best flea collars based on our findings: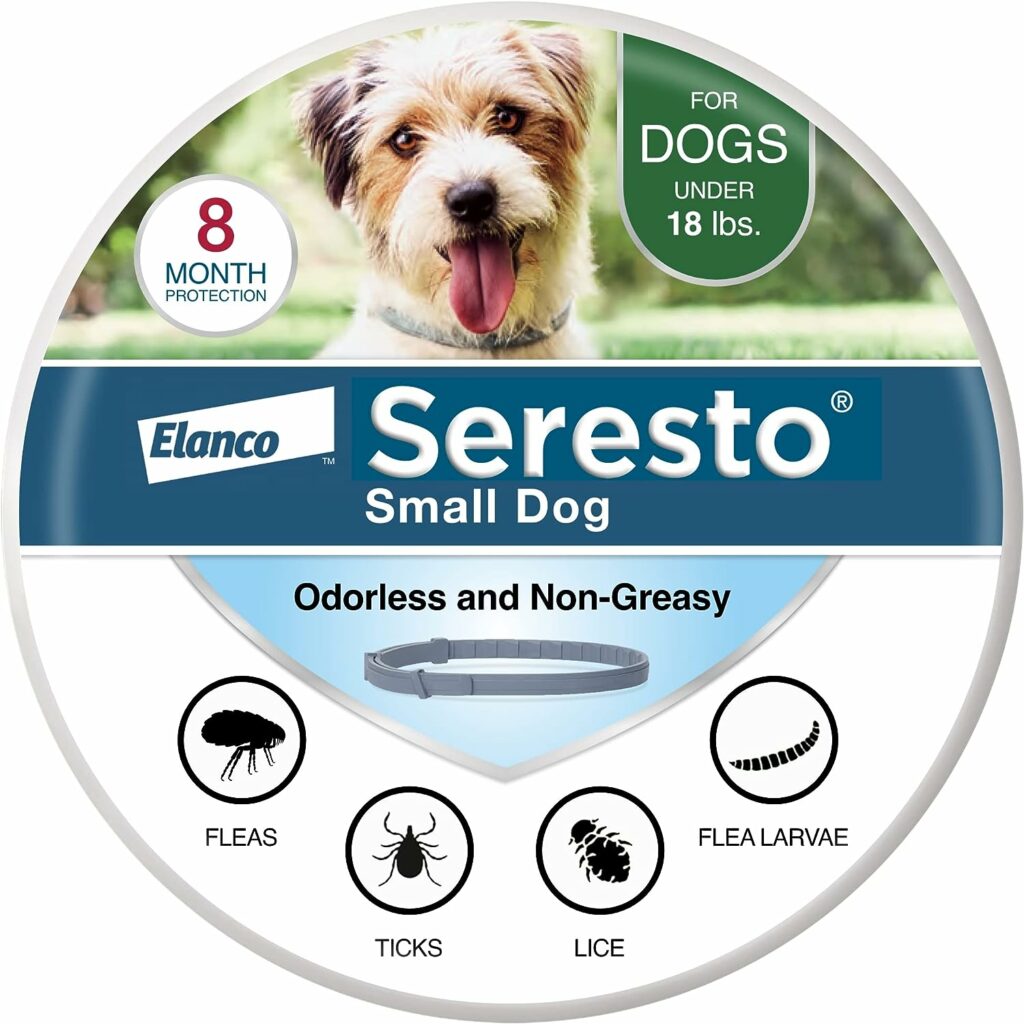 If you're looking for an effective collar that offers long-lasting protection against multiple parasites, the Seresto Flea & Tick prevention collar lasts for up to eight months, and then you'll need to apply a new flea collar.
It safeguards your dog against flea larvae and adult fleas, ticks, and lice without the need for a prescription. It's a hassle-free method to kill pests with a non-greasy feel. Seresto flea collars contain two insecticides — 10% Imidacloprid and 4.5% Flumethrin — as the active ingredients.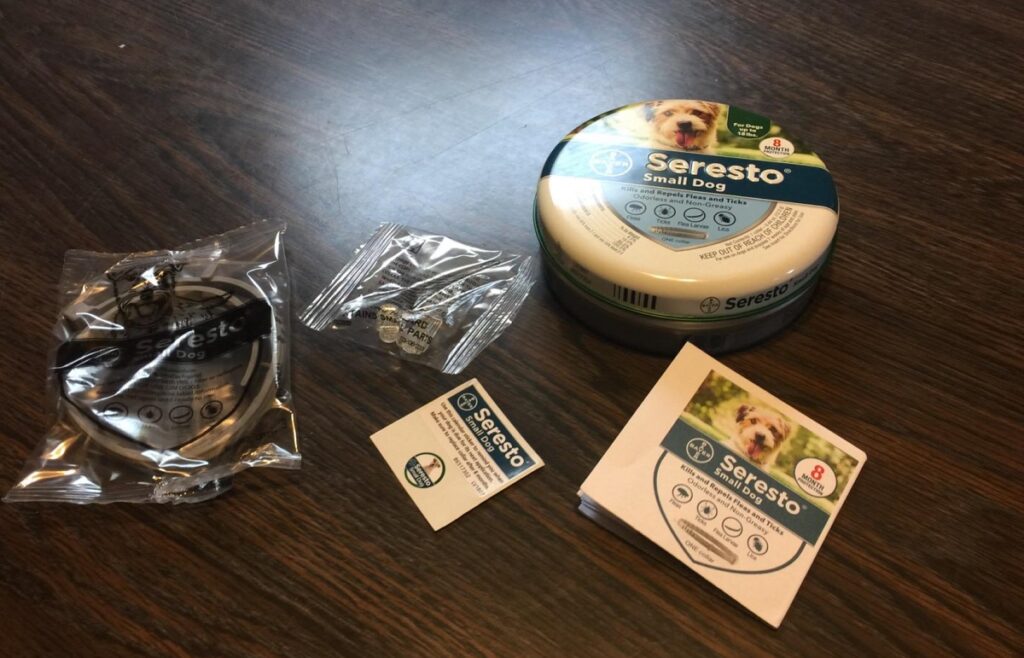 To use, simply remove the Seresto flea and tick collar from its protective bag and then put it around your dog's neck before trimming it down to size. 
Easy to put on your pet

Doesn't interfere with other collars
Not for small adult dogs or puppies under 18 pounds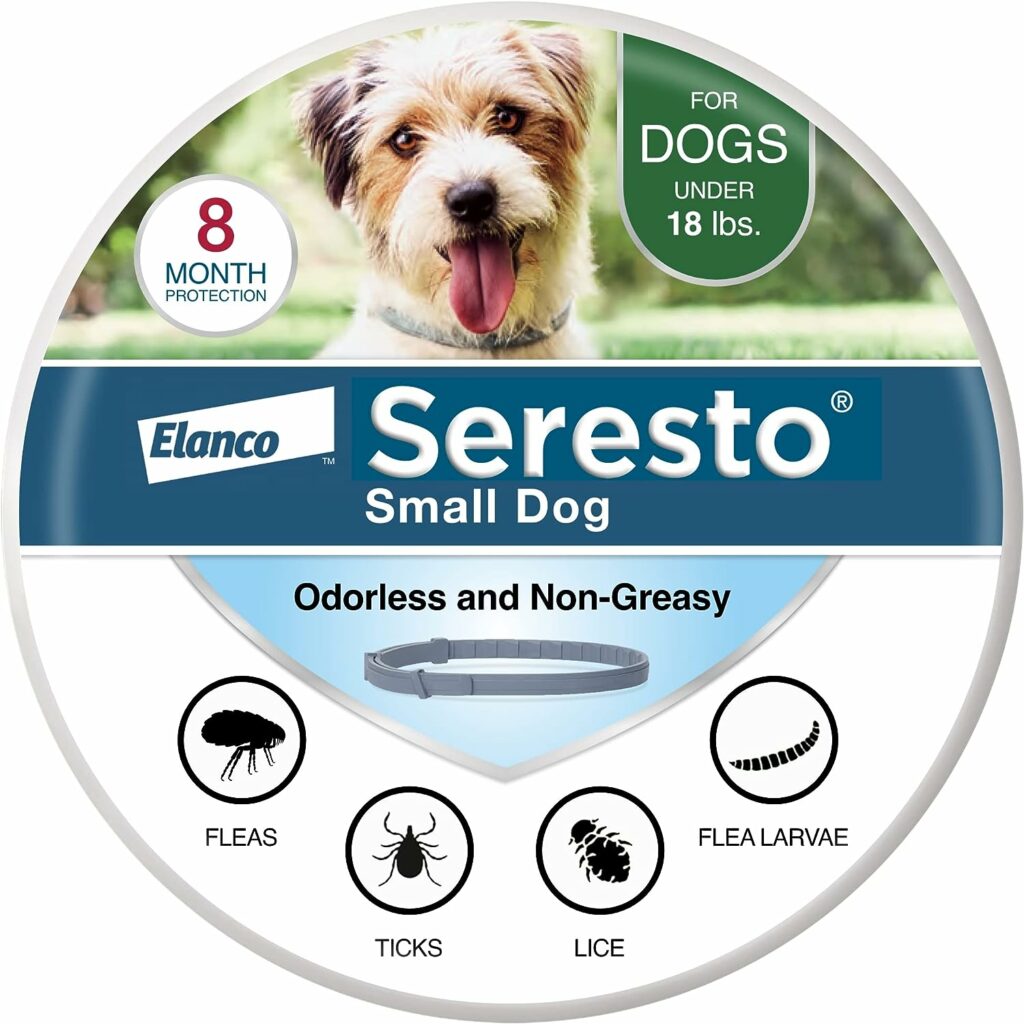 Seresto Flea & Tick Prevention Collar
The price of Seresto Flea & Tick Prevention Collar  varies, so check the latest price at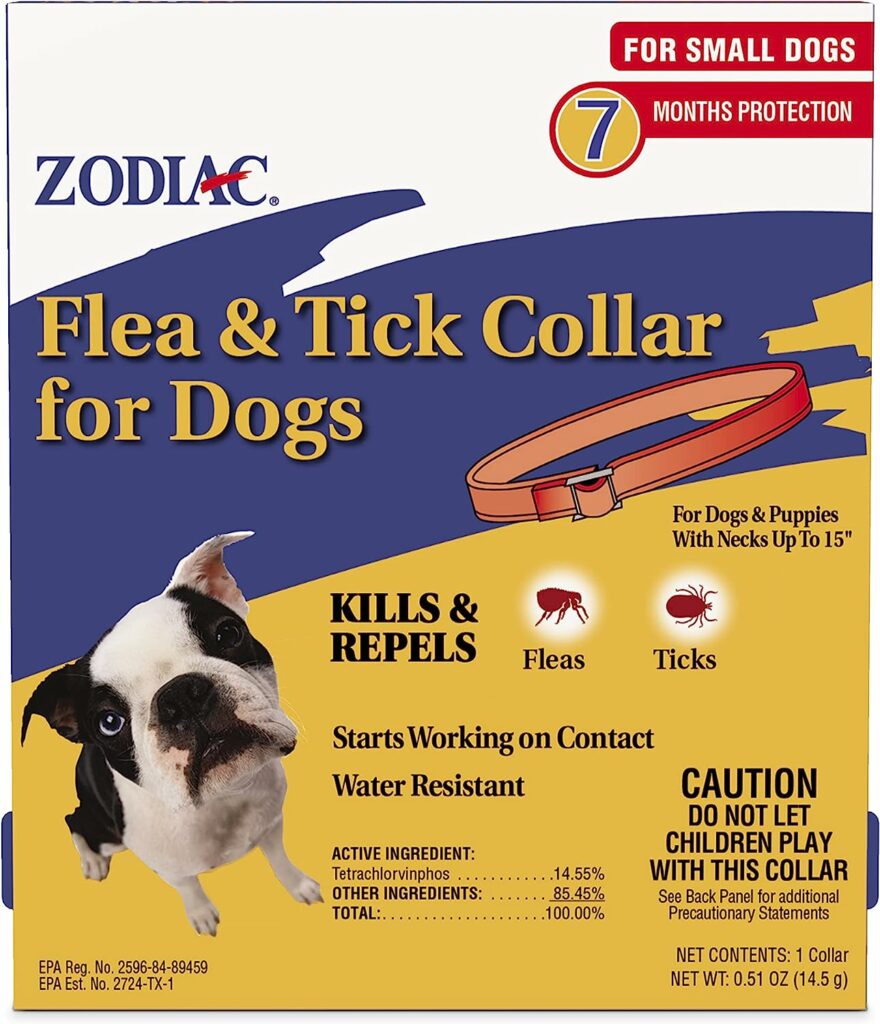 The Zodiac Flea and Tick collar for small dogs is designed to repel and kill fleas and ticks. It's a suitable prevention for canines of all ages, from puppies to seniors. It fits extra small, small, and medium dog breeds and provides continuous protection for 7 months.
The active ingredient in this flea tick collar is Tetrachlorvinphos, an insecticide that makes up 14.55% of the collar's composition.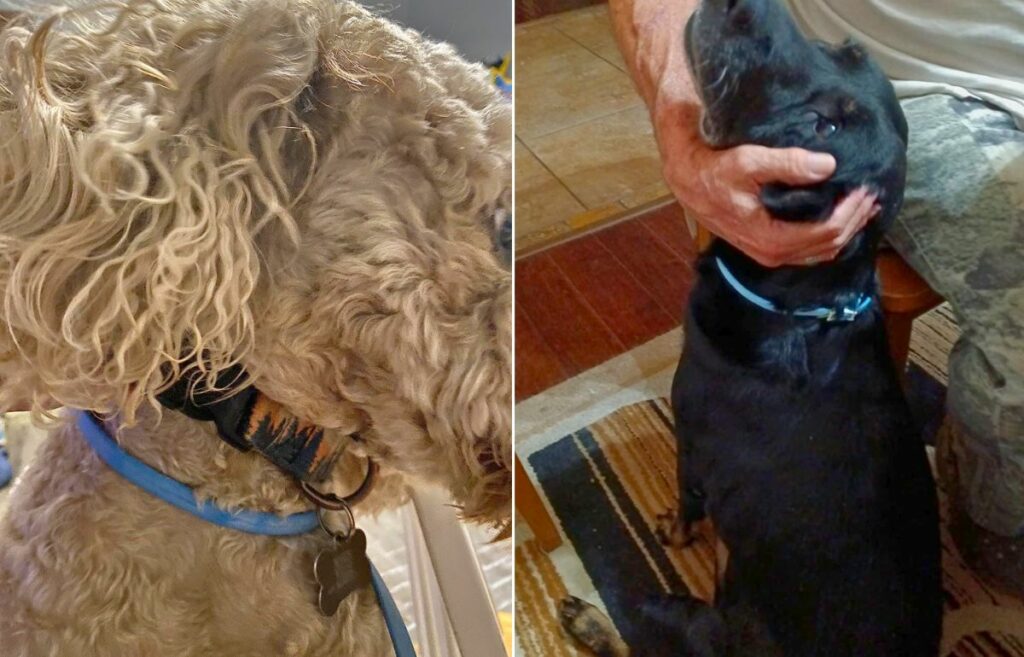 To apply this flea collar, simply remove it from the packaging and stretch it out to activate the ingredients. Then, place it on your pet, allowing some extra length for adjustments, and cut off the excess. 
Water-resistant, pups can splash with it on
Not for puppies under 6 weeks of age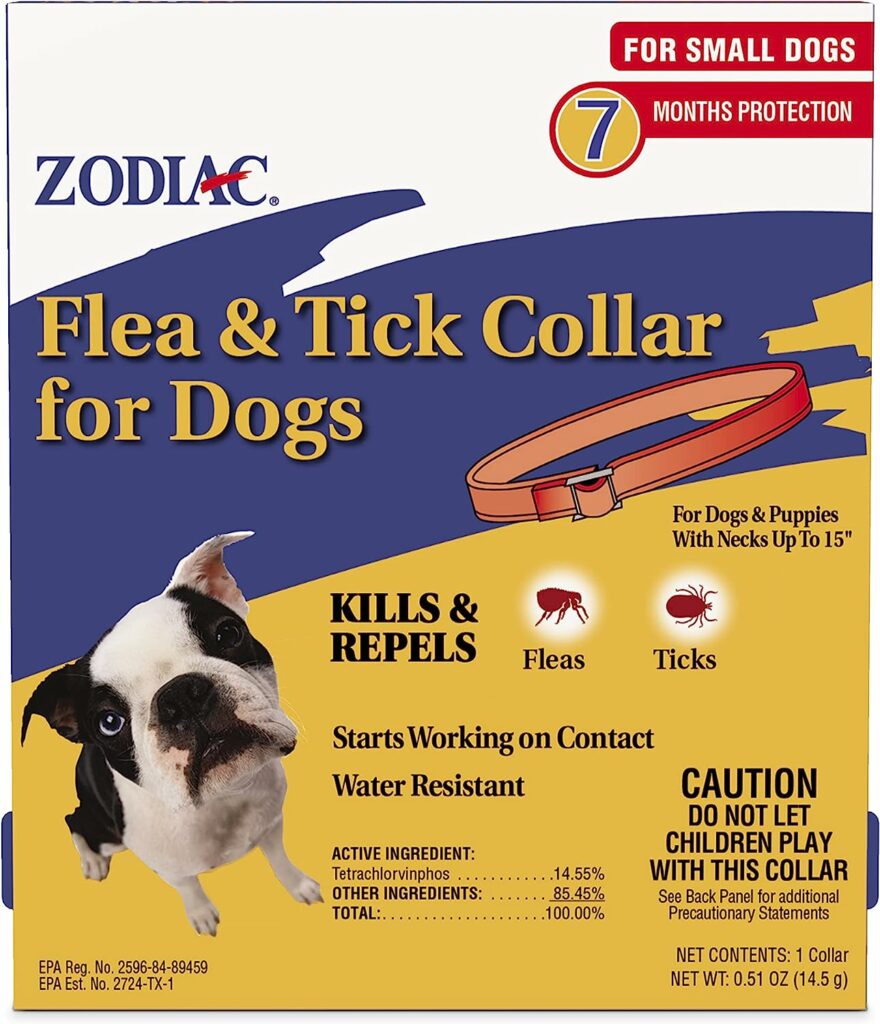 Zodiac Flea and Tick Collar for Small Dogs
The price of Zodiac Flea and Tick Collar for Small Dogs varies, so check the latest price at
The Adams Flea and Tick Collar for Dogs is an all-in-one formula that repels and kills ticks and fleas of all stages. This includes tick nymphs and larvae as well as flea eggs and larvae. It offers 7 months of protection for all age dogs and is water resistant, so your pet can swim, splash, and bathe with it on.
The active ingredients in these flea collars are Tetrachlorvinphos (14.55%) and (S)-Methoprene (1.02%).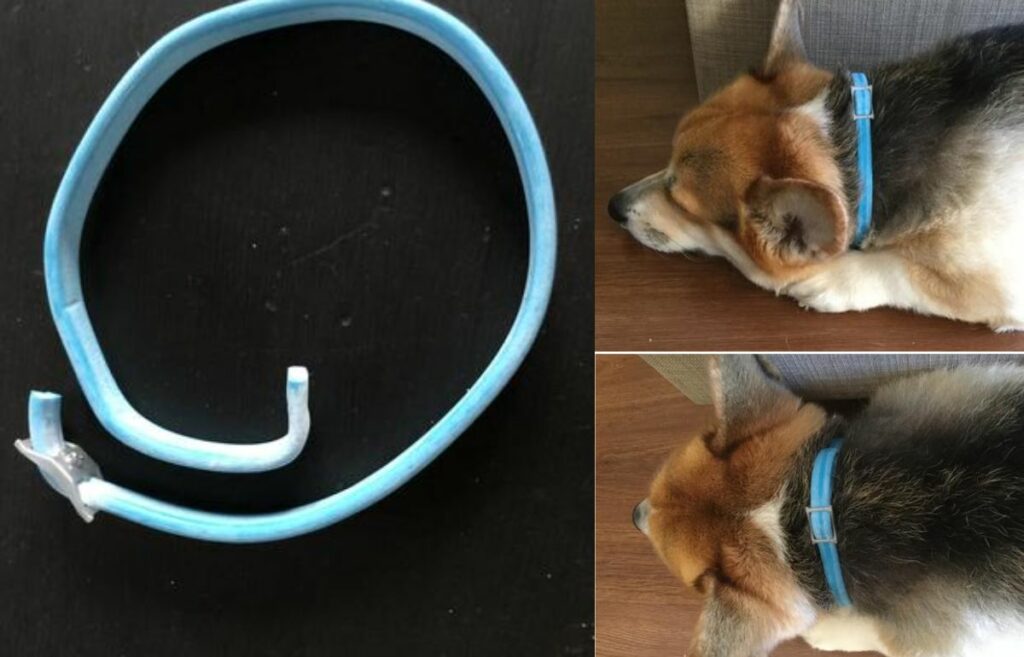 In order to put these dog flea collars on your pet, it's necessary to stretch it out to activate the insecticide generator. You can leave a few inches on the collar to allow for growth. 
Kills all stages of fleas and ticks

Odorless formula
Not suitable for small dogs
Adams Flea and Tick Collar For Dogs
The price of  Adams Flea and Tick Collar For Dogs varies, so check the latest price at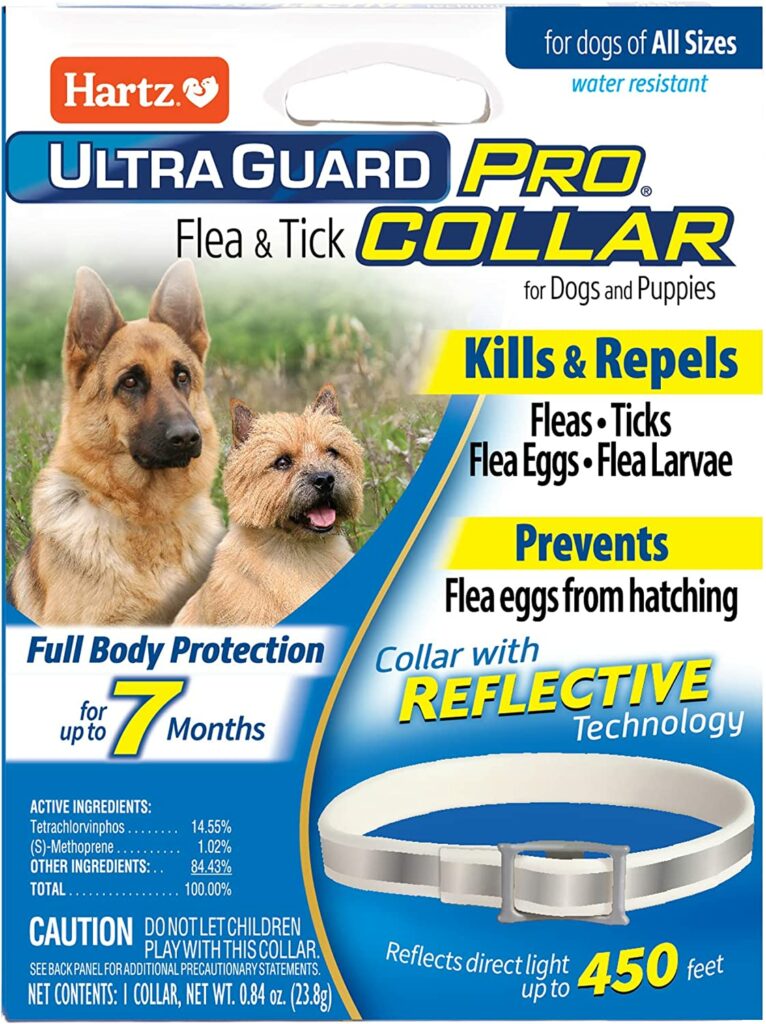 The Hartz UltraGuard Pro Flea & Tick Collar adds two levels of protection. First, it helps kill and repel fleas and ticks, and second, it has a reflective stripe, which increases your pet's visibility at night. This collar for dogs works for up to seven months and helps to interrupt the life cycle to prevent re-infestation.
It's suitable for puppies and dogs at least 12 weeks old. This repellent collar contains 14.55% Tetrachlorvinphos and 1.02% (S) Methoprene as its active ingredients.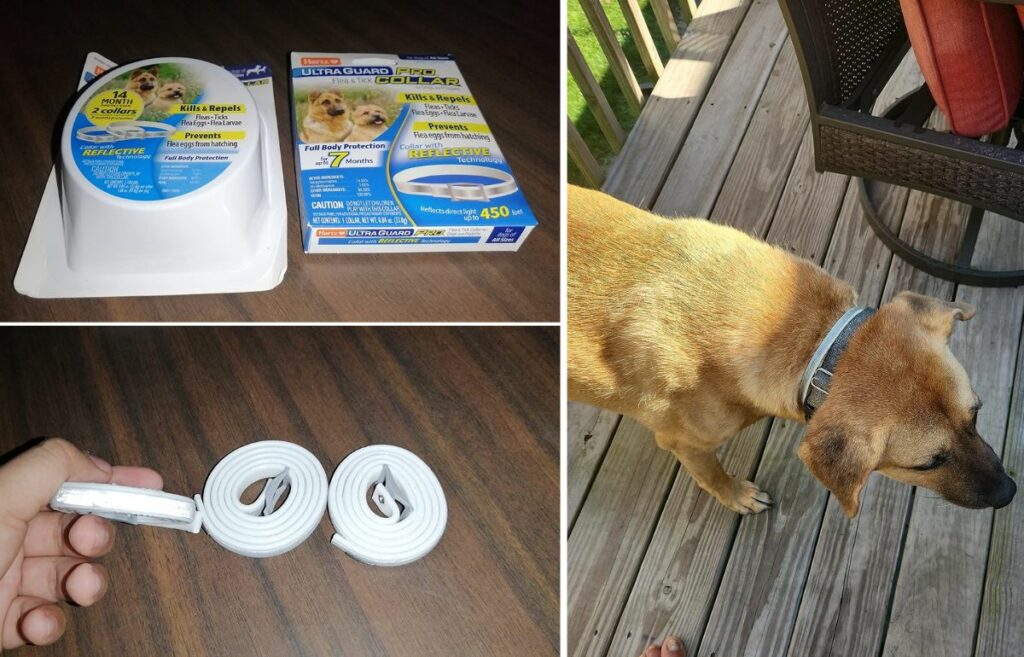 Measure your pet's neck using a soft measuring tape or a ribbon or string, and then cut the Hartz UltraGuard flea collar to that length, plus two or three inches to give room for growth. 
Made in the USA

Water-resistant

One size fits all flea collar
Not for puppies under 12 weeks old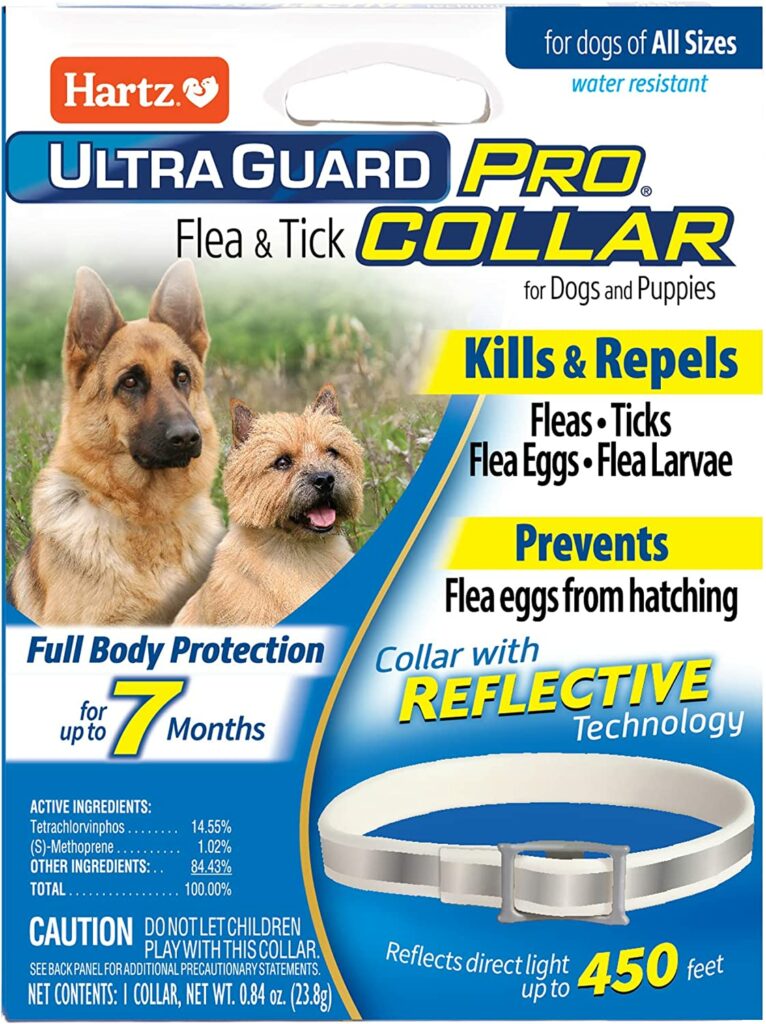 Hartz UltraGuard Pro Flea & Tick Collar for Dogs and Puppies
The price of  Hartz UltraGuard Pro Flea & Tick Collar for Dogs and Puppies varies, so check the latest price at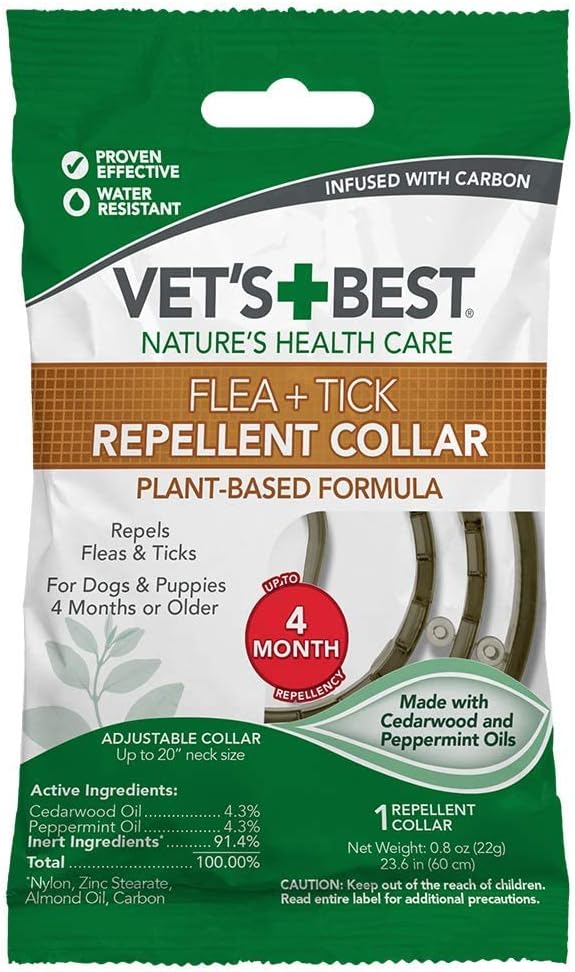 If you're in the market for a natural flea collar that's made with all-natural ingredients, you'll appreciate this plant-based option from Vet's Best. The flea and tick repellent collar contains steam-distilled cedar and peppermint oils as the active ingredients, 4.3% of each.
The flea collar is one-size-fits-all, so it works on small breeds as well as medium and large dog breed sizes. It also offers full protection for your dog's entire body, from head to tail. The protection level on this natural flea collar repels pests, including fleas and ticks, for your furry friend for up to four months.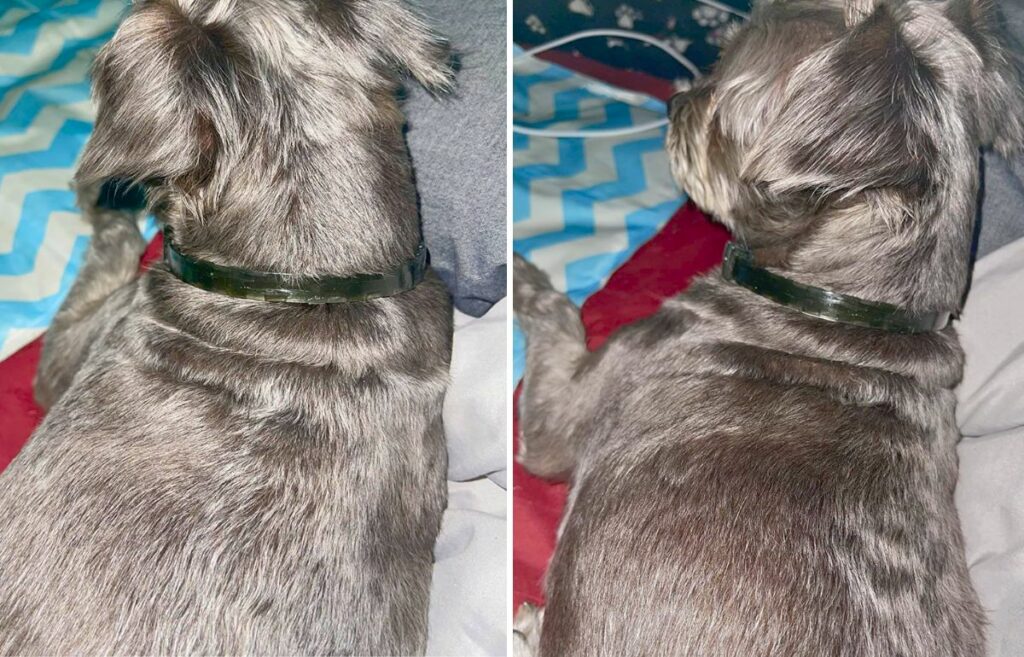 You can apply the collar by removing it from the packaging and removing the activation dots. Then, follow the two-finger rule for fitting purposes.
Natural ingredients kill fleas

Phthalates and PVC-free, making it environmentally friendly
Not suitable for puppies under 4 months of age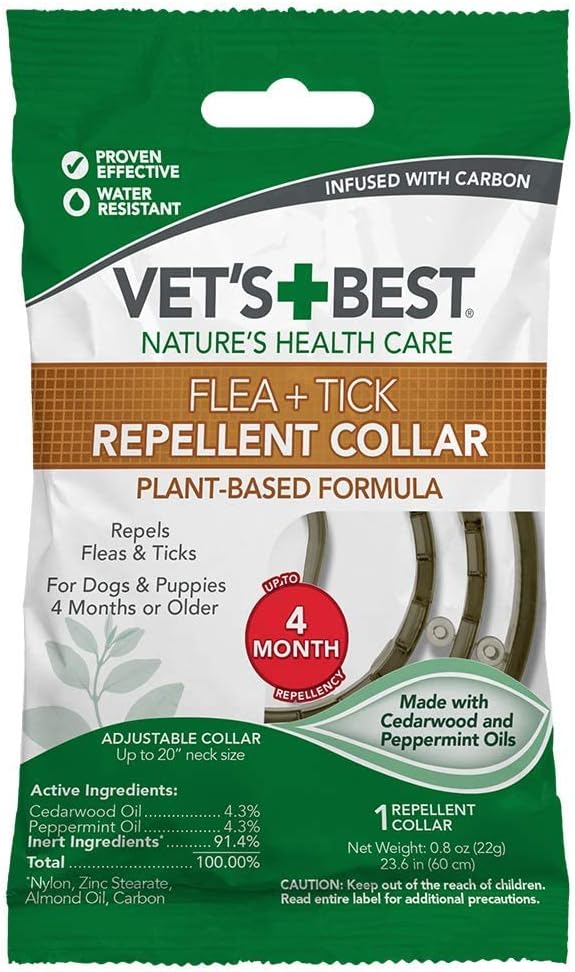 Vet's Best Flea and Tick Repellent Dog Collar
The price of Vet's Best Flea and Tick Repellent Dog Collar varies, so check the latest price at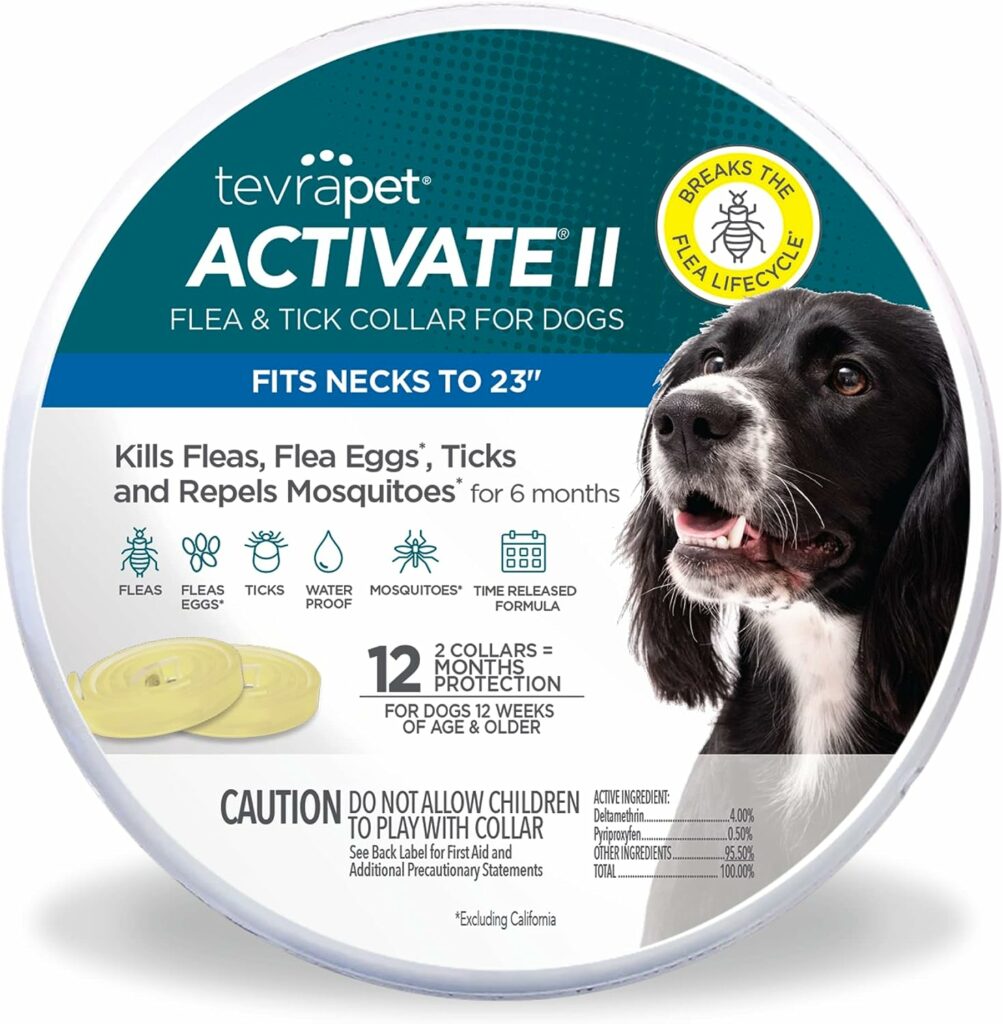 The TevraPet Activate II flea and tick collar helps protect against three main pests: adult fleas, adult ticks, and mosquitoes. This tick collar for dogs is designed to issue a time-released formula to help rid your dog of a flea infestation.
The package contains two flea and tick repellent collars, each lasting 6 months for a full year of protection — or you can use them on two separate dogs. This tick collar contains Deltamethrin And Pyriproxyfen as the active ingredients, which kill on contact and don't require the fleas or ticks to bite to ingest the insecticide. It starts working within 24 hours of application.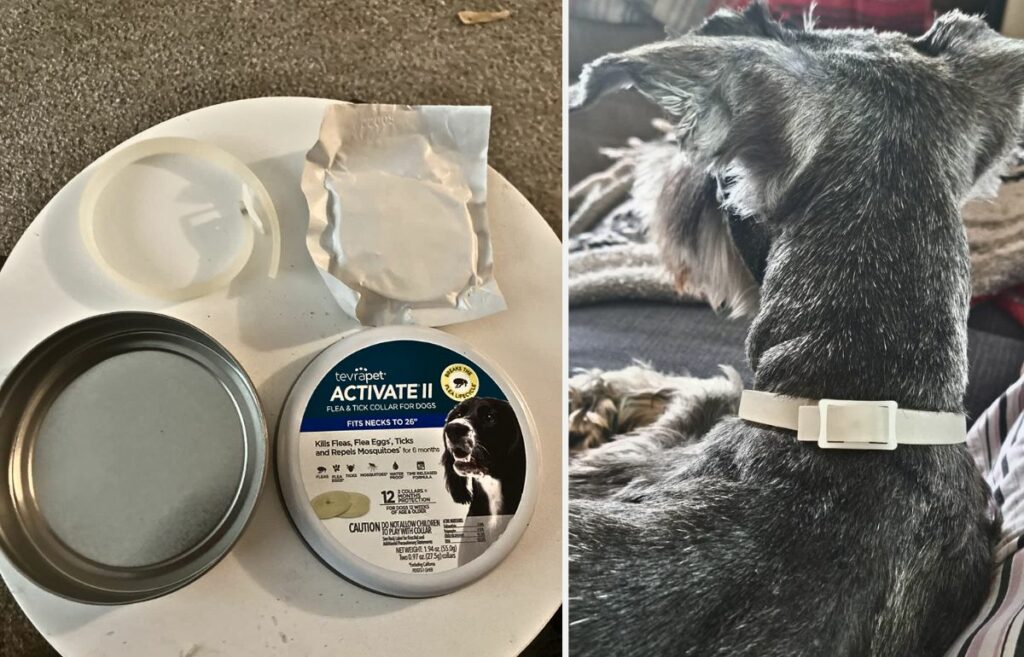 This collar is designed to fit pups of all sizes, so all you need to do is remove it from the packaging when you're ready to use it and then size it appropriately, leaving about 2 to 3 inches of excess material. 
Begins working, killing fleas and ticks within a day

Contains two collars for multiple pets or 12 months of continuous protection for your dog
Not for use on puppies less than 12 weeks old

Dust can collect on the collar in packaging during storage and can cause eye or skin irritation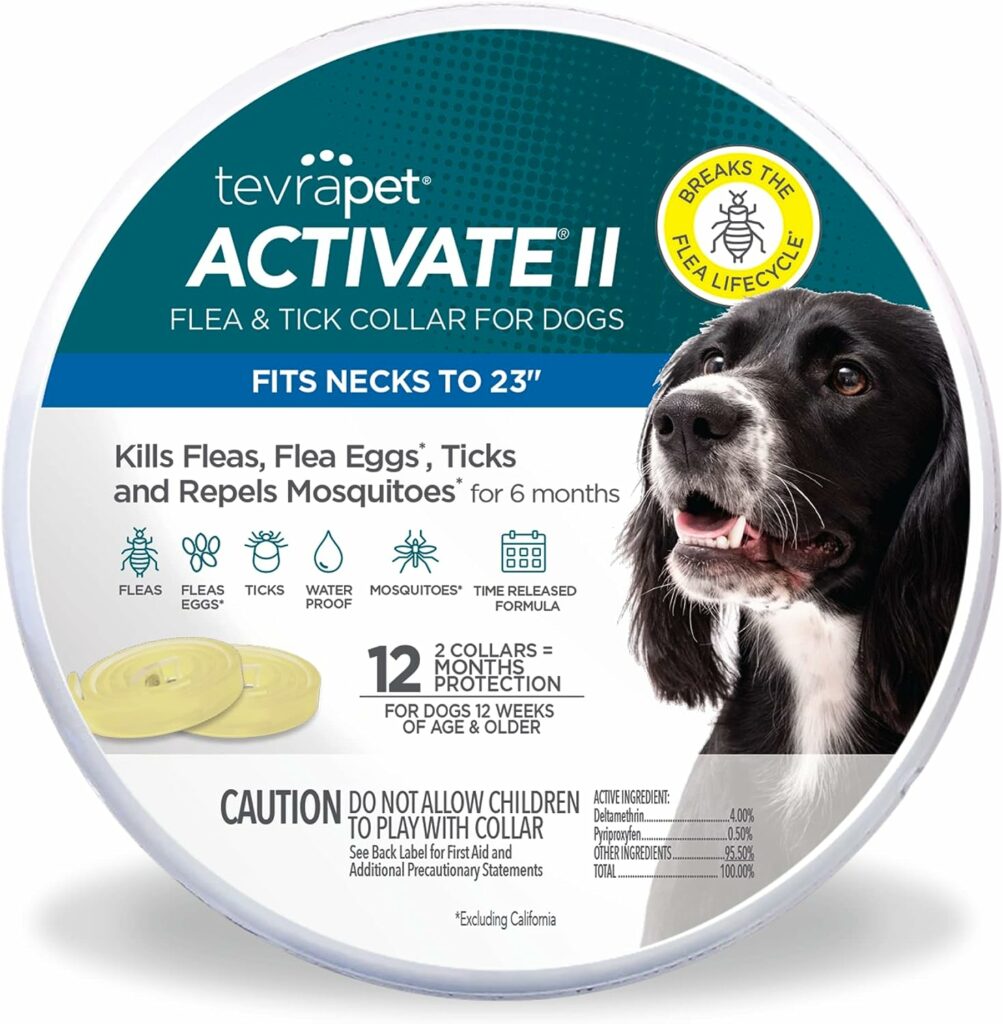 TevraPet Activate II Flea and Tick Collar for Dogs
The price of TevraPet Activate II Flea and Tick Collar for Dogs varies, so check the latest price at
What to Look For in a Dog Flea Collar - Buying Guide
When shopping for a dog flea collar, there are several considerations to keep in mind. Each flea collar has its own unique features, and some may not be suitable for your dog specifically. 
Flea Collar Insecticides and Skin Reactions
There are a number of insecticides that manufacturers use to help in the prevention of fleas, ticks, and other parasites. Some of these insecticides may cause a stronger reaction in some pets, particularly if they're sensitive. Make sure you read the list of ingredients before purchasing. You want one that kills fleas and offers tick protection without causing extra stress on your pup.
Flea Collar

Durability
The last thing you want to do is buy a flea and tick collar that is going to fall apart on you shortly after purchase. The best way to ensure it kills fleas and is durable, if you've not used the brand before, is to read the reviews. Most will clue you in as to how well the flea and tick collars work and how well they stand up to daily use. 
Comfort 
Comfort is key because if the collar irritates your dog's neck, it's going to cause them some stress. To help with the comfort, make sure it has a proper fit — that means looking at the "fits neck sizes" section of the description. Then, when you put it on, make sure it's not too loose or tight.
If you're wondering how tight should a dog collar be, just use the two-finger test. Make sure you can only fit two fingers inside the collar, no more or less. 
If it's too tight or loose, you'll need to learn how to adjust a dog collar. Save the trimming until you've got the tick collar at the right fit.
Flea Collar Effectiveness
There are a lot of flea collars on the market, and unfortunately, there are some that are more hype than anything. Like with the question of durability, this is where customer reviews come in handy, but it's also important to be aware that some areas have fleas that are increasingly immune to some insecticides, so their experiences may be vastly different than yours. Some are so effective, though, that they help prevent future infestations.
However, if the majority of the reviews on the product across multiple sites discredit the flea collar's effectiveness, there may be something to it. Also, look into whether the manufacturer offers a money-back guarantee. If the flea collar doesn't work for you, you could get your money back. 
Targeting Different Life Stages
Another factor to consider is what life stages the collars work on. For example, do they work on eggs and larvae in the case of fleas or tick larvae, eggs, and nymphs? Or do they just target the adult stage of the life cycle?
Ideally, you'll want dog flea collars that cover all of the life stages to ensure full protection. There are many that target different types of pests. Consider the region you live in and the probability of your dog coming into contact with specific pests. If they're an outdoor dog, you'll want more protection for your dog's entire body than if they're mostly indoors.
Odor vs Odorless
Some flea collars come with a fragrance, and others have zero odor. The fragrance can help your pet smell nice, but for some, it can also be an irritant, adding more chemicals to the collar. 
If your pet can tolerate the fragrance collars, then it's purely just a matter of personal choice. For example, I prefer odorless because the fragrances that they put in the flea tick collar tend to be overwhelmingly fake and strong. 
Water Resistance
If you have a pup that loves to swim, like Ranger, you'll want a collar that kills fleas and adult ticks and tames flea infestations while still offering a degree of water protection. Many water-resistant brands can be submerged temporarily, such as in the case of swimming or bathing, without damaging the actual collar.
Overall Quality and Value
The overall quality and value of dog flea collars are the final picture people look at when shopping for one that will fit their pet's needs. Each of the features above should play a role in choosing a flea and tick-repellent collar that offers the type of protection you need. 
The quality and value will depend on how long the dog's flea collar lasts, the type of protection it offers, and for what price. The more expensive a collar is, the more protection it should offer against various life stages, a multitude of pests, and it should last for several months. 
Providing your dog with year-round protection from fleas, ticks, and other bugs is important for their health. Like you would take them to the veterinarian for an annual check-up and give them heartworm preventatives, flea and tick care is essential, too. And it's easy to do this by making your pet wear flea collars.
I had to try out a few different collars before I found one that I really liked for Ranger. So, I recommend that you experiment with the preventative measures and try a few different brands to see if they work for you. 
Fleas, when they die, rise to the surface of your pet's fur, so if you're seeing them when you brush your pet, it's likely the collar is doing its job. I recommend brushing your dog's coat every day initially then every few days to remove the dead pests from your dog's skin.
You can also check out our review for the best electric dog fence and best GPS dog fence here, if you're interested in offering up additional protection in your yard. Plus, our Fi vs Halo collar comparison can give you insight into more options.