Having a small dog can be incredibly frustrating since its bark can be loud and irritating.
Luckily, bark collars are available that can help train your dog to stop excessive barking.
There are a variety of bark collars on the market, but all work using one of three methods: sound, vibration, or electric shock. Some bark collars also use a combination of these methods.
The choice of bark collar will depend on both the size and temperament of the dog. While some great bark collars are available for small dogs, the shock options that work on large dogs have a high risk of harming a small dog.
This blog post will discuss the best bark collars for small dogs and provide information on using them effectively. Keep reading to learn more!
Best Rechargeable Bark Collar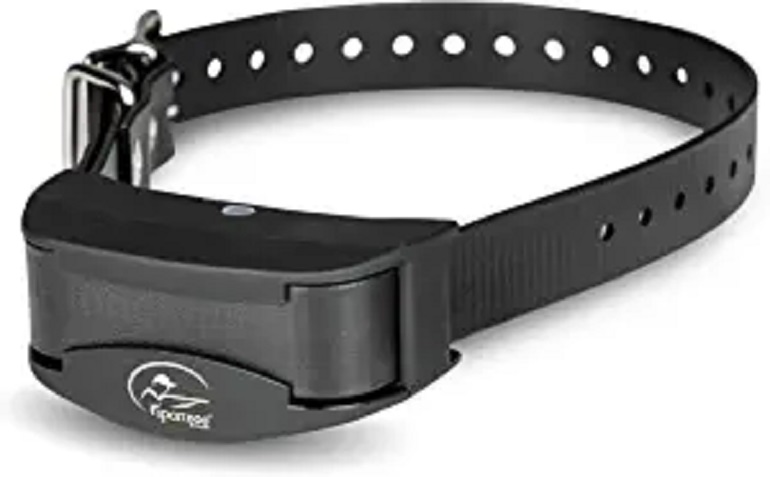 SportDOG Brand NoBark 10 Collar
MATERIAL: NEOPRENE
BRAND: SPORTDOG BRAND
COLOR: BLACK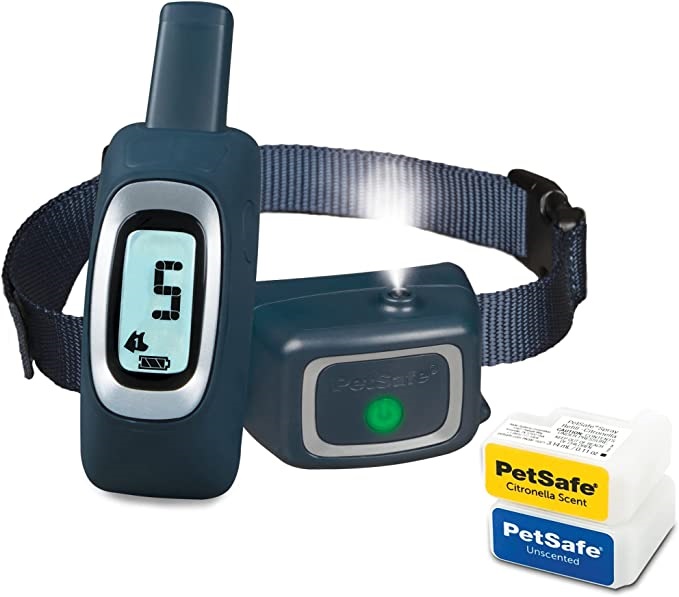 PetSafe Remote Spray Trainer
MATERIAL: PLASTIC
BRAND: PETSAFE
COLOR: NAVY
Best Waterproof Bark Collar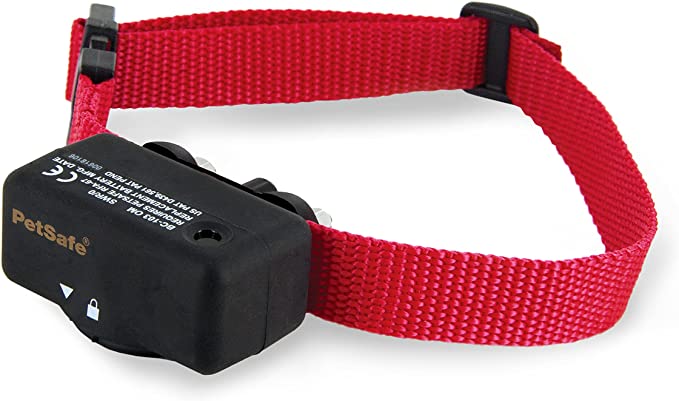 PetSafe Basic Bark Collar
MATERIAL: NYLON
BRAND: PETSAFE
COLOR: BLACK, RED
Best Barking Deterrent Device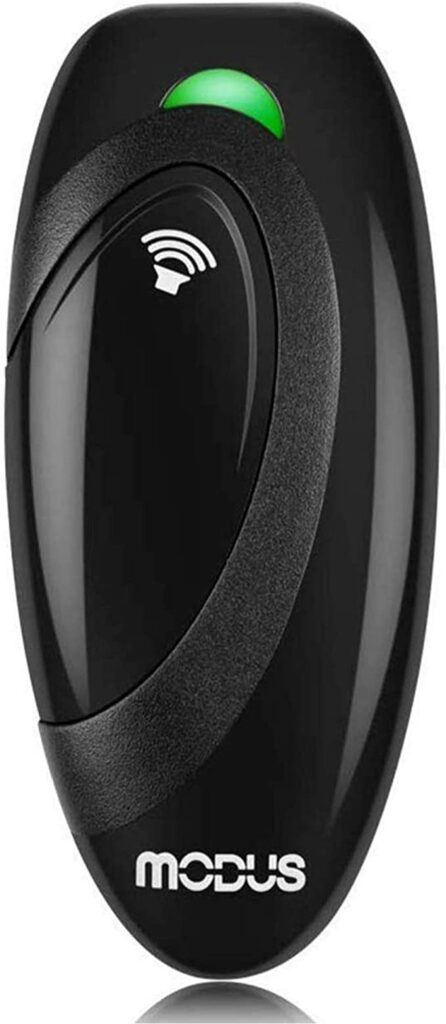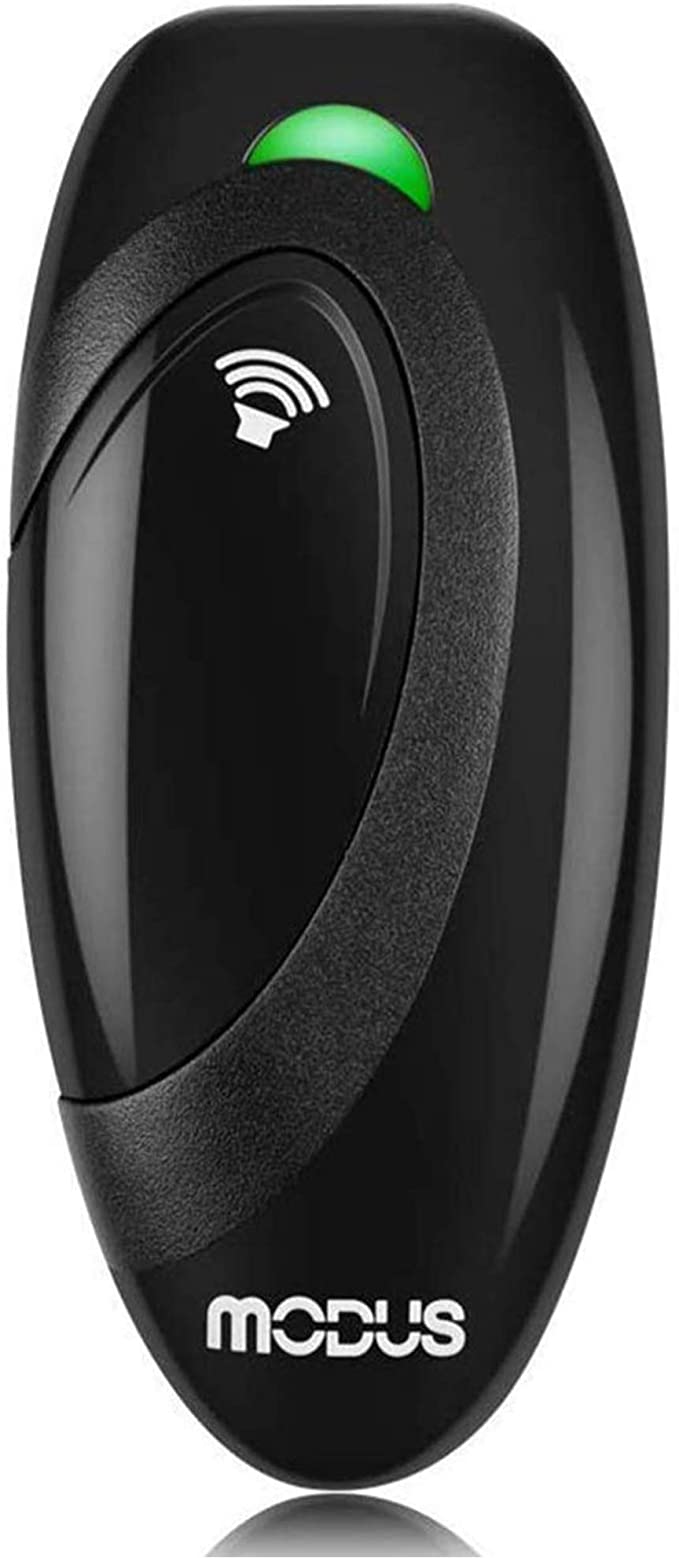 Modus Anti-Barking Device (Ultrasonic)
Material: Plastic
Brand: Modus
Color: Black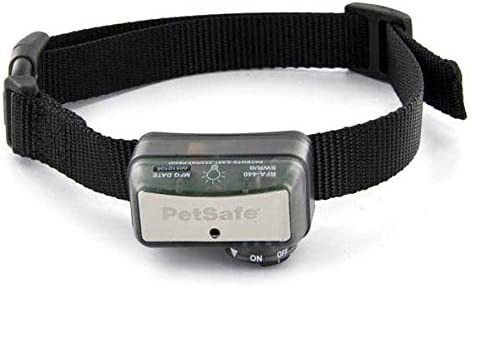 PetSafe Elite Dog Bark Collar
Material: Nylon
Brand: PetSafe
Color: Black
Best Comfortable Bark Collar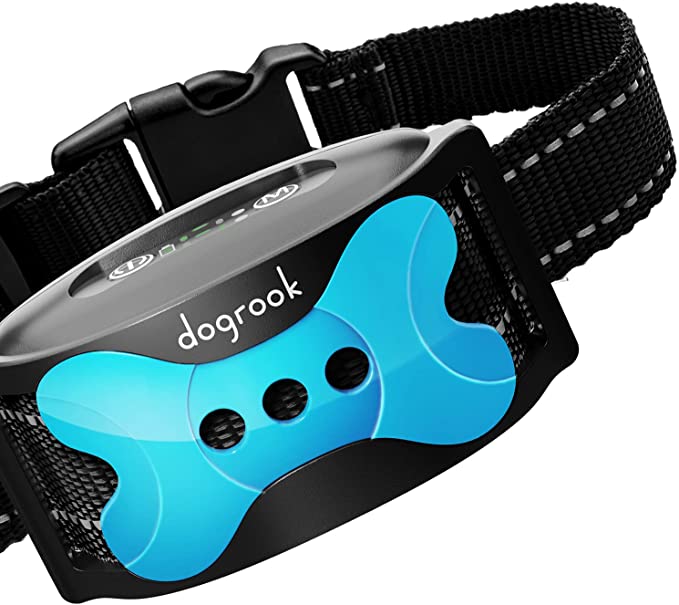 Material: Nylon
Brand: DogRook
Color: Blue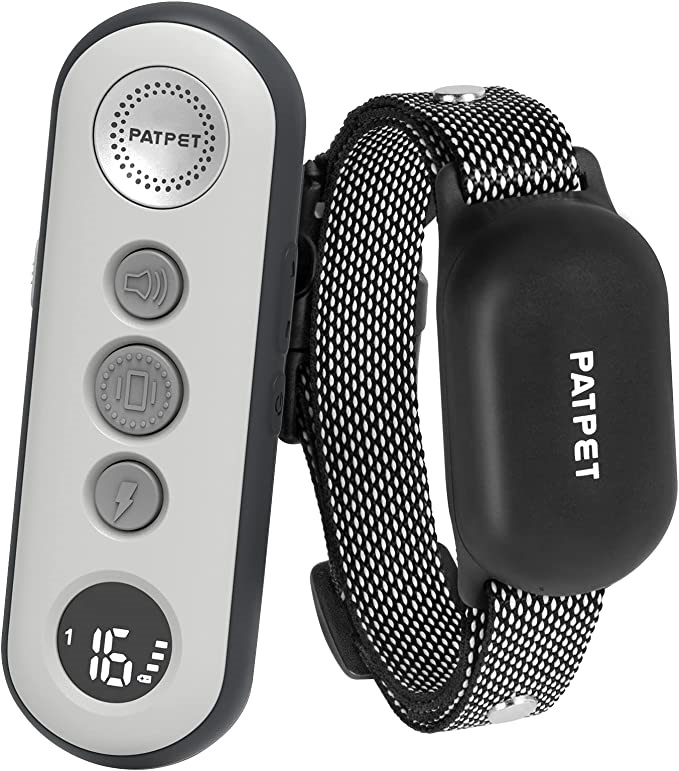 PATPET Dog Training Collar
Material: Nylon
Brand: PATPET
Color: Grey
Best Lightweight Bark Collar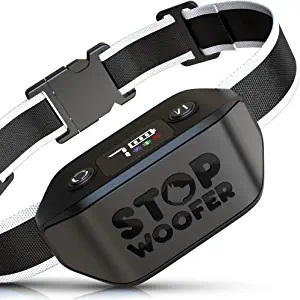 STOPWOOFER Dog Bark Collar
Material: Nylon
Brand: STOPWOOFER
Color: Black
8 Best Bark Collars for Small Dogs
A bark collar is a great way to stop your dog from barking. But sometimes, training is not enough, and we have to resort to more radical measures.
But where can you get these modern tools which will help you train your canine?
On the internet! The vast choice of a wide range of sellers offers many products. You can find everything from cheap, not very effective, to high-end collars for noisy dogs with excellent features.
So let's check what is really in the market and see which option would be best for your canine!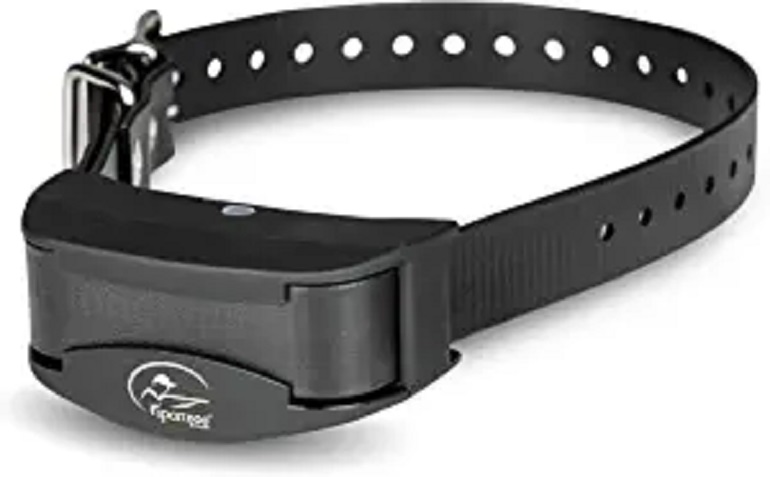 This patented technology detects your dog's unique barking style, making corrections more accurate and helping to stop nuisance barking.
There are two modes of operation – Progressive Correction, which starts with a low static correction and increases if needed, or User Select, which lets you choose the level of static stimulation that works best for your pet. Plus, there are ten levels of static stimulation for greater flexibility.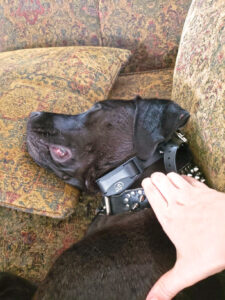 The collar is also waterproof using DryTek technology for added convenience. In addition, the collar automatically shuts off after 80 seconds, so it's safe and won't overcorrect your dog.
The collar also features a rechargeable lithium-ion battery and a quick 2-hour charge. The battery can remain charged for 200 hours when it is fully charged.
This collar is made of solid neoprene material with buckle closure, so it easily fits the neck size of your dog.
This collar fits dogs of 8 lbs. or larger with neck sizes 5″ to 22″.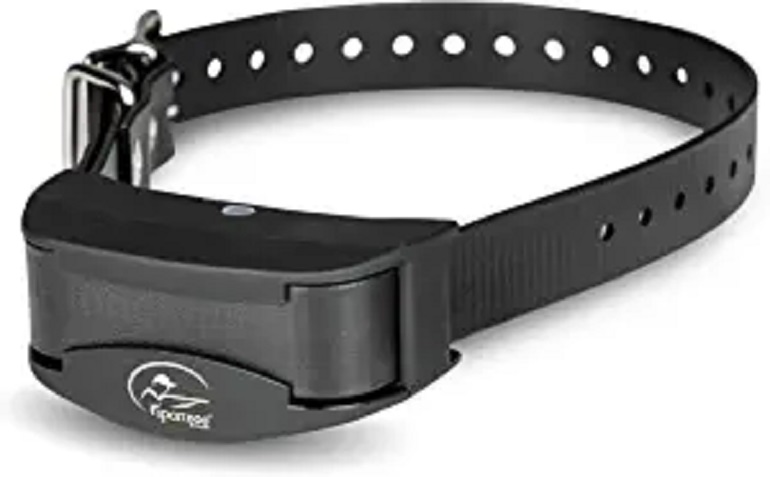 SportDOG Brand NoBark 10 Collar
The price of SportDOG Brand NoBark 10 Collar varies, so check the latest price at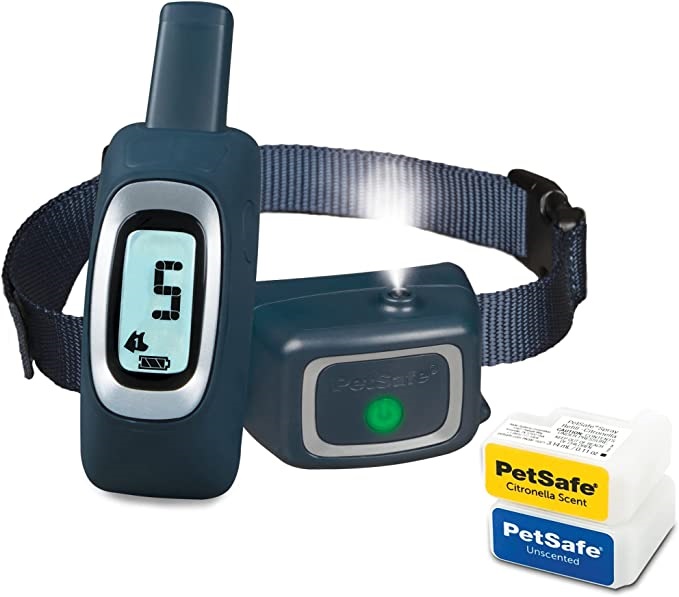 The PetSafe Remote Spray Trainer is perfect for teaching your sensitive furry friend not to jump on people, bark incessantly, or chew on furniture.
The included remote control allows you to spray your pet with a harmless but effective burst of unscented or citronella spray from up to 300 yards away. Plus, the included cartridge holders let you change scents quickly and easily.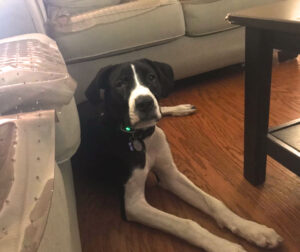 This versatile product offers three training options – an audible tone, vibration, or spray – making it perfect for sensitive dogs. The audible tone is used to warn the dog or to get their attention. The vibration distracts the dog or interrupts the lousy behavior while the spray reminds the dog of good conduct.
The easy-to-use device has refill options that make it sustainable and holds almost 35 sprays in each cartilage. It ensures a comfortable fit for dogs 8 lbs or above. It also features adjustable sizing to fit neck sizes up to 27 inches with button closure.
The collar and remote are waterproof and rechargeable, with a battery life of 40 hours.
PetSafe has been trusted by millions of pet owners for 30 years and offers a guarantee of making correct pet behavior.
So whether you're headed out on an adventure or need to curb your pup's misbehavior, the Remote Spray Trainer is the perfect tool for the job.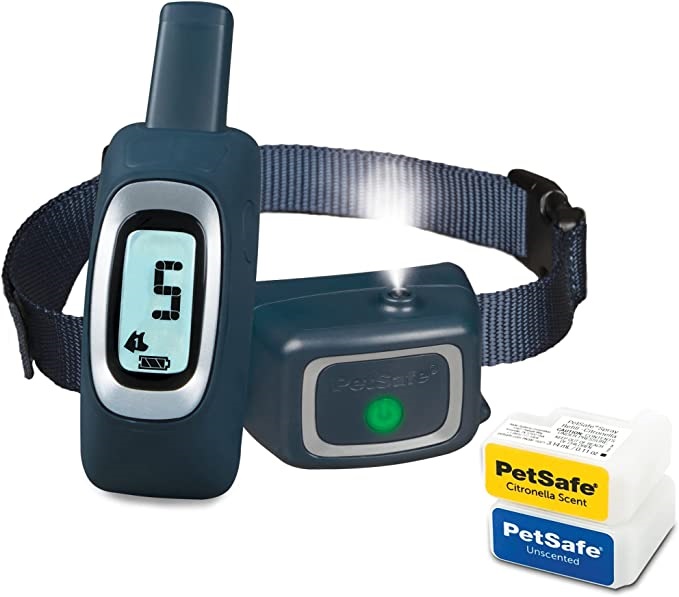 PetSafe Remote Spray Trainer
The price of PetSafe Remote Spray Trainer varies, so check the latest price at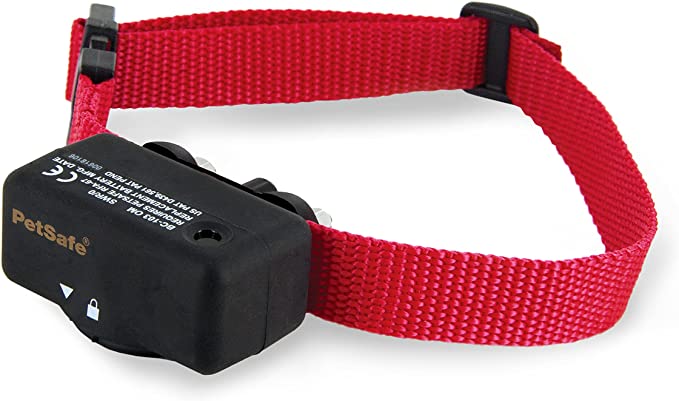 The PetSafe Basic Bark Collar is the perfect way to get started. This collar uses a battery-powered vibration sensor to detect when your dog barks and then emits a corrective tone.
The adjustable strap fits dogs 8 lb and up, with neck sizes of up to 27 inches. In addition, this collar features a low battery indicator to let you know when it's time to recharge.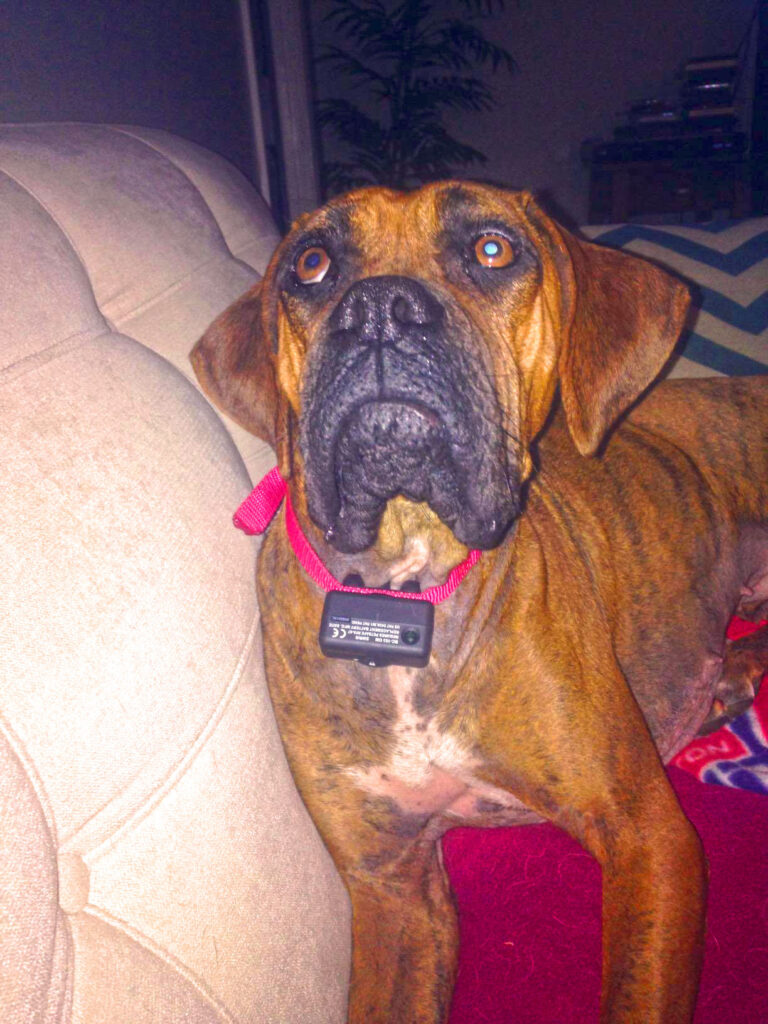 The PetSafe Basic Bark Collar offers six levels of static correction to help teach your pup to stop excessive barking. The collar automatically adjusts to the correction level that is most effective for your dog, so you can rest assured knowing your puppy is getting the best possible training.
The PetSafe Basic Collar is perfect for any pet parent looking to train their dog in any environment, indoors or out. The waterproof collar is made of nylon material and can be easily cleaned. A dog should not wear a collar for more than 12 consecutive hours.
Plus, it's backed by PetSafe's 1-year warranty. So cut down on the barking and start enjoying peace in your home today!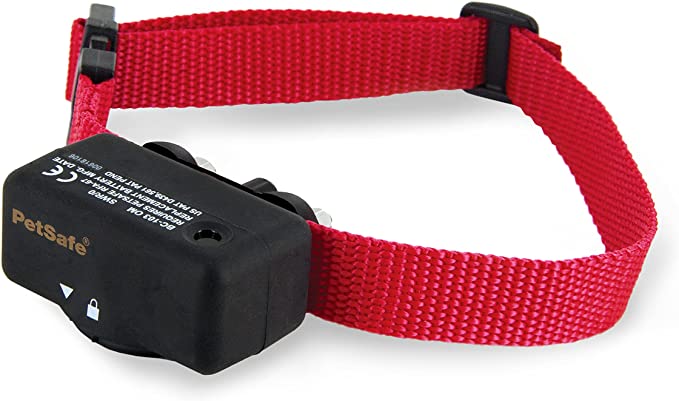 PetSafe Basic Bark Collar
The price of PetSafe Basic Bark Collar varies, so check the latest price at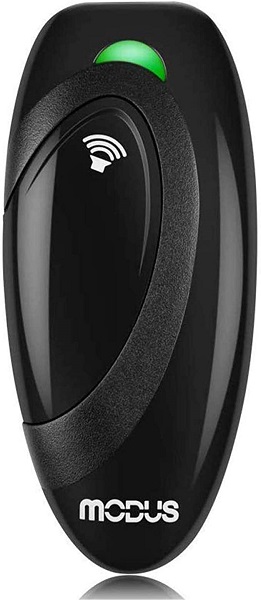 Modus ultrasonic bark control devices use high-frequency sound waves to get your dog's attention and correct their behavior. With this product, you can easily teach your furry friend not to bark or dig in the yard.
This device emits ultrasonic sound at 25kHz, beyond the human hearing range, but will capture your dog's attention and help curb their barking.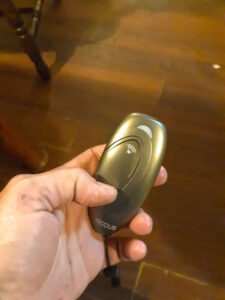 The MODUS bark deterrent is the perfect accessory to have while out on a walk with your pup. If the dog starts to bark excessively, activate the device, and it will emit an ultrasonic sound that will silence them. The device takes four AAA batteries to operate.
The adjustable anti-static wrist strap also makes it convenient to use. The control range of the MODUS bark deterrent is 16.4ft so that you can keep your pet under control from a distance. Its LED indicator lights up green when the device emits ultrasonic sounds.
The Modus is suitable for all size dogs, making it an excellent choice for any pet owner.
But it has some limitations too. For example, it is not suitable for dogs with hearing problems under six months or above eight years old.
So don't let excessive barking drive you crazy – get a Modus today!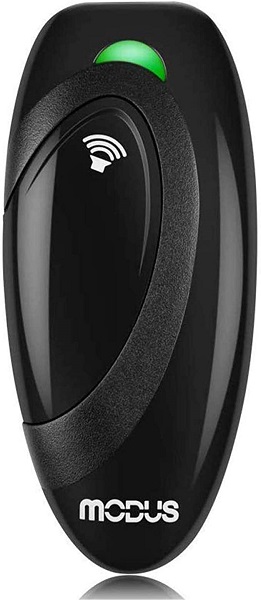 Modus Anti-Barking Device (Ultrasonic)
The price of Modus Anti-Barking Device (Ultrasonic) varies, so check the latest price at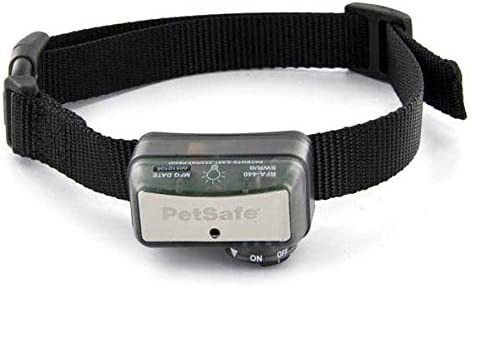 The PetSafe Elite Dog Bark Collar is designed for dogs that weigh over 40 pounds and have neck sizes up to 28 inches. This collar uses safe, humane ultrasonic technology to stop your dog from barking.
This advanced collar offers ten levels of progressive static stimulation, so you can customize the correction to fit your pet's personality and behavior.
The built-in safety feature ensures that the collar won't overstimulate your dog, and the collar will automatically shut off after 3 minutes. It's also waterproof so that you can take it with your dog on all outdoor adventures. Also, the adjustable collar ensures a perfect fit for any dog.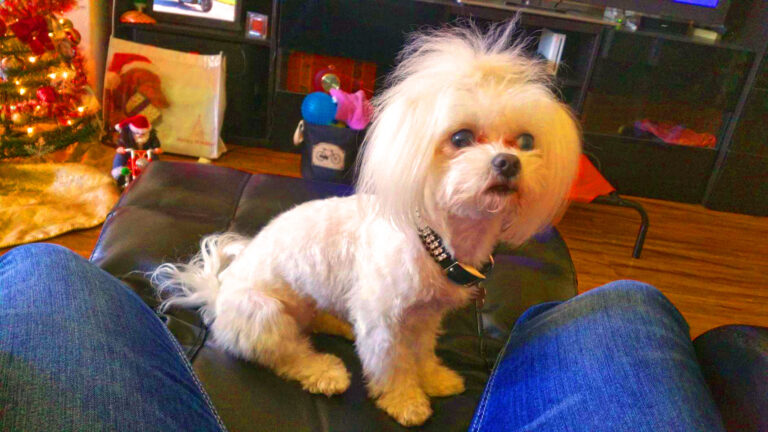 This innovative anti-bark training device uses a PetSafe RFA-188 battery and features two-color LED indicators that let you know when the battery needs to be changed.
Plus, the patented Perfect Bark Detection system ensures that only your dog's bark will set off the correction – other noises like another dog barking won't trigger a response.
With its easy-to-use design, there is no programming required – just put it on your dog and let him learn to be quiet. This collar begins with low corrections, but if unwanted barking continues, the correction intensity will increase until your dog learns to stop barking.
Finally, the adjustable strap ensures a snug, comfortable fit for all dogs, large and small. Give your dog a safe, consistent reminder to be quiet as soon as it barks with the PetSafe Elite Dog Bark Collar.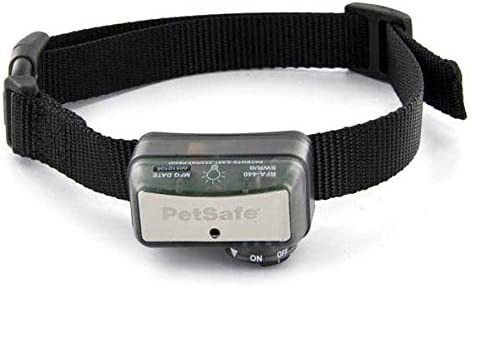 PetSafe Elite Dog Bark Collar
The price of PetSafe Elite Dog Bark Collar varies, so check the latest price at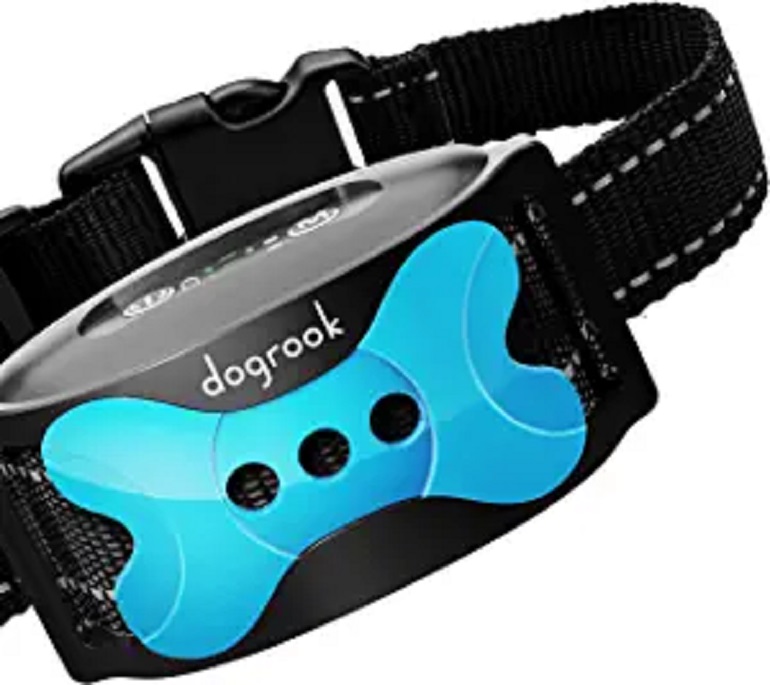 Dog Rook Bark Collar doesn't use shocks or other harsh methods to discourage barking. Instead, it gives just a loud, audible warning that will startle your pet and make them think twice before barking again.
This collar features five sensitivity levels, making it ideal for dogs with thick hair. In addition, the SMART MICROPHONE ensures that the collar accurately detects your dog's bark, while the lightweight design makes it easy to wear even for smaller dogs.
This humane, automatic bark collar features two modes – one for mild barking cases and the other for more severe cases. The collar automatically switches between beeps and vibrations based on how often the dog barks, increasing intensity after each bark.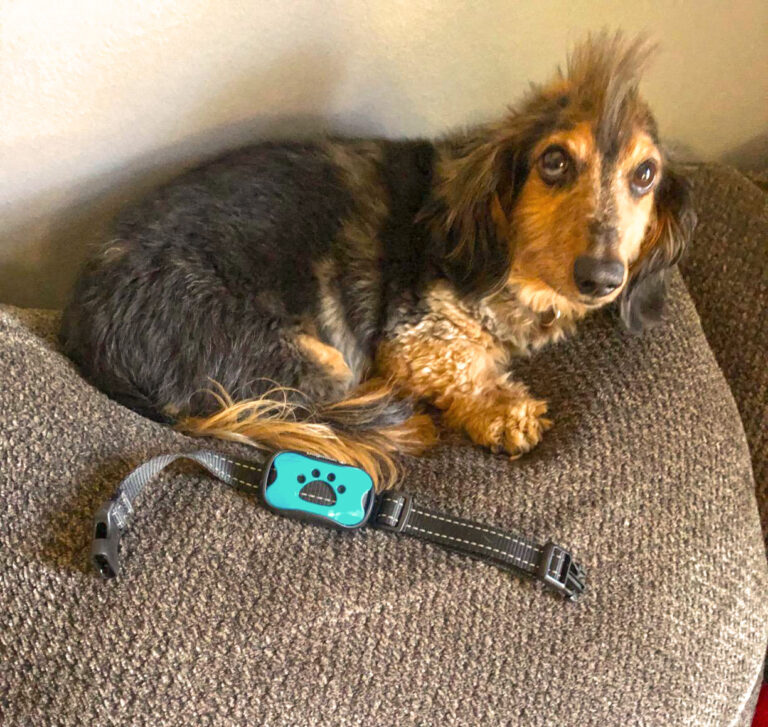 With five safe stages of sound and vibration, this collar is sure to help stop your dog from barking in no time! The Dog Rook Collar is adjustable for dogs weighing 11 to 110 lbs with a neck size of 9 to 22 inches, making it perfect for small, large, and medium dogs alike.
Not just one of those cheap no-bark collars, this rechargeable version is an excellent investment for your pup's bad behavior. It lasts around 14 days on a single charge and takes only 2-3 hours to charge fully.
This handy carrier gives you a hands-free way to take your pup with you on any adventure and features an automatic bark control system to keep them from disturbing others.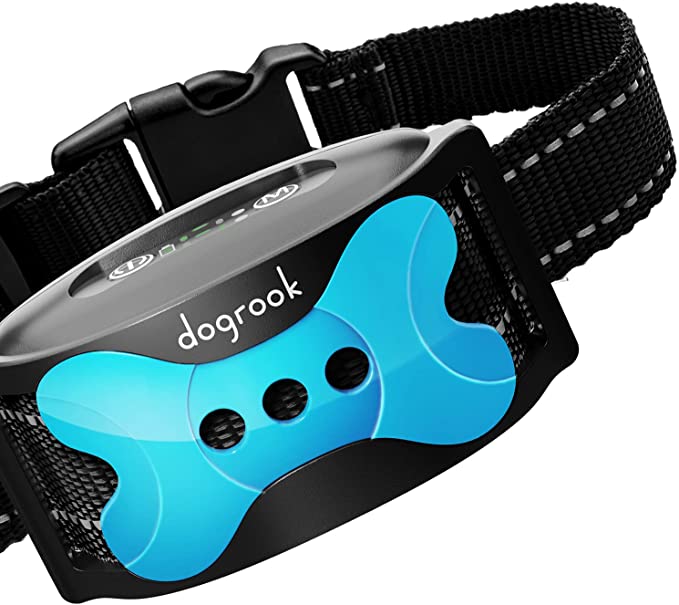 The price of Dog Rook Bark Collar varies, so check the latest price at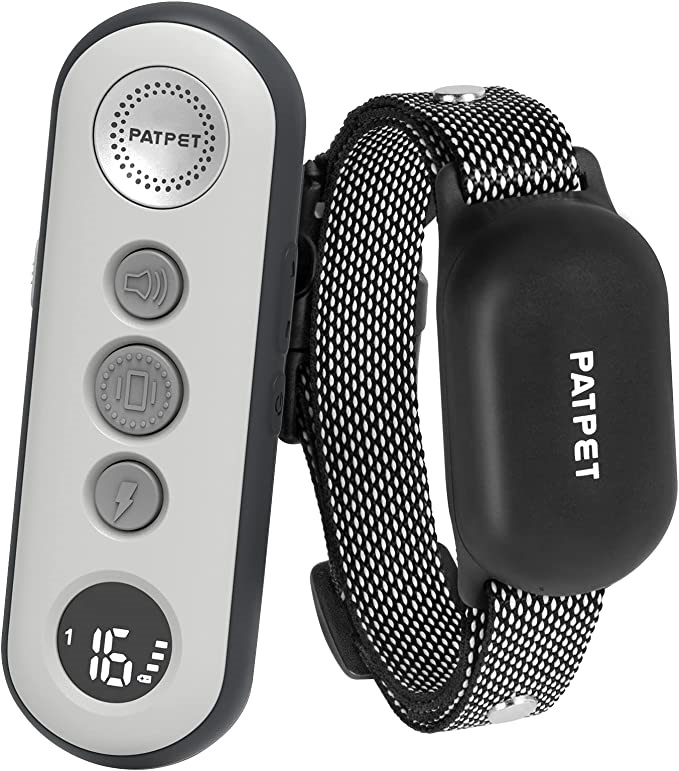 PATPET Dog Training Collar is the perfect tool for anyone to train their dog humanely. This Training Collar is ideal for all size dogs, even puppies. The adjustable nylon collar fits dogs with neck sizes 7″ – 27″. 
This collar provides three safe, effective modes of training – static shock, vibration, and tone – you can customize the level of static shock (1 to 16) to fit your dog's needs. The tone mode provides a standard "Tone" without shocking your dog that can be used as a warning or reinforcement signal.
The remote is entirely safe because the security switch prevents any accidental shocks. So you can take it with you without being concerned about unintended shocks.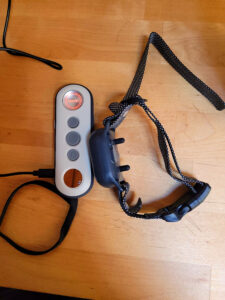 With two channels and a maximum control range of 3000 feet, it's easy to keep your pet on track both outdoors and indoors. In addition, the two channels mean you can train two dogs simultaneously with the same remote.
It is a high-end product that offers superior quality and functionality. In addition, the 2 Hour Quick Charge & Longer Battery Life ensure that you'll never be concerned about running out of power while training your dog.
The charging life of the collar is 30 days, while the remote can work for 60 days without charge. The remote and receiver provide a low battery warning, reminding you to charge your battery in advance. With its IPX7 water-resistant technology, this collar can stay submerged in water for half an hour without any adverse effects. 
PATPET Dog Training Collar trains your dog while protecting their skin. The conductive silicone points provide double protection against shocks, while the large LCD screen makes it easy to control the training process.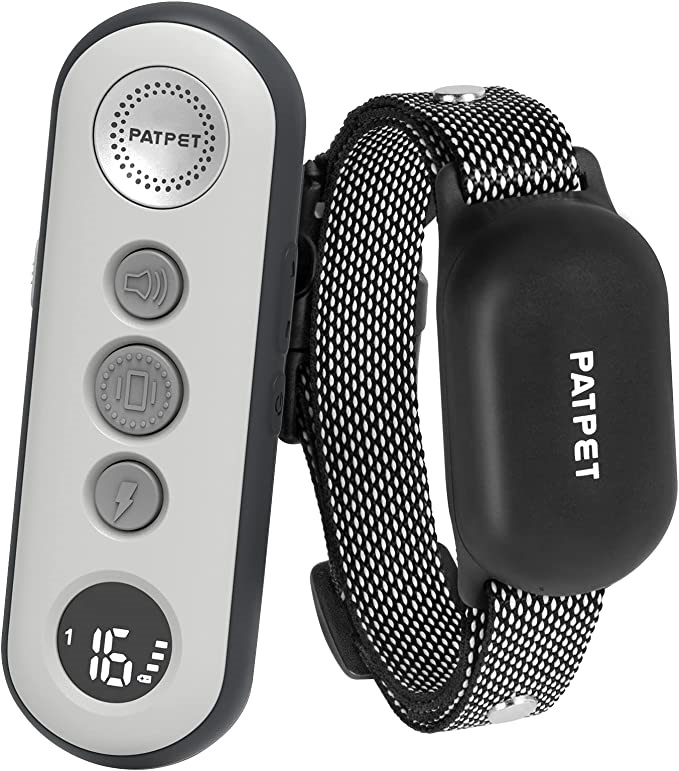 PATPET Dog Training Collar
The price of PATPET Dog Training Collar varies, so check the latest price at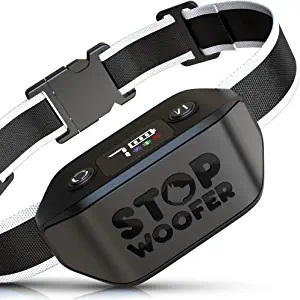 The STOPWOOFER Dog Bark Collar does not rely on shocks or pain to get the job done. This innovative collar is designed to stop dogs from barking excessively without giving shocks or punishment.
The STOPWOOFER Bark Collar uses sound and vibration sensors to detect when your dog is barking and will automatically pause for 1 minute after seven correction levels. Plus, it's 100% safe and effective for your furry friend.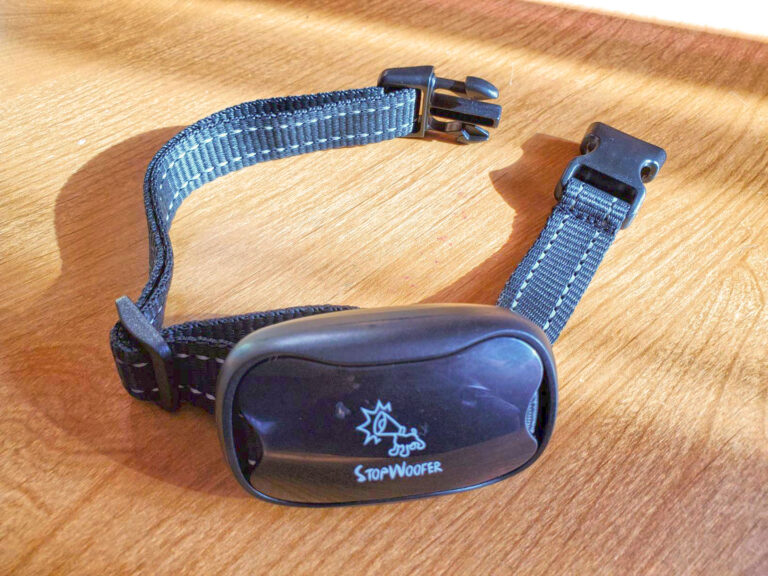 This rechargeable collar quickly and easily eliminates the dog's excessive barking, making life a little more peaceful for both you and your furry friend. With its long-lasting battery life of 14 days, you can rest assured that your pup will always be able to stay quiet when needed.
The lightweight, effective collar is perfect for large, medium, and even small dogs. The soft nylon collar is comfortable, is easy to use, and the adjustable settings ensure a perfect fit.
STOPWOOFER is the convenient and humane bark collar to train your pup in no time!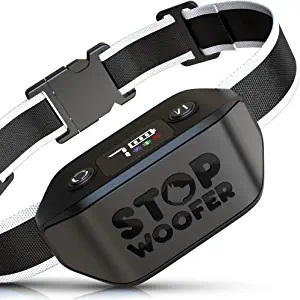 STOPWOOFER Dog Bark Collar
The price of STOPWOOFER Dog Bark Collar varies, so check the latest price at
Things to Consider When Buying Best Bark Collar For Small Dogs
When looking for the best bark collar for small dogs, it is vital to consider a few factors listed below.
There are several types of bark collars for small dogs available, so you need to know their differences before purchasing.
Citronella Spray Bark Collars:
Citronella spray collars work by releasing a gas that smells like citronella when your dog barks. This spray collar makes your dog stop barking as it isn't something it likes.
Electronic Shock Bark Collars:
The electronic shock bark collar emits a small electric shock every time your dog barks. There are different levels of this shock to choosing the best one for your pet.
Ultrasonic collars work similarly to electronic ones, but they emit an ultrasonic sound every time he barks. The sound is supposed to startle him to minimize the dog's barking. These bark collars also have speakers to customize the tone, so it doesn't bother you.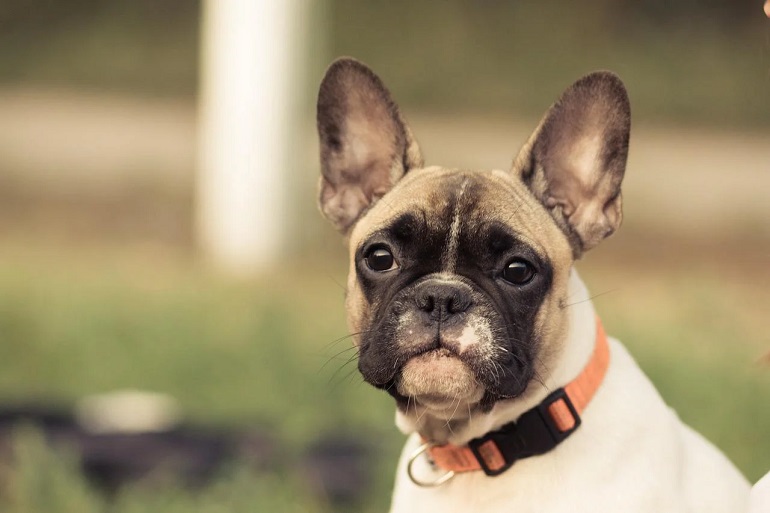 Most bark collars for small dogs are lightweight and don't cause too much discomfort. However, you should still make sure that they are comfortable enough for your dog to wear without wanting to take them off all the time.
Some of the heavier models can even leave marks on your dog's neck depending on how tight it is, so always make sure to check the weight before purchasing.
There are too many different types of small dog breeds to make an exhaustive list, but some examples are Pug, Chihuahua, Pomeranian, Shih Tzus, Poodles, and more. The smallest ones may not even need a bark collar depending on their size, so always measure before buying one.
Ideally, you will want a collar that fits him snugly, but it still needs to be comfortable enough for him not to notice he has it on. It means getting an adjustable collar or one meant to fit him right away. Just make sure to measure your puppy before making a purchase, or you might end up with an ill-fitting collar.
Make sure to ask about the effectiveness of the different bark collars before buying one, so you know you are getting your money's worth. These dog barking collars are designed to stop your puppy from barking, so you should get one that works.
You should go with one that has good reviews, works for your type of small dog, and fits comfortably. Remember that even the most effective ones may not work for all dogs, so you may need to go for a different type of bark collar. Find the dogs' bark collar with rechargeable batteries having long-lasting life.
Durability is another crucial factor to consider when purchasing a bark collar for your small dog. Make sure to get a durable collar that will last a long time. This way, you won't have to worry about breaking or not working anymore after a few uses.
Some cheaper models may not be as durable as the more expensive ones. Always go for a brand you trust, and that has good reviews.
Precautions of Using the Bark Collar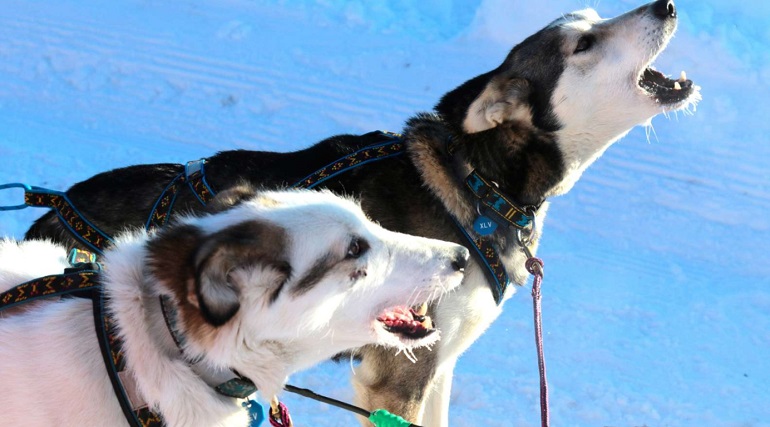 When using any bark collar for a small dog, it's essential to use it in short sessions (no more than 10 minutes at a time). If your dog shows fear or anxiety, remove the collar straight away.
If your dog is aggressive towards other dogs, the sonic anti-barking collars are unsuitable, and you should avoid them to prevent injury.
During the training process, ensure that your dog cannot get used to wearing its bark collar by removing it for brief periods between sessions. If you do this, they will learn that barking does not get rid of it quickly.
Consider your dog's temperament; if they are gentle and quiet, it would be unwise to shock them. Furthermore, it would help avoid electric bark collars for a small dog because of the risk of injury or death. We recommend ultrasonic anti-bark collars as the best bark collar for small pups.
If your dog's barking is caused by fear or anxiety, then the sound may only work as a startle to scare him into stopping, which is not what you want. 
There are some places where voiced bark collars are not allowed by law. A vibration-only collar would work in these cases and stop him from barking.
There is some debate as to whether or not dog collars are safe. Some people believe that they can cause injury to a dog's neck, especially if it is tight. Others believe that they are a safe and humane way to train a dog.
Ultimately, whether or not to use a dog collar is up to the individual pet owner. However, if you are concerned about your dog's safety, you may want to consider an ultrasonic bark collar or one that does not use any punishment.
Static shock collars are not overly painful and have an auto shut-off function to protect against safety. So if your dog barks for more than a minute straight or turns the collar back on after it shuts down during training sessions, then there is no risk of correction, so these should be fine with most dog owners!
The interpretation on whether or not static shocks are cruel depends entirely upon you as long as it can deliver low levels of Electrical Stimulation (ES).
Yes, this is the reason behind this collar's importance. Your dog will receive a correction even if you are not at home, thanks to the auto shut-off feature. The caution with all always-on collars is that you should never leave them on for more than 12 hours in a row.
The bark control collar or anti-bark collar is one of the most effective methods to ensure that your dog won't be using his voice too much. While many people try to prevent their dogs from barking by punishing them in various ways, this is not effective or good for the relationship between you and your four-legged friend.
In conclusion, making sure your small dog doesn't drive you nuts with barking is as simple as getting a bark collar. You can get one that is comfortable for him and ensures he won't bark all the time. Always make sure to measure your dog before buying a collar, as the smallest ones may not be effective for them. There are several types of bark collars available, so make sure to go with one that best fits your dog's needs and wants.
Do you have any questions about bark collars for your small pup? Or do you want to share your experience with others? Leave a comment below, and we will answer you!
Related Guides