One of the top considerations when it comes to my dog is how I can keep him safe when he's outside. I have a physical fence in the backyard, but there's no safeguard in the front yard, and while we live in a quiet suburban neighborhood, busy streets aren't that far away. Enter GPS dog fences!
One of the top debates in the virtual fence market is which is better when you compare Halo and SpotOn, two companies that have a strong foothold in the dog fence market.
There's no doubt that both Halo and SpotOn have their places, but in reviewing the different features, it's easy to see that for everyone, there will be one clear winner.
Let's take a look at the Halo collar vs. SpotOn collar showdown in more depth: 
SpotOn Vs. Halo Dog Fence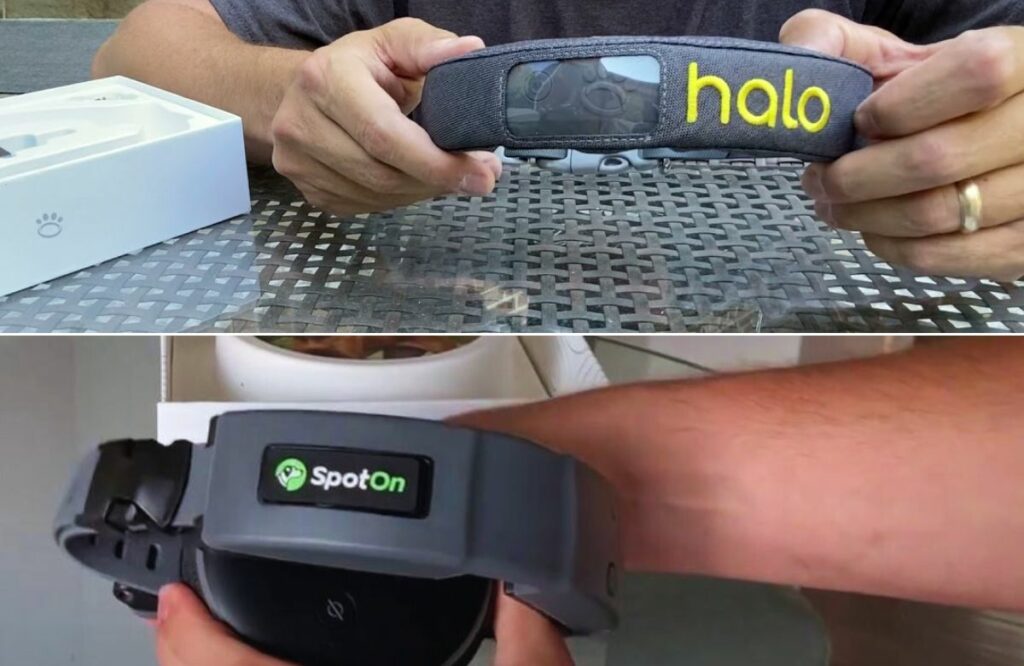 To get an accurate picture of how the SpotOn dog collar stacks up against the Halo dog collar, it's good to look at a side-by-side comparison of the features each offer in various categories.
| Feature | SpotOn | Halo |
| --- | --- | --- |
| | 1,500 automatic GPS fence posts | 20 fence posts, placed manually |
| | GPS, GLONASS, Beidou, Galileo | |
| | | |
| | | |
| | Y updates every 6 seconds | Y updates every 15 seconds |
| | | |
| Number of Static Correction Levels | | |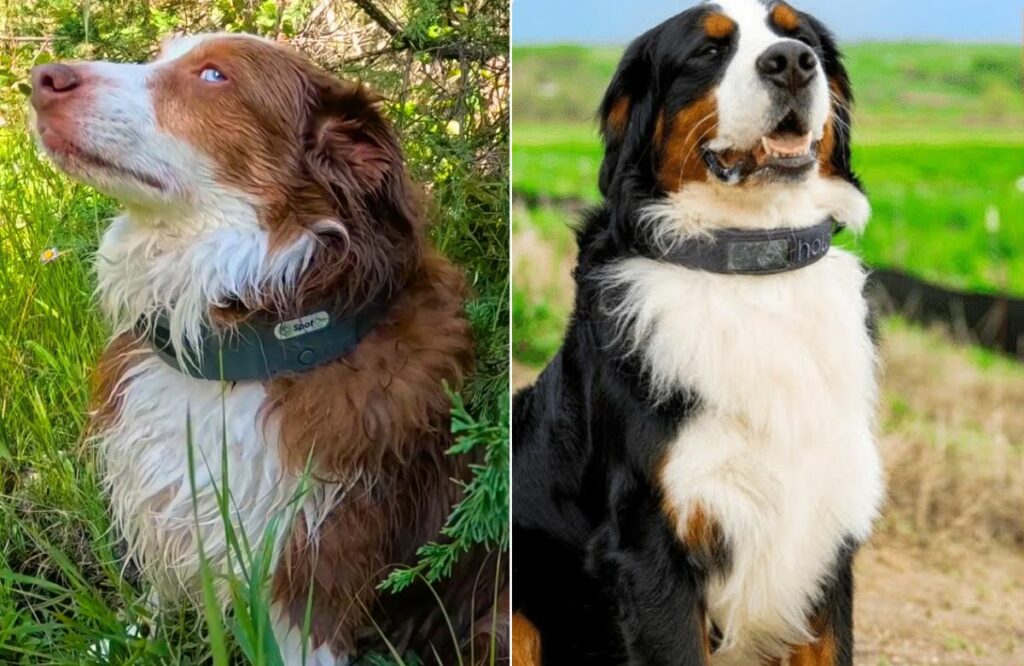 | Function | SpotOn | Halo |
| --- | --- | --- |
| | Create up to 20 virtual fences Create overlapping fences | Create up to 20 virtual fences |
| | Activate Forest Mode to track pup in heavily wooded areas | Works on multiple terrain types |
| | Free training program, plus one 30-minute one-on-one consultation with the company's certified dog trainers | Training program available for an extra cost |
| | | |
| Cost | SpotOn | Halo |
| --- | --- | --- |
| | | |
| Monthly Subscription Cost | Optional $5.95 to $9.95, depending on how long you subscribe | Mandatory $5.99, $9.99, $29.99 depending on subscription tier: Basic, Standard, Premium |
| Range and Coverage | SpotOn | Halo |
| --- | --- | --- |
| | | |
| | | |
| Type of Support | SpotOn | Halo |
| --- | --- | --- |
| | | |
| | | |
| | | |
| | | |
| | | |
| | Monday through Friday Weekends by appt | |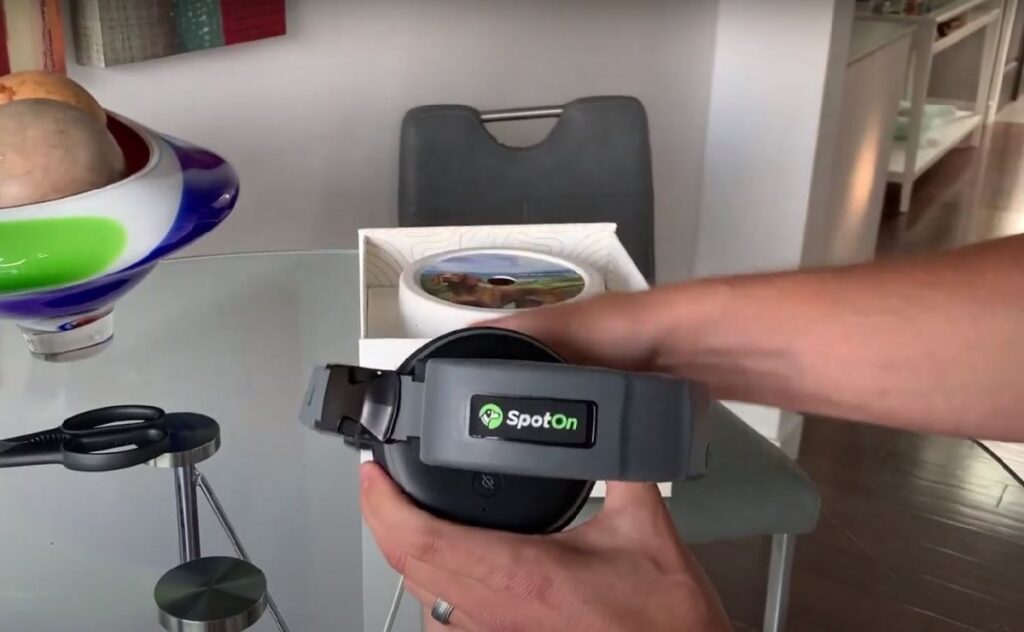 SpotOn virtual fence is largely considered one of the best wireless fence systems on the market due to the advanced technology it employs. Customers who buy SpotOn dog collars typically rave about their performance and recommend them to their friends and family. 
Features of SpotOn Dog Fence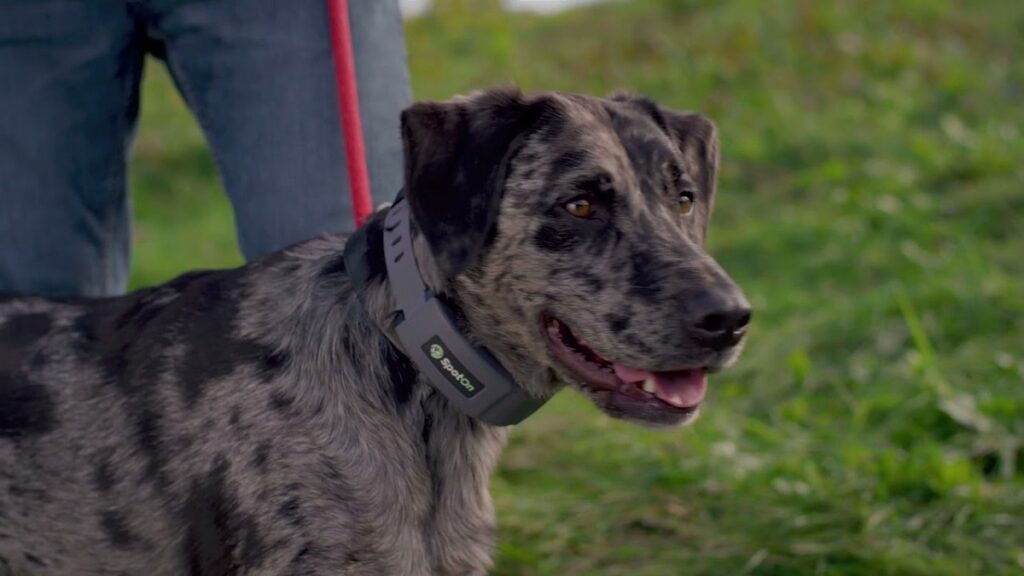 The use of patented True Location technology ensures that your GPS fence works even in remote areas. Since it doesn't need cellular service to work to establish boundaries, you can set up a fence anywhere you go.
The Spoton GPS fence system is rich with features that are designed to bring dog owners convenience and reliability. Let's take a deeper look at what the SpotOn collar features entail: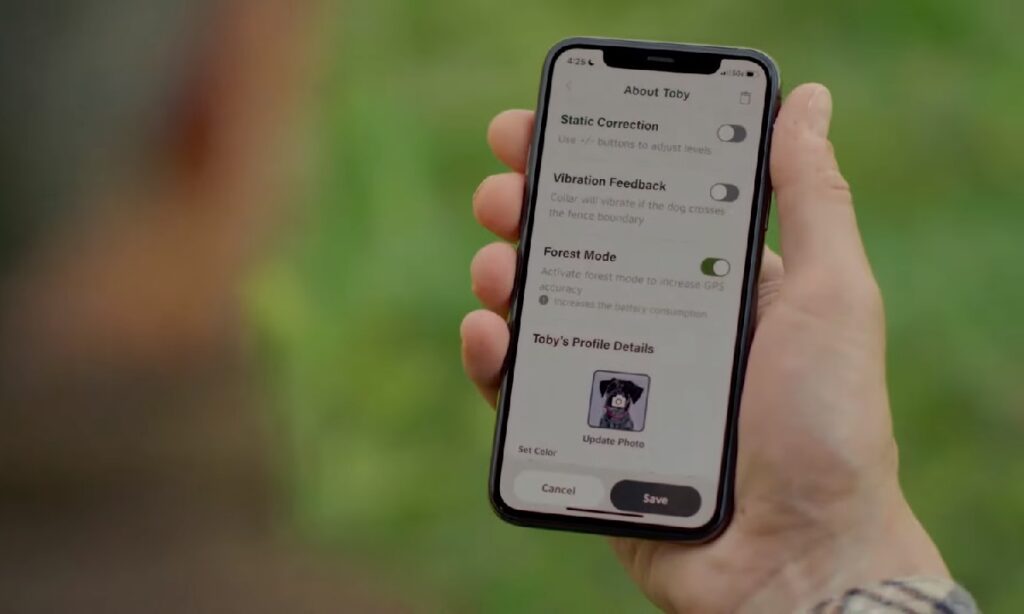 Large Number of Fence Posts
SpotOn fence gives you an astonishing 1,500 fence posts to use to create virtual fences. And you're not limited to creating a circular or linear fence. With the app, you'll walk the perimeter of the area where you want to create a fence boundary, and it conforms to your shape.
You can even hit pause in the middle to build the fence through obstacles with no extra effort. So it gives you an edge to create off-limits areas with ease.
Several Corrective Levels
SpotOn collar offers up to 30 corrective levels, which may include one of two tones, vibration, or a combination of the two. It also has optional static corrections for the most stubborn of dogs.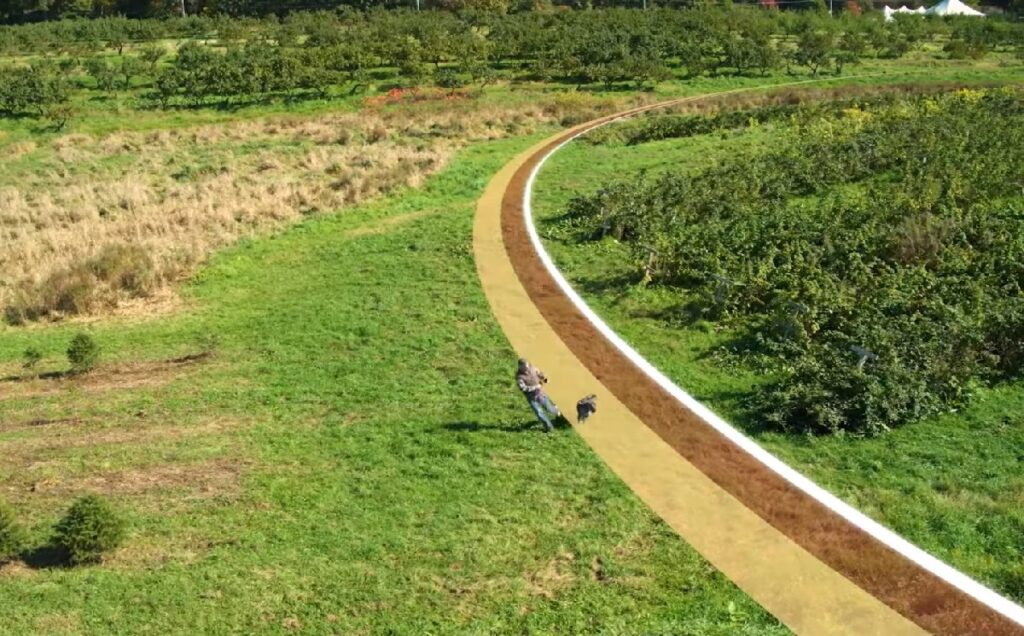 This optional feature makes it possible to track your dog in real-time if they happen to escape the boundary. In order to use the GPS location services, you'll have to pay for the subscription plan. There's only one tier, but the longer you pay for it, the cheaper it is. The going prices are: 
$9.95 per month, on a rolling monthly cost basis

$7.95 per month if you pay for a year upfront; billed at $95.40 annually

$5.95 per month if you pay for two years upfront; billed at $142.80 every two years
Both the one- and two-year basic subscription plans come with a 90-day free trial and a limited one-year warranty. With this added plan, you can see your dog's location updates and get real-time notifications if they wander outside the virtual fence.
According to its website, the SpotOn dog collar battery lasts 22 hours in containment mode and 14 hours while tracking. The tracking feature uses more energy due to consistent updating. 
Works in the US and Canada
Because it pulls on four different GPS systems encompassing more than 128 satellites, the SpotOn dog collar works all over the US and in Canada. What's more… It provides a free training program and offers SpotOn tech support too!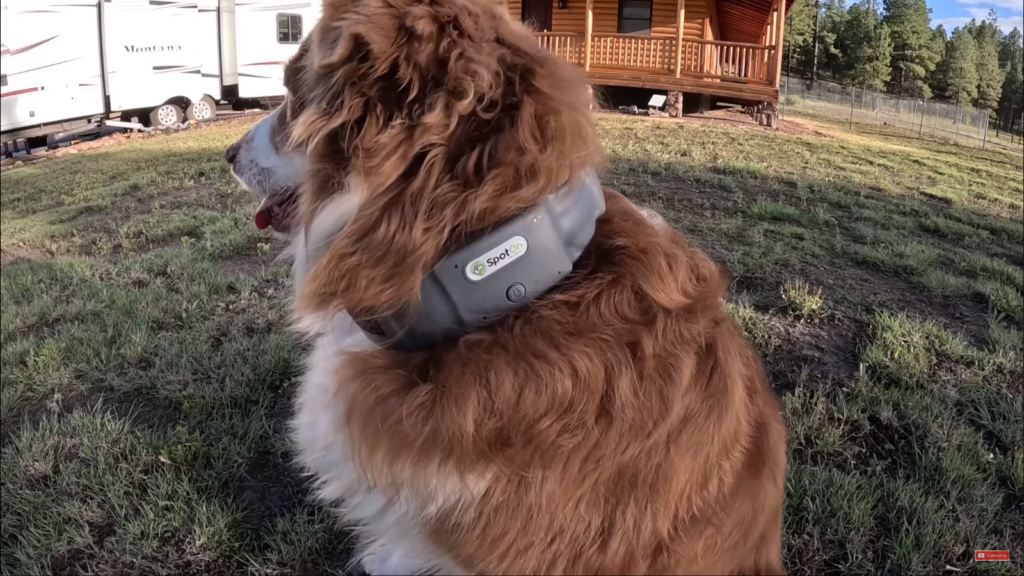 The Spot On collar comes in three sizes that can accommodate neck sizes 10″ to 26″ as follows: 
Small – fits neck sizes 10″ to 14″

Medium – fits neck sizes 12″ to 18″

Large – Fits neck sizes 19″ to 26″
Use a soft measuring tape, allowing for the two-finger rule, just above where your pet's collar sits. Use this figure to order one that will properly fit. If your dog's neck size falls between two different sizes, just size up and trim down.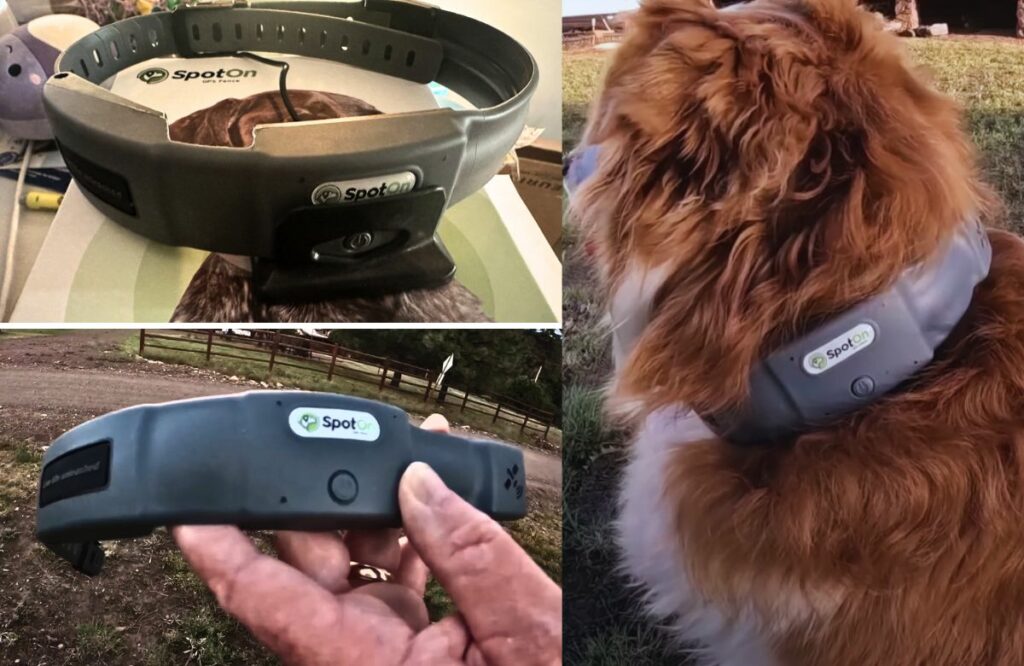 As with any product, there are upsides and downsides to the SpotOn dog collar that may prove it's not for everyone. 
SpotOn's location of the dedicated GPS antenna, which is on top of the collar, likely contributes to the fewer number of negative reviews regarding accuracy.

Its collar has a rubberized design that's quick to dry and is waterproof for swimmers and splashers.
One of the most significant drawbacks of SpotOn collars is that you must have at least half an acre of land to use with it because the GPS signals shift, which can cause fences to shift between 3 and 10 feet.

It's also the costlier of the two options, nearly double the price, but its features make up for the price difference.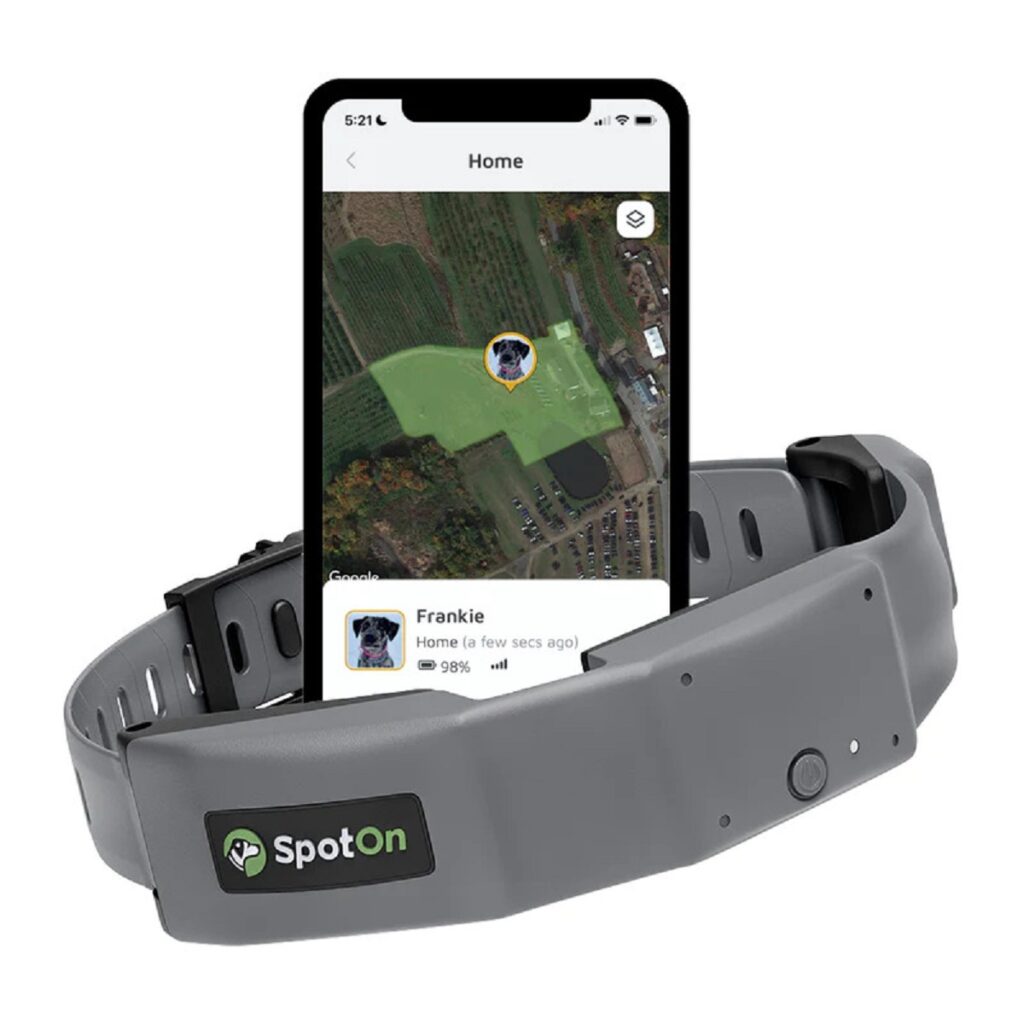 The price of SpotOn Collar varies, so check the latest price at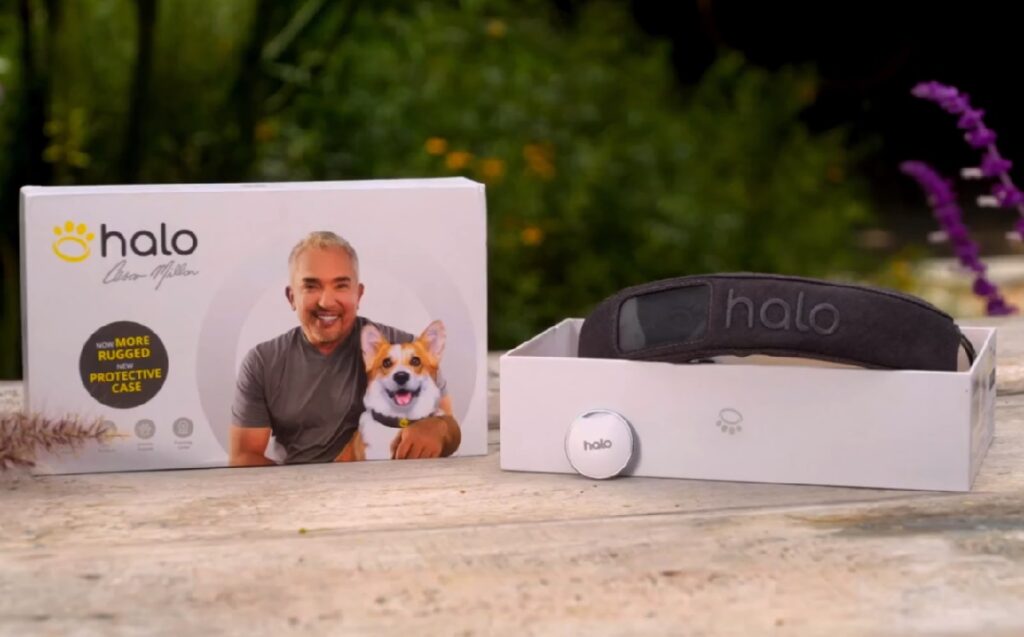 In the few years, this collar has been on the market, it's garnered much praise, and for a good reason. This GPS fence system makes it easy to contain your pet, even in smaller yards. Customers praise its ability to keep their pets contained without the need to employ harsher warnings. 
Features of Halo Dog Fence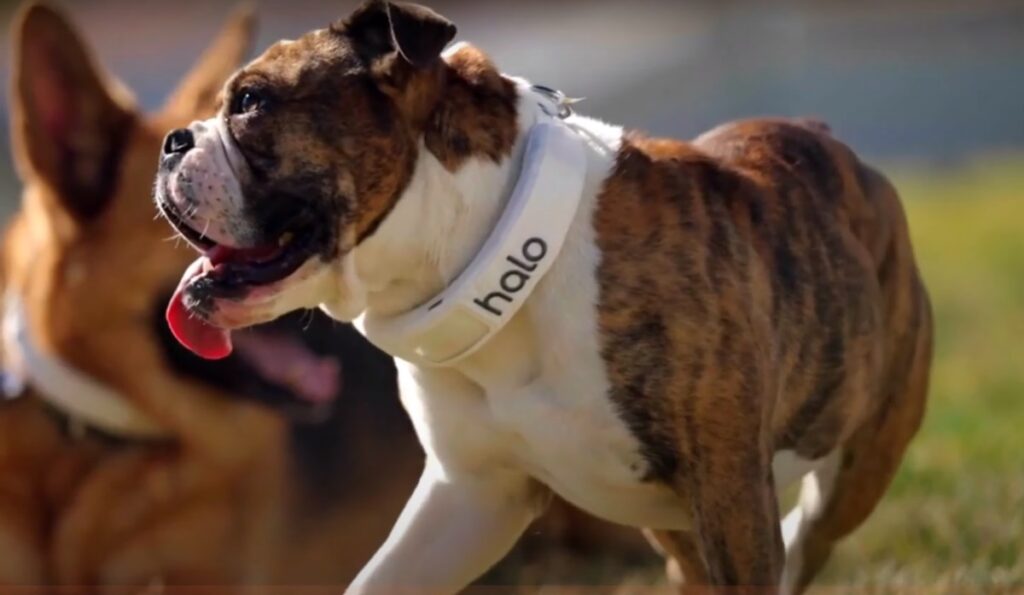 Digging into the features of the Halo dog collar, it's easy to see why it's a customer favorite. Advanced technology and features suggested by real dog owners make it a resilient product that has stood the test of time with their new model of Halo 2 collar.
The Halo collar pulls from over 50 multiple satellites to help create accurate GPS fences and track your pup should he decide to go on a day adventure.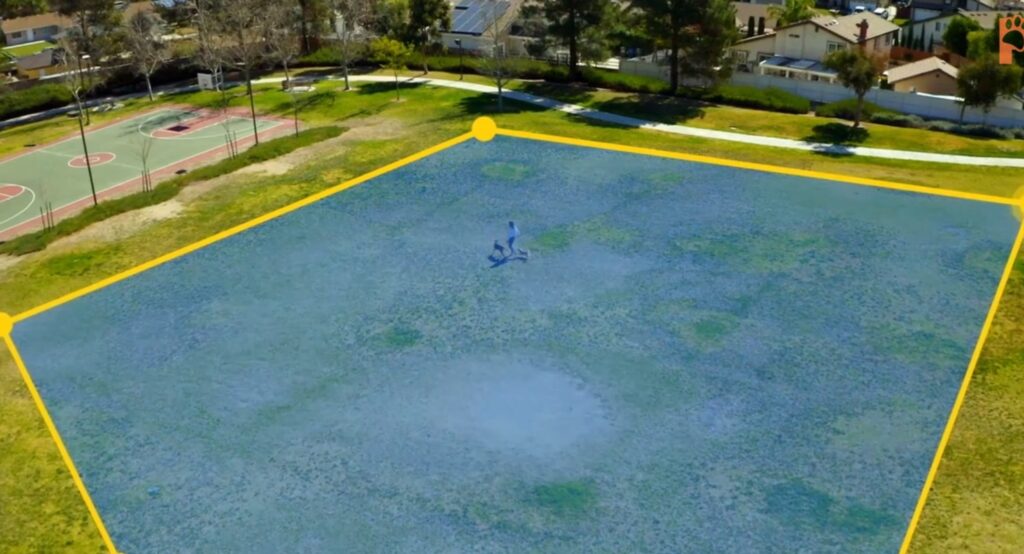 One of the most significant perks of the Halo GPS fence is that it's easy to set up. You can set up your boundaries in mere minutes, and they're ready to go, all without having to bury wires or set up physical boundaries, like similar wireless fence systems.
Far from a shock collar, Halo implements three different feedback types, including warning, boundary, and emergency. The warning feedback will emit a noise when your pup starts approaching the edge of the established dog fence.
If he ignores the warning tone, the boundary setting will issue a vibration. Then the emergency feedback, if your dog is on or past the boundary, sends out a static pulse that resembles someone tapping you on the shoulder — it's totally painless.
If your dog escapes the set boundaries, or you have a very large fence area set, you can use the return whistle feature from the Halo app to call them back to your side.
Ever wonder if your pet is getting enough exercise? I know with Ranger, I have to toss him outside sometimes, just so he'll run and play (he loves being outdoors!). The dog's activity tracker in the Halo app will show you how long your dog has spent not only moving, resting, or on a drive but also in the safe areas you set up using the fences. 
The collar's rugged design is made for outdoor dogs, so they can romp, play, run, and wrestle, all without having to worry about damaging the collar.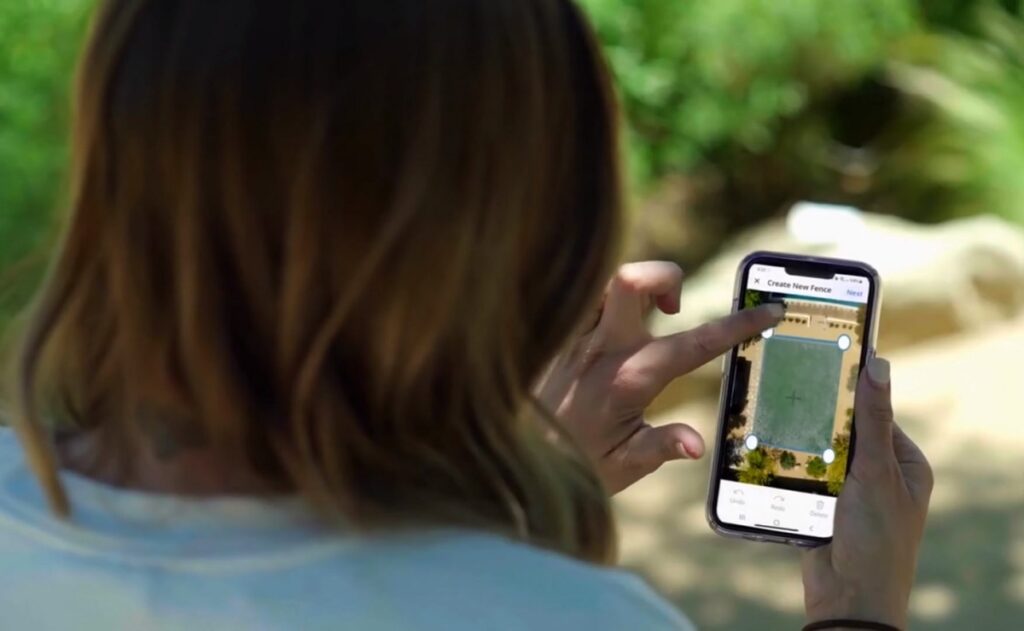 Halo's app makes it easy to set boundaries, track your pet, and receive reports about your pet's activity. Plus, you'll find the training videos in the app. It's available on the Apple and Google Play stores.
Halo requires a subscription plan to operate and offers three different plans that you can purchase to use with your Halo collar.
Basic – $5.99 per month for one collar, additional collars at $3.99 per month

Standard – $9.99 per month for a single collar; additional collar available at $4.99 more per month

Premium – $29.99 per month, $4.99 per month for an additional collar
The basic plan enables all of the GPS and tracking features, plus the Cesar Millan training sessions and daily activity reports. Upgrading to the standard plan gives you access to weekly and monthly activity reports, a special monthly newsletter, and 10% off any Halo accessories you buy.
The premium plan offers all of the basic and standard plan features, plus access to Halo Live, where you can participate in Q&A sessions and weekly events. You'll also be notified earlier of new products coming out and receive a 20% discount on accessories.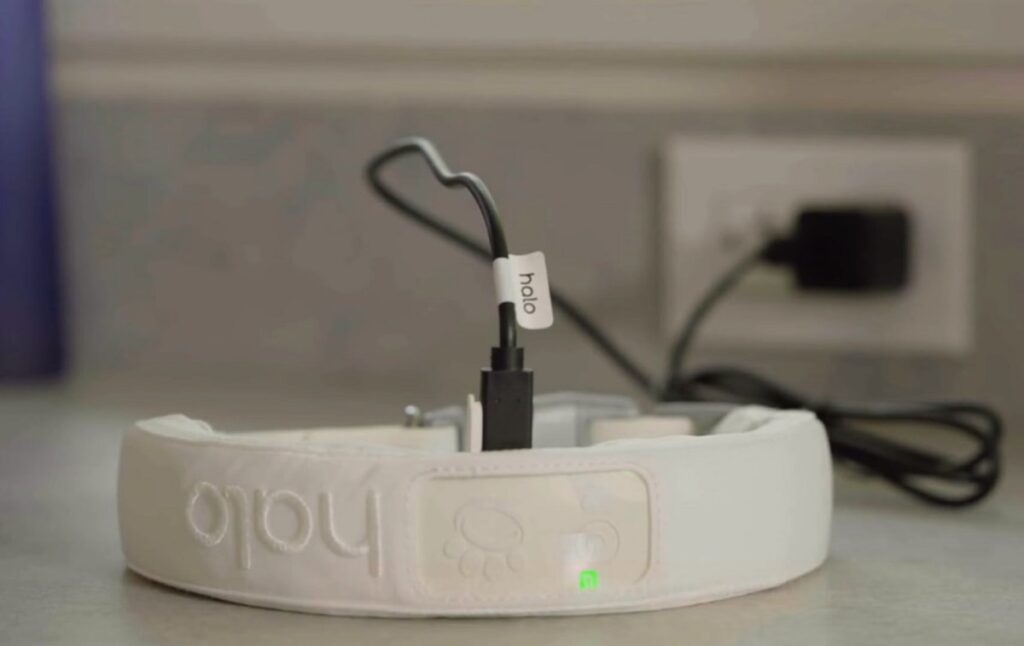 The Halo dog collar comes in three different sizes: 
Small – fits neck sizes 11″ to 15″

Medium – fits neck sizes 15″ to 20.5″ 

Large – fits neck sizes 20.5″ to 30.5″
To choose the proper size, measure your dog's neck using a soft measuring tape. Be sure to properly adjust the collar and leave enough room to fit two fingers.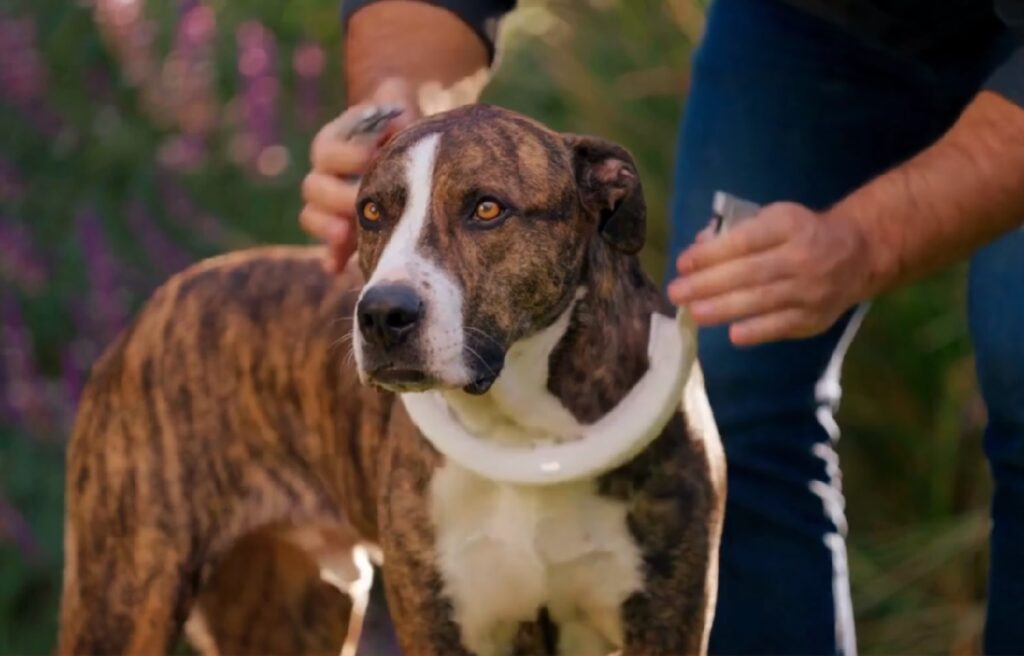 Just like the SpotOn system, the Halo collar has its positives and its drawbacks. Most of the time, these are just a matter of personal preference, but let's take a look at a few:
The Halo dog collar comes with a 21-day training program that follows the methods of Cesar Millan, who also helped develop the product.

It comes with a 100% satisfaction guarantee.

If you're looking for a great support system, Halo wins this category. In addition to phone, email, and chat, the company also makes it easy to connect via live Zoom sessions. 
There aren't many cons to this collar, but it does have a few downsides. For instance, it requires a subscription service to work, even if you just want to build fences.

Second, you can't set up overlapping fences, which would come in handy if you have a big yard and want to set up no-go zones.

Additionally, the boundary lines are linear in design and can be a bit challenging to set up. Halo only allows for 20 fence posts.
The price of Halo Collar varies, so check the latest price at
After an in-depth analysis of the two collars, the clear winner is SpotOn. It may be the pricier option, but it also comes with a host of excellent features that accelerate it above Halo collars. For example, the fact that you don't need a subscription to create virtual fences is a real perk and the fact that you can create multiple fences, including those that overlap, set it apart.
Additionally, the use of 128 satellite systems makes it easier than ever to provide incredibly accurate GPS tracking to set boundaries and to find your dog should it decide to break through the boundaries. Finally, despite needing at least half an acre of land, SpotOn has the ability to work on thousands of acres, whereas Halo is limited to 1,200.
When it comes to choosing the best GPS dog fence system, it boils down to one real consideration: if it has the features you need. Both Halo and SpotOn collars are one of the best dog collars that excel in their field.
They both create sturdy invisible fences, and they both have a location-tracking feature that harnesses the power of the strongest GPS available.
However, it's likely that you're leaning one way or another based on the additional features they offer, and that's okay. The one that will work best for you is the one you should choose. If you're interested in one of our other performance comparison guides, check out the Fi vs. Halo Collar review. 
Dig deeper into our comparison for the best bark collar for small dogs and the best electric dog fence.