Dogs are our hunting companions since the prehistoric era, they not only help us in hunting but also with sniffing, finding, and retrieving birds and ducks. There are lots of hunting breeds but we all know that hunting is in every dog's gene.
When hunting season start, many hunters love to take their dogs out for hunting. Likewise, most dogs enjoy hunting, especially the hunting breeds of dogs trained for this purpose only.
Hunting with your dog might be thrilling, but it is your responsibility to take care of your dog's safety as a dog owner.
If you have an active dog who loves the outdoors and always looks forward to a fantastic hunting season to test its skills with you, make sure you provide it with the best safety measures that are possible, and for this purpose, invest in the best dog hunting vests for your beloved hunter dogs.
A hunting vest protects your dogs in the rugged outdoor, giving them a protective layer from rain, cold weather, insects, or other hunters.
Always take out trained dogs for hunting and follow the safety guideline and tips to ensure a fun hunt. This article will help you find the best dog hunting vest with the best features that will keep your dog safe and comfortable and aid them in hunting or retrieving prey.
Top Pick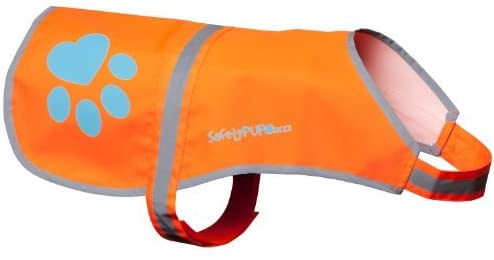 SafetyPUP XD Dog Reflective Vest
Fabric Type: Oxford
Size: Large
Best Camouflage Vest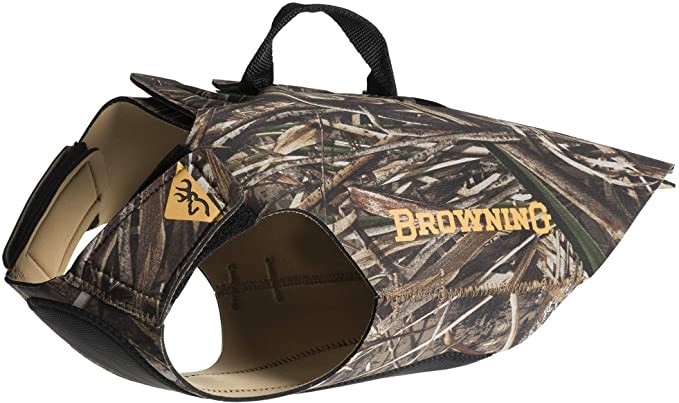 Browning Neoprene Vest
FABRIC TYPE: Rubber
SIZE: LARGE
Best Waterproof Material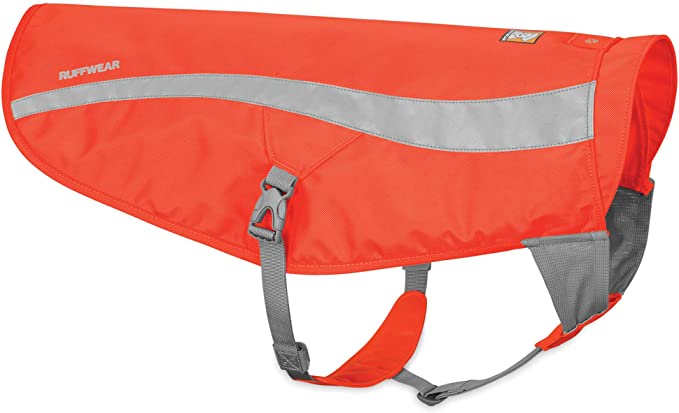 RUFFWEAR Reflective Safety Vest
Fabric Type: Polyester
Size: Small/Medium
Best Protective Hunting Vest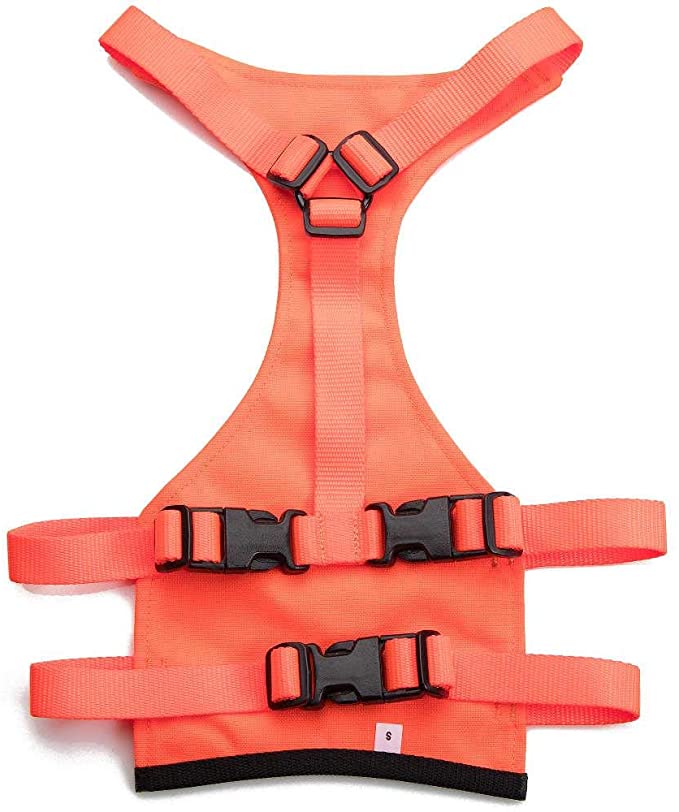 Mendota Products Skid Plate
FABRIC TYPE: Nylon
Size: X-Large
Multipurpose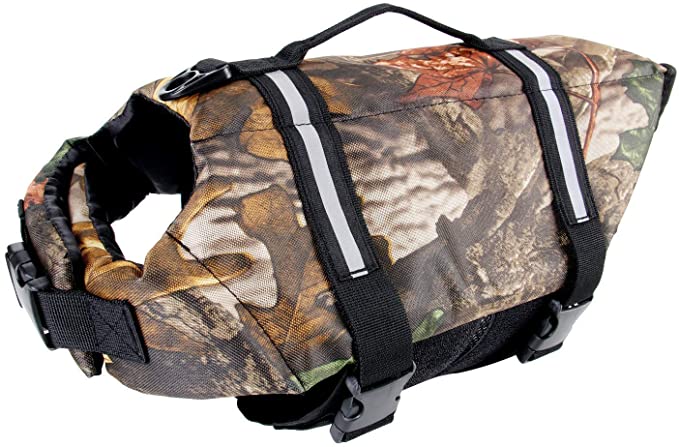 Camo Pet Life Preserver Jacket
Fabric Type: polyester
SIZE: X-LARGE
Best For High-Visibility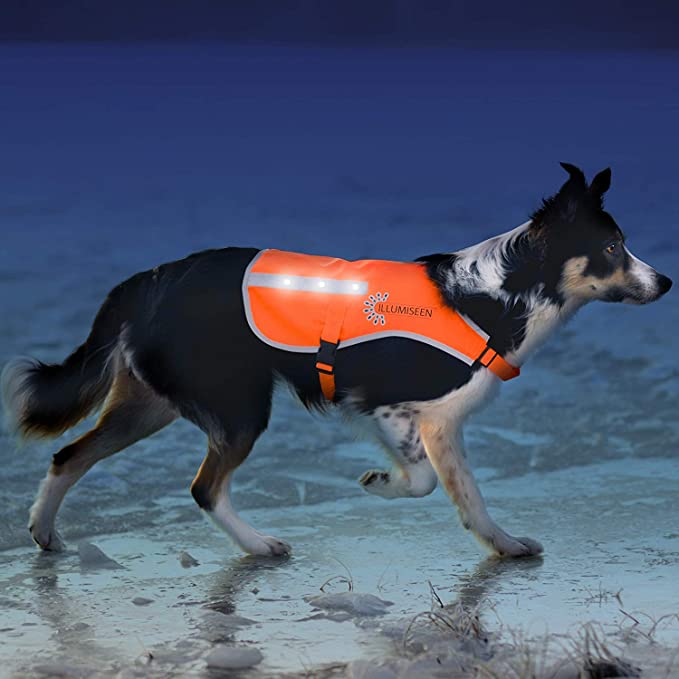 Illumiseen LED Dog Vest
FABRIC TYPE: OXFORD
Size: Small
Best For Colder Climates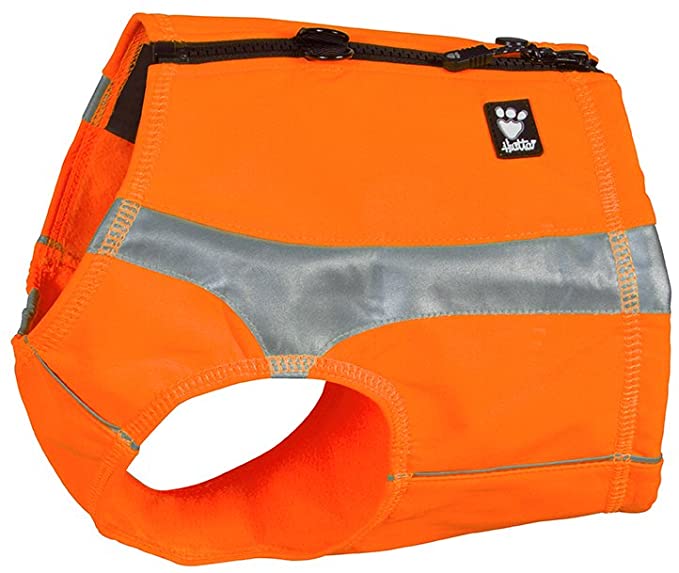 Hurtta Polar Visibility Dog Vest
Fabric Type: Polar
SIZE: X-LARGE
Best For Budget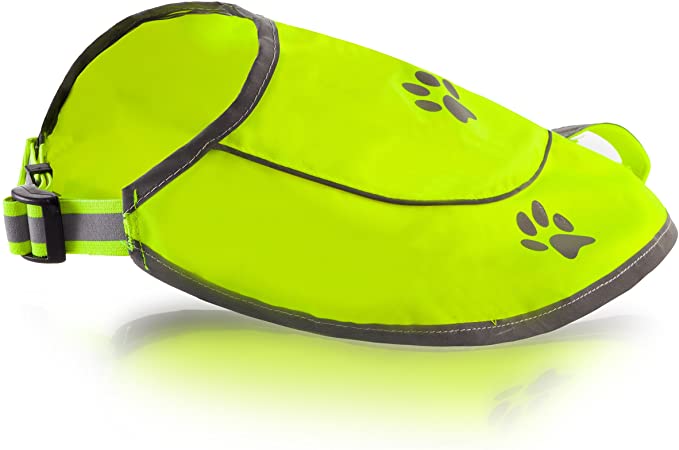 Funtone Colors Dog Safety Reflective Vest
FABRIC TYPE: OXFORD
SIZE: All
Our Picks for Best Dog Hunting Vests
Here are our top 8 bestselling dog hunting vests that will protect your dog in any situation and weather condition. We have tested these vests and did all the research to help you find the perfect dog vest for your hunter needs.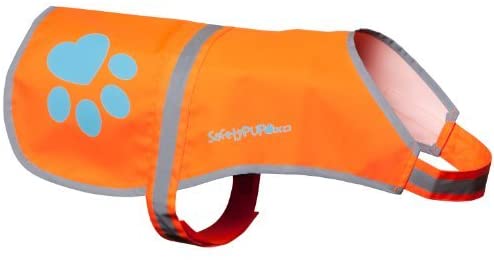 Our top pick is the SafetyPup XD, and this is an excellent option for first-time hunting dogs. It is made with strong neoprene and a unique Oxford weave fabric.
This high visibility vest is made for nighttime and daytime visibility with its fluorescent blaze orange color. It features velcro straps for a secure fit. The ergonomic and comfortable design makes it a popular choice among many hunters.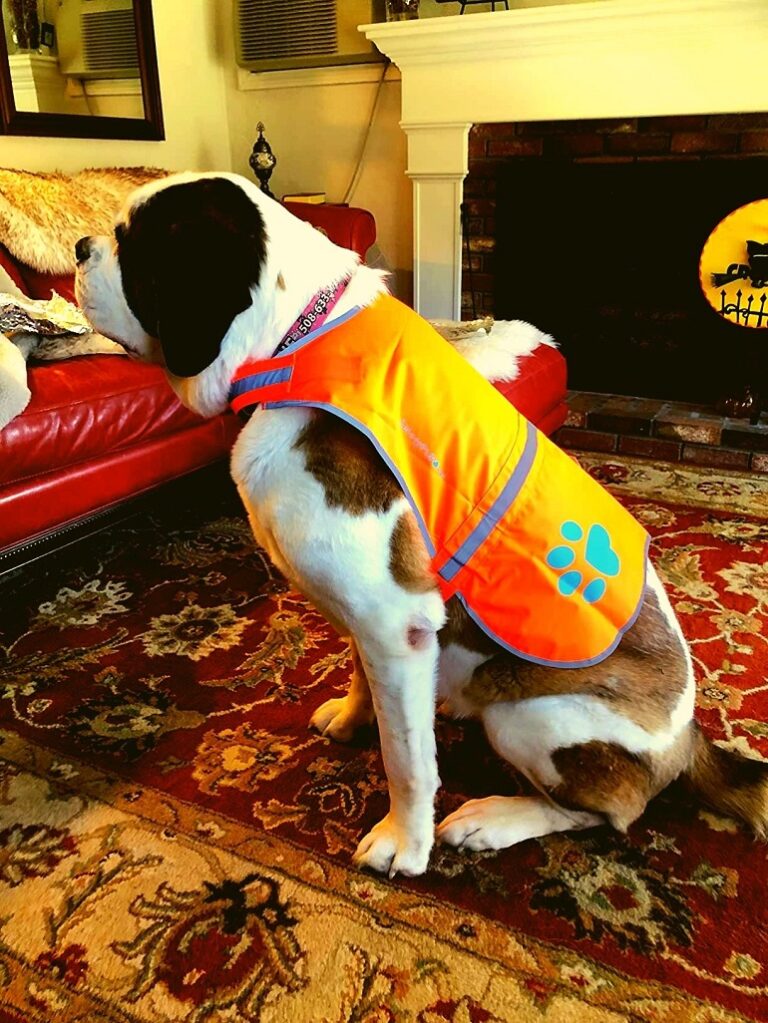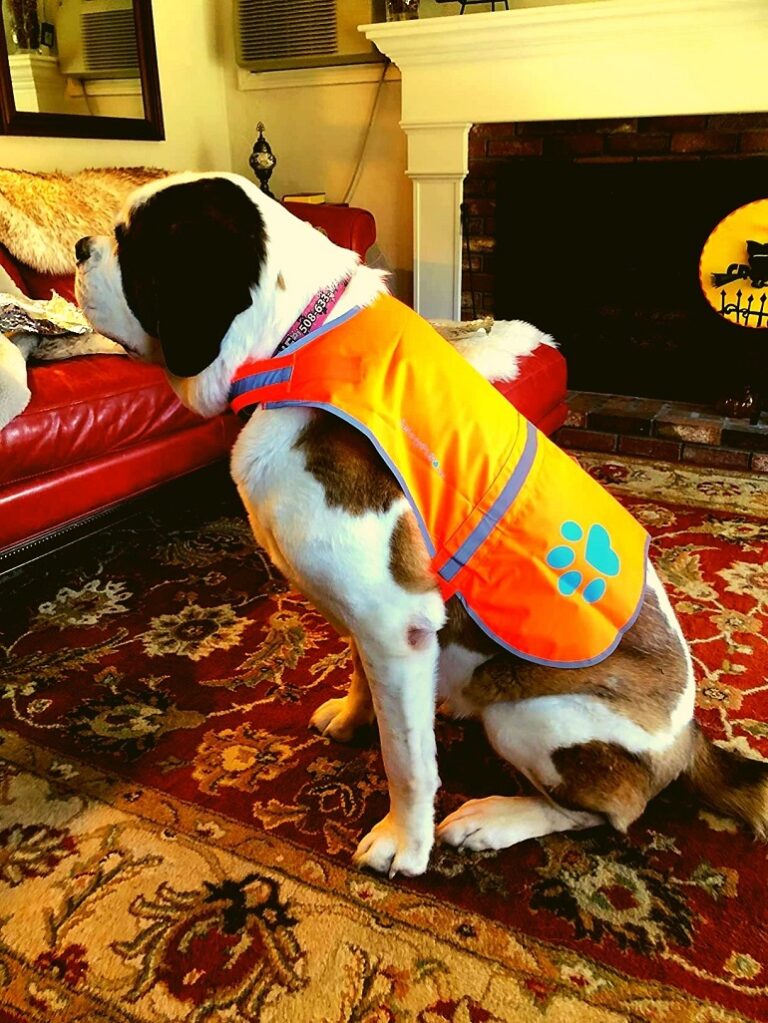 Specifications
Waterproof
300D Oxford weave fabric with hook and loop closure
Fluorescent blaze orange dog vest for daytime visibility
Durable, ergonomic design and comfortable
Reflective taping for nighttime hunting
Pros
Dog owners love how easy it is to put on and take off.
Many dogs show a positive attitude towards this comfortable jacket.
The waterproof design makes it an excellent choice for rainy and colder weather.
Cons
Many customers complain about the available limited sizes.
Tester Reviews
Our hunting testers are absolutely thrilled about this Neoprene dog vest. Our team gave excellent reviews and said it is an excellent investment for first-time hunters. It gives you all the features that any high-end vest offers at such a low price.
However, some owners were disappointed because of the brand's limited sizes. But overall, this is one of the best hunting vests.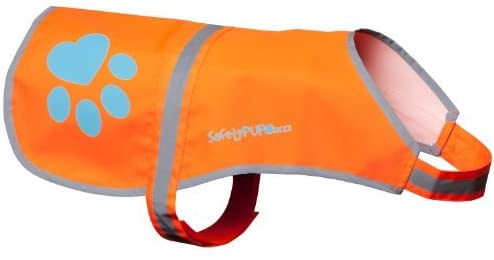 SafetyPUP XD Dog Reflective Vest
The price of "SafetyPUP XD Dog Reflective Vest" varies, so check the latest price at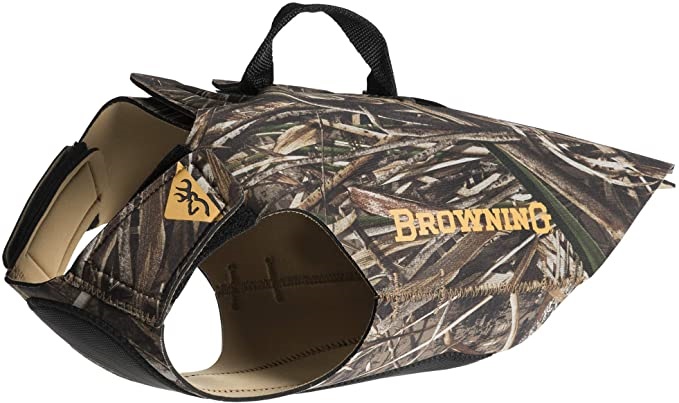 The Browning Neoprene dog vest is our runner-up, and it is the best vest for your expert hunting dog. No hunting prey will spot your hunting partner in the grass in this camouflage vest. It will keep your dog hidden.
This vest provides excellent warmth in cold weather and is good during water sports. Unfortunately, it can't be used as a life jacket. The protective chest plate is a great addition to keep your dog safe on rough terrain. The design is comfortable and prevents chafing.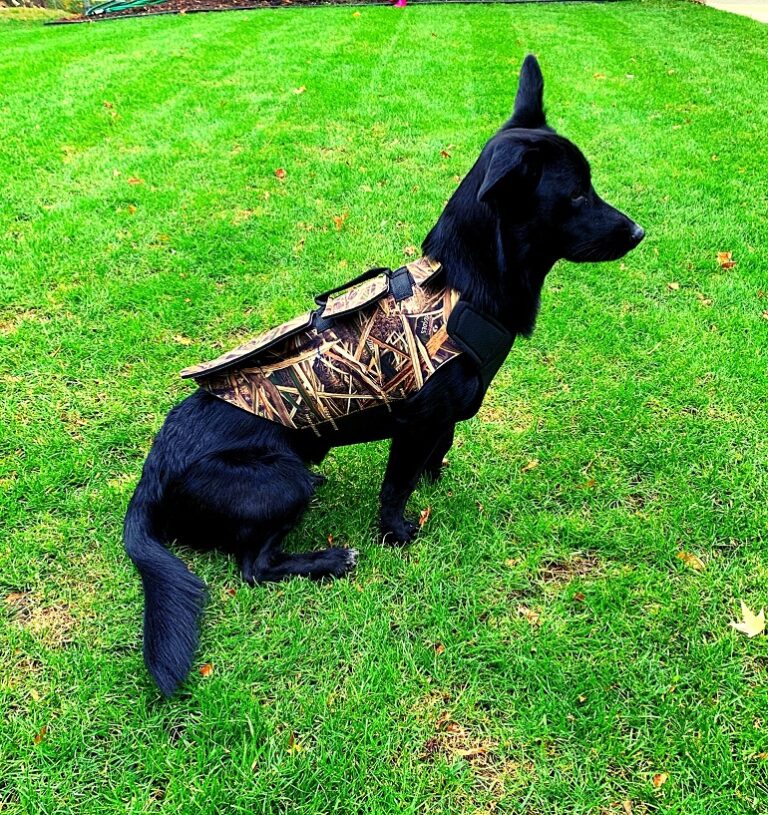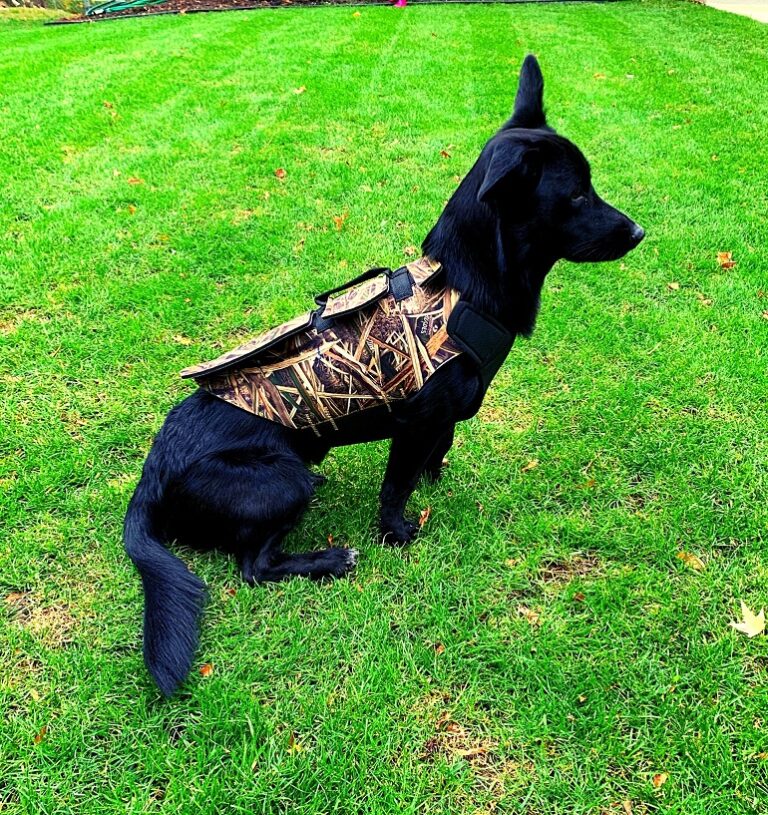 Specifications
Made with 3mm neoprene
Mossy Oak Shadow Grass Blades Camo promotes enhanced warmth
Flexible chest plate for protection from rocks and sticks
Adjustable straps
Cutouts for male and female dogs
Pros
This is one of the most beloved vests for dogs in the hunting community because of its camouflage nature.
Hunting breeds feel relaxed in this jacket because it doesn't restrict any kind of normal movement and has cutouts for males and females.
It increases your dog's buoyancy and provides an extra safety layer while retrieving ducks and geese from the water.
Cons
Some buyers complain about its stitching quality.
Tester Reviews
Our testing team seems pleased with this vest for hunting. It is best for hunting environments and tracking dogs. It also keeps your dog afloat while he is retrieving birds from the water. Moreover, they were delighted that it kept the dog's chest safe.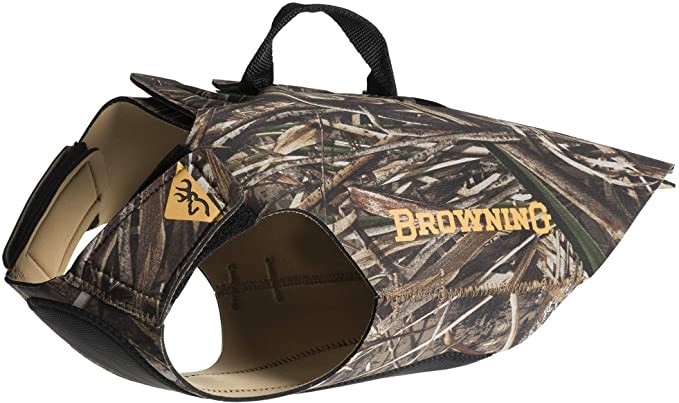 Browning Neoprene Vest
The price of "Browning Neoprene Vest" varies, so check the latest price at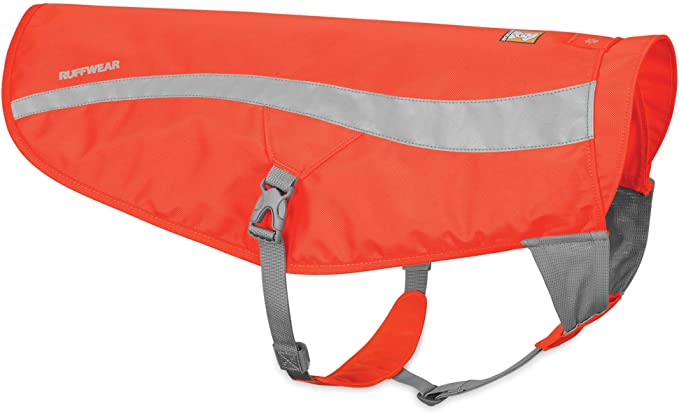 Keep your dog safe with this bright orange color reflective dog vest by Ruffwear. It is lightweight and durable and doesn't have any kind of bells or whistles.
This high visibility vest features a light loop attachment and long reflective side panels for nighttime visibility. The material is waterproof, so it is good to go during rainy weather. Moreover, it is easy to clean and maintain.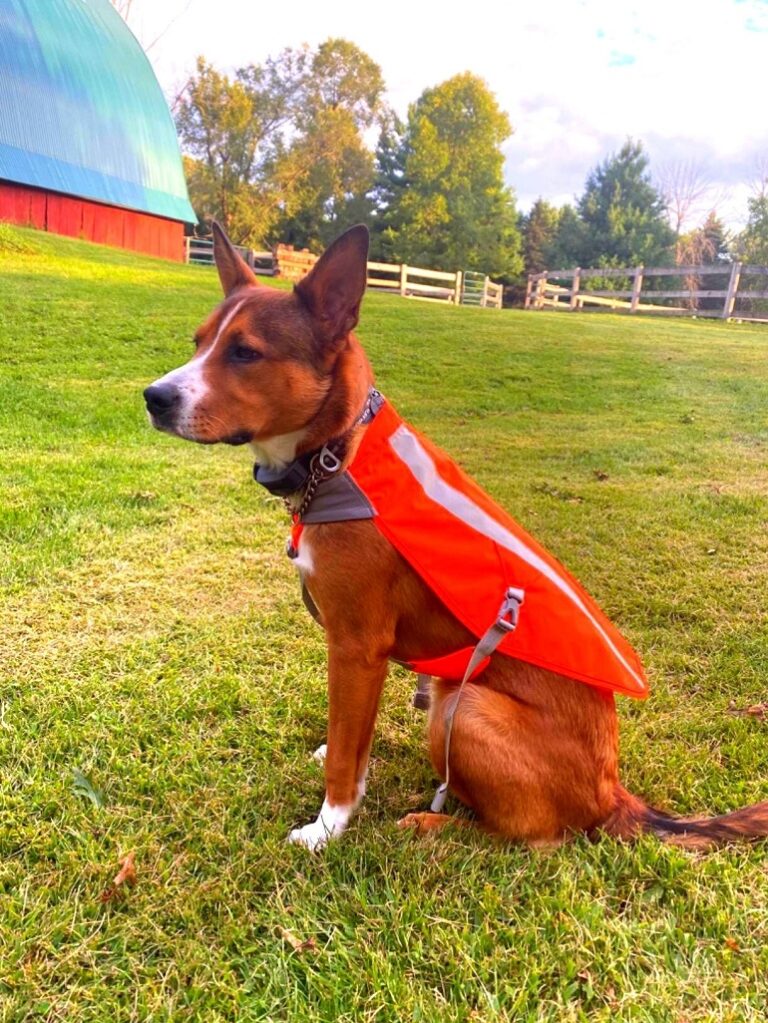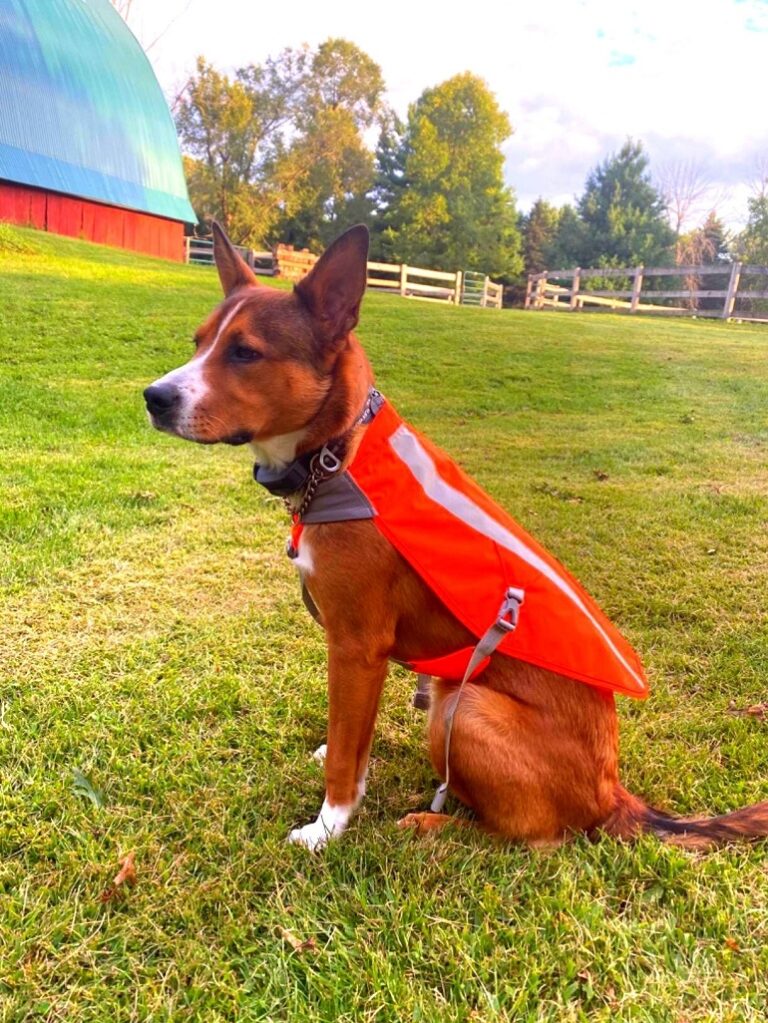 Specifications
Blaze orange vest fabric
Reflective side panels
Lightweight and durable
Waterproof with side-release buckles
Light loop attachment
Machine washable
Pros
Most owners admire this dog safety reflective vest with a side release buckle as it is effortless to put on and off.
Most hunting dogs stay highly visible due to the vest's reflective detailing. You can also put on a light in the loop attachment.
Cons
Many buyers say that the neck opening of this dog reflective vest is just too narrow.
Tester Reviews
The testers gave high reviews of this waterproof jacket and said that it keeps the dog dry in rainy weather during a hunting trip. They also like that it is machine washable.
However, some face sizing issues, but they love the quality.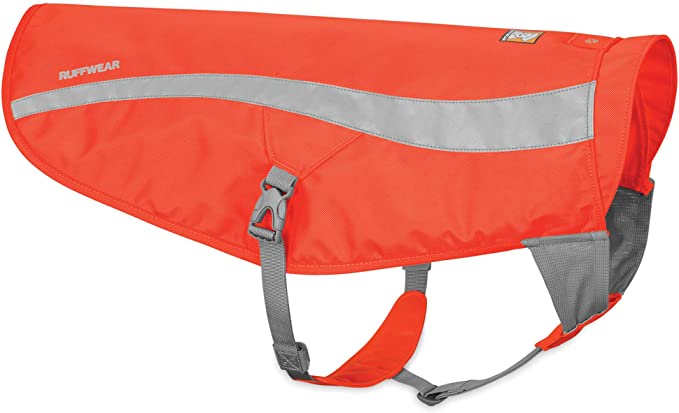 RUFFWEAR Reflective Safety Vest
The price of "RUFFWEAR Reflective Safety Vest" varies, so check the latest price at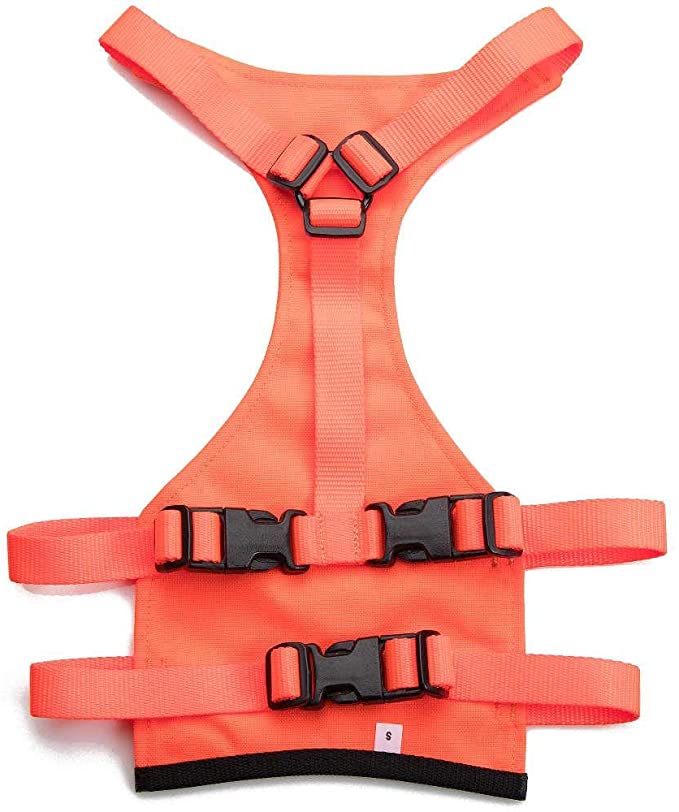 Mendota is the ideal vest to take on your hunting trip. This will protect your dog's most exposed areas during a hunt, for example, a dog's chest and stomach. Made with thick nylon and a chest protector plate for ultimate safety.
This is also water-resistant, and the steel center rings ensure that the chest plate won't move. The quick-release buckles make it easier for dog owners to put the jacket on and off.
Specifications
Chest protector
Made with two layers of 1000 denier Cordura nylon
Water-resistant
Adjustable strap with quick-release buckles
Steel center rings Vet recommended 
Lifetime guarantee
Pros
Many customers reported that the adjustable strap system is very sturdy on the dog.
Trainers and hunters approve of this protective hunting vest as it provides optimal mobility, visibility, and durability in hunting environments.
Cons
Many buyers complained about the sizing issue and said that the sizing chart was not so accurate.
Tester Reviews
Our team loved that it is made with breathable fabric and is an excellent choice during warm weather. Furthermore, they added that it is lightweight and brightly colored for daytime visibility.
However, some suggested they would have appreciated it much more if the vest had any reflective details for nighttime.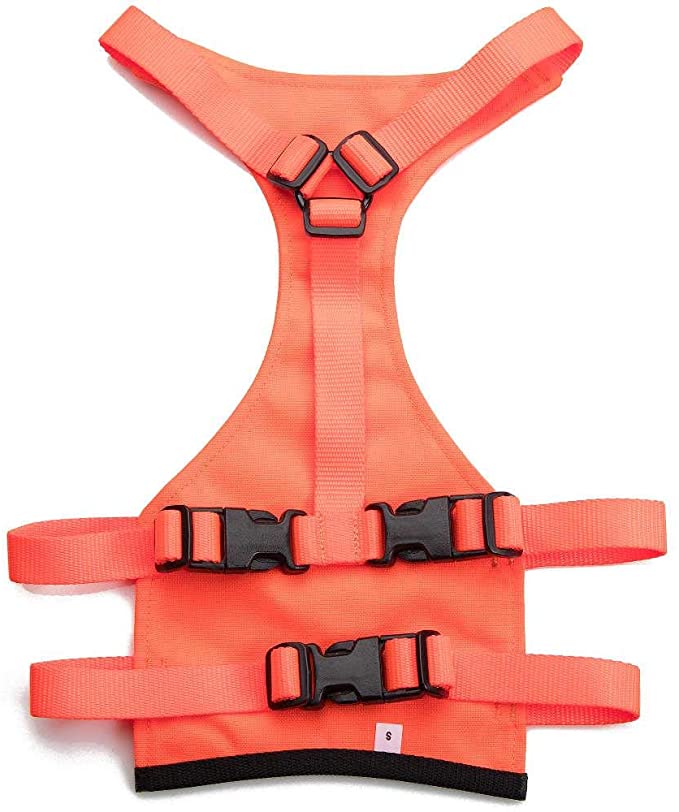 Mendota Products Skid Plate
The price of "Mendota Products Skid Plate" varies, so check the latest price at
The Camo Life jacket can be used in multiple ways. This Life Preserver jacket is designed to increase your pet's buoyancy and keep them safe when they go into the water to retrieve birds. It is made from durable fabric. The entire vest has a camouflage print making it a popular choice for many hunting dogs.
With a layer made out of lightweight mesh fiber, the Camo life vest keeps your furry friend comfortable and relaxed. It dries fast and wicks away moisture making it a great option in hot and humid weather!
This reflective hunting vest will keep your dog visible during any time of day to other hunting parties but hidden enough from the hunted one.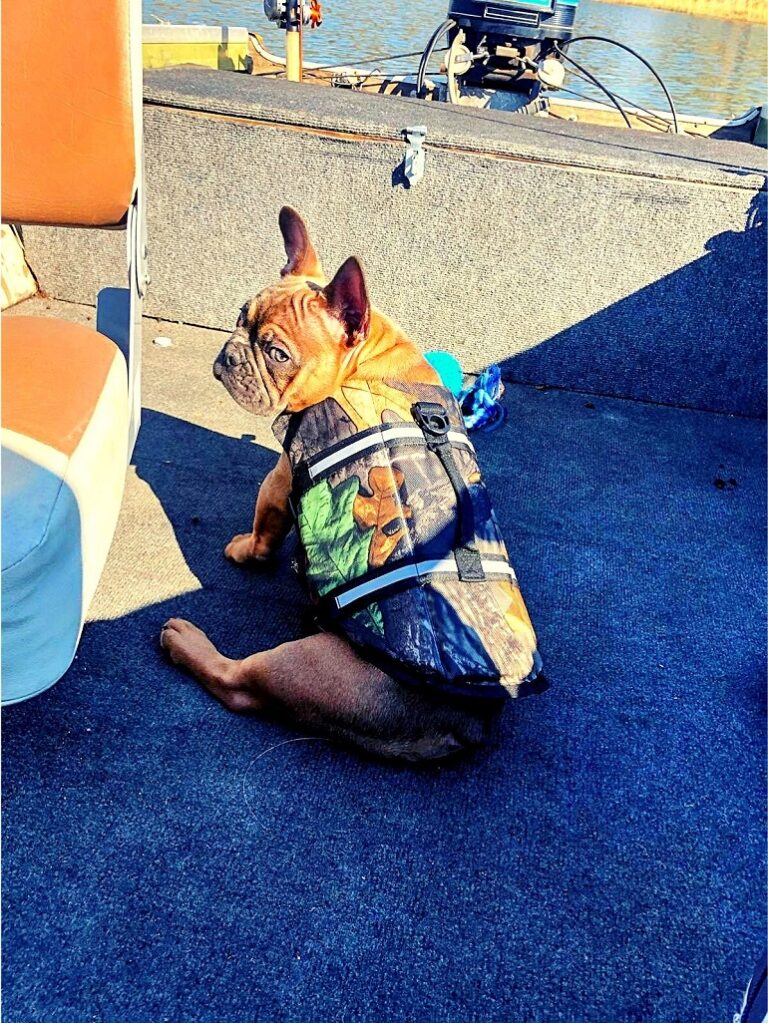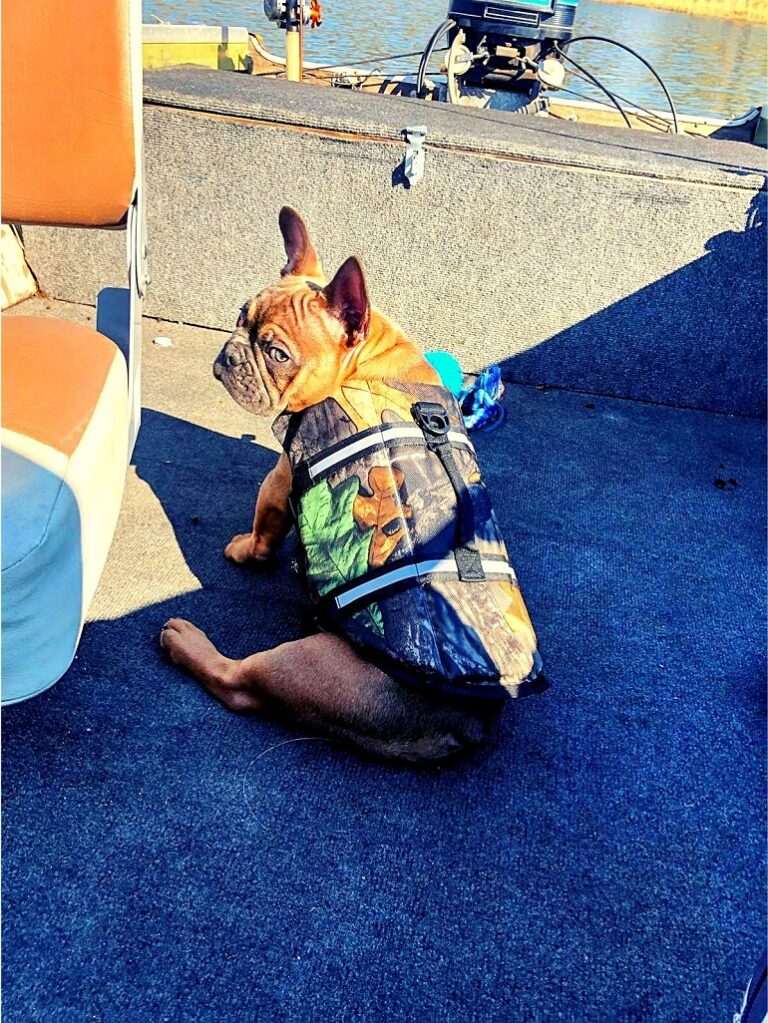 Specifications
100% polyester
Waterproof
Velcro belly strap and adjustable quick-release buckles
Reflective accents
 Top handle with a D ring for leash attachment
Foam neoprene side panels offer maximum buoyancy
Pros
This is an excellent adjustable vest, and buyers say it keeps the dog comfortable and dry due to its waterproof material.
Many hunting dog breeds like the buoyancy in this safety vest. Pet parents like the fact that it dries quickly.
Cons
Some customers the sizes run shorter than the mentioned on the size chart and the vest is not as durable as they have claimed it to be.
Tester Reviews
Our testing team liked this dog jacket and said they are pleased with the leash attachment details. Moreover, they recommended this jacket because its reflective details enhanced visibility during nighttime walks or hunting and the pet remained cool in warm weather. 
However, some members said that the parts fell off after a few uses.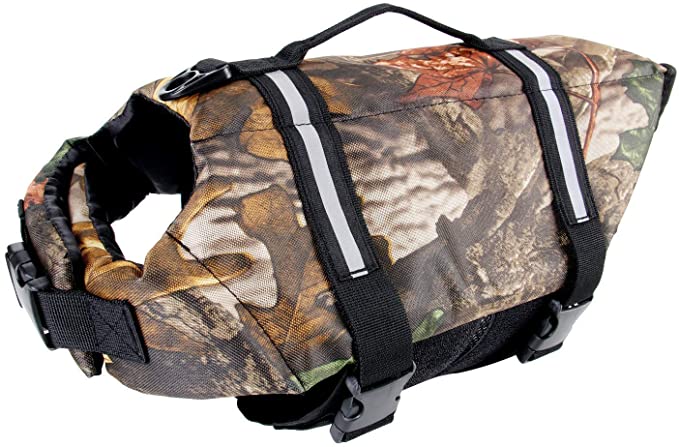 Camo Pet Life Preserver Jacket
The price of "Camo Pet Life Preserver Jacket" varies, so check the latest price at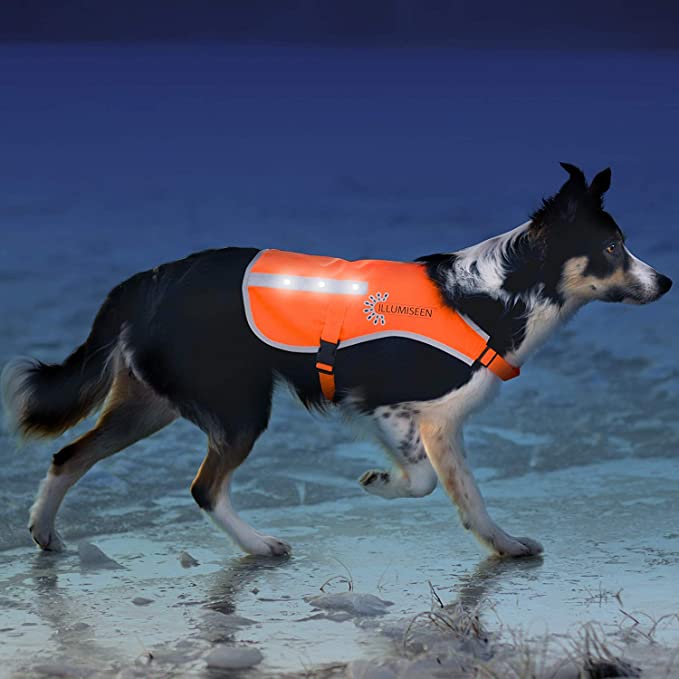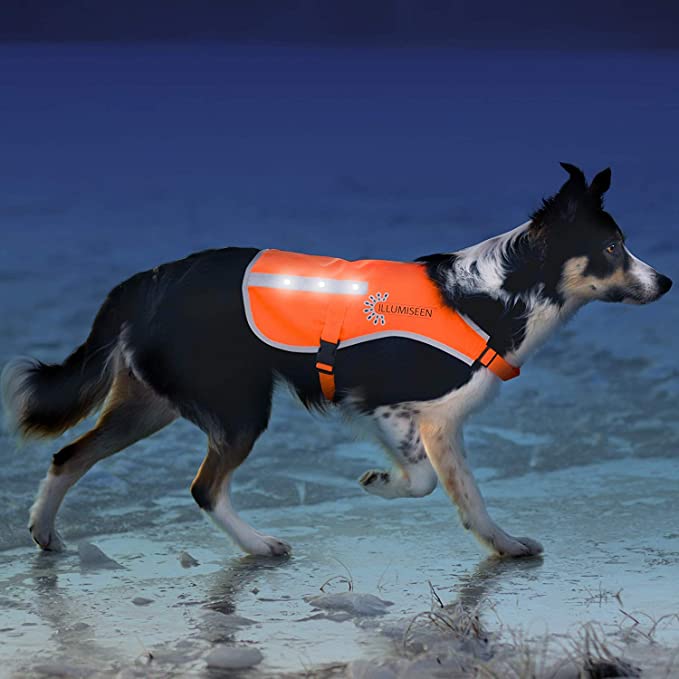 The Illumiseen LED dog vest is the dog jacket you want if you not only want your dog to be visible but also want him to lighten and brighten up.
The dog's vest comes with 2 rows of LED lights. They are rechargeable. The vest also features reflective detailing. The adjustable straps ensure proper fit.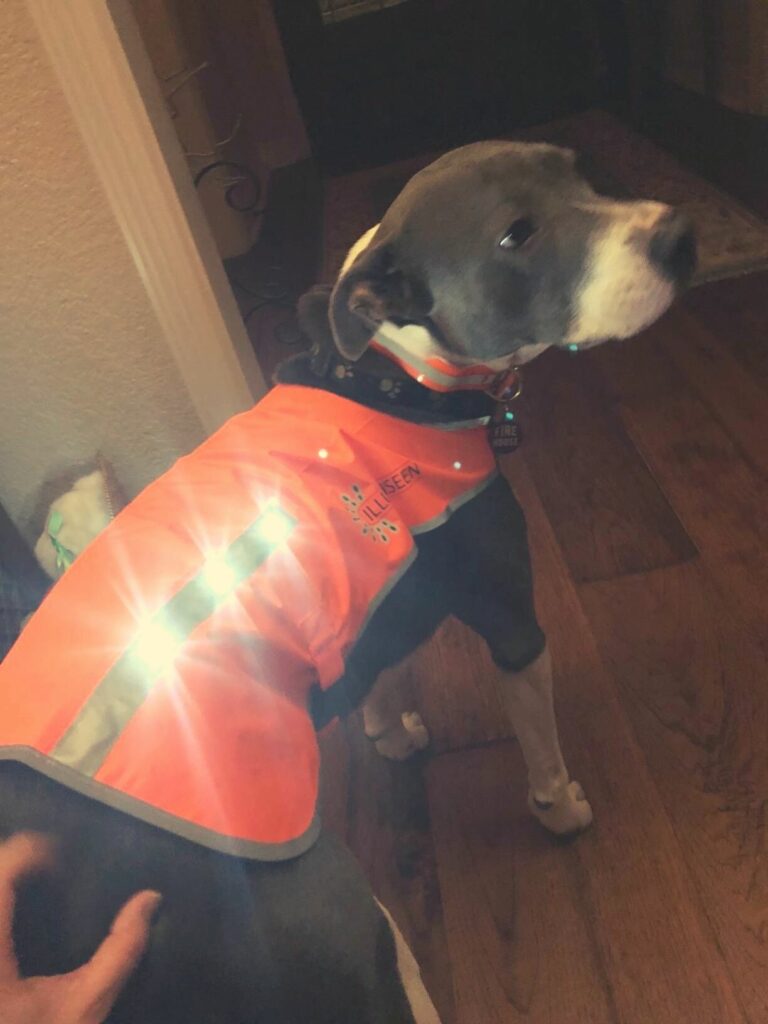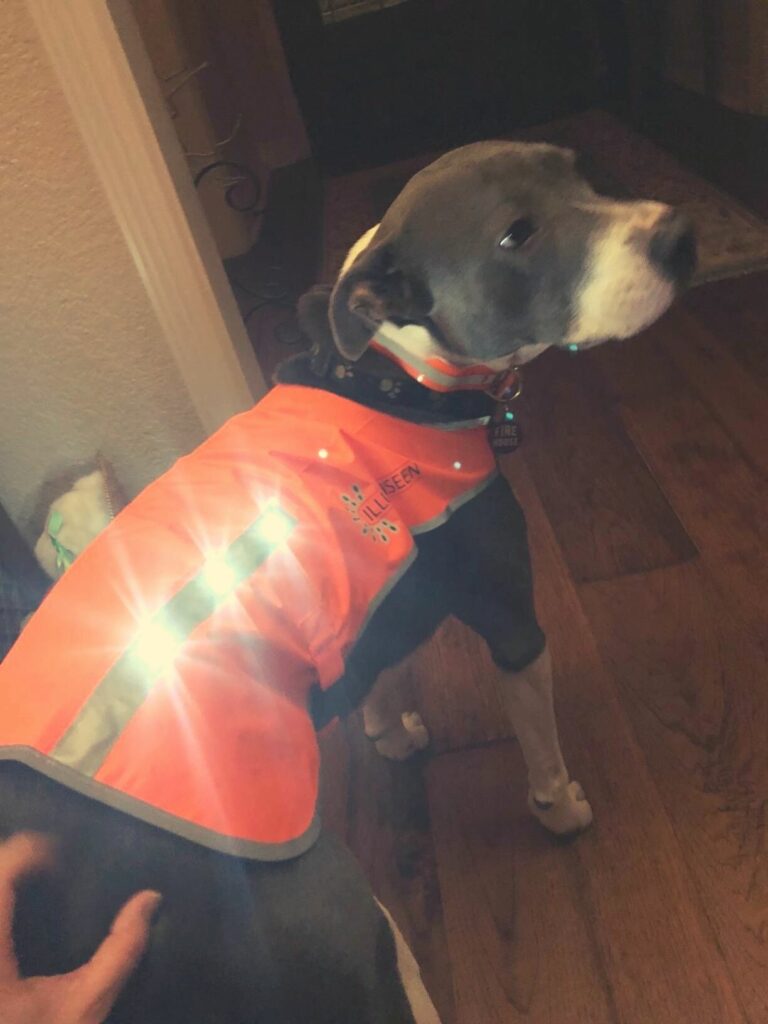 Specifications
Reflective strips with 2 rows of bright LED light
Rechargeable battery slot with USB port
Adjustable belt and quick-release buckles
Soft, and lightweight material
Pros
Owners who hunt in poor light conditions are very pleased with this LED dog vest and claim that, unlike other vests it only works when light reflects, this keeps the pup visible on its own.
Pet owners are happy that the blaze orange color is also visible in the daytime.
Buyers said that the material is highly durable.
Cons
Like most dog vests, it also has sizing issues. And also the quality of the lights is not remarkable as they have advertised. 
Tester Reviews
Many hunters said that this jacket is an excellent investment for the hunting season. The lightweight fabric kept the pups happy. However, many said that the LED lights are not of good quality. They became dim after a few uses.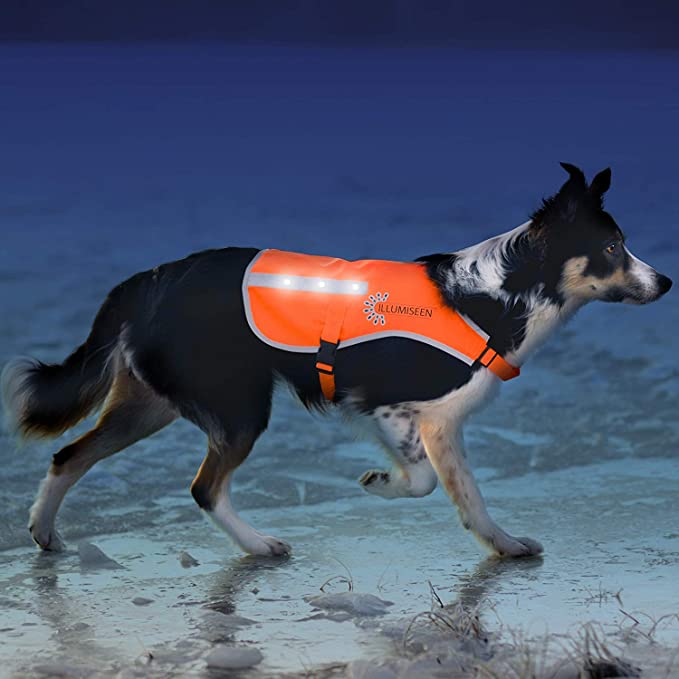 Illumiseen LED Dog Vest
The price of "Illumiseen LED Dog Vest" varies, so check the latest price at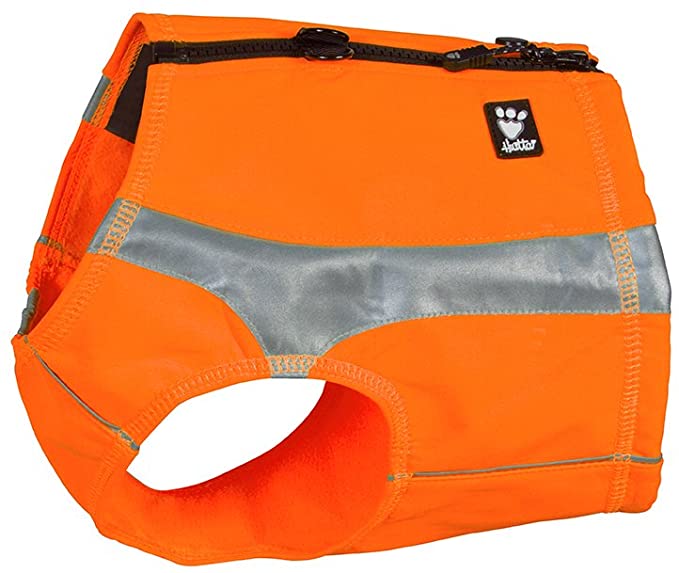 If you are hunting in a colder region and want a vest that will keep your dog warm and dry, invest in this Hurta Polar reflective vest.
This high visibility hunting vest comes in a blaze orange color and reflective detailing. It can be used as a hunting vest and for daily walks. This climate-proof jacket is an excellent choice in colder and rainy conditions.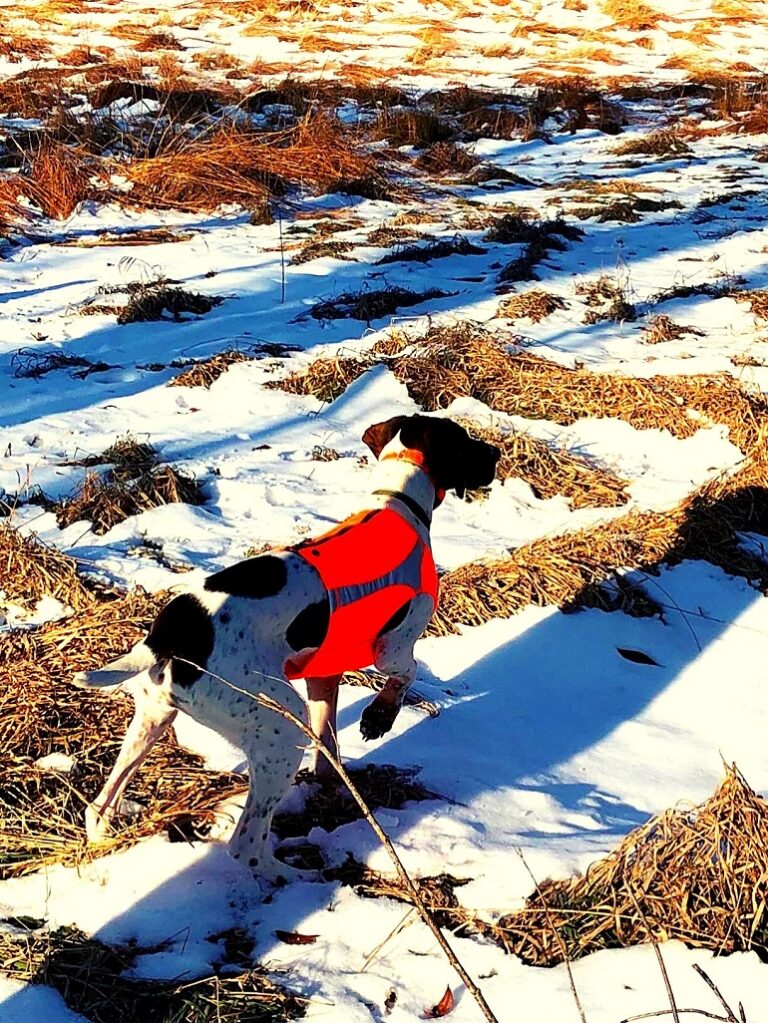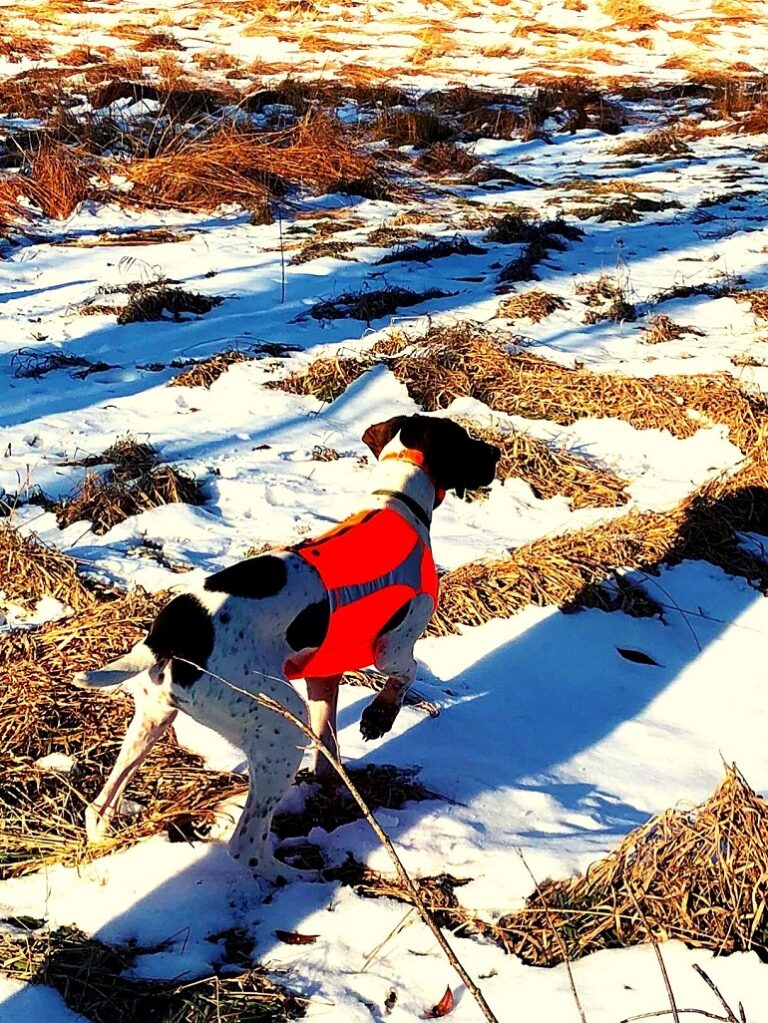 Specifications
Made from a rustle-free softshell fabric
Laminated water-resistant Houndtex layer
Climate proof
High visibility with reflective detailing hunting
Zippered closure
Pros
Many customers are pleased with its easy-to-use zipper and said that most hunting vests for dogs should upgrade to this detail.
Many reviews suggested that it is ideal for sporting activities.
Cons
The material is not tear-resistant.
Tester Reviews
Our testing dogs seemed very pleased with this jacket as it gives them the freedom to move in any direction. Our team admired the wide variety of available sizes. However, some felt that the zipper quality is cheap.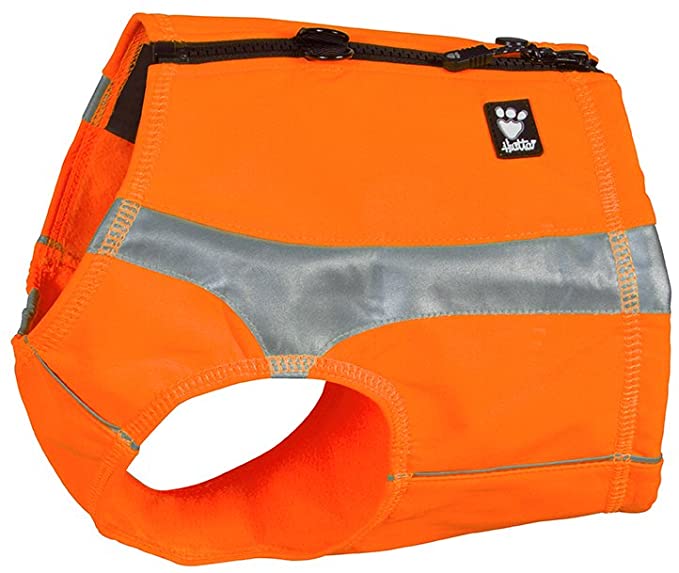 Hurtta Polar Visibility Dog Vest
The price of "Hurtta Polar Visibility Dog Vest varies, so check the latest price at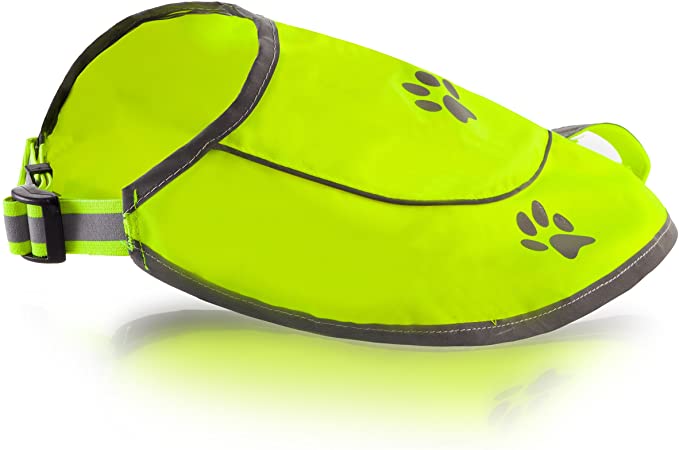 If you are looking for a dog hunting vest that won't break the bank, then the Funtone dog vest is the best choice. This neoprene vest will keep your furry pal dry and visible during any time of the day.
The adjustable straps provide a secure fit and easy access to your dog's collar. In addition, it is easy to clean and machine washable.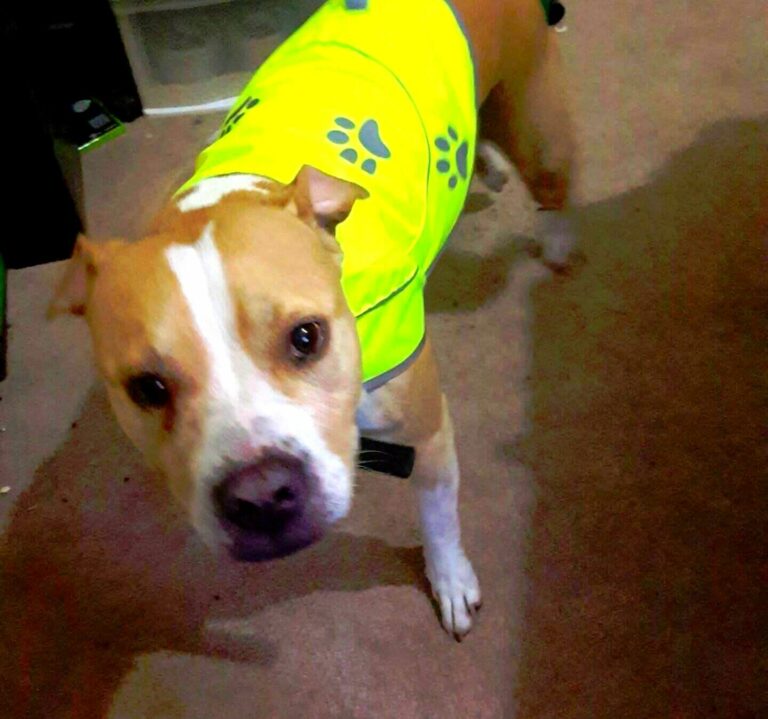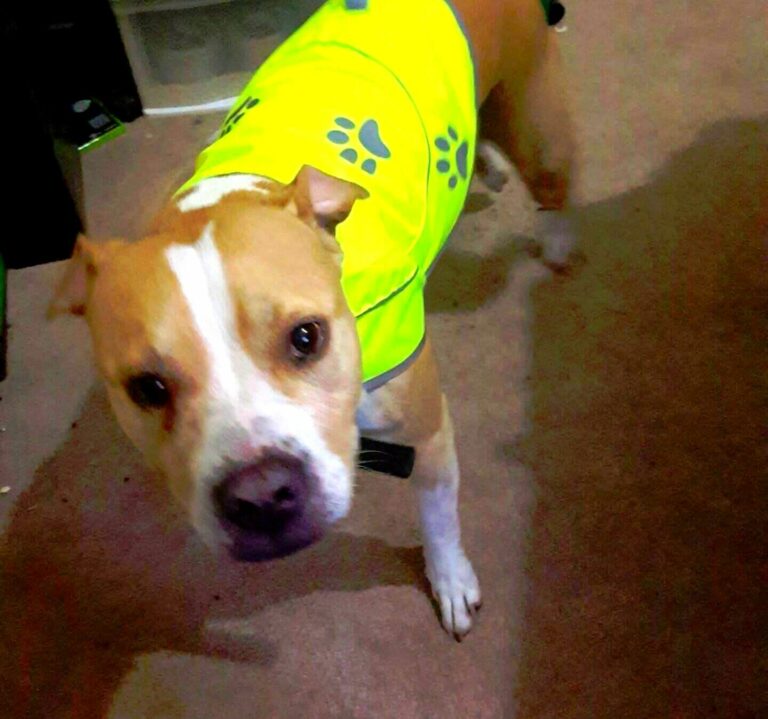 Specifications
With durable 300D oxford weave fabric
Waterproof
Durable clasp, 1 back strap, and adjustable neck straps
With a reflective dog footprint and 360˚reflective trim coverage
Pros
Many buyers rave about its price point and highly recommend it because of its quality. 
The multiple bright color options also make it a great choice when looking for a reflective dog vest.
Cons
Many buyers complain that this dog hunting vest tears off around the straps.
Tester Reviews
Many testers like the color options and the fact that it is waterproof. They admire its high visibility. However, some complained about its stitching quality.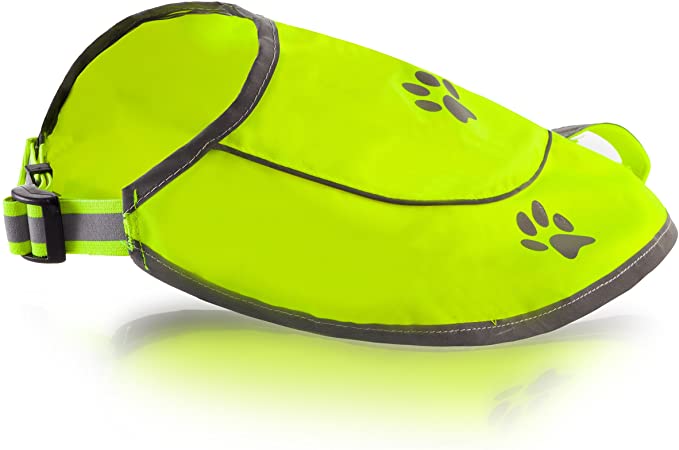 Funtone Colors Dog Safety Reflective Vest
The price of "Funtone Colors Dog Safety Reflective Vest" varies, so check the latest price at
Things to Look for When Picking the Best Dog Vest
When you are looking for the best dog hunting vest for your dog, ensure that it has most of the following features. Then, let's get into the details.
Adjustable Straps
The hunting vest should have adjustable features so that it doesn't slip or slide on the dog, and they don't feel restricted or irritated by the vest. In addition, the straps should fit securely around the dog's body.
Moreover, some vests have velcro straps, and some have plastic sliders to adjust the length.
Durable Material and Fabric
The vest's material is critical. It must be durable and long-lasting. Look for a vest made with neoprene fabric, thick canvas, or strong nylon, and such materials are heavy-duty and long-lasting.
Size
Read the sizing instruction on the size chart carefully, and measure your dog for the perfect fit. Then, your dog will feel comfortable and relaxed during hunting.
Ease of Use
See if the vest is machine washable or stain-resistant, it will be easier to clean if it features these specifications.
Vest features
You should always look for these additional features in the dog vest, see if the dog vest is water-resistant, has reflective trims or straps, or does it features additional hooks and loops for hunting lights and gear. Always invest in the best dog hunting vest that offers the most features.
4. FAQs
Why do your dogs need hunting dog vests?
A hunting dog must have a hunting dog vest for safe hunting. Hunting dogs provide them the safety they need during hunting season, like the reflective accents make them visible to other hunters in the forest in low visibility. It also provides warmth and protects them from insects. Moreover, the water-resistant fabric keeps them dry and active for longer. Hunting vests also protect your dog's chest and stomach. 
Which material is best for a hunting dog vest?
A dog vest made with neoprene material might be the best. Neoprene is artificial rubber that is stretchy, strong, and water-resistant.
This all-weather kind of fabric makes it a great choice in any weather conditions for a dog vest.
How can I tell that a vest fits my dog correctly?
If the dog hunting vest sits securely and snugly around your dog's body and you can slide two fingers under the straps, then you have found the perfect size vest for your dog.
5. Conclusion
Dog hunting vests are necessary if you want your hunting dog to be secure and sound during hunting season. Make sure you invest in quality hunting vests for dogs.
These hunting vests are fantastic if you have a dog who is going hunting for the first time, such as your Labrador retriever. Ensure all the essential hunting supplies and a first aid kit.
Always buy a jacket according to your region's climate. I hope this has helped you hunt for the best dog hunting vests. If you have any more questions about dog vests, let us know in the comment section.
If you want to know how to keep your dog cool in hot weather, head over to Best Dog Cooling Veststo find the best cooling jacket for your dog.