Dealing with mange in dogs can be a nightmare for pet parents. Mange is a skin disease in dogs that is caused by tiny mites.
Symptoms include itching, hair loss, redness, skin irritation, scabs, and odor. It can be treated with shampoo, lotion, or pills.
While there are many different ways to treat mange, using a medicated dog mange shampoo for dogs is often one of the easiest and most effective methods.
In this blog post, we'll discuss how to spot mange in dogs, the best mange medicated shampoo for dogs, and how to use it effectively, so if you want to know how to treat mange in your beloved pup, read on!​
However, If you think your dog is in a lot of pain and has severe mange, please take him to the veterinarian for treatment.

RenuPlex Dog Mange Shampoo
SCENT: LAVENDER, PEPPERMINT
LIQUID VOLUME: 16 OZ

Veterinary Formula Clinical Care Shampoo
SCENT: COCONUT
LIQUID VOLUME: 16 OZ

Davis Benzoyl Peroxide Shampoo
SCENT: COCONUT
LIQUID VOLUME: 16 OZ

Nootie Medicated Dog Shampoo
SCENT: FRESH
LIQUID VOLUME: 12 OZ

Pet MD Benzoyl Peroxide Shampoo For Dogs
SCENT: CITRUS
LIQUID VOLUME: 12 OZ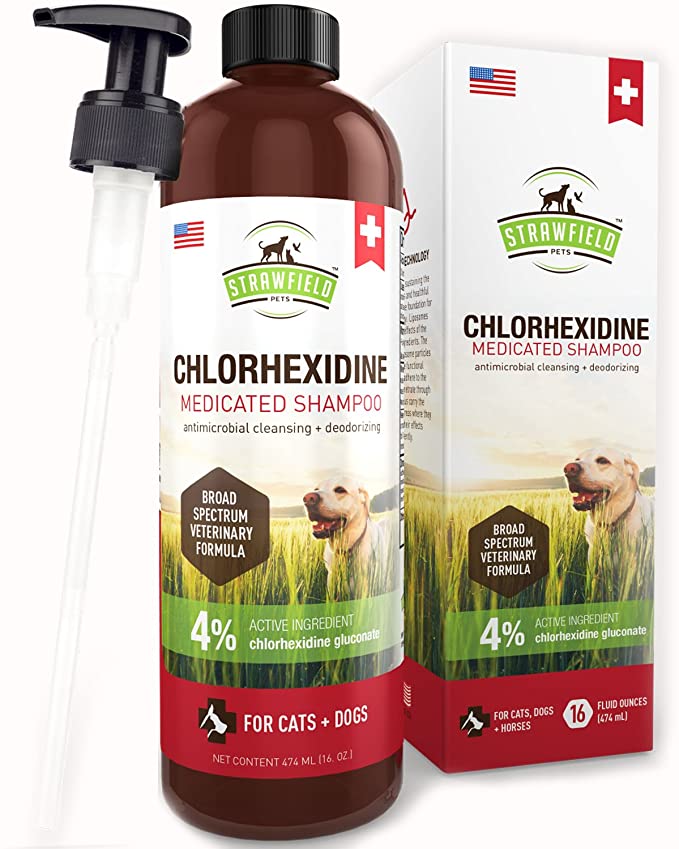 Strawfield Pets Chlorhexidine Shampoo for Dogs
SCENT: APPLE
LIQUID VOLUME: 12 OZ
Our Picks for the Best Dog Shampoos for Mange
Do you know what makes the dog shampoo best for mange? What are the key ingredients you should look for before buying?
If not, no need to worry! We've got you covered. This blog post will introduce you to our top picks for the best dog shampoo for mange.

Are you thinking of treating mange naturally? Then, RenuPlex Medicated Dog Mange Shampoo is the perfect solution!
This best mange shampoo for dogs is loaded with all-natural ingredients to help soothe and heal your dog's skin healthy.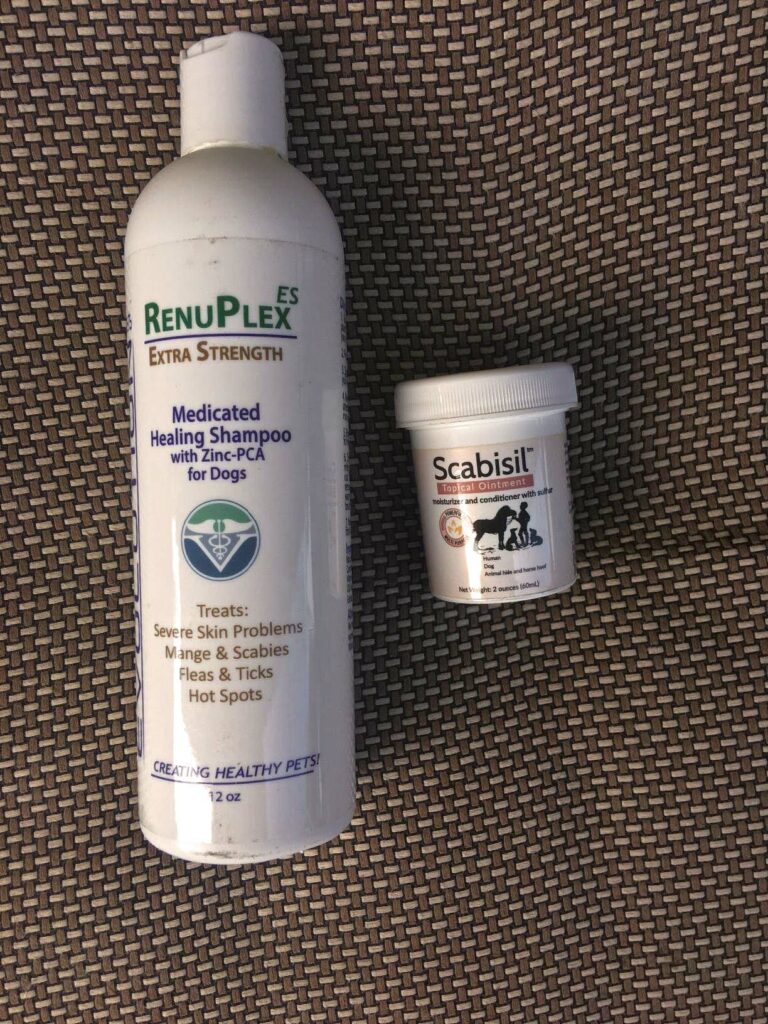 Zinc-PCA, organic colloidal oatmeal, healing essential oils, and other natural ingredients work together to provide relief to your pet.
This overall best dog shampoo with all-natural ingredients can help clear up mange quickly and effectively with regular use. So why wait?
Available in two scents: Lavender and Peppermint
Best for mange, scabies, and other skin conditions
Formulated with cold-pressed aloe vera juice, healing jojoba oil, repairing calendula leaf extract
 pH-balanced
Dog parents are thrilled that Renuplex shampoo worked on all the stages of mange.
With the natural aloe vera extract, pups got relieved from intense itching, scratching, and biting that occurs with mange.
The pH-balanced gentle but effective extra strength mange shampoo does not strip natural oils off your dog's skin.
Some dog owners felt that it was not effective in treating all dogs.
It was not recommended for long term use

RenuPlex Dog Mange Shampoo
The price of "RenuPlex Dog Mange Shampoo" varies, so check the latest price at

Like most dog owners, you want to do everything possible to keep your furry friend healthy and happy. So we've Veterinary Formula Clinical Care Anti-parasitic & Anti-seborrheic Medicated Shampoo on our list.
Specifically formulated for dogs over 12 weeks of age, this pH-balanced medicated shampoo is ideal for your dog's skin.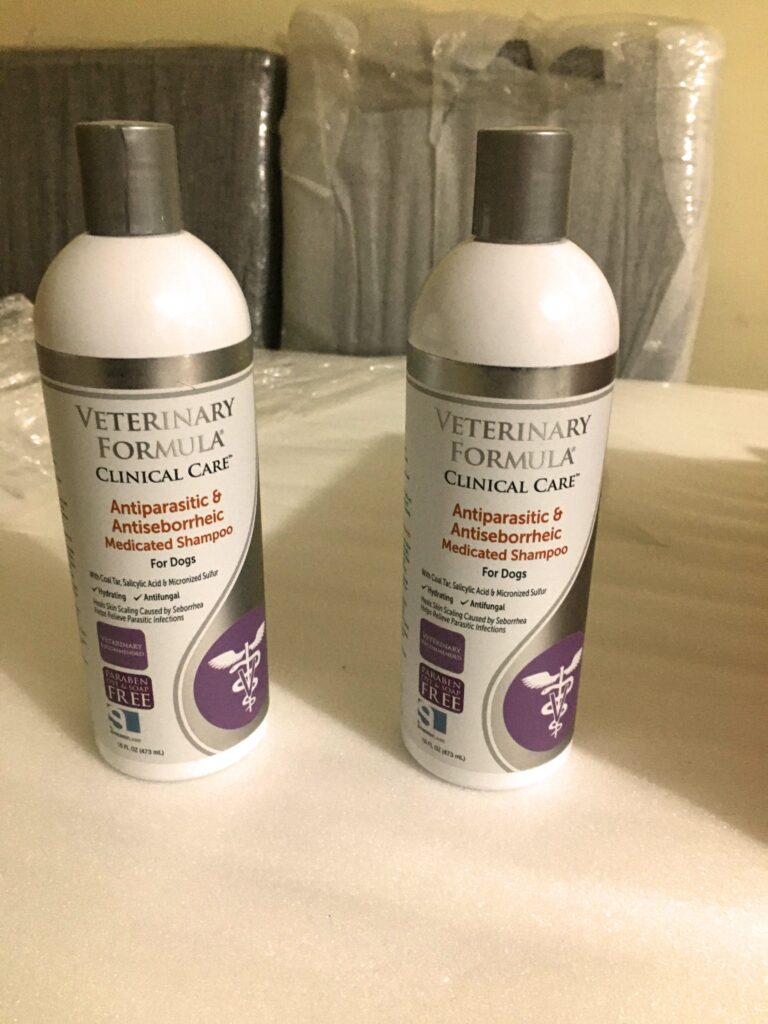 The dog shampoo for mange is available in a convenient 16-ounce bottle, making it easy to keep your pet clean and parasite-free.
It contains selenium sulfide – Food and Drug Administration (FDA) approved ingredient – that helps treat seborrhea and mange.
Best for the inflamed scalp, greasy, waxy skin, red skin rashes, thick crusty skin, itchy flakes, scaly and irritated skin.
Coconut scent with Vitamin E
Medicated dog shampoo
Key ingredients: coal tar, salicylic acid, and micronized sulfur
Treat seborrhea, mange and parasitic infections
FDA approved
Paraben and soap-free
The dogs are not as itchy and do not smell foul.
Fights against parasites, mites, fungal infection, yeast infections, weak immune system
Buyers loved that the shampoo was anti-fungal, anti-parasitic, and pH-balanced.
The dog's coat and skin are hydrated and moisturized with its use.
Reviewers showed satisfaction with this fast-acting formula to fight against parasites, mites, fungal infection, yeast infection, and weak immune system
Some dogs did not like the smell of this dog mange shampoo.
Reviewers were not happy because it irritated their pups' eyes.

Veterinary Formula Clinical Care Shampoo
The price of "Veterinary Formula Clinical Care Shampoo" varies, so check the latest price at

Davis Benzoyl Peroxide Shampoo is specially formulated to help provide relief from demodectic mange and dermatitis.
This powerful degreaser can help open and flush hair follicles, while the added benzoyl peroxide helps kill the bacteria that cause these conditions.
Your dog will love the fresh citrus scent, and you'll love how well this best dog mange shampoo cleans problematic coats.
Treat seborrhea dermatitis, bacterial infections, canine and feline acne, and other skin diseases.
Coconut scent
Ingredients include 2% benzoyl peroxide, natural coconut-based lathering agent, ammonium laureth sulfate with ethanol, propylene glycol, preservative, proprietary polymer, and purified water.
Best for greasy, scaly, and dry skin
Dog owners were thrilled that Davis Benzoyl peroxide shampoo had a natural moisturizing effect and noticed it hydrated their dogs' coats as well.
Dogs felt happy that it was an excellent degreaser for their coats.
Reviews suggested that this fast-acting formula is beneficial in combatting parasitic infections.
One of the buyers felt satisfied with this dog shampoo as it worked best to open and flush hair follicles.
Owners complained that it did not kill sarcoptic mites
Some dogs were annoyed with its coconut fragrance.

Davis Benzoyl Peroxide Shampoo
The price of "Davis Benzoyl Peroxide Shampoo" varies, so check the latest price at

Are you looking for a way to keep your pup's skin healthy and free of infection? Look no further than Nootie Medicated Dog Shampoo providing dermatology solutions!
The antifungal and antibacterial formula contains active ingredients Chlorhexidine Gluconate 2% and Miconazole Nitrate 2%, which work together to keep your furry friend's skin looking and feeling its best.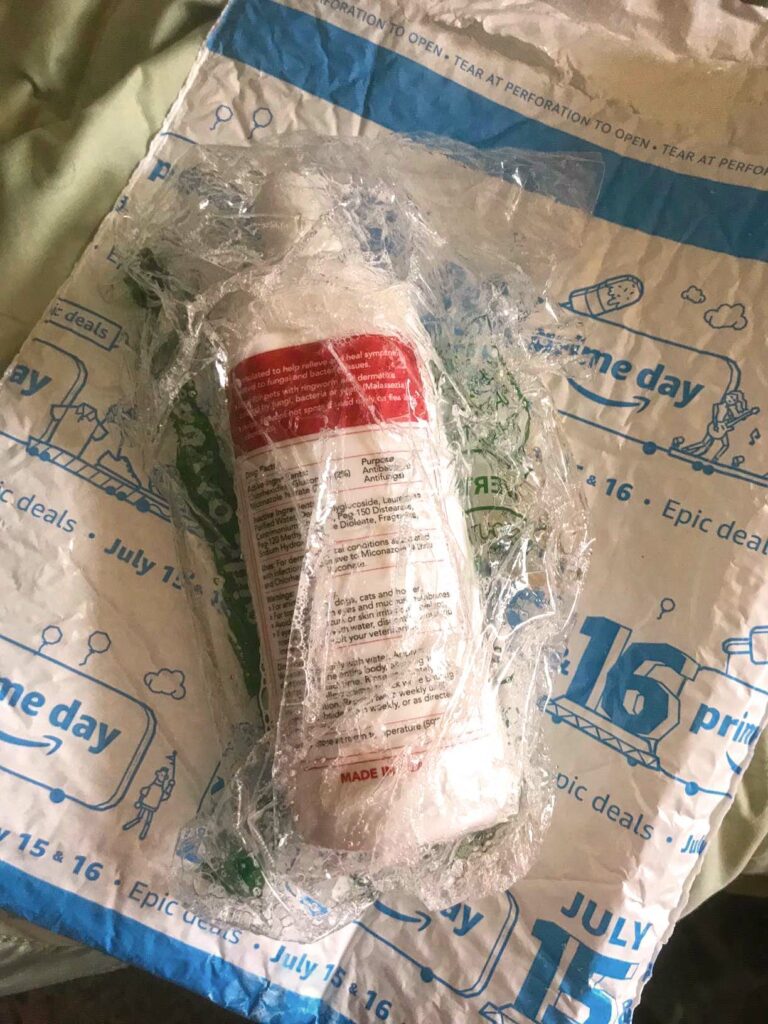 Nootie Medicated shampoo is veterinarian-approved, so you can feel confident that you're providing the best possible care for your pet. Give your dog the healthy skin they deserve. It is a good product for pets that have ringworm and dermatitis.
With soft lily passion scent
Prevents hot spots from developing if your pup has flea bite dermatitis.
Without parabens, SLS, harsh chemicals, or dyes
Pet parents loved that it is free of any harsh chemicals
Dogs were pleased with the smell of the Nootie Medicated dog shampoo.
This all-in-one product won customers' hearts for its multi-purpose usage.
Buyers were happy about the recovery process.
It relives and heals skin infection and is an excellent fighter against bacterial and fungal infections
This medicated product fights well on hard-to-kill mange.
Reviewers complained about its high price.
Owners were not satisfied because it did not have a long-lasting effect.

Nootie Medicated Dog Shampoo
The price of "Nootie Medicated Dog Shampoo" varies, so check the latest price at

Pet MD Benzoyl Peroxide is a unique product effective for skin conditions, dandruff, itch relief, acne, and folliculitis.
The Pet MD medicated shampoo works exceptionally well. It clears up the dog's skin conditions within a few days of using this shampoo, and it also helps relieve the itchiness.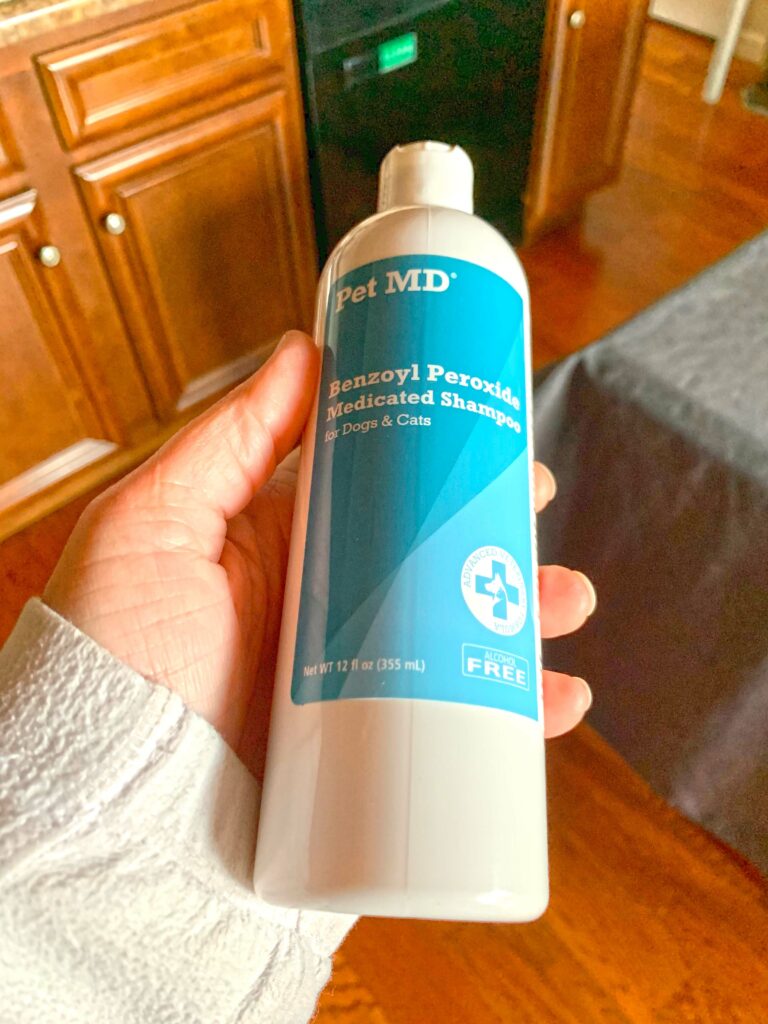 The best part is that the smell isn't too bad, which can be a problem with some medicated dog shampoos.
Overall, this is a highly recommended product and one of the best dog shampoos for the worst skin conditions!
Mild citrus scent
pH balanced
Removes scales and oils from coats
Soap and paraben-free
Skin moisturizer and deodorizer
Owners felt that it left dogs and cats clean, happy, and smelling citrus.
Dogs were happy that Pet MD medicated shampoo cleaned and degreased the skin effectively without stripping.
It soothes and protects the skin from dermatitis skin infections
It is best for opening and flushing follicles.
Some pet owners noted that dogs felt calm and relieved from scaling, itching, and inflammation.
Some owners did not like that they had to leave this on for at least 10 minutes and wait for it to work.
Buyers found it heavy on pocket.

Pet MD Benzoyl Peroxide Shampoo For Dogs
The price of "Pet MD Benzoyl Peroxide Shampoo For Dogs" varies, so check the latest price at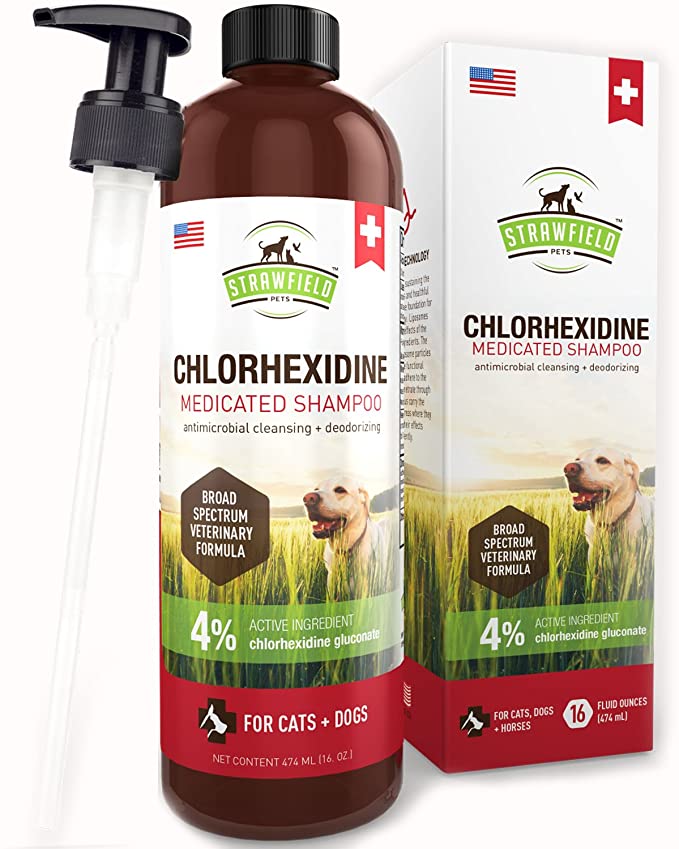 Do you want to buy a dog shampoo that can deal with various skin issues in your pup? Look no further than Strawfield Pets Chlorhexidine Shampoo.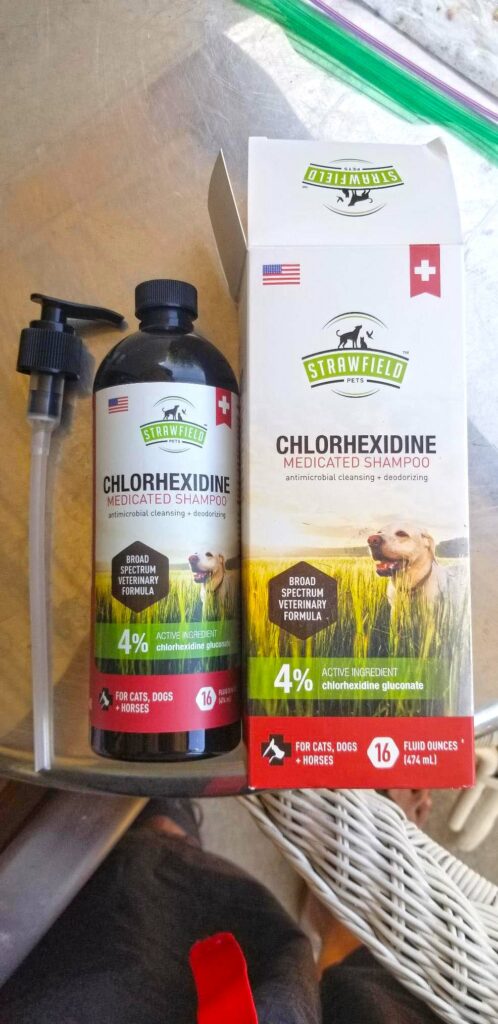 This powerful medicated shampoo is packed with anti-microbial ingredients that can help treat everything from deep cutaneous infections to odor and yeast problems.
The pH-balanced formula is also gentle enough for daily use, making it an excellent choice for dry, itchy skin dogs.
Contain ketoconazole for soothing and healing
Active ingredients include 2.5% benzoyl peroxide and 2% micronized sulfur 
Antifungal and antibacterial
No parabens or soap
pH balanced
This product is anti-fungal that fights yeast deep cutaneous infections.
Additionally, reviewers mentioned that aloe vera provided further relief, and vitamin E promoted healing.
Pet owners were happy that it could be used with other treatments.
It was hard for owners to leave it on pets' skin for 10 minutes, and pets got irritated too.
Some owners felt that it was not very moisturizing.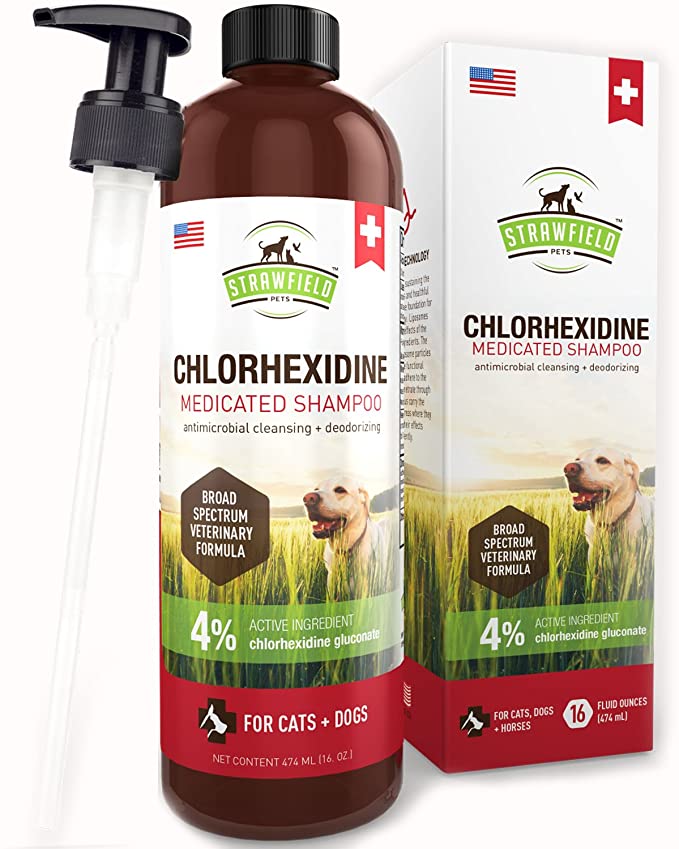 Strawfield Pets Chlorhexidine Shampoo for Dogs
The price of "Strawfield Pets Chlorhexidine Shampoo for Dogs" varies, so check the latest price at
Things to Look for When Buying Good Mange Medicated Shampoos
When buying a good mange medicated shampoo, it is crucial to look for products that contain the following:
All of the products on our list above contain natural ingredients. It is vital to avoid harsh chemicals that could further irritate your dog's skin.
The most important natural ingredients in mange shampoos are tea tree oil, jojoba oil, and neem oil.
These ingredients help kill the mites that cause mange and help to soothe and heal the skin problems.
Keeping the skin hydrated and moisturized is key to healing mange. Therefore, all products on our list contain moisturizers to help heal the skin and prevent further itching and scratching.
Moreover, it helps get rid of dead skin cells on the pet's skin.
Natural moisturizers are essential in tick treatments and mange.
pH balancing is the key to any good shampoo, but it is imperative in a mange shampoo because the mites that cause mange thrive in an acidic environment.
By using a pH-balanced shampoo, you can create an environment that is less conducive to the growth of mites.
In addition, organic ingredients in pet shampoos don't cause more skin irritation and help to maintain skin health.
Anti-parasitic mange shampoos are more effective in killing the mites that cause mange and speed up the healing process than those without this ingredient.
Some anti-parasitic ingredients in a mange shampoo are fipronil, permethrin, and pyrethrin. The majority of the medicated shampoos have these ingredients.
Some ingredients like sulfur help to kill the mites that cause mange. Benzoyl peroxide is an FDA-approved ingredient for the treatment of mange.
Other ingredients like salicylic acid help to exfoliate the skin and promote the growth of healthy skin cells. Oatmeal and other moisturizers can add moisture to dry skin.
There are a variety of medicated ingredients that can be used in mange shampoos, so it is important to read the labels to see which ingredients are in the product.
Some pet parents prefer shampoos that are unscented in order to avoid any further skin irritation. However, many mange shampoos have a light tea tree oil scent that helps mask the mites' odor.
Preventing Dog Mange with These Tips and Tricks
Follow these to get rid of mange:
1. Keep your Dog's Fur Clean and Groomed
Mange thrives in dirty, greasy environments, so keeping your dog's fur clean and groomed is essential for preventing it from developing mange.
Make sure to brush your dog regularly and bathe him at least once a week.
2. Use a Mange Shampoo Regularly
Using a mange shampoo regularly can reduce the risk of mange in your dog. Mange shampoos contain ingredients to kill the mites that cause mange and also help to keep the skin healthy.
3. Keep Your Dog Away from Other Dogs That Have Mange
If another dog has mange, it is best to keep your dog away from it. Mange is highly contagious, so it is essential to take precautions by preventing your dog from coming into contact with other dogs that have it.
4. Take Your Dog to the Vet for Regular Check-ups
Even if you think your dog does not have mange, it is crucial to take it to the vet for check-ups regularly. The vet can help you rule out any potential cause of mange in your dog through proper diagnosis.
5. Veterinary Treatment If Your Dog Has Severe Mange
If your dog has mange, it is essential to seek veterinary treatment as soon as possible. Mange can cause serious health problems if left untreated, so it is best to get treatment right away.
The above tips and tricks will help you reduce the risk of developing mange in your dog and use treatments essential for its cure.
Remember, the key to avoiding mange is to keep your dog's fur clean and groomed, regularly use mange shampoo, keep your pet away from other dogs having mange, and seek veterinary treatment right away in case of need.
If your dog is suffering from mange, there's no need to feel helpless. Several great shampoos available in the market are designed to help soothe and restore your pup's skin.
But, before you start using any shampoo, it's essential to consult with your veterinarian. Some types of mange can be very contagious, but with the help of your vet and good dog shampoo, you can get your furry friend back to its old self in no time at all.
Have you ever used a shampoo specifically designed to treat mange? Let us know with your valuable feedback.