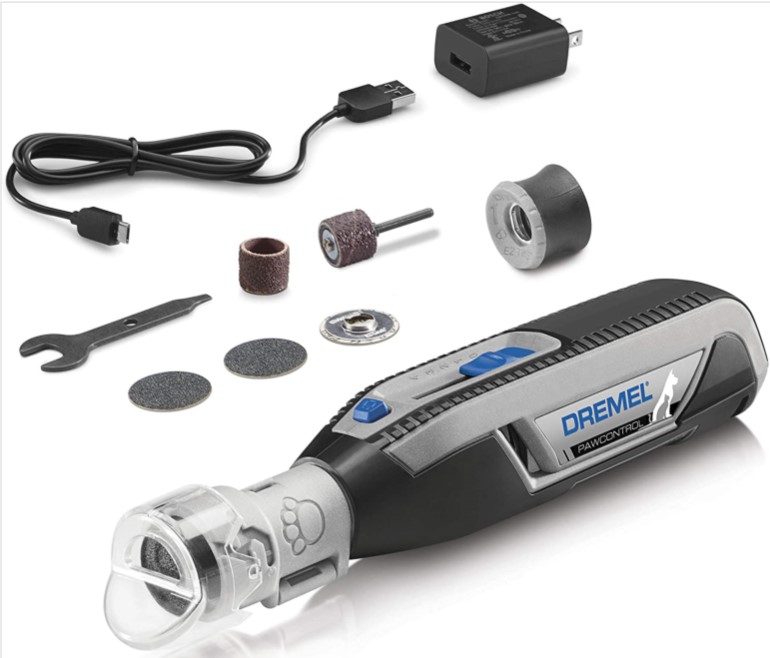 Dremel PawControl Dog Nail Grinder
MATERIAL: PLASTIC
ITEM WEIGHT: ‎1.35 POUNDS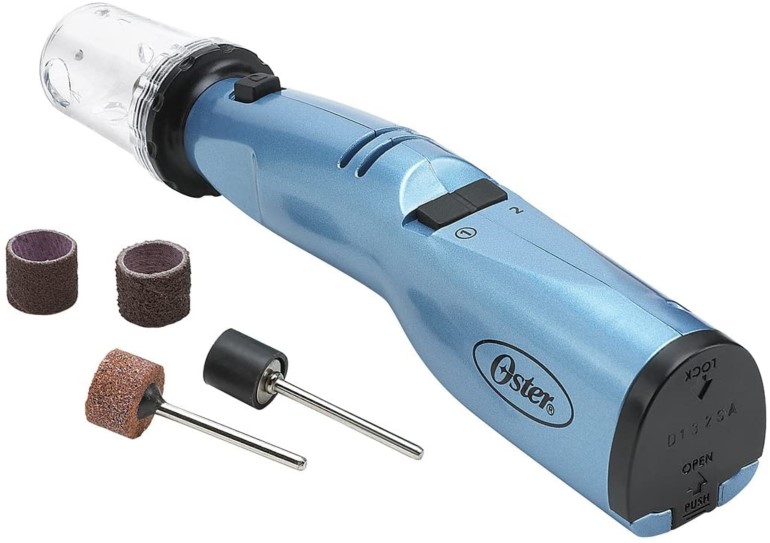 Oster Gentle Paws Nail Grinder
MATERIAL: STONE
ITEM WEIGHT: 0.3 POUNDS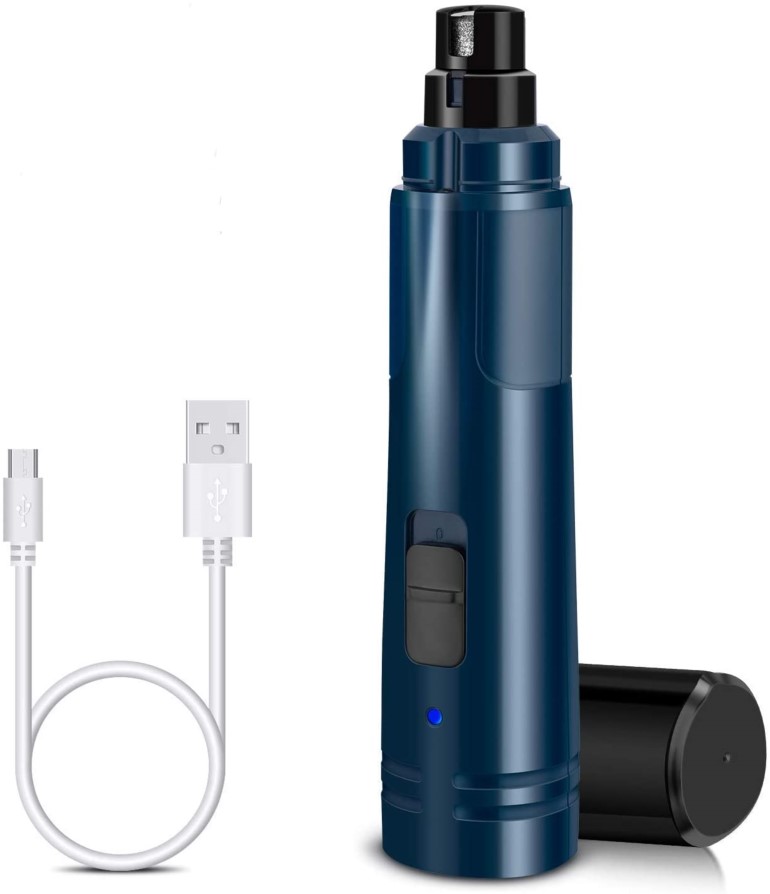 MATERIA: STONE, PLASTIC
ITEM WEIGHT: 0.33 POUNDS.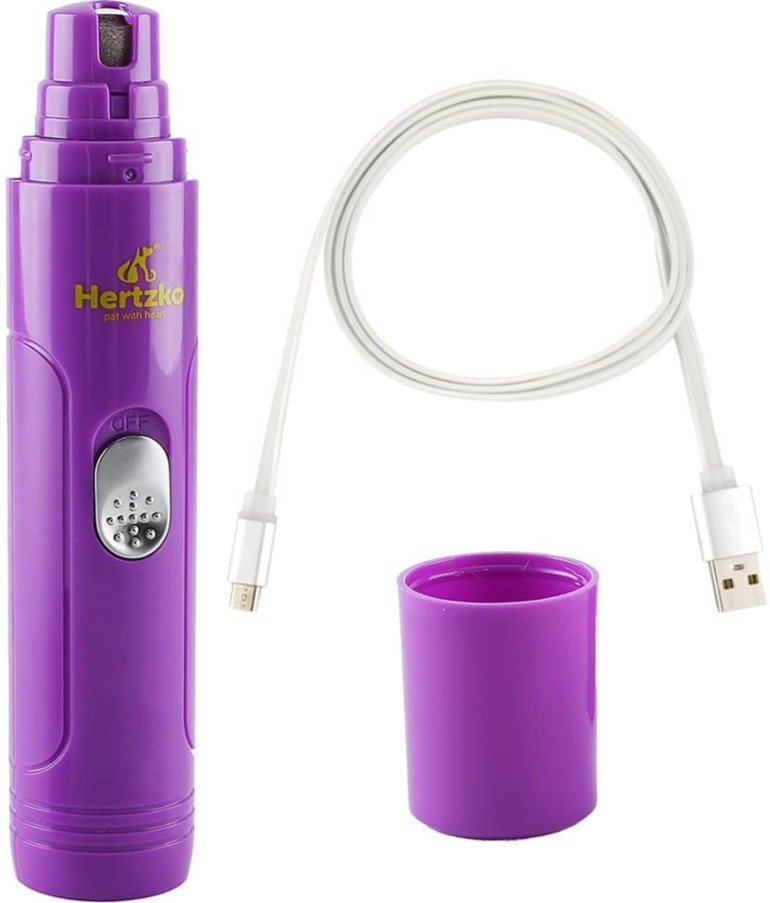 MATERIAL: PLASTIC
ITEM WEIGHT: 0.3 POUNDS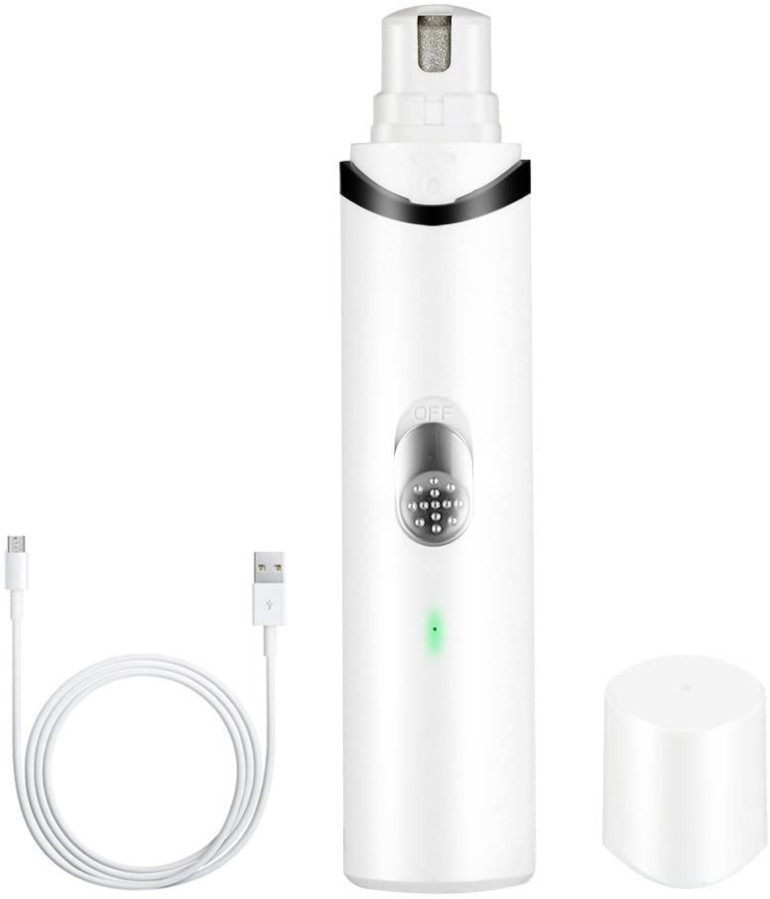 MATERIAL: STONE
ITEM WEIGHT: 0.23 POUNDS


Wahl Ultimate Corded Pet Nail Grinder
MATERIAL: PLASTIC
ITEM WEIGHT: 1.09 POUNDS
The length of pups' nails is one of the most important aspects of their grooming. The best dog nail grinder will make trimming your pet's nails at home easy, whether you're in between travels to the nearby pet salon or you're ready to fly.
Nail grinders are an effective alternative to dog nail clippers. They are also referred to as "dremels," referring to the famous and well-known Dremel brand of grinding tools. Instead of cutting the nail, a dog's nail grinder will use a high-speed, rounded grinder that uses a sandpaper-like material to grind away the nail.
6 Best Dog Nail Grinders
Using a top-rated dog nail grinder, you can easily trim your dog's nails. Dog nail grinders are available in a variety of styles and designs. Think about whether or not you'd like additional features like LED lighting and multiple grinding speeds options. Also, consider whether you prefer a battery-powered grinder or one that uses standard AA batteries.
All of these grinders are highly recommended, but you should think about which features are most important to you and your dog before purchasing.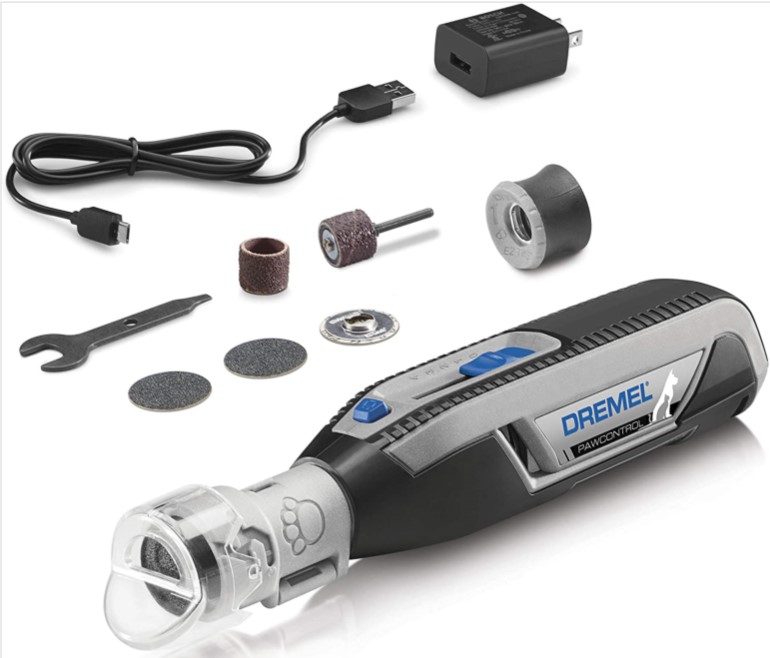 This nail grooming kit solution is a safe and gentle alternative to pet nail clippers or a dog nail file. It features a 45-degree paw guide for the best possible angle for trimming nails and collecting dust.
A nine-piece set of nail-grinding implements for various uses, and it's easy to switch out the nose piece with the patented EZ twist nose cap. With the included USB charger and 4-volt Lithium-Ion battery, it will never run out of battery.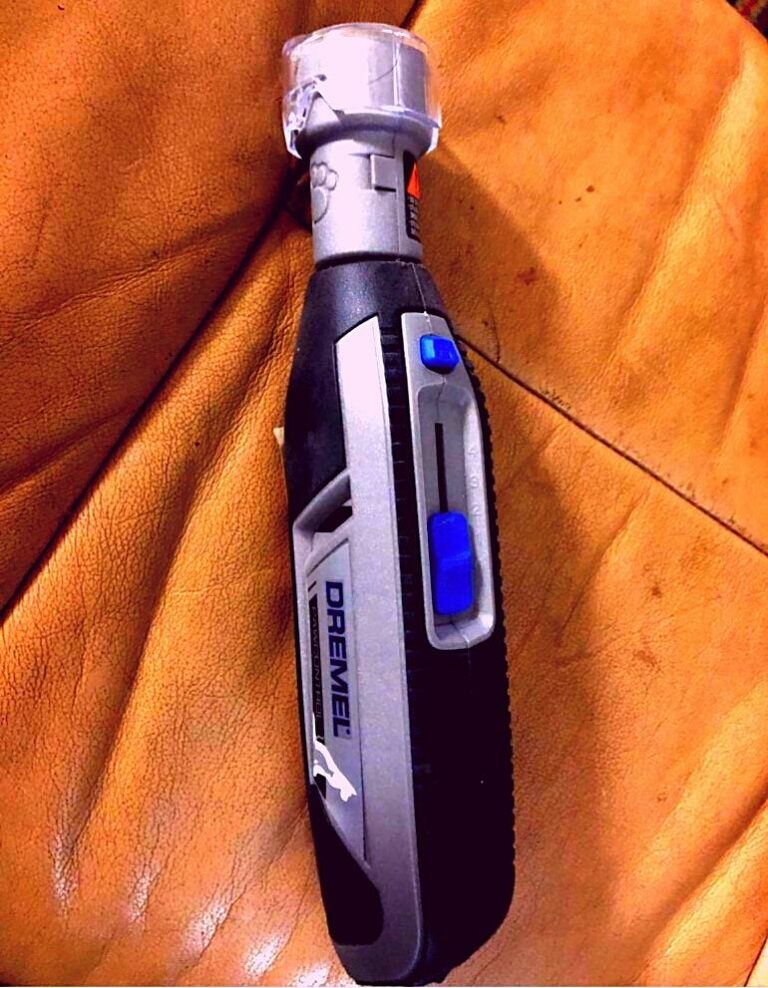 A slide switch with variable speeds lets you adjust the grooming speed according to the size and thickness of your pet's nails. In addition, this kit contains a 9-piece accessory set, a 7760 4V Li-on pet nail groomer, a 5V power adaptor, a USB charging cable, a quick start guide, and a 2-year warranty card.
9 piece grooming kit
Grinder style clipper
Made of high-density and soft-grip plastic
Best for all life stages
Rotary blade
Rechargeable battery
1.35 pounds weight
2-years warranty
Many pet parents preferred the adjustable blade speed feature.
Thanks to the nail guard, all of the users felt more confident in their ability to get the right angle.
Some customers complained that the information in the user manual was insufficient.
Some dogs were bothered by this dog nail grinder's loud noises and vibrations.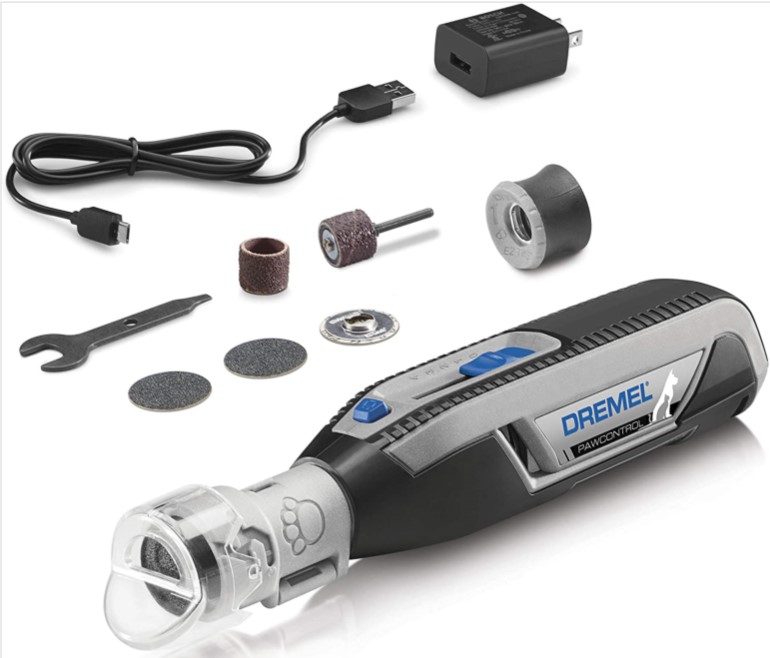 Dremel PawControl Dog Nail Grinder
The price of "Dremel PawControl Dog Nail Grinder" varies, so check the latest price at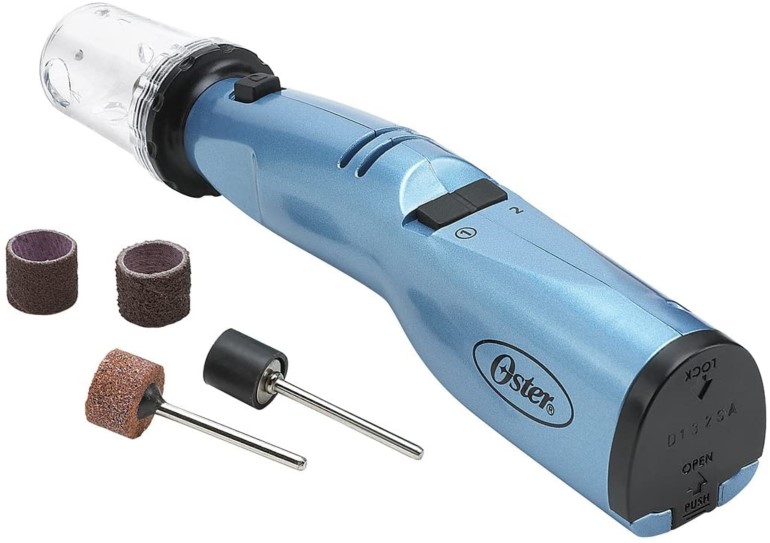 This whisper-quiet rotary tool is a stress-free way to trim your pet's nails. The adjustable safety guard helps to ensure that you don't cut too far and captures the filings for a more organized workspace.
You can use this powerful two-speed design to grind your pets' nails of all sizes. Everything you need to keep your pet's nails clean and safe is included in this package with two coarse bands and a coarse stone.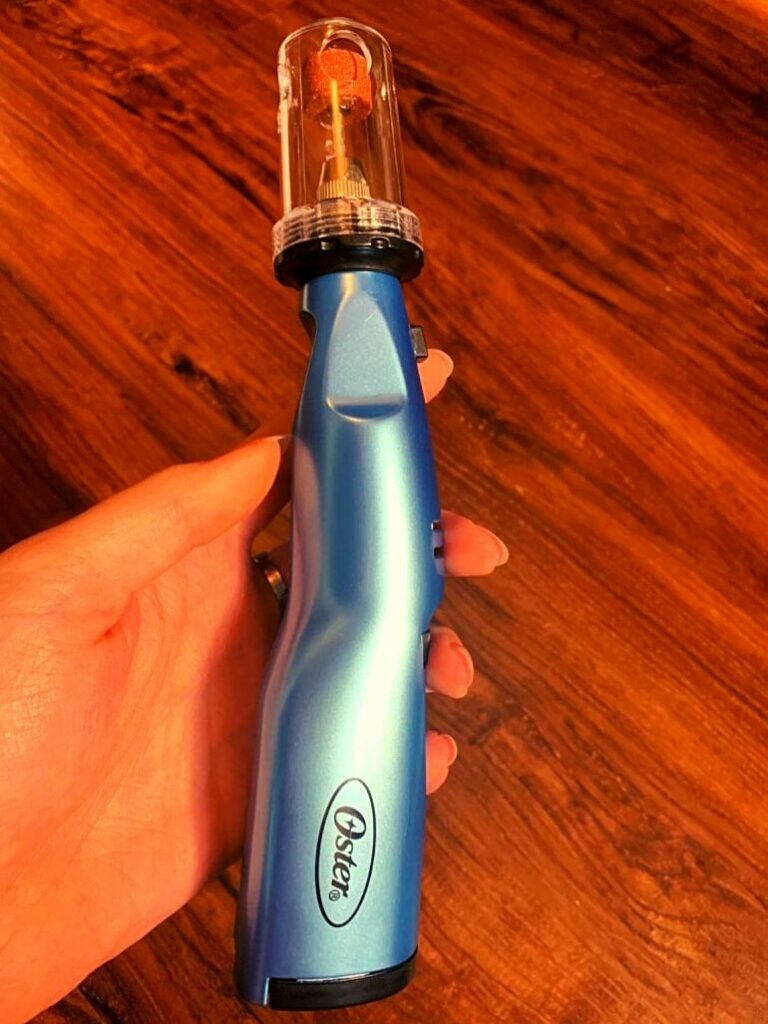 These gentle paws nail grinders work well for small to medium-sized dogs. Four AA batteries are required for the device to operate.
Two-speed nail grinder
Grinder drum and rotating head
Collet and lock button
On/Off switch for speed
Adjustable safety guard
Two coarse fine band
4.8 ounces weight
Pet owners note that the level 1 grinding option is extremely quiet, which helps to reduce the stress on their pets.
This grinding tool proved a significantly less stressful solution for your pet grooming.
Some dog owners recommended grinding outside because nail shavings would escape if you didn't use the nail holes.
Some pets got uncomfortable and even aggressive as it took a long time to grind the dog nails.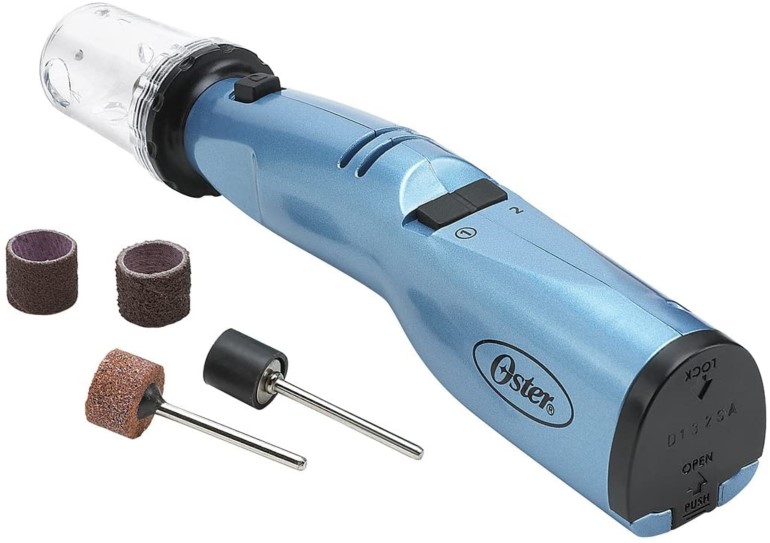 Oster Gentle Paws Nail Grinder
The price of "Oster Gentle Paws Nail Grinder" varies, so check the latest price at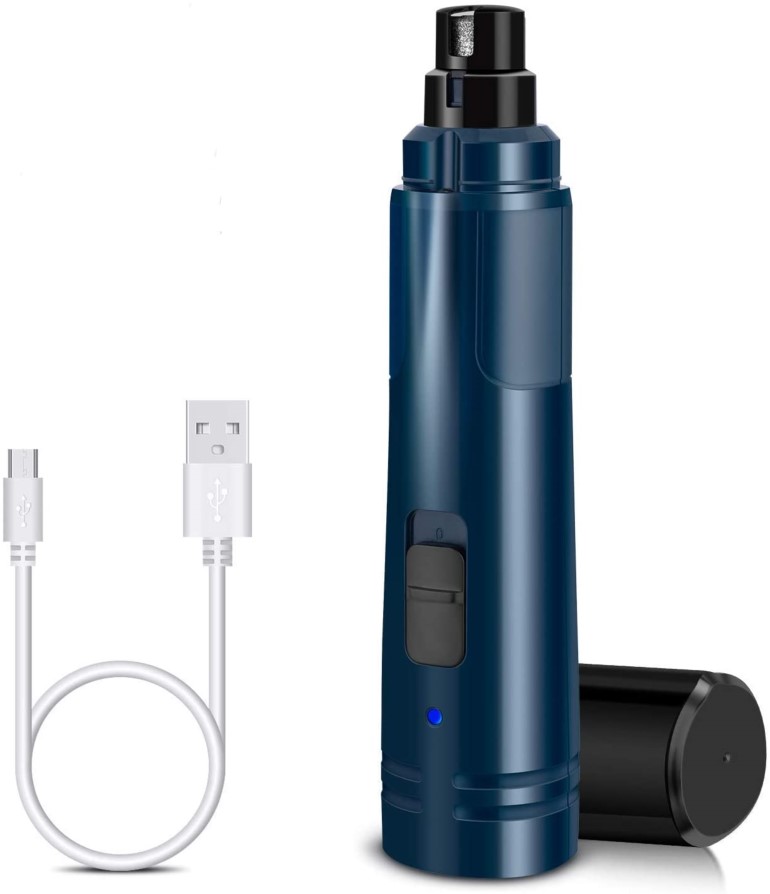 Casfuy dog nail trimmer is equipped with a motor that utilizes the latest motor technology to deliver fast, efficient, and professional-quality grinding. With minimum noise and vibration, grinding can be done quickly.
Casfuy dog nail grinder has a highlighted LED light unaffected by ambient light, which is a significant improvement over previous models. In addition, the trimmer has an adjustable, low-high speed design that is powerful enough to support heavy grinding.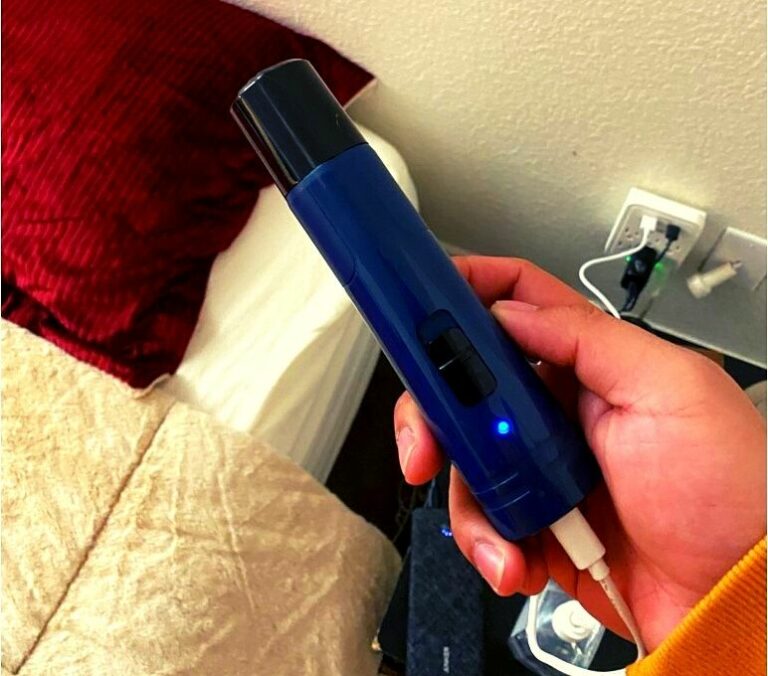 There are three grinding ports on the trimmer. Select the appropriate port and speed based on the size and hardness of your pet's nails to get the best results. Pet claw grinding has never been safer or more comfortable than this electric diamond bit grinder.
Diamond drum bit grinder
LED light
Low noise
Rechargeable Ni-Mh battery
Two-speed settings
Three grinding ports
Cordless & portable
Recommended by veterinarians
9.77 ounces weight
Most dog owners found this grinder safe as they could adjust speed settings.
Dogs also loved this and stayed calm during the process because of the low-noise motor.
Buyers faced the difficulty of charging the battery when traveling as it required three hours to charge completely.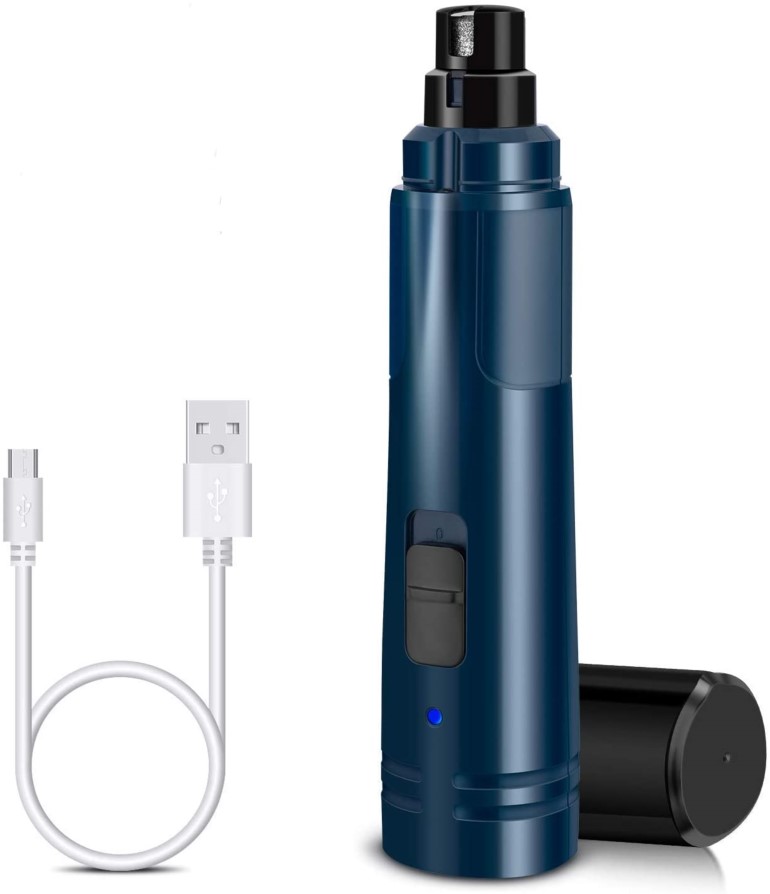 The price of "Casfuy Dog Nail Grinder" varies, so check the latest price at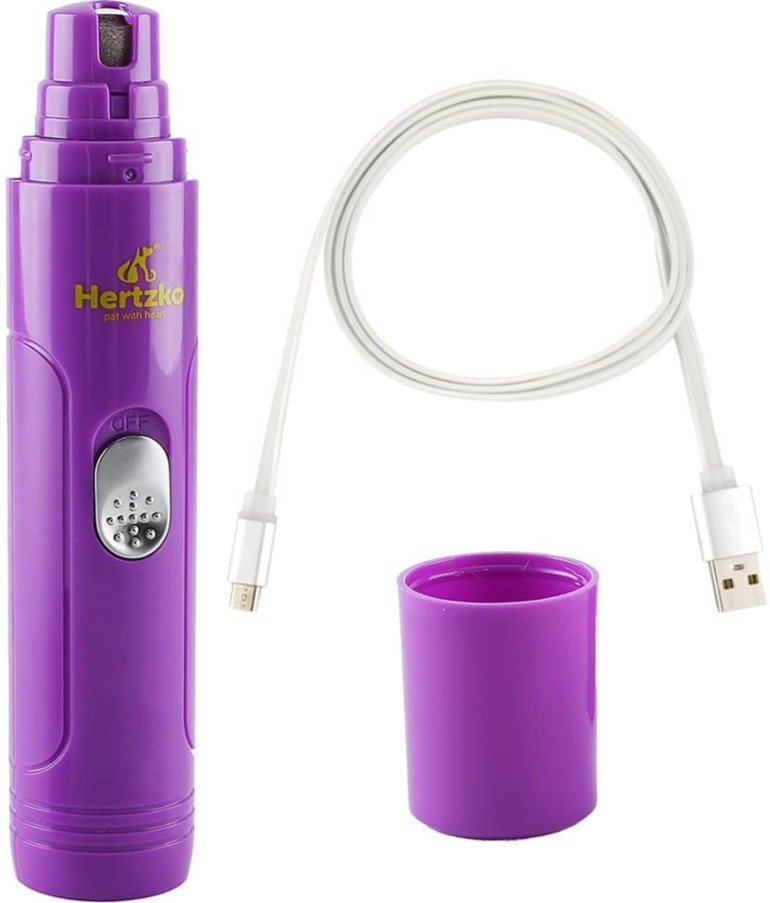 Hertzko pet nail trimmers are safer and more effective than the old-style dog nail file because they use an ultra-durable diamond stone material. With this whisper-quiet motor, you'll never have to worry about hurting your pet's claws again when clipping their nails.
The included micro USB cord recharges the nail grinder, which is a must-have in your puppy's supply box. For easy cleaning, the cover can be removed. It is also possible to clean the diamond stone material for future use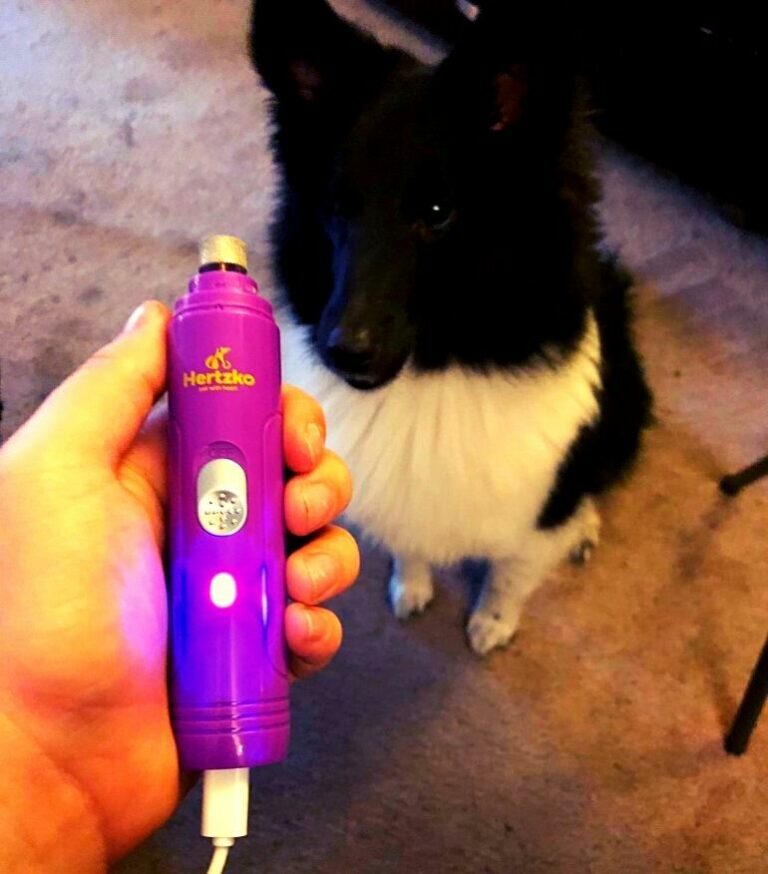 Depending on your pet's nails, you can use any port in the grinder area. The entire bit can be seen if the cover is removed for larger pets. This dog nail trimmer is designed with low noise and low vibration to alleviate the fear of dog nail grinding.
Painless nail tool
Cordless grinder
USB wire for recharge
Diamond bit grinder
Removable port cover
Charging indicator
4.8 ounces weight
Traumatized dogs weren't afraid because they smoothed rough edges and quiet motor.
Even if the motor has a one-speed setting, the plastic edges helped the dog's parents to grind dog nails safely.
According to most buyers, a prominent disliked feature was that this grinder wasn't water-resistant.
A few users mentioned that it's time-taking to complete the nail grinding process.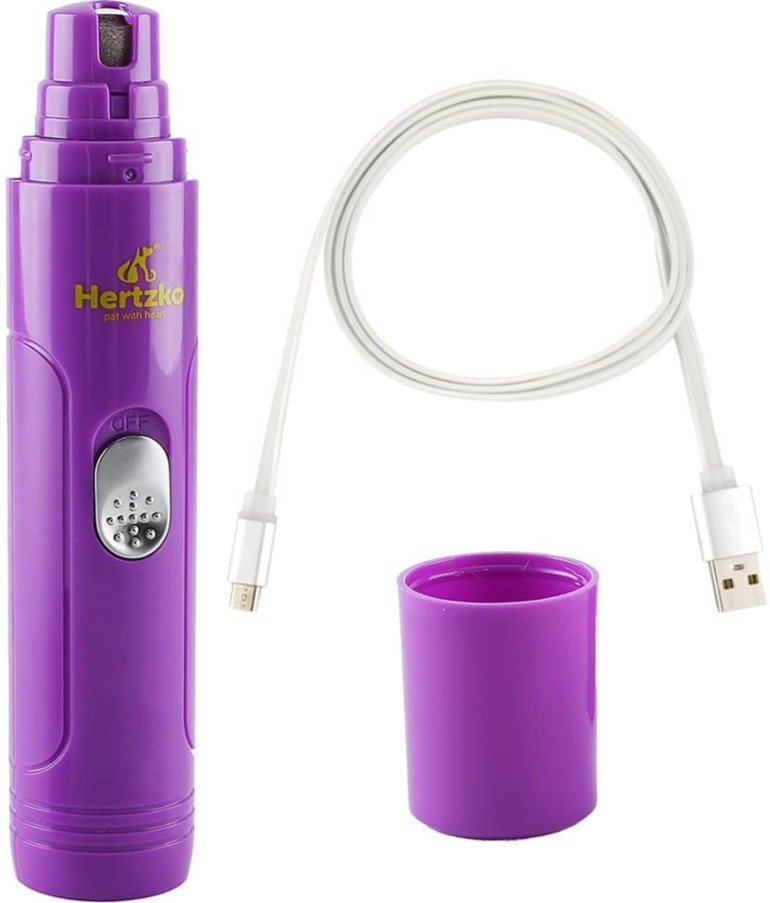 The price of "Hertzko Pet Nail Grinder" varies, so check the latest price at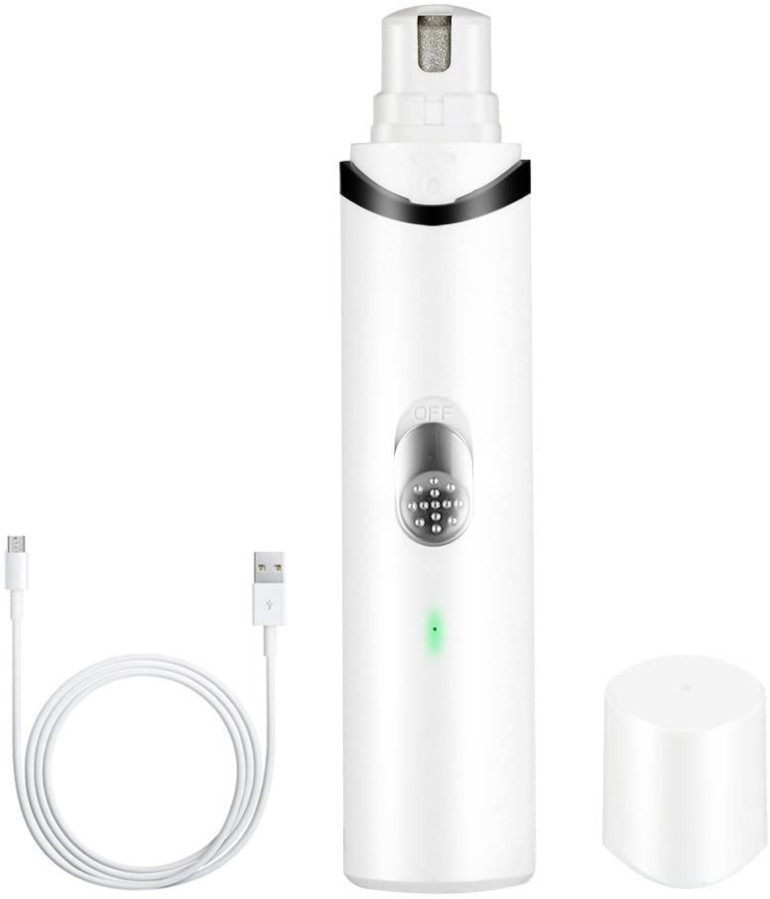 Urpower uses a diamond grinding stone instead of a nail clipper to trim your pet's nails; it's safer and more effective, and it requires no replacement bits.
This ergonomically-friendly pet nail grinder is designed to be rechargeable via USB with an indicator light, is more convenient, and eliminates the need to change batteries frequently. A fully charged grinder can be used for up to three hours. With three different nail ports, the pet nail trimmer fits small and medium-sized pets. Depending on the size and shape of your pet's nails, you can select the appropriate one.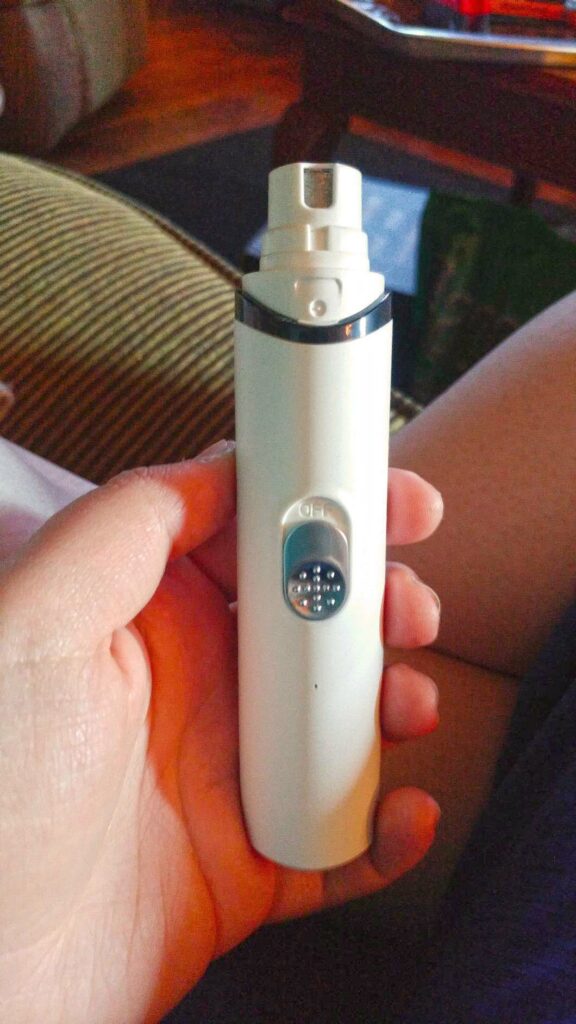 Nail removal is also done quietly and quickly, thanks to the ultra-quiet super-mute motor that uses brass shafts and unique mute technology. Finally, you can remove and clean the Grinder Stone and safeguard it with a damp cloth.
Diamond bit grinding tool
Three ports
Super mute motor
Quality assurance
Easy to use
USB charging
charge indicator
three-hours battery time
3.84 ounces weight
180 days warranty
Most dog owners have praised the noise level of this grinder.
In addition, this grinder proved to be less stressful for pups and their owners.
Some buyers didn't like the one-speed setting as many others had two or more.
A few owners felt the speed was too slow.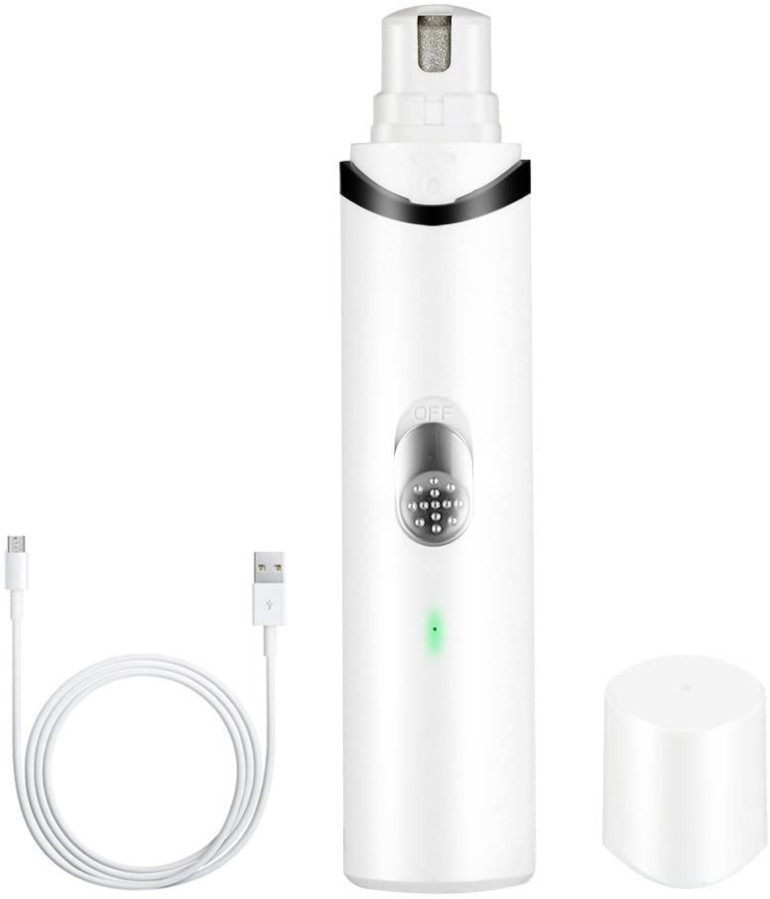 The price of "UrPower Pet Nail Grinder" varies, so check the latest price at


It's hard to beat the value you get with Wahl's dog nail grinder, which has been in business for over a century in Illinois.
This set includes two large sanding drums and six easily interchangeable sanding bands. Nail grinding is a breeze, thanks to professional power. It's good to trim, shape, smooth, and grind nails for large and small pets.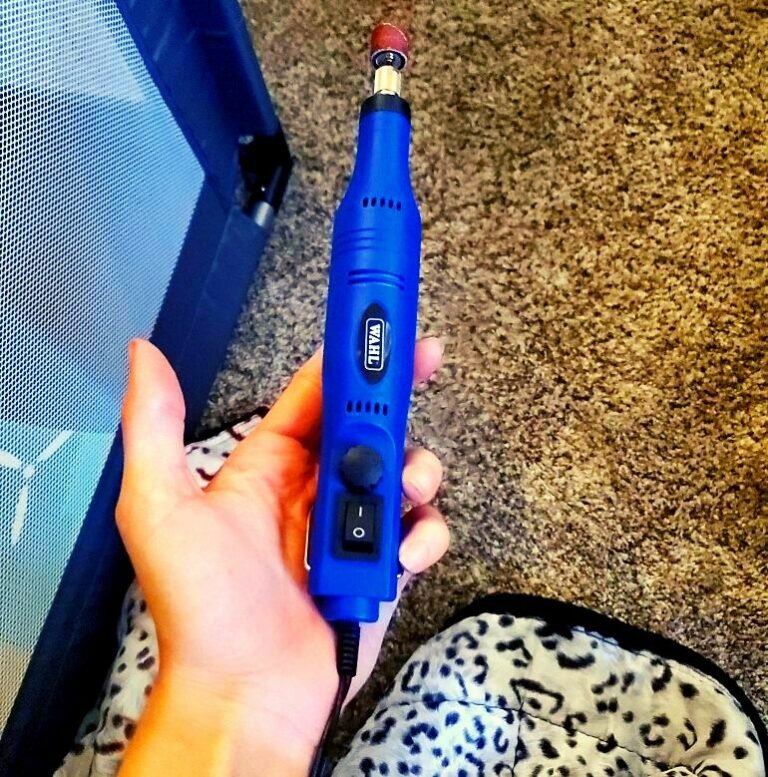 Compared to other grinders, this lightweight one only has one speed: 13,000 RPM. This design features easy finger grips for increased comfort and control. It also prevents unintentional hair pulling and winding with the automatic Safety-Stop feature. The 11-piece set comes with a one-year limited warranty.
Nail grooming kit
6 large replacement bands
6 small replacement bands
wrench
Large and small sanding drums
Hard storage case
1.09 pounds weight
One year warranty
Maximum buyers liked that this grinder is battery-powered and also easy to use.
As it was virtually noiseless, small pets could easily get trained for nail trimming.
According to owners with large dogs, it took longer to trim all their nails.
In addition, a few users faced some issues while tightening the nuts and shaft.


Wahl Ultimate Corded Pet Nail Grinder
The price of "Wahl Ultimate Corded Pet Nail Grinder" varies, so check the latest price at
What Is the Best Nail Grinder for Dogs?
While buying nail grinders, you need to keep in mind a few essential factors. First, ensure you know when and how to use this valuable tool for dog grooming before you start using it. Selecting the best dog nail grinder will be much easier if you know how to care for your dog's nails properly. Look for these features before making a final decision:
Noise
For those pet owners concerned about the sound or noise level of a nail grinder, look for models that are advertised as being quiet or low-noised. The lower the speed setting on a variable-speed nail grinder, the quieter and less vibrating the machine will be during operation.
Safety
To avoid damaging your dog's nails, it is not recommended that you use a general-purpose nail grinder. However, any good pet nail grinder should have safety features, such as sanding bands or discs explicitly designed for grinding pet nails and other features like quick-indicator lights. Instructions for using pet nail grinders should also be included with the product to help you learn how to file down your dog's nails safely and correctly.
Power Source
Pet nail grinders are available in corded and cordless versions (battery operated). Both have their own set of advantages and disadvantages. When using a cordless nail grinder, make sure that it is completely charged before using the device. It is necessary to be close to a power source to use an electric nail grinder. Also, choose an extra-long corded nail grinder to ensure maximum portability while working.
Using a dog nail grinder is an alternative to nail clippers for dogs who aren't ready to get their nails trimmed because of stress and other traumas. The material used in the nail grinder is similar to sandpaper, and it is used to grind away the nail to remove it without hurting your pup.
A dog's nails should not be harmed by using a dog nail grinder. You must maintain effective control over the grinder and a firm grip on your dog's paws. Trimming and grinding do not harm or irritate your dog, but the machine's vibration and noise can frighten some pets. So, it's better to start grinding their nails down like a puppy and let them get used to the noise before beginning on their paws.
Depending on how quickly your pet's nails grow, you should trim the nails every one to two months on average. This time could be extended if they take frequent walks across the concrete. Also, a dog's nails should generally be trimmed if you can hear them scratching against the floor as they run up to greet you.
You can easily take care of your dog from the comfort of your own home with the best dog nail grinder. Between trips to the groomer, you can ensure your dog's happiness and safety with this handy tool.
Before you set up a spa day for your dog and start pampering him, make sure you get the right grinder for his size and temperament. The next step is to maintain a calm attitude. When it comes to grooming your dog's nails, most dog owners' most common mistake is getting frustrated. Because sometimes dogs don't cooperate or don't want their nails cut. Either give your dog some time to get used to the procedure or take him to a professional, such as a groomer or veterinarian, to deal with the problem safely.