According to the Royal Veterinary College Research, an ear infection is quite common among dogs. Some breeds are more susceptible to ear disease, including Chinese Shar-Pei, Basset Hounds, Beagle, Poodle, Golden Retriever, Labradoodles, and spaniel dogs. Dogs with floppy ears and swimmers are more prone to ear infections; require frequent ear cleaning than other dogs.
The responsibility lies on the owners to maintain the overall hygiene of their pets while keeping their ears clean. The dog owners may think about how to clean their dogs' ears, then liquid ear cleaners and ear wipes make a perfect solution.
This blog post will help you find the best dog ear cleaners for easy cleaning and maintenance of your dog against chronic ear conditions. It also includes the symptoms of infection, buying guide, and FAQs to answer your queries to help you make a quick decision. Stay tuned!
Best For Routine Ear Cleansing

Virbac Epi-Otic Advanced Cleaner
Promotes Clean Healthy Ears

Vetoquinol Ear Cleansing Solution
LENGTH:6.8IN
SIZE:8 OUNCES


LENGTH:6IN
SIZE:4.64 OUNCES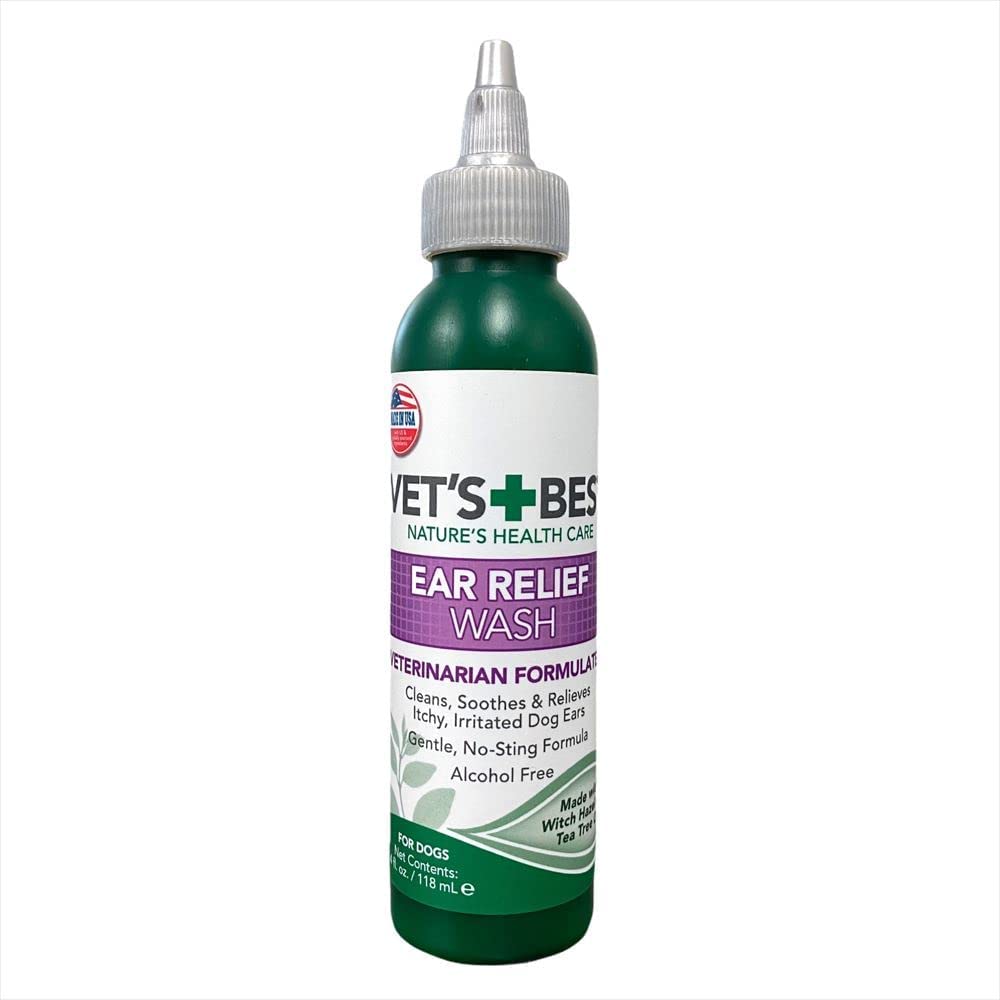 Vet's Best Ear Relief Wash Dry Kit


Pet MD Veterinary Tris Flush
LENGTH:8.15IN
SIZE:12 OUNCES
Best For Smell And Dirt Discharge


Vet Organics EcoEars Dog Ear Cleaner
Best Dog Ear Cleaners- Top 7 Reviewed
Finding the best dog ear cleaner is not an easy task when every other brand in the market claims to give the best results. We will provide you with the solution by reviewing some products that are recommended by vets and tested by our team. Here are the top 7 picks for your pup's ears' health.


Virbac Epi-OTIC Advanced Cleaner works wonders for dogs with chronic ear issues. As the product is alcohol-free, chlorhexidine-free, and pH-neutral, it is safe for dogs and cats.
This vet-recommended cleaner has a patented odor technology to neutralize the bad ear smell. It contains salicylic acid to cleanse and prevent yeast infections in dogs' ears that may cause painful itching and discomfort. It is a non-irritating cleanser that helps cure and soothe chronic otitis externa and inflammation of the ear canal.
Epi-Otic Advanced pet ear cleanser aids in removing wax and cellular debris and dries the ear canal. This well-tolerated cleanser can be used for regular ear cleanings or 30 minutes before administration.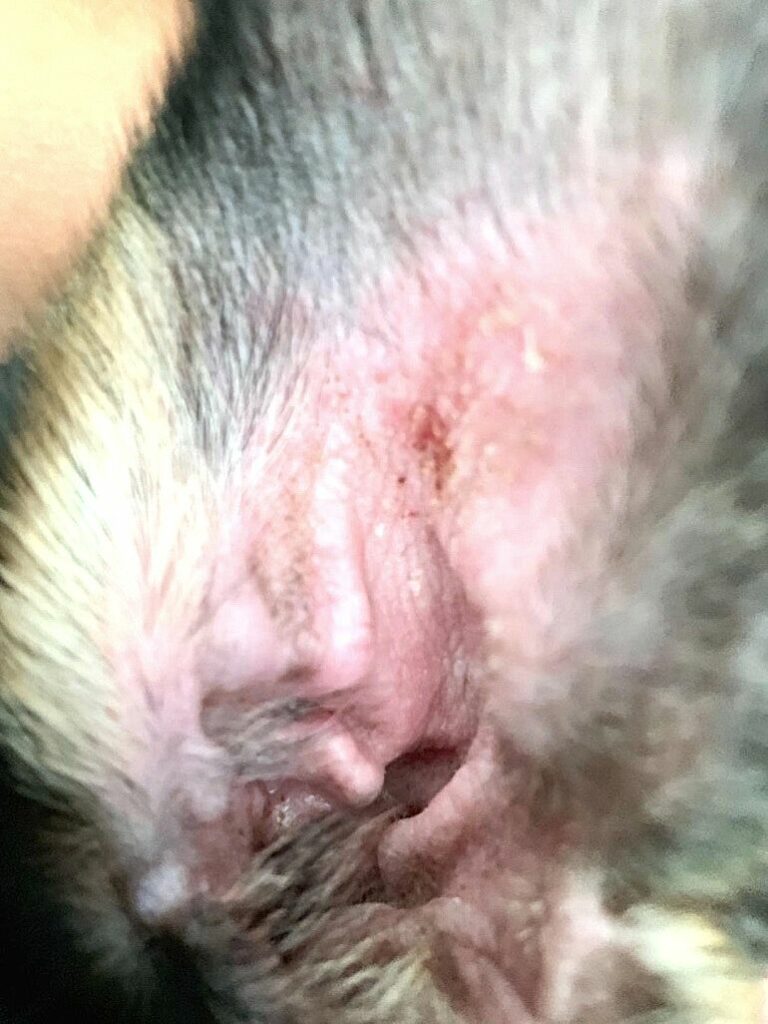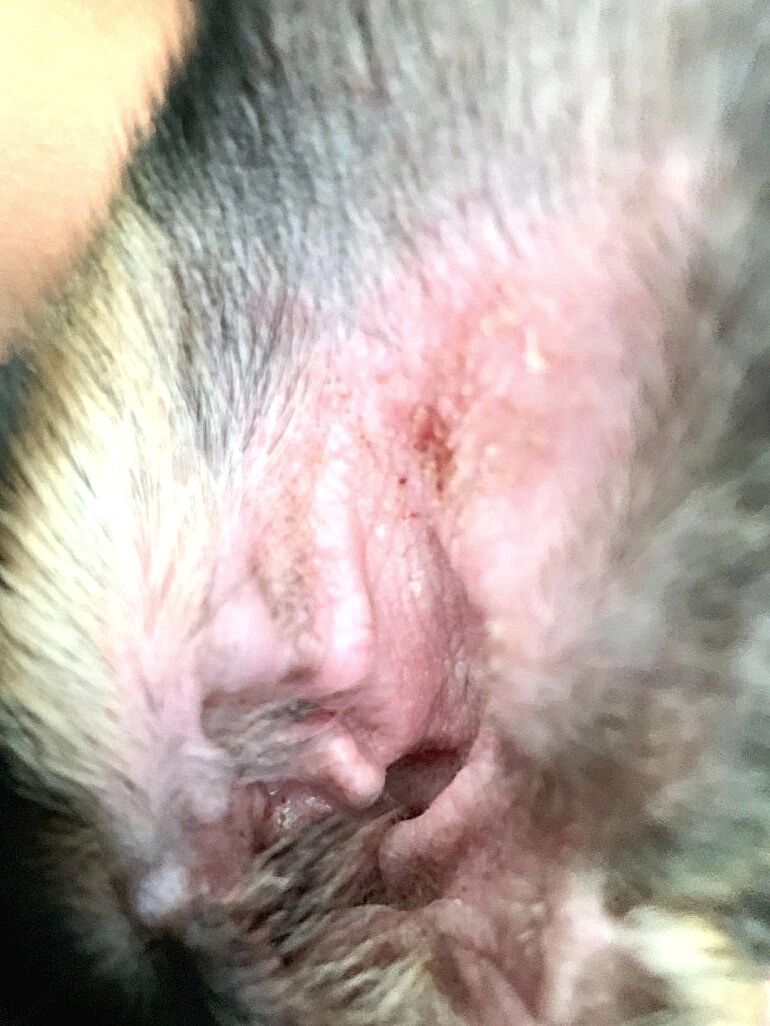 For cats and dogs
Neutral pH
Free of alcohol and chlorhexidine
Has citrus fragrance
The vet recommended ear cleaner
Bottle size 8 oz.
This dog ear cleaner is ideal for dogs with sensitive ears, allergies, and chronic ear infections.
Vets highly recommend this cleaner to pet parents due to its safe and gentle ingredients.
The Virbac cleaner has eye irritant chemicals that are hazardous for dogs' eyes.
Many buyers find this cleaner more expensive than other similar products in the market.


Virbac Epi-Otic Advanced Cleaner
The price of "Virbac Epi-Otic Advanced Ear Cleaner" varies, so check the latest price at" varies, so check the latest price at

Vetoquinol Ear Cleansing Solution is safe and mild enough for regular cleaning and maintenance of dog's ears. This cleansing solution contains lactic acid and alcohol that provides multiple advantages, such as cleansing, drying, acidifying, and deodorizing the dog's ear canal.
The aloe vera gel soothes the dog's skin and leaves the pup smelling great. This vet-recommended formula helps promote a healthy external ear canal. It can be used daily if your pet has dirty ears; otherwise, once or twice a week. It is ideal to use after swimming to clean dirt and grime while drying out the moisture from the ear.
For cats and dogs
Easy to use
Vet-recommended formula
Has aloe vera fragrance
Available in multiple size bottles
Pet owners are happy that this liquid ear cleaning solution softens and cleanses the ear wax to have healthy ears.
Dog owners appreciate that the dog ear cleaning solution works well for their canine friends with ear mites.
Some buyers find the fragrance too strong for their canine friends.

Vetoquinol Ear Cleansing Solution
The price of " Vetoquinol Ear Cleansing Solution" varies, so check the latest price at


Zymox Ear Cleanser is an effective and non-toxic solution for cleaning dirty ears. This ear wash features a blend of proteins, mild cleaning surfactant, and enzymes to remove dirt while deodorizing the smelly ears.
This ear wash features a blend of proteins, mild cleaning surfactant, and enzymes to remove dirt while deodorizing the smelly ears. This vet-recommended formula is suitable for both dogs and cats due to its gentle and cruelty-free ingredients.
It contains an LP3 enzyme system that helps control the microbial growth in the ears. It is also safe to use with Zymox Otic ear treatment for pets. This ear cleaner should be used once a week to prevent ear infections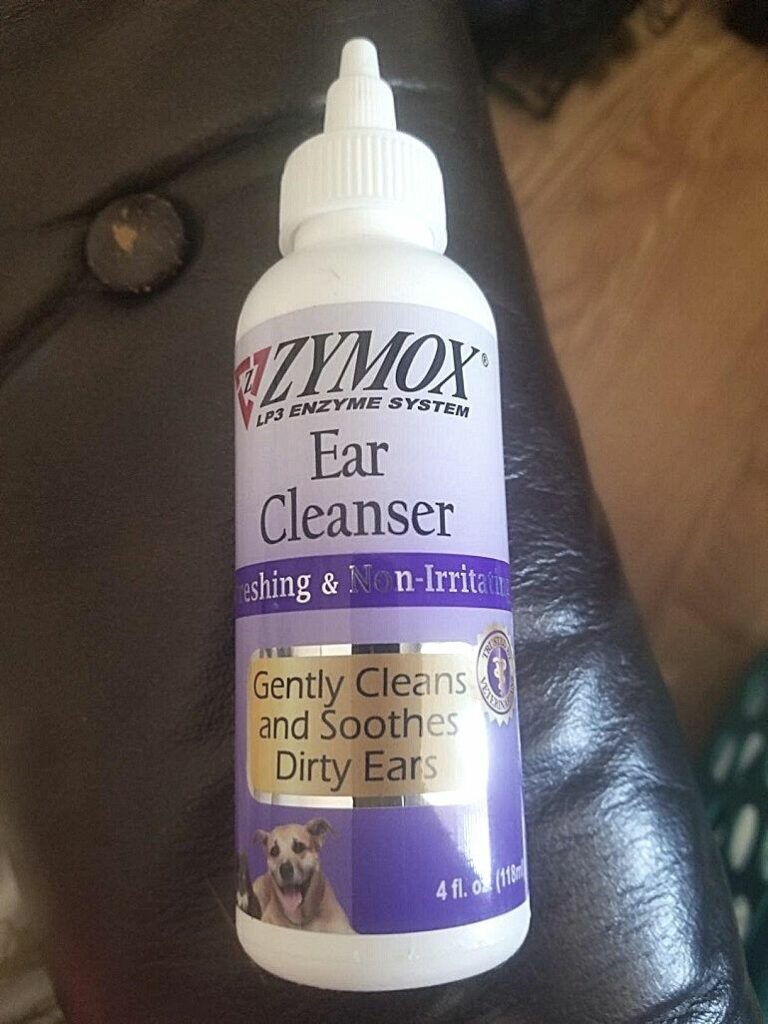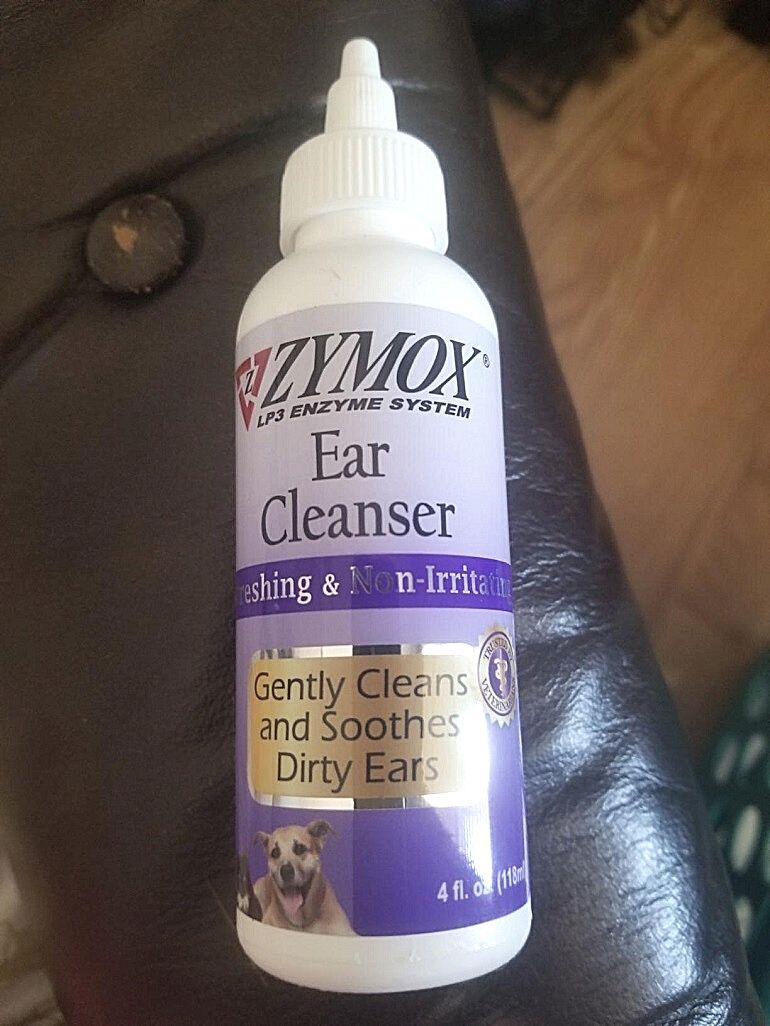 For dogs and cats
Non-toxic ear wash
Ideal for swimmer dogs
No harsh detergent
A patented LP3 enzyme system
Comes in 2 sizes; 4 oz. and 128 oz.
Made in the USA
Many dog parents like the cleanser's pleasant scent that leaves their pet smelling fresh.
Dog lovers call the Zymox ear cleanser a must-have for dogs' itchy ears.
This product is easy to use and effectively removes the dog's ear wax.
A buyer reports that the ear becomes oily and sticky when the liquid cleanser dries.
A few users claim that the product treats only minor infections and is ineffective for severe infections.


The price of "Zymox Ear Cleaner" varies, so check the latest price at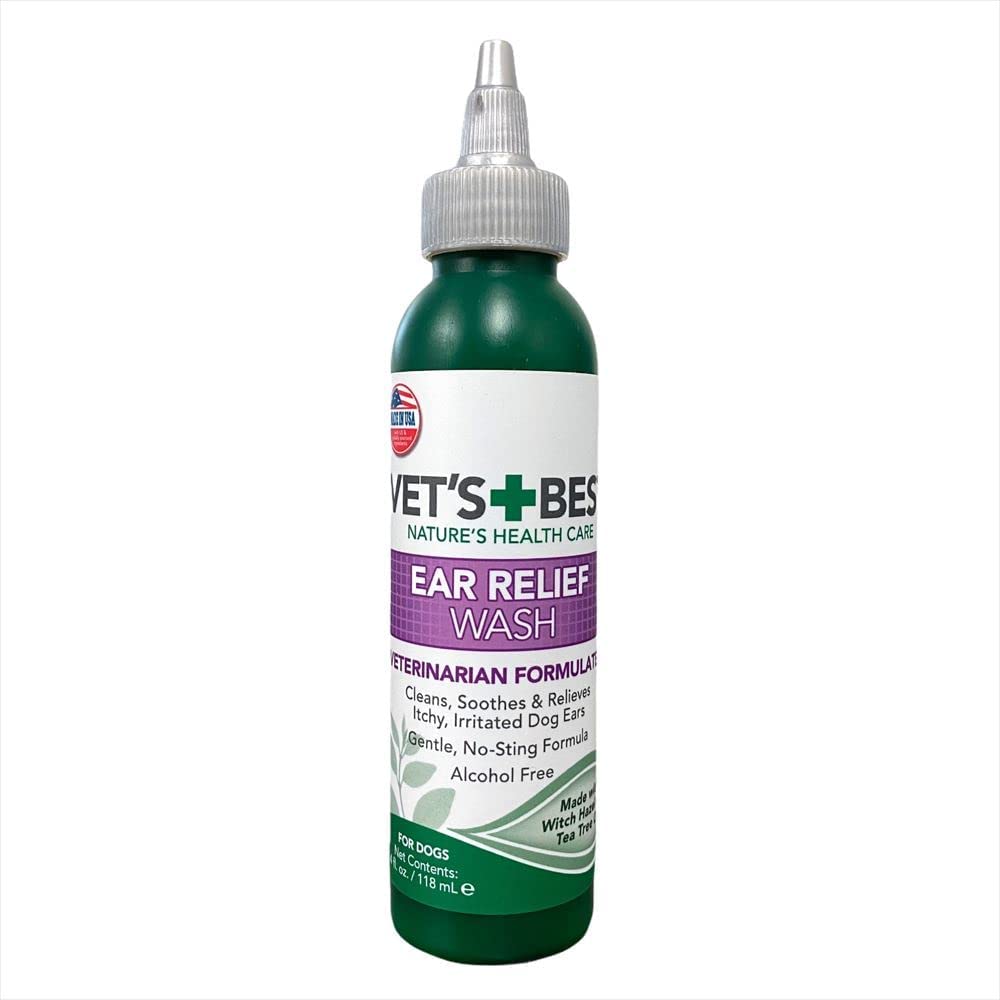 Vet's Best Ear Relief wash is a blend of natural ingredients, including chamomile, witch hazel, aloe vera, tea tree oil, and clove oil, helpful in eliminating excessive itching and unpleasant smell. These ingredients allow you to eliminate fungus and bacteria from dogs' ears and benefit them by smelling great.
Dogs of all breeds and sizes are safe to use this ear wash because it is alcohol-free and non-stinging. Veterinary Best's Ear Relief Wash Cleaner is a part of a complete treatment system dry kit for itchy, greasy, raw, and smelly dog ears. You can use it with Vet's Best dry ear relief for good results.
This product is formulated to provide the best results as it is made in the USA. Pet owners can use this product daily or as recommended by their veterinarian. Therefore, it is not recommended for cats or pregnant dogs.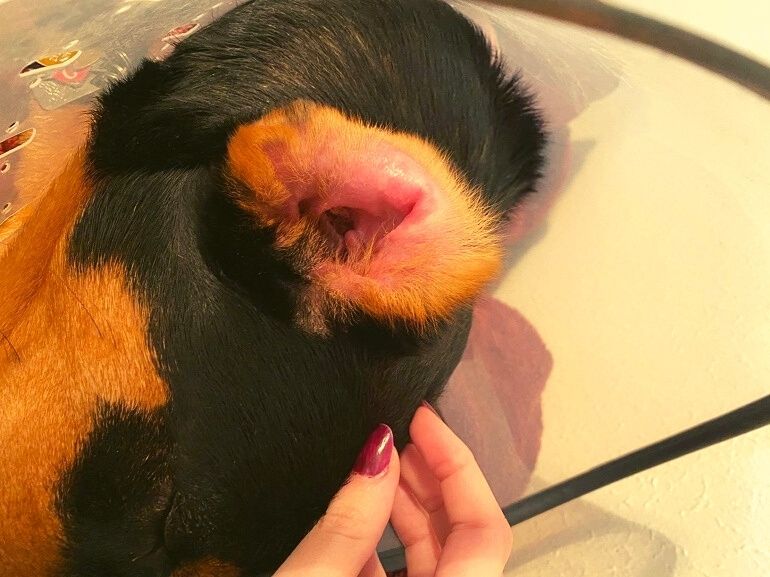 Suitable for dogs
Ear relief wash
Made with natural ingredients
Veterinarian formula
Alcohol-free
Available sizes; 4 oz. 8 oz. 16 oz.
Made in the USA
The owners liked this product for 2 solution steps of cleaning and drying ears.
Many owners feel that their dogs get cured of itching, infection, and sores within a week.
A buyer claims that the product is like a moisturizer, and the lid is not sealed and leaks out.
The fragrance of the dry formula might not attract some dogs.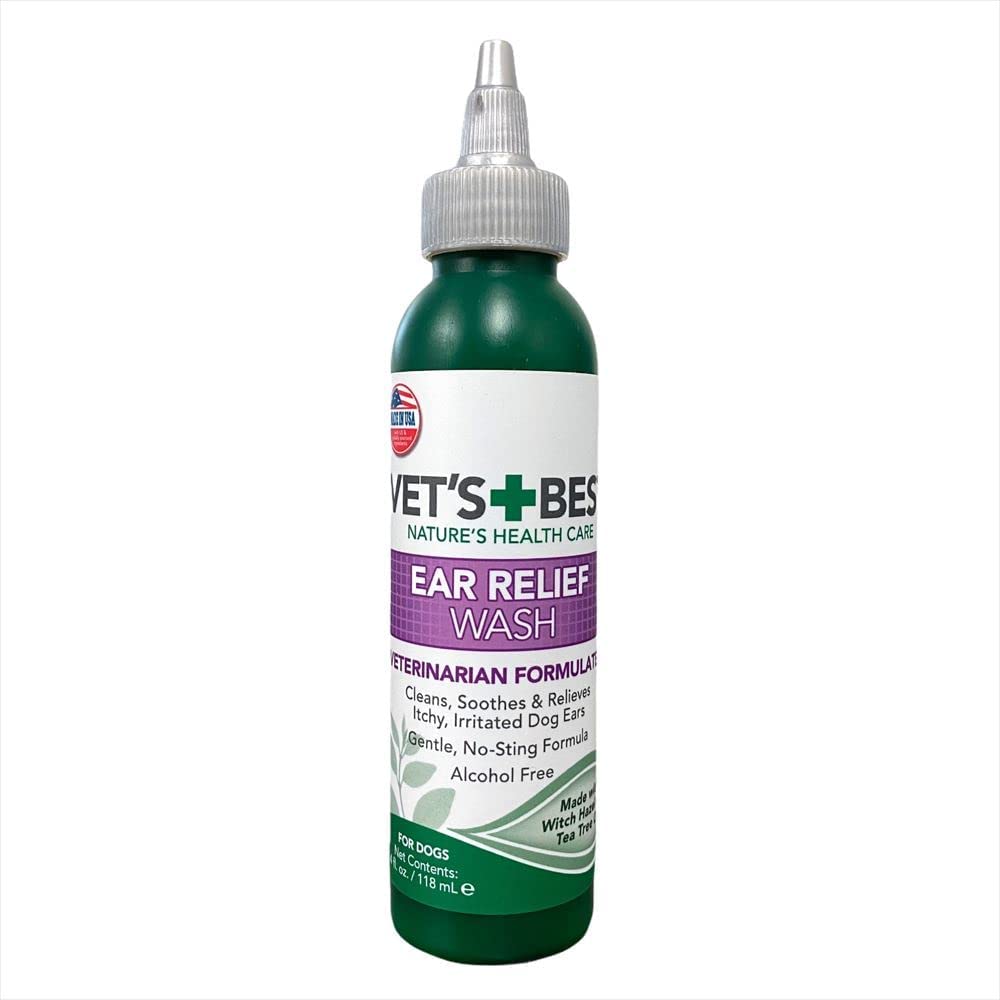 Vet's Best Ear Relief Wash Dry Kit
The price of "Vet's Best Ear Relief Wash Dry Kit" varies, so check the latest price at

Burt's Bees ear cleaner contains all-natural ingredients, including witch hazel to remove excess buildup and peppermint oil to soothe irritation. Its safe yet gentle formula is suitable for puppies and dogs.
Unlike many other products, Burt's Bees has a pleasant fragrance because it does not add any artificial fragrance. It is pH balanced and does not contain harsh chemicals, colorants, or sulfates. A dropper comes with this ear cleaner, so you don't have to deal with any mess!
This natural ear cleaner is best for preventative measures but may not work well against active ear infections. A variety of products are available from Burt's Bees that clean and soothe your dog's ears, eyes, nose, and paws.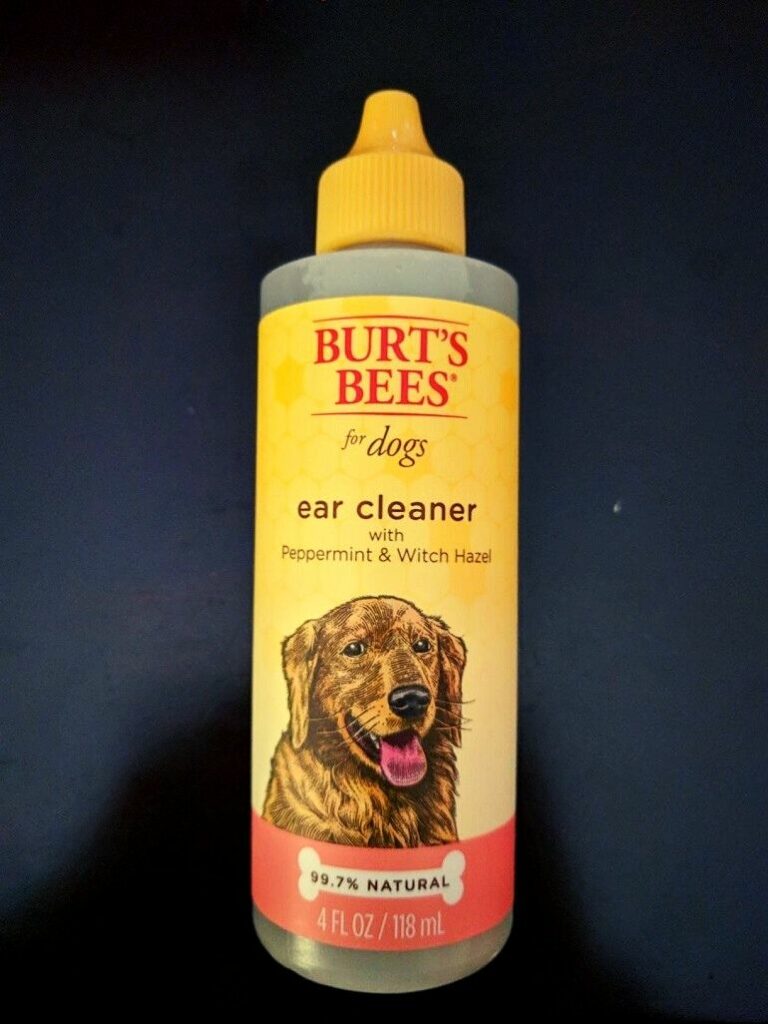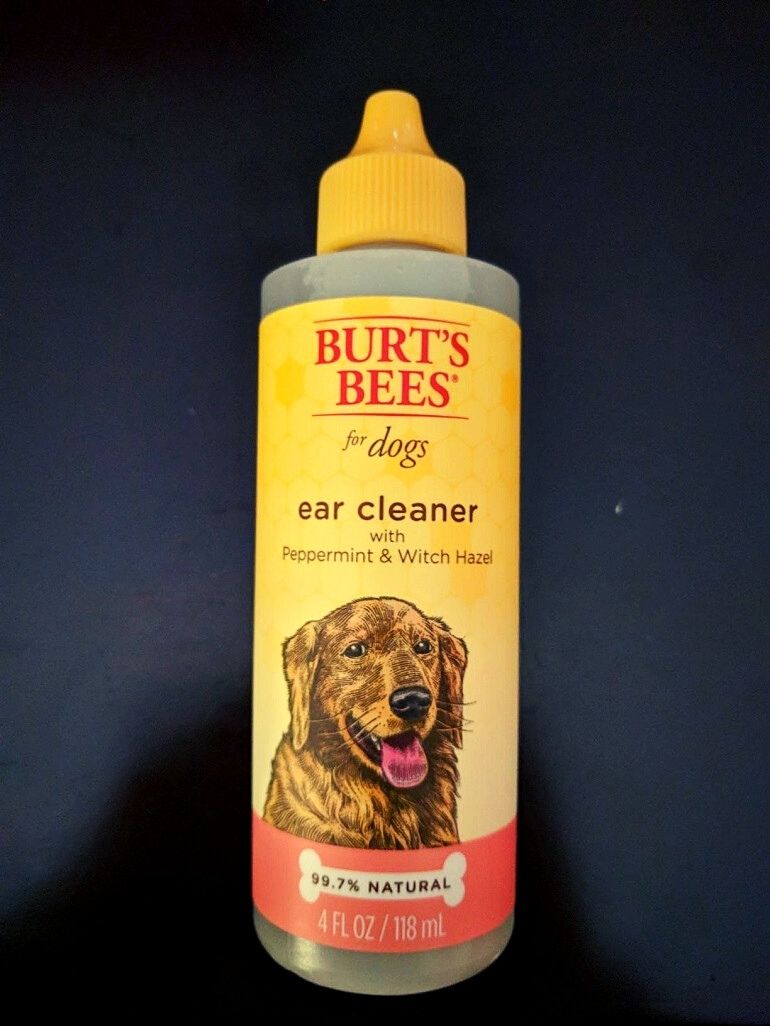 Suitable for dogs and puppies
Easy to use
Made with high-quality ingredients
Free of colorants, sulfate, and fragrance
pH balanced formula with witch hazel and peppermint
Bottle size 4 oz.
Vet-recommended formula
Due to its affordability, this product is a popular choice among dog owners.
This product is often recommended as an effective solution for dogs with smelly ears.
Dog parents are pleased to see their dogs' itchy ears improving with this product.
A dog with chronic ear infections may not respond well to this product and may require a strong formula.
A few customers report that the product's drop hole is tiny and needs to be wide.

The price of "Burt's Bees Peppermint" varies, so check the latest price at


Pet MD Tris Flush is a veterinary formula that contains Ketoconazole as a key ingredient in the solution to fungal infections. It is a scientifically tested product for quality assurance to provide the best ear care to your pet. It is mild yet effective for removing the root cause of the dog's ears infection.
Pet MD ear drop solution is designed for dogs and cats to remove the ear wax while preventing ear infections. It is perfect for regular use to reduce the inflammation and itchiness in the dog's ear. Pets with sensitive skin and acne are also safe to use this ear flush to remove the bacteria.
For dogs and cats
Gentle and anti-stinging cleaner
Contains ketoconazole
Easy to use bottle
Advanced veterinary formula
Bottle size 12 0z.
Made in the USA
Pet parents highly recommend this product for dogs with itchy ears because it works faster to provide relief.
Some owners find the product's smell very pleasant.
This product works wonders for itchy and swollen ears.
A few buyers show dissatisfaction as the product claims to be made for cats too, but it remains ineffective for their cats.
Some users dislike the added fragrance in this ear cleaning solution.


The price of " Pet MD Veterinary Tris Flush" varies, so check the latest price at


Vet Organics EcoEars Dog Ear cleaner is a multi-action product that is designed to remove bad smells and dirt while restoring the ears to their natural condition. This product is specifically made for dogs, not puppies, to wash away the ear's dirt, grime, gunk, and built-up wax.
This dog ear cleaner is all-natural and safe for your pup as it does not contain synthetic chemicals, solvents, pharmaceuticals, or hydrocortisone (steroids).
This dog ear cleaner helps wash away the ear problems and maintain the ear hygiene if you make it part of the dog's regular grooming. This product is a blend of anti-inflammatory botanicals and herbs that helps flush away the debris stuck on the skin with a soothing effect. Moreover, Vet Organics EcoEars Dog Ear cleaner is backed by a 100% satisfaction guarantee to the customers.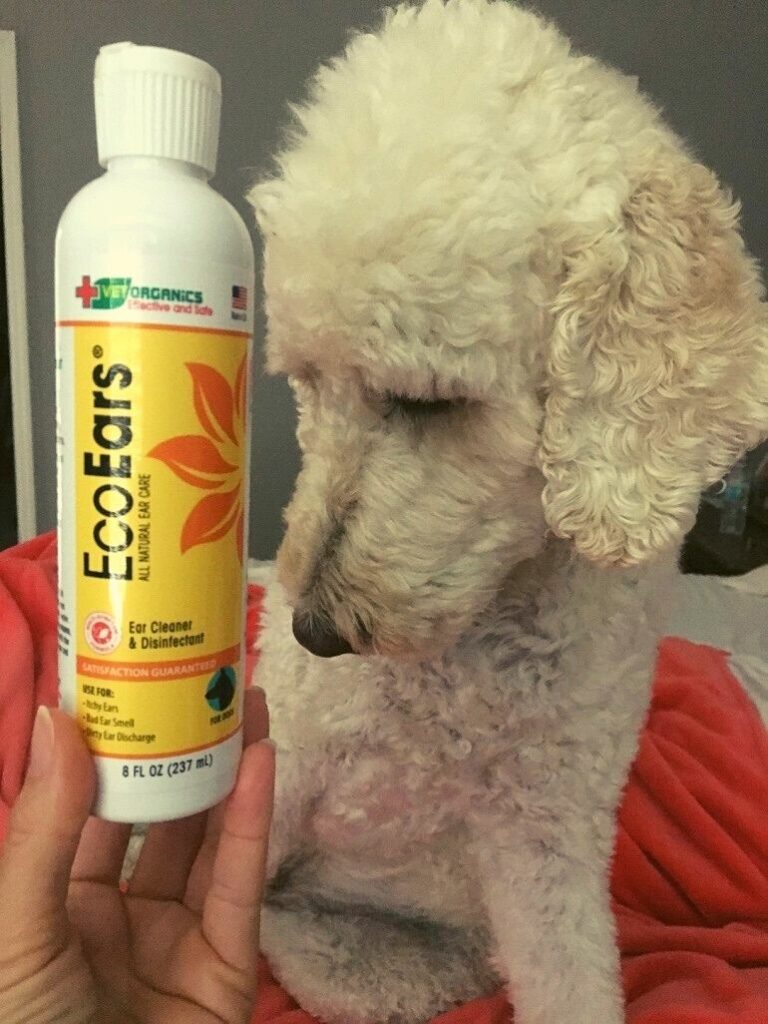 Suitable for dogs
Multi-action formula
Ideal for sensitive ears
Contains no pharmaceuticals or hydrocortisone
Money-back guarantee
Bottle size 8 oz.
Pet lovers like the ear cleaner for its effective results against fungal infections.
The blend of essential oils and natural ingredients has a soothing effect on the dog's ears.
A buyer dislikes the product for having alcohol that causes inflammation in the dog's ears.
Few users find the smell too strong, which is overpowering for the dogs.


The price of "Vet Organics EcoEars Dog Ear Cleaner" varies, so check the latest price at
Symptoms of an Ear Infection
If your dog is getting distressed or shaking his head continuously, it's time to clean their ears. On the contrary, consult your veterinarian if you notice his ears get red, inflamed, itchy, or smell yeasty. These symptoms show that your dog may have an ear infection, mites, fleas, or allergies.
Some of the symptoms of an ear infection include:
Discharge from ear
Bad ear odor
Scratching the ear
Swelling or redness in the ear
Pain or extreme discomfort
Itchy ears
How to Clean Dog Ears with Ear Cleaning Solutions
Firstly, calm your furry friend by offering him treats and a pat on his back. This action will help him to stay normal without being nervous.
Secondly, put some drops of vet-approved dog ear cleaner in the opening of the dog's ear canal. Massage the outer part of the ear to settle down the liquid or let the dog shake his head. This will help lose the ear buildup and debris for easy cleaning.
Finally, wrap a soft gauze on your finger or take a cotton ball to clean the dog's outer ear canal. Make sure not to go deep down the ear to harm your partner. If necessary, repeat the process, and you will have a clean and fresh-smelling dog!
What to Look for in the Best Dog Ear Cleaner- A Buying Guide
Ear cleaners are an essential part of a dog's regular grooming. Therefore, they need to be chosen carefully. You need to consider several things when buying a good ear cleaning solution for dogs.
Ingredients
Ingredients of any ear cleaner make first place when you buy it for your loving pal. Always look for active ingredients such as lactic acid and salicylic acid-containing microbial qualities, which work best for bacterial infections or removing yeast. Moreover, hydrocortisone is an effective ingredient in combating itchiness, and ketoconazole is good for treating fungal infections.
Moreover, avoid cleaners that contain alcohol, hydrogen peroxide, parabens, sulfates, or other harsh chemicals which may irritate your canine's sensitive ears. If you are unsure about the product, consult your vet to seek suggestions.
Effectiveness
You must look for the ear cleaner that effectively cleanses your dog's ears while soothing them from the itchiness. Not all ear cleaners are made equal; you must ensure the quality and effectiveness of the product by looking at buyers' reviews.
The ear cleaner must remove the ear's debris, dirt, or excess moisture. It should have dry agents to prevent ear infections and deodorizing ingredients to get rid of bad odors. The formula must be pH balanced for the dog's ears that would not cause discomfort and gentle enough to use on all breed sizes.
Quantity
The dog ear cleaning solutions come in various bottle sizes. Make sure to buy one with enough quantity to meet your monthly requirements.
Vet recommended
The most important consideration is that the product must be vet recommended. It contains safe and gentle ingredients that would not hurt your pup's sensitive skin.
Many homemade dyes for cleaning dogs' ears are available on the internet. But to ensure your dog's optimum care and the utmost safety, select formulas that are vet-formulated or vet-recommended.
Wipes Vs. Liquid Solutions
Generally, vets recommend a liquid solution for easy cleaning of dogs' ears as it well suits the angle of the ears. It goes deep down into the ear and cleans the debris and yeast, while the wipes cannot reach down in the ear canal to remove debris.
As a dog owner, you must choose one according to your dog's cleanliness demands.
Dog Specific Needs
All the cleaners are not made for the same purpose. While some are designed to remove buildup in the ear, others are an effective dry agent for dogs after swimming. If you are unsure which cleanser is best for your dog, ask the vet to help you find the right one for your dog.
The best way to prevent ear infections in dogs prone to infection is to clean and dry their ears once a week. The dogs who like to swim often and take a bath regularly must cleanse and dries their ears after the water exposure.
No, a wireless dog fence and an invisible dog fence are not the same. The best Invisible dog fences use wires buried in the ground to create a virtual fence around your property, while wireless dog fences do not require any buried wires. Instead, wireless fences use a transmitter to create a boundary around your property.
You should clean your dog's ears often enough to prevent infections, but not too often that you irritate them. As a rule of thumb, all the dogs require ear cleaning once a month, but some dogs need more frequent cleaning than others, probably once or twice a week.
Dogs, like humans, frequently need to maintain their optimal hygiene, including ear cleaning. They are more prone to develop ear infections than humans. Dog owners must have ear cleaning products at home to prevent bacteria from entering the dogs' ear canals or causing infections. Do not forget to clean and dry their ears after swimming and taking a bath with the help of liquid solution or dog ear cleaning wipes.